DTLA - Four months ago, city and county leaders gathered around five trailers in a former parking lot near El Pueblo de Los Angeles Historical Monument to open the first "A Bridge Home" transitional housing shelter. The 45-bed facility, formally known as El Puente, was the first in a series of shelters scheduled to open in all 15 Los Angeles City Council districts as the region seeks to address a homelessness crisis.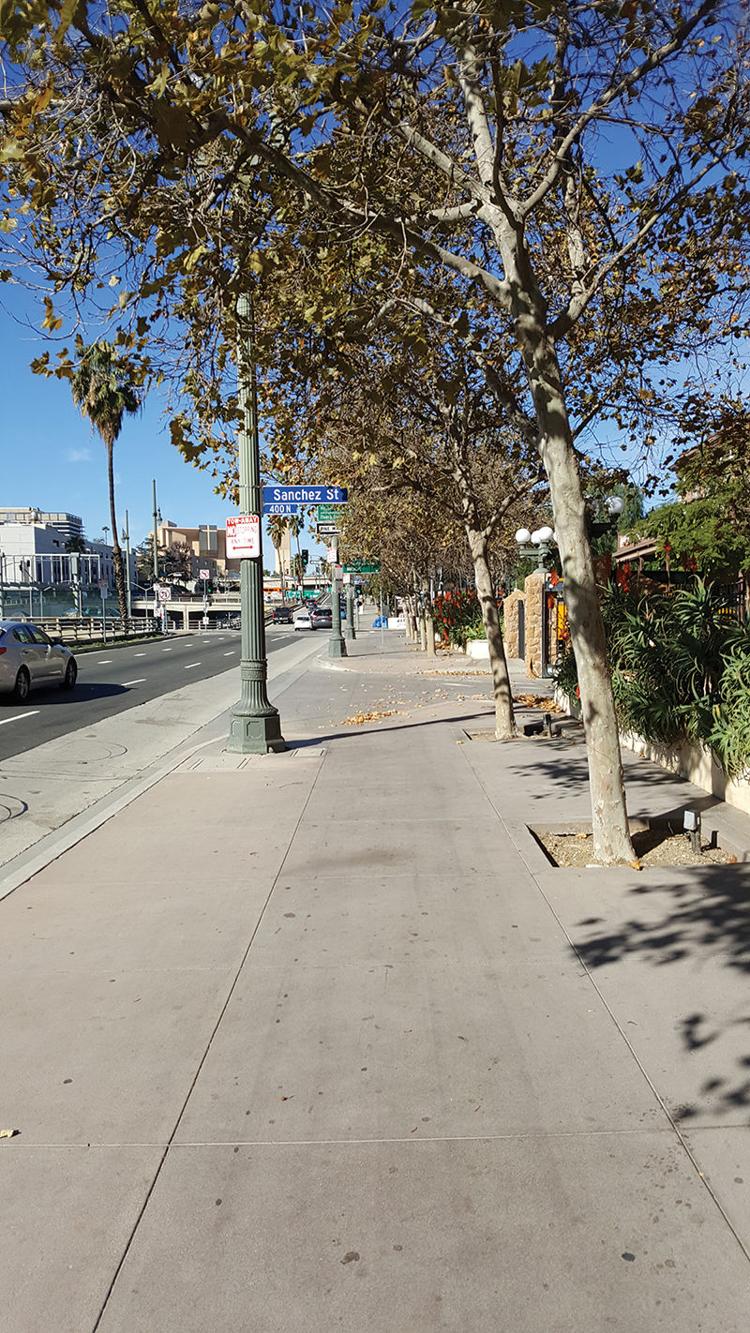 The Bridge Home shelters, largely planned for areas near where clusters of tent encampments have arisen, have proved controversial, with neighbors in many communities charging that they will create a permanent base for homeless individuals and attract crime and even more tents. In pushing for the program, Mayor Eric Garcetti promised that communities where the shelters rise will see increased security and street cleaning on neighboring blocks, and the prohibition of tent encampments during the day.
[Get DTLA stories in our daily email newsletter.]
El Puente opened Sept. 10, and city officials say that no major problems have been reported. Yet even before the project debuted, some concern was expressed about enforcement activities aimed at homeless individuals who have nowhere else to go.
The shelter's 45 beds — 30 for men and 15 for women — are full, said Amy Perkins, associate director for LAHSA's Access and Engagement Department, and seven people have been matched with permanent supportive housing (although not all of them have moved into new homes).
The space at 711 N. Alameda St. comprises a deck and five trailers (three with 15 beds each, one with bathrooms and laundry facilities, and one with offices for case workers) and is operated by the nonprofit The People Concern. It is scheduled to run for three years; the first year is budgeted at $2.4 million with each subsequent year costing $1.3 million.
Skid Row Faces Record Number of Homeless Children
"When the site opened, the beds filled in 48 hours. We have over 50 people who have interest in going into the site when a bed opens," said Christina Miller, Garcetti's deputy mayor for city homeless initiatives. "The People Concern has case managers on site 24 hours a day. We have twice a week calls with them to see if any needs they have are addressed."
As part of A Bridge Home, LAHSA has outreach teams working in the surrounding community four days a week, Perkins said. Those teams connect with homeless individuals and try to persuade them to accept emergency housing or help put them on the path to taking a bed in the El Puente shelter. It has been estimated that people would stay at El Puente for three to six months before they transition to more permanent housing.
"We've heard from outreach teams since it opened that many people experiencing homelessness in the area who might have been hesitant before are now saying yes, if a bed opens I'd like to go inside," Perkins said.
Miller said that El Puente has not functioned as a magnet for homeless people from elsewhere in Downtown. The number of unsheltered individuals in the area has decreased, she said, and people are not coming to the neighborhood for the new services.
Matters of Enforcement
The Bridge Home program includes a sidewalk cleaning and enforcement policy. Inside a "special enforcement zone," bounded by Broadway, Arcadia and Alameda streets and Cesar Chavez Avenue, there are sidewalk cleanings every weekday (smaller ones Monday and Wednesday-Friday, and a "comprehensive" cleanup every Tuesday that the Bureau of Sanitation organizes). There are also security patrols to prevent tents from going up on sidewalks during the day from 6 a.m.-9 p.m.
The enforcement has had a noticeable impact, according to Chris Espinosa, general manager of El Pueblo, which is a city department. He said the number of tents in the area had previously been increasing.
Initial plans called for enforcement efforts to begin Oct. 10, but program operators have sought to be lenient and work with homeless individuals in the area to try to avoid citations. Perkins said that approach continues, as LAHSA's outreach teams are taking the lead instead of police.
Perkins added that the teams are working to get homeless individuals to voluntarily get rid of their trash by handing it over to Bureau of Sanitation workers.
When plans for the enforcement zone were announced, concerns were raised. The Legal Aid Foundation of Los Angeles, a law firm that represents lower-income individuals, sent a letter to Garcetti's office, saying that homeless people need more sanitation and health resources, "not encampment sweeps and criminalization."
"Our clients do not object to street cleanings or the provision of sanitation services; in fact, some have been advocating for those services for years" the letter continued.
Legal Aid representatives would not discuss the activity on surrounding streets since El Puente opened. However, in a prepared statement to Los Angeles Downtown News, Legal Aid Foundation attorney Shayla Myers was critical of the enforcement zones, calling them "another form of segregation," and questioned whether they provide any benefits."
"The increased presence of police around the shelter does not help the more than 50 people on the waiting list for El Puente and is a waste of critical financial resources," Myers said in the statement. "It also perpetuates the false narrative that homeless people are to blame for their lack of housing, instead of placing the blame on a massive affordable housing crisis and 30 years of failed housing policy."
Miller would not specifically address Legal Aid's letter or other criticisms, but said that authorities want to avoid any conflict and help homeless individuals safely store their belongings. She said that outreach teams have focused on getting people to voluntarily comply with the enforcement rules, and have not had to issue many citations.
"There's little or no interest on the city's part to confiscate people's belongings," she said.
During the day, there are noticeably fewer tents inside the enforcement zone than before El Puente opened. Arcadia Street, which Espinosa said had the largest concentration of encampments before the shelter debuted, is clear, while streets just south and outside of the zone, such as Aliso Street, have a scattering of tents. Espinosa said El Pueblo staff have noticed improvements during the day.
"Of course, people can still come and sleep at night. It's their right," Espinosa added.
Espinosa said there has been a mixed reaction to the shelter from merchants at nearby Olvera Street, but that people are noticing things like the clearer sidewalks.
Helping matters is a pair of storage trailers set up by the nonprofit Chrysalis. The trailers, next to the Our Lady Queen of Angels Catholic church, each hold 40 bins, and allow people to voluntarily store their belongings during the day. One is full, Espinosa said, while the other is about one-quarter filled.
City leaders said additional benefits come from having a stable, safe shelter program. City Councilman José Huizar, whose 14th District includes Downtown Los Angeles and El Pueblo, said in a statement that having a place to live is transformative for those on the streets.
"While our goal for all of these individuals is long-term housing, we cannot underestimate the immense benefit, stability and clarity they all get from having the same bed to sleep in, access to restrooms, showers and meals, along with an array of social, health, job and rehabilitative services," Huizar said in a statement to Downtown News.
Other A Bridge Home spaces are in the works. The former Hollywood Studio Club has been converted into a facility. Late last year, the City Council approved a 154-bed shelter in Venice. The city is also looking at two other spaces in Downtown, including the former Los Angeles Children's Museum near City Hall.
© Los Angeles Downtown News 2019