When Mayor Eric Garcetti announced the A Bridge Home initiative last spring, the plan was to set up temporary shelter and services facilities for homeless individuals in all 15 council districts. The program, initially budgeted at $20 million, envisioned the facilities each operating for three years, helping put men and women who once slept on the streets on the path to permanent supportive housing.
[Get DTLA stories in our daily email newsletter.]
The first facility, dubbed El Puente, opened in September on a City-owned parking lot at 711 N. Alameda St., bringing 45 beds and on-site hygiene facilities and case workers to the plot near Olvera Street. As part of Garcetti's program, neighborhoods where the sites open also become "special enforcement zones," with increased cleanings and LAPD patrols. That includes enforcing the ban on tents being erected on sidewalks from 6 a.m.-9 p.m.
That comes with a cost. A February report from the City Administrative Officer revealed that security around the first two A Bridge Home facilities — at El Puente and in Hollywood — is scheduled to cost an average of $94,286 per month for each site.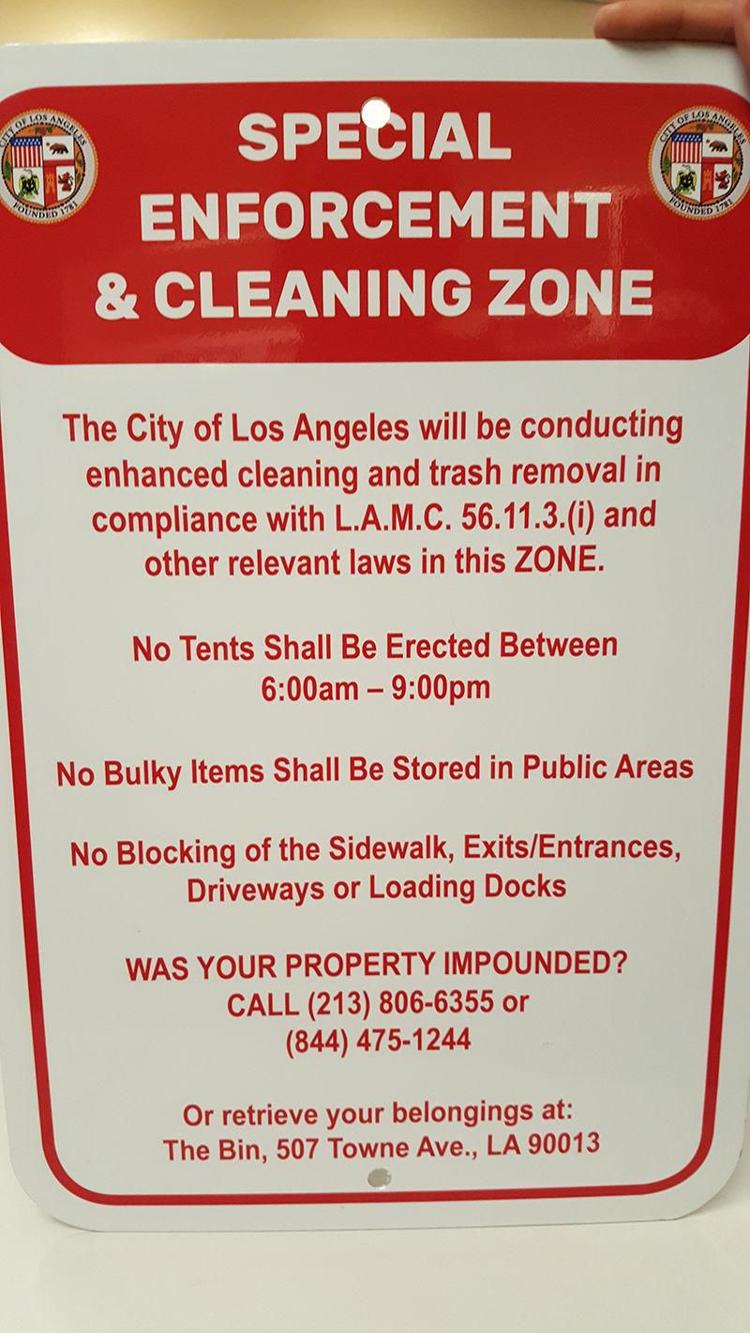 That money comes in the form of overtime pay for LAPD officers patrolling the area. Multiplied over 12 months, that would amount to more than $1.13 million a year for each location.
That cost could go up as the bridge housing program expands. More than 20 similar shelters are ultimately expected to open, and each will have an enforcement zone with full-time security.
That price tag is separate from the regular operation cost at the shelters. El Puente was slated to cost $2.4 million in the first year, and $1.3 million each additional year.
The El Pueblo enforcement zone area is bounded by Broadway, Alameda and Arcadia streets and Cesar Chavez Avenue. The stepped-up security efforts in the zone began a month after El Puente opened.
The measures are having a noticeable impact. During the day, sidewalks are notably devoid of tents compared to streets that are just outside the zone. At a media briefing at City Hall at the start of this month on the status of bridge housing projects and other homelessness issues, Deputy Mayor for City Homelessness Initiatives Christina Miller cited LAPD statistics in stating that crime within the El Pueblo special enforcement zone has decreased by 60%.
The patrols at El Pueblo operate 24 hours a day and are separate from other LAPD units working in and around the area. They also are unaffiliated with the on-site safety officers at El Puente. The facility has private, non-LAPD security funded through its regular budget.
Garcetti's office is aware of the high overtime costs and is examining ways to tweak patrols and the price tag going forward, Miller said at the City Hall briefing.
"We want to make sure that the level of services is right-sized," Miller said. "We know we don't expect to necessarily have that level of resources for the lifespan of the project. But again, our goal is not to shortchange the program. When there's extra police presence around the site, it's creating a common deterrent for everyone in that neighborhood."
Volunteer Assignment
Officers who patrol the special enforcement zone volunteer for the post, which is in addition to their regular work, according to Commander Dominic Choi, the LAPD's homeless coordinator. There are two-officer teams that each work 12-hour shifts, accounting for the non-stop coverage.
Choi said the LAPD is utilizing existing resources and officers, rather than having to hire and train new staff.
"If two people are off duty one day, they can sign up for that shift," Choi said. "The actual out-of-pocket cost is cheaper than hiring 12 new employees."
The officers who take the special enforcement zone assignments are on foot or bicycle, according to Choi. Their tasks include going through the area and telling people that tents cannot be set up during the day, and informing them of available services.
Choi said the alternative to officers being on foot and bike would be a patrol car, which with full maintenance and operations would require six people in total and be more expensive. The two twelve-hour shifts per day were determined to be the most economical option.
The Los Angeles Police Commission, the civilian oversight board for the LAPD, declined to comment on the high overtime expenditures related to the patrols.
Shayla Myers, an attorney for the homeless advocacy group Legal Aid Foundation, said that although the organization is in favor of more shelters, it disagrees with the increased policing that comes with the bridge housing program.
"The city is obviously spending a significant amount of resources on deployment as well as 24-hour patrols, plus significant sanitation patrols," Myers said. "At best it is a waste of city resources to expend that time and energy with this. At worst it causes actual harm for people. The level of policing they're experiencing, it is traumatic for people who are homeless."
Two other bridge housing sites are in the works in Downtown. A 115-bed facility is slated to open at 1426 Paloma St. in the Fashion District in the fall, and the city is in the design phase for a 100-bed space in the former Children's Museum building at 310 N. Main St. Another location, at 1533 Schrader Blvd. in Hollywood, opened last month.
Twenty-one additional bridge housing projects are in development in the city. When asked at the April briefing if the cost of overtime patrols would rise as more bridge housing facilities come online, Miller said that Garcetti's office is examining the costs and hopes to have a clearer answer during the city budget process.
Garcetti's budget was recently released, and calls for designating about $3.46 million in LAPD overtime costs for 24/7 special enforcement zone patrols around El Puente and the Schrader Boulevard and Paloma Street sites. That works out to $96,171 each month at each site, almost $2,000 more than the current cost.
Mayoral spokesman Alex Comisar said Garcetti is "committed to providing the resources needed to help" the Bridge Housing sites and the surrounding special enforcement zones. He said that, going forward, new shelters will have enforcement zones similar to the one at El Pueblo, and the plan is to continue 24/7 patrols split into two shifts per day.
"We expect and hope as time goes on, we will make progress in reducing police contacts with the community of our homeless neighbors," Comisar said. "Our goal, through successful outreach, through our work to bring people indoors and amplify outreach, is that we are able to bring these costs down significantly in the future."