If all goes right, by early next year visitors to an Arts District warehouse might be slamming a large mallet onto a target to shoot up sparks.Or they could dance in a virtual reality environment. If they need a break, they could buy a drinks from a snarky robot bartender.
[Get DTLA stories in our daily email newsletter.]
The opportunities will come from Two Bit Circus, a company that creates high-tech arcade games and, on other occasions, works with businesses to create mind-breaking promotional tools — its offerings including a cloud that rains tequila and the Dunk Tank Flambé, a variation on a dunk tank that shoots a wall of flame 30 feet in the air, while a person in the tank is kept safe in a spacesuit-like outfit (it was seen during this year's Night on Broadway in Downtown Los Angeles).
Two Bit Circus is moving from Lincoln Heights to a multi-colored 50,000-square-foot warehouse at 636 S. Mateo St. About 10,000 square feet will serve as office and experiment space for its approximately three dozen employees, while the remainder will hold a kind of high-tech version of Dave & Busters, with food, a bar and a thick roster of interactive games.
"We want to feature emerging technologies, exclusive prototypes and overall, provide a social,​ ​exciting space with a dash of adventure," CEO Brent Bushnell told Los Angeles Downtown News.
Two Bit Circus was founded in 2012 by Bushnell and Eric Gradman. They focused on creating unusual gizmos and contraptions and found that some companies would pay to use them at corporate and other events. The company has grown over five years, with a lineup of inventions.
 The projects include a virtual reality basketball game displayed at the 2016 Rio Olympics and a virtual reality music video homage to La La Land. While the company often serves corporate clients, Two Bit Circus lacked a permanent place where people could come and play games or otherwise experience the creations.
"We built all of these interactive experiences and would take them to South By Southwest or Comic-Con, and then we'd throw them in the trash or it would go in the warehouse," Bushnell said. "There was no place for that stuff to live."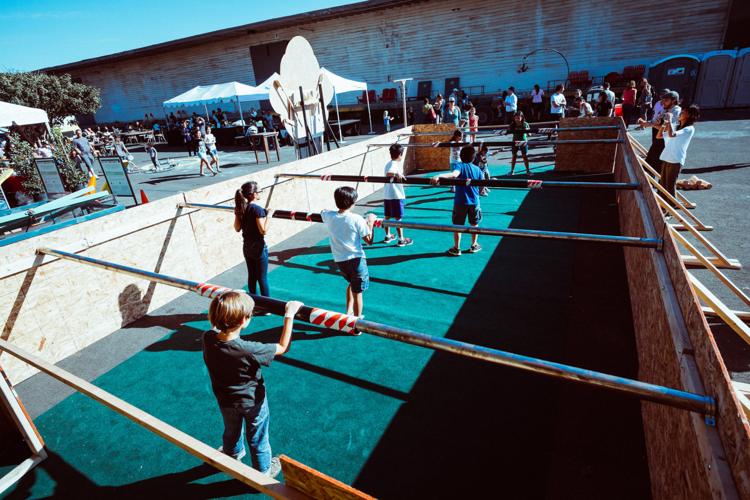 The games and contraptions will make up a kind of craft arcade, with steampunk elements in some designs mixed with modern video and electrical systems. The games are built around interactive elements and almost every one is meant to involve multiple players, said Bushnell, who is the son of Atari founder Nolan Bushnell.
The team calls the Downtown Los Angeles space "The Backyard," after circus terminology for where the staff gathers. To help design and run it, the company brought in Kim Schaefer, the former CEO of the waterpark chain Great Wolf Resorts.
Approximately 20% of the games will be virtual reality based, while others will involve motion sensors, electronics and robotic elements or other high-tech twists on traditional carnival games. Bushnell said they intend to have a sort of midway, with modern spins on games such as the ring toss and the high striker, where patrons swing a mallet to send a puck high up a vertical panel. In Two Bit Circus' version, the mallet emits a wave of electricity along metal poles.
There will also be variations on escape rooms, with Two Bit Circus planning to take the idea of solving puzzles and clues in a contained space and expanding on the narrative element, with more story features.
In January, the company announced that it had secured $15 million in investments to fund a series of micro-amusement parks.Two Bit Circus representatives would not say how much of that is going toward the Arts District park.
"As we build this brand out, we believe there's a lot of opportunities for this type of entertainment in other cities," said Schaefer, whose title is head of parks.
The games and features will evolve as Two Bit Circus creates new contraptions and adapts different technologies. Bushnell said there will be a steady change in what comes on the floor.
Plans call for opening the space throughout the week, with the heaviest crowds expected on weekends. Bushnell added that it will be available for private parties, including corporate team building events.
Plans for food and a full bar are being worked out. Bushnell noted that pricing for the individual games is still being determined.
Bushnell said that when the time came to find a new home, Two Bit Circus was drawn to all the activity happening in the Arts District. He pointed to upcoming developments such as Warner Music Group taking over the Ford Factory Building on Seventh Street. The record label is expected to arrive next year, leaving its headquarters in Burbank.
Bushnell added that the growth of the Arts District reflects a trend Two Bit Circus hopes to capitalize on, with people growing less interested in physical possessions.
"I'd say everyone wants life experiences," Bushnell said. "People want new things to do."
If all goes well, future mini parks will open in other cities. But Downtowners will get the first look.