DTLA - From the street, Far East Plaza looks like many of Chinatown's older buildings. Its faded red awnings sport a fine layer of dust and grime, and the two-story 1979 structure hasn't quite aged with grace — its Chinese-styled roofline, with curving green shingles and chunks of blocky red adornments, look like tacked-on afterthoughts to a regular concrete building.
Get DTLA stories in our daily email newsletter.
Over the past few years, however, the complex at 727 N. Broadway has become a bona-fide culinary destination. Its meld of old and new tenants recalls the changes at Grand Central Market, but at a slower pace.
The roster at the complex still includes traditional establishments such as the noodle house Kim Chuy, Ten Ren's Tea Time, and the two-floor market Wing Hop Fung Ginseng and China Products Center.
The first new-school operator to make a splash at Far East Plaza was Kogi BBQ truck mastermind Roy Choi, who opened his Asian-fusion bowl eatery Chego in May 2013. Ten months later later came the newfangled ice cream business Scoops.
They were followed by lauded chef Andy Ricker's Thai noodle shop Pok Pok Phat Thai, which opened in 2014. Nearly ready to debut is Howlin' Ray's, from Johnny Zone and Amanda Chapman, the duo behind the hyped Nashville hot chicken truck of the same name.
No one is making a bigger play, however, than Alvin Cailan. When he needed a follow-up to his mega-smash Eggslut at Grand Central Market, he looked at Far East Plaza, opening Ramen Champ in late 2014 (which he has since sold). Sensing momentum, Cailan tripled-down on the Chinatown plaza, debuting Unit 120 — an ambitious incubator restaurant where local and national chefs can conduct temporary runs of untested menus — and the attached fast-casual Filipino restaurant Amboy, which debuted in January.
Cailan recalled that the complex once housed notable restaurants such as Mandarin Deli, Pho 79 and Sam Woo Barbecue, which all left and became San Gabriel Valley institutions. It's time to honor that legacy with a new batch of small businesses, he said.
"The original history of Far East Plaza is that every single unit was a food place. The sign in front still says 'Food Center,'" Cailan said. "We're inspired by that sign from decades ago to make this into an amazing food center, and an L.A. institution, again."
The Yu Effect
Choi, the chef and restaurateur who has become perhaps L.A.'s most iconoclastic dining ambassador, brought Chego to Far East Plaza after lease renewal talks broke down at a sleepy Palms strip mall.
When Ricker began poking around in Los Angeles, it was Choi who directed him to Chinatown (Ricker also has the large Pok Pok L.A., with hundreds of seats, three blocks away at Mandarin Plaza). Cailan and Zone also cited Choi as a trendsetter.
"The more the merrier. That was why we set up shop," Choi said in an email. "Good to see the dream come true and much love to our neighbors."
There's another thing the restaurateurs have in common: George Yu, who recruited Choi in the first place. Yu has a double role in the community, serving as executive director of the Chinatown Business Improvement District, and as vice president of Far East Plaza owner Macco Investments Corp., where he oversees leasing.
Yu declined multiple phone and email interview requests for this story.
Far East Plaza tenants and area brokers credit Yu for recruiting exciting small business owners to the complex, and building some critical mass in a place that long lacked attention and traffic.
"George is, well, I hate to use the word 'visionary,' because that sounds pretentious, but George is a leader who genuinely cares about Chinatown," Ricker said. "He's clearly not doing it for the rent money. He believes that the future of Chinatown is young people coming in and making a stand."
Yu is more than a big-picture manager, said Zone.
"George has been helping with building out the restaurant and advice on that end because he used to be a contractor, so he's got a lot of knowledge," Zone remarked. "He's taken on the stresses of opening a new restaurant while also being the most supportive and understanding of what we're trying to do. He's done like 40% of our work here."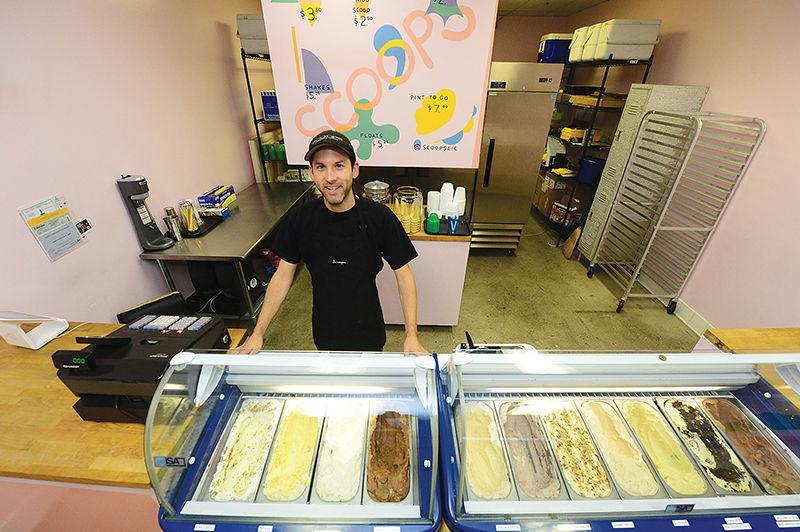 Emerging Market
Another lure for restaurant owners? Affordable rents.
In general, Chinatown offers rates that are significantly lower than most Downtown sub-markets. Where a tenant might pay $4.50-$5.50 per square foot in the Central Business District (along the Seventh Street corridor from Figueroa to Olive streets, for instance), Chinatown averages around $3.75-$4, said Derrick Moore, a principal with brokerage firm Avison Young.
"You're not going to Far East for the architecture, that's for sure," Moore said. "Because of Yu and these new tenants, Far East Plaza is now a destination project in the works."
The new tenants say that manageable rents and future potential drew their attention, but for many it was the romance of Chinatown's history and culture that sealed the deal. Zone noted the "raw coolness" of seeing roasted ducks hanging by their necks in windows and Chinese cooks smoking cigarettes outside of kitchens ("It reminded me of Nashville," he said). Isa Fabro, a Downtown pastry chef who collaborated at Cailan's Unit 120 and has been selling her donut-like "malas" at Far East Plaza, added that Chinatown has an "egalitarian" feel.
"I was working in a lot of places that were expensive, for special occasions. But now I'm making food that the people I grew up with could afford," Fabro said. "Chinatown supports that vibe and pricing approach. It's still a fringe neighborhood compared to central Downtown."
New restaurants have sprouted elsewhere in Chinatown, with highlights such as Little Jewel of New Orleans, Burgerlords and Lobsta Shack. Established restaurateur Leonard Chan, meanwhile, is building a hipster food court of his own on the ground floor of the Jia Apartments, which opened in 2014.
Yet there has never been a lineup as concentrated as the one in Far East Plaza. Older tenants are paying attention — and, for now, reporting mixed reactions.
Mary Lam, the owner of Mary's Beauty Salon at the western entrance of Far East Plaza, is buoyed by the number of people perusing the plaza. The salon has been there for 28 years, and Lam recalled how sleepy it felt even a decade ago.
"I really like seeing so many people come and go. Different kinds of people now, too. Young and white, sure, but older and everything else," she said. "Business used to be slower. I think the future will be good."
Kelvin Guan, a four-year employee of Ten Ren's Tea Time, had a more measured assessment, and said that while there are more visitors, that hasn't translated to significant increases in business. He added that there are other improvements to be made in the complex.
"The building is doing a good job with security, but it's also not enough. We still see homeless people who are bothering the customers and people by the entrance. It can be bad for business," Guan said.
In one way, this could prefigure another moment of change for Chinatown. Though it still is dominated by traditional business and hosts cultural events, the community long ago lost its status as Los Angeles' center of Chinese culinary life to the San Gabriel Valley.
And while Downtown's housing boom has mostly eluded Chinatown so far, the nearly complete Blossom Plaza and projects such as the proposed College Station mega-development could bring a major demographic shift to the neighborhood.
Yu in the past expressed concern that Chinatown will turn into a nostalgic "museum" if left alone. The flipside, Cailan said, is supporting independent businesses and preventing Chinatown from becoming new but generic.
"We always have conversations with George about what some operators' true intentions are," Cailan said. "Are they true to themselves and putting in work, or are they businessmen who want the next Pinkberry?"
There remain longer-term trends at play. The evolution of Chinatown's dining and business landscape will prove critical to its appeal as a regional, not just local, destination, Avison Young's Moore said. Chinatown will thrive if there are "multiple Far East Plazas" in the community, all with an intriguing blend of old and new, he added.
Many eyes, and stomachs, are waiting to see what happens.