DTLA - On a recent Thursday evening at about 8 p.m., a set of sprinklers turned on alongside a building at 470 E. Third St. For several minutes they spread water across a wide expanse of empty sidewalk.
[Get DTLA stories in our daily email newsletter.]
It was not an isolated incident. For months, if not longer, community members say, the sprinklers outside the building have been turning on each night at around 8 p.m., 11 p.m. and 3 a.m. 
The result is that homeless individuals in the community know not to set up near the building at Third and Crocker streets.
"Everyone who lives around here knows about it. I've had to move because of the sprinklers, sure," Floyd Lee Howard, Jr., who has been sleeping in the neighborhood, told Los Angeles Downtown News recently. "Others have gotten soaked at night without warning, though." 
The building belongs to Steve Lee, who owns dozens of properties in the Industrial District and more in South Los Angeles. He has owned land in the area for more than 30 years.
Lee acknowledged that he installed the sprinklers and turns them on every night with the goal of clearing the sidewalks of homeless encampments.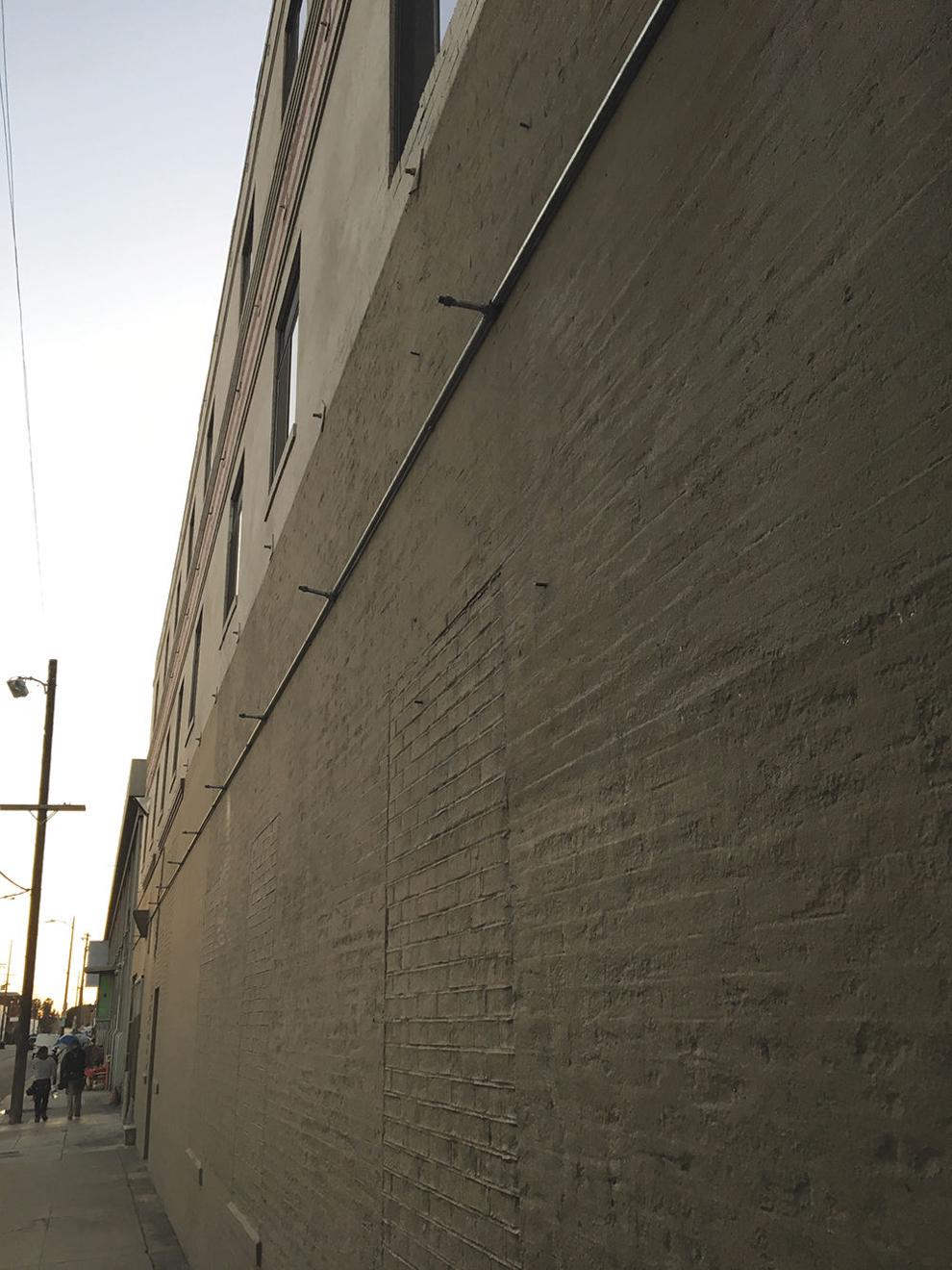 Despite that, Lee rejects the notion that he is inhumane for literally soaking homeless individuals on what is technically public property. He points to a record of trying to help the poor and struggling, including taking on county and city departments and nonprofits as tenants.
The building at 470 E. Third St., for instance, holds Project 180, a nonprofit center that helps former criminals with counseling, drug rehabilitation, job training and other issues. It is a subsidiary of Special Services Group, a massive Skid Row umbrella nonprofit and one of Lee's main tenants. SSG distributes programs and aid to assist, among others, homeless people.
Lee also has his own charitable nonprofit: The Steve and SoHyun Park Lee Foundation, which offers school grants and other assistance to low-income communities.
[Why Are There So Many Women on Skid Row?]
He is quick to talk up his decades in the community, and touts the positive change he sees in Downtown Los Angeles. He is also unapologetic about his use of sprinklers as a deterrent to homeless encampments, blaming the city for allowing the homelessness crisis to spiral "out of control" and for not helping property owners keep the public spaces around their business clean and safe. 
"I don't want to use sprinklers," Lee said. "The thing is, it works. Because people get wet, and they don't need to deal with that. You know what those homeless guys told me when I didn't have sprinklers and asked them to please move? They told me to go [expletive] myself." 
Homelessness Worsens
Sprinklers also sprout from the facade of the building at 333 S. Central Ave. that holds Lee's offices; the 1908 structure is currently for sale, per a listing on the real estate site Loopnet. Lee would not say if any of his other buildings have sprinklers, and also claimed he is not the only area property owner to use them.
That is news to Estela Lopez, the executive director of the Central City East Association, which operates the Industrial District Business Improvement District and conducts clean-and-safe programs in the neighborhood.
"Sprinklers were common decades ago. As far as I know, they were outlawed. Everyone took them down. This is the first (and only) that I've heard of," Lopez wrote in an email to Downtown News. "Everyone around here knows sprinklers are not permitted."
[Rash of Tent Fires Alarms Skid Row]
A 1993 directive by the L.A. City Council banned using sprinklers after an outcry that building owners were using them to clear homeless individuals away from Industrial District properties. 
Lee would not say when he started using the sprinklers. He said that in the past, he and his employees would go out and clean sidewalks by hand, using hoses to wash down the concrete. The LAPD only forced encampments away for short periods of time, Lee said, while the CCEA and city cleaning and outreach programs focused on the Skid Row core, not the fringes of the district near Third Street.
Meanwhile, the homelessness problem has grown more severe in the neighborhood sometimes referred to as Skid Rokyo, Lee said.
Developer Dilip Bhavnani, a property owner whose Downtown holdings include the nearby structure that houses the Escondite and Mumford Brewing, also observed that the homeless encampments obstruct loading docks and sidewalks. The tents and refuse make life more difficult for businesses and their employees, he added.
"It's gone from bad to worse. I can't take deliveries at Mumford because people are in the way. We talk to them, ask them to move — no dice. I have tenants threatening to leave. You can smell urine and feces everywhere," Bhavnani said. "I don't use sprinklers, but as a property owner, you have to make a decision based on the choices you're afforded."
Lee said employees at SSG and in other buildings, particularly women, often feel unsafe and must walk in the street because of the encampments. He claims that he would need to hire security guards if not for the sprinklers. He also claims that the LAPD and city inspectors were notified of the sprinklers while working with homeless people nearby, but that nobody has objected.
SSG Executive Director Herbert Hatanaka said that he was unaware of Lee's use of sprinklers until Lee was approached by Downtown News, but was nonetheless sympathetic to the issues the property owner described.
"When I heard about the sprinklers, I said, 'Steve, you can't do that,'" Hatanaka said at SSG's main office at 905 E. Eighth St. "But people who work here, who have properties here, they need addressing, too. We are very aware of the difficulties homeless people face, and the outreach that's needed to help them, but it is a mess on the streets, much worse than you might imagine."
If homeless people on the sidewalk packed up their tents and kept the walkway clear between 6 a.m. and 9 p.m. as a rarely enforced city mandate requires, he would not use the sprinklers, Lee said.
The challenges near and along Third Street have been noticed by people from outside the neighborhood. Eon Lew, CEO of the brokerage District Realty Group, said that potential buyers of a restored warehouse at 405 Towne Ave. saw the sprinklers while touring the neighborhood and inquired about them. He said they also were concerned about the encampments. 
"[There is] a huge negative impact on the marketability of the property, not just because of their presence, but because of how they treated the property, as if it were their own trash bin or toilet," Lew wrote in an email. "With that said, I believe the owner across the street made a logical and effective effort to protect his property line with the installation of the sprinklers. In the end, this is his property that he pays taxes on, which is money that should, ironically, be spent on assisting him with this sort of situation."
For Lee, using sprinklers to deter encampments is a small piece of a broader picture that inspires deep frustration and resentment. The tenants in his buildings include city and county entities, as well as independent nonprofits that work to help the homeless or other struggling people. Yet, he said, the problem only continues to worsen. 
Lee also said that for years he has been trying to build housing for the homeless, only to find a lack of assistance from the city and factors such as being unable to secure insurance for the projects. 
"I can build housing cheaper than the city, without government money — it has too many strings attached. I'd rather use my own. So why is it impossible? I can't get permits," he said, his voice rising. 
In Lee's mind, those who set up along his buildings and shake off his requests to move tents and personal belongings have left him no choice. Encampments and blocked sidewalks are illegal too, he said. 
Lee would not say if he plans to turn the sprinklers off. On Friday, a man named Raymond who sleeps in the area said he had not seen the sprinkler run for about two weeks.
© Los Angeles Downtown News 2017