DTLA - Say hello to Downtown's newest Instagram bait: A mural at Eighth and Hope streets, on the back of the mixed-use complex The Bloc, pairs a splashy set of angel wings with the words, "You are a goddess living in a city of angels." It has appeared hundreds of times on social media, tagged with #DTLA.
[Get DTLA stories in our daily email newsletter.]
This was intentional, as was the location, below signage for the Downtown Macy's. The text artist known as WRDSMTH expected the mural would go viral. He collaborated with Colette Miller, whose colorful angel wings are iconic in Downtown Los Angeles.
In his years roaming and spraying L.A. streets, WRDSMTH has had plenty of illegal works painted over by the city and annoyed property owners. At The Bloc, however, he was paid by developer The Ratkovich Company to create this work and seven others.
This was not an isolated incident. In recent years large-scale works have been commissioned to serve as defining features on buildings including the Eighth & Grand apartments, the Park DTLA office campus, One Santa Fe and The Row in the Industrial District, among many others.
Many cheer the arrival of colorful, broadly appealing art in the Central City. Others see a mass of corporate efforts overtaking the free-for-all street art culture that helped define the Arts District and other neighborhoods when Downtown had less mainstream appeal.
WRDSMTH, for one, was happy with the commission, and is pleased with the response.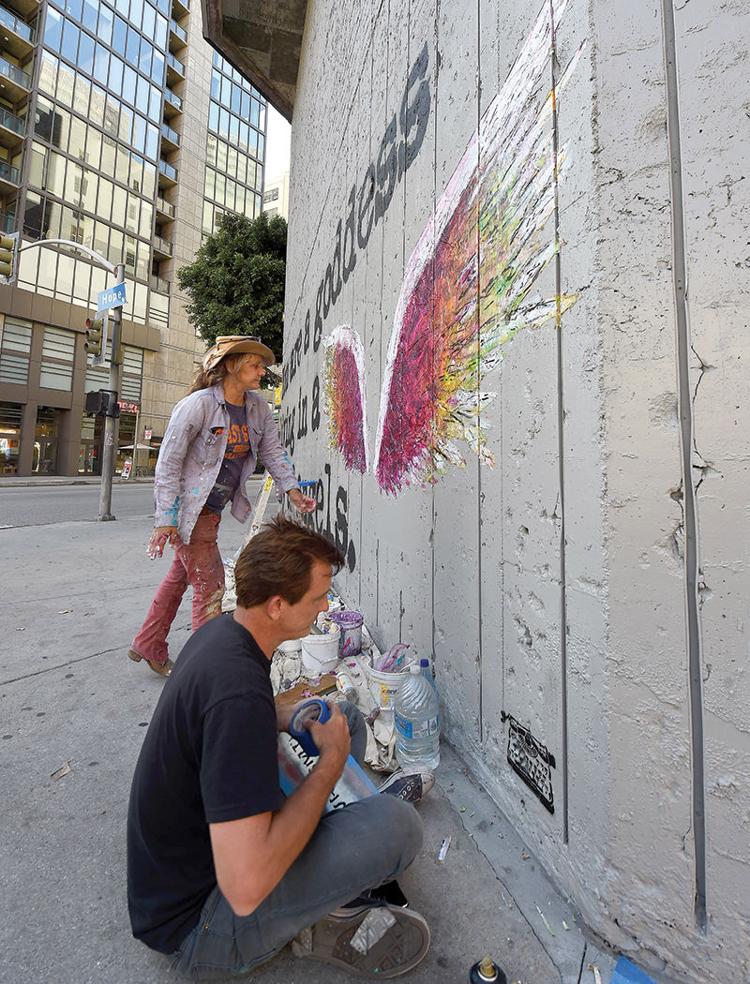 "They've all been very well received, and people are taking lots of photos," he said. "Ratkovich had to approve my stuff, and they moved some pieces around, but otherwise they let me do what I do."
Other artists whose work appears at The Bloc include L.A.-based Antigirl, Chris Lux and Sumi Ink Club, representing a diverse cross-section of aesthetics and backgrounds.
Ratkovich bought the former Macy's Plaza in 2012 and was faced with turning around a faded 1970s complex. While the biggest move was ripping the roof off the entrance, the art has also made an impact, according to Meg Byrne, Ratkovich's brand and marketing manager.
"We live in a digital world where people want to express who they are and how they feel. Developers can embrace this and incorporate pieces that speak to the audience they want to engage with," she said. 
Finding the Fixers
The mural world has changed. In decades past, works were often commissioned for empty walls on a piecemeal basis; some were whitewashed, whether accidentally or because they were never fully permitted. In the past 10 years, local and international artists began using community fixers, including "Mural Mayor" Daniel Lahoda, to find bare walls. They had to accept the reality of low pay and the possibility a piece could be wiped by the next day.
These days, a growing number of street art projects are baked into the budgets of big developments. Carmel Partners, for instance, tapped artist 2501 to place five circular works inspired by Mexican culture along the side of its Eighth & Grand complex, which contains 700 apartments and a Whole Foods.
The facilitators are also changing. That 2501 piece was coordinated by the Do Art Foundation, which has had a hand in more than a dozen large-scale works in Downtown, including another 2501 piece at 930 S. Hill St., and the colorful façade of the Toy District building that houses The Escondite and Mumford Brewing (completed by Brazilian collective Bicicleta Sem Freio).
These nonprofits are fueling a new wave of street art with direct corporate backing. Examples include local artist Christopher Konecki's mural at 247 S. Main St., commissioned by footwear company ASICS, and Cryptik's depiction of Muhammad Ali near Pico and Figueroa, which was commissioned by Toyota USA for the Special Olympics. Row DTLA tapped artist Retna to cover a large factory building facade.
Carmen Zella, co-founder of Do Art and now executive director of Now Art L.A., which also connects artists with brands, developers and other groups, has observed how the market is flooding with new projects. She said many developers are noticing a direct correlation between funding public art and making a project more visible and popular, both in a neighborhood and online.
"As permanent works are often costly to maintain and developers are looking to attract a buzz and activate building plazas and create a storyline for their projects, they are looking for artworks that are interactive, unique and ideally have a functional component," she said.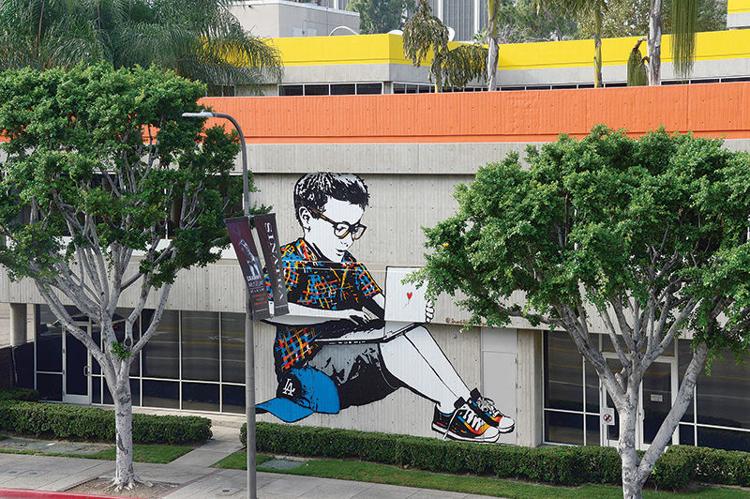 Changing Market
Including art in big Downtown projects is not new. In the 1970s and '80s, this often came in the form of "plop art," with large sculptures placed outside a building that had little context with the neighborhood. Other times a water feature anchored a corporate plaza.
The change today is the more open-minded approach businesses have when considering art, said Chris Rising, founder and president of Rising Realty Partners. The company tapped Bumblebee and Kelcey Fisher, both local artists with rising-star presences online, to liven up the concrete facade of its Park DTLA office park on Figueroa Street.
"Let's be honest, 25 or 30 years ago, the audience for the art was much more monolithic — it was the white male office worker that most projects wanted to court," Rising said. "Now the art you choose has to reflect the changes in the community. You're seeing it in projects because people feel comfortable around street art like that."
A new wave of art underwritten by big businesses is good for artists, who are often underpaid, said Melissa Richardson-Banks, a longtime Arts District resident and art consultant. Yet amid the growth, she has seen numerous older works, particularly in the Arts and Industrial districts, whitewashed over the past seven years. Pressure to sell real estate in a hot market means that property owners often choose to whitewash a mural that's been tagged by graffiti rather than restore it. She also points to a 2013 city mural ordinance that created a framework to register a mural, but also means stricter enforcement of illegal pieces.
"Coming across unexpected art was such a beautiful thing in Downtown," said Richardson-Banks, who now splits her time between Downtown L.A. and Texas. "We used to have collaborative walls near Joel Bloom's store. Opportunities for natural, free-for-all type art creation is meaningful for neighborhoods."
As Now Art L.A.'s Zella has noticed, developers and businesses sometimes focus too much on capturing a popular artist and spending big. She suggests money is the wrong place to start the conversation.
"As we talk to more and more property owners and civic entities, we see the amount of confusion and misunderstanding surrounding public art," Zella said. "Money alone will not make better art."
Council District 14, which covers most of Downtown, has accounted for seven of the 28 murals registered in the city in 2016 and 2017, and many more (including smaller pieces) are in the works. Arts advocates suggest keeping a close eye on who's crafting those — and who's paying them. 
© Los Angeles Downtown News 2017