News
Inside the Arts Districts Huge New Brewpub/Skeeball Joint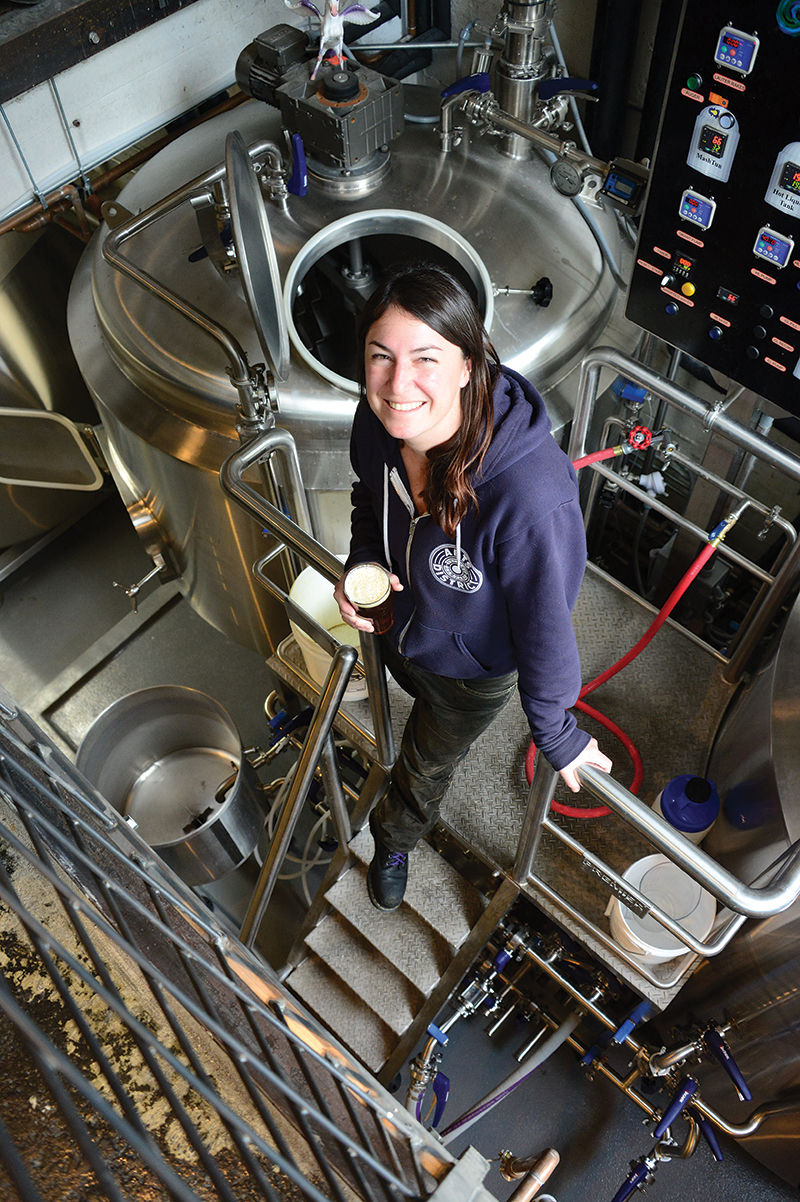 DTLA - For decades, people came to Traction Avenue in the Arts District in search of discount electronics. Gideon Kotzer, the namesake of Crazy Gideon's, became something of a local legend for his outlandish TV commercials — he'd literally smash a TV to show how crazy he is for having such low prices.
Get DTLA stories in our daily email newsletter.
Crazy Gideon's closed in 2010. Now, the electronics have given way to beer and skeeball.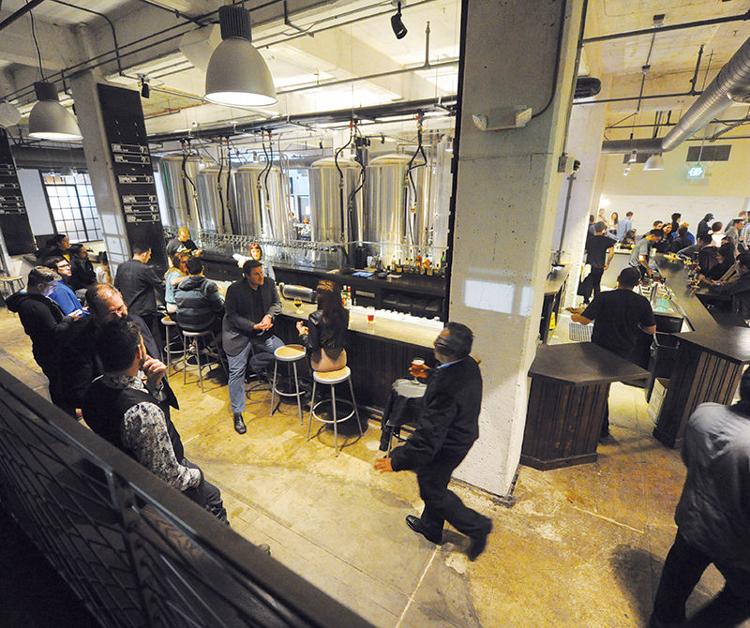 The Arts District Brewing Company, a project from nightlife magnate Cedd Moses' 213 Hospitality, began serving in mid-December. With 36 taps, a full liquor license and games including 10 skeeball ramps, the 17,000-square-foot business is built to attract both craft beer fans and families.
Moses said the project spun out of a recognition that Los Angeles doesn't have as many craft beer options as cities such as San Diego. As with his Broadway Bar, the Golden Gopher and other nightspots, Moses saw a niche and moved to fill it.
"It was a bit of an L.A. pride thing and we didn't need to jump on the Surfliner or drive to Atwater Village to go to an amazing brewpub anymore," Moses said.
The brewery sits at 828 Traction Ave. Moses' partners in the project are Brian Lenzo and Eric Needleman. A 213 representative said the project cost about $4 million.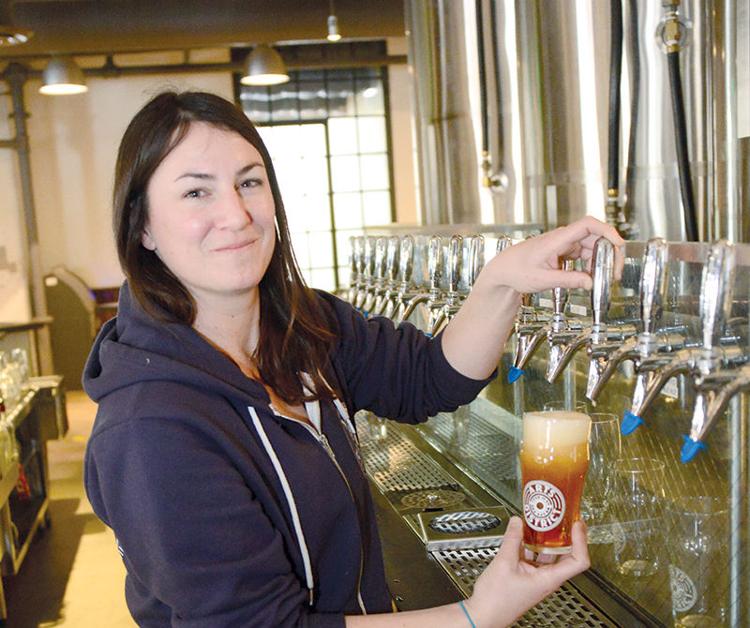 The space is run by general manager Jesse Corona, who has spent 10 years with 213, including managing the Golden Gopher on Eighth Street for three years. During that time he helped orchestrate the bar's monthly Beer Society meetings, sessions that showcased different selections from craft beer makers.
"My passion has always been for beer," Corona said.
The brewmaster is Devon Randall, who joined 213 last May after working at Solana Beach's Pizza Port. She oversees the manufacture of the brewery's 13 beers. They include the Traction IPA, a hoppy brew that's one of the pub's strongest, with a 7.8% alcohol content. Other options include the Mateo Golden Ale, characterized by a light body and a hint of hops and sugar, and the citrus-heavy Tune in Tokyo, an extra pale ale.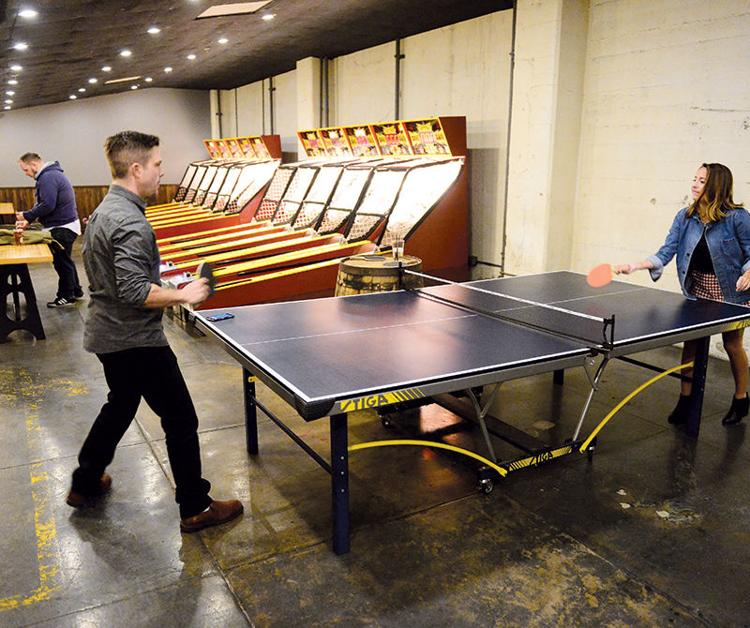 Randall plans to introduce new brews and change out some options, although she doesn't have a set schedule. Her goal is to keep the brewery stocked with a wide spectrum of selections. For instance, she intends to always have a Belgian-style beer available, but it could change from the current Belgian-style single — a lighter option— to the more malty and heavier Belgian-style quadruple. 
Still, that's further down the line, as just getting the taps up and pouring took months of work.
"The experience of setting up a brewery in construction was challenging, but rewarding," she said.
Eat and Drink
The brewing equipment is in the basement, but customers can get a peek at some of it from the entrance. The main level features an industrial design with high ceilings. There are sleek wood counters and gleaming metal tankards behind the bar in the center of the space. The brewery can hold around 390 people, including the outdoor patio. 
The skeeball lanes, illuminated with flashing lights, are along a side wall (a game goes for $1). There are also dartboards and ping pong tables. 
The project will include Fritzi, Neal Fraser's hot dog and burger restaurant. Though the formal 50-seat dining area is not yet open, brewery customers can order food from a window space inside the bar. The actual restaurant, which will also feature smoked hot dogs, jalepeño chicken dogs, different kinds of burgers and wings, is slated to open Jan. 26.
The project has been a long time coming. Moses' company initially filed plans for the project in 2012. Early on, some area residents protested, worried that the brewery would lead to loud and intoxicated patrons on the streets at night. In response, 213 withdrew plans for a basement-level bar, and the brewpub was approved by the city in June 2013.
Moses is optimistic now that the brewery is open. He said that the name is meant to show neighborhood pride, and that Arts District residents are already showing up.
The Arts District Brewing Company isn't the only area entity seeking to get in on the craft beer boom. It follows Angel City Brewery, and other new or soon-to-open options include Boomtown Brewery, Mumford Brewery and Iron Triangle.
Corona said he isn't isn't worried by the number of nearby taps, and that the breweries have a friendly relationship. Brewmaster Randall said she thinks the establishment will make its mark by being a comfortable community hang-out, as opposed to a place that is first and foremost a production facility.
Still, Downtowners may ultimately find Arts District Brewing Company beers elsewhere. The brewery isn't setting out for mass distribution, but Randall said some of its goods could be sold at other 213 Hospitality locations. The brewery is also waiting for approval to start offering beer growlers to go. 
The brewery doesn't have its own parking lot, but does have a deal with the owner of an adjacent lot. With validation, parking is $5. 
Moses said future plans include opening the patio bar. Randall will also tweak what comes out of the taps to meet demand and try different styles. 
"I want people to come in and try beer they've never had before," she said.
The Arts District Brewing Company is open from 4 p.m.-midnight Monday-Thursday, 4 p.m.-2 a.m. Friday, noon-2 a.m. Saturday and noon-midnight Sunday. At 828 Traction Ave., (213) 519-5887 or artsdistrictbrewing.com
© Los Angeles Downtown News 2016