DTLA - On Dec. 16, a group of city and county leaders gathered in Skid Row to announce a new project aimed at helping the chronically inebriated and intoxicated in the area. The 9,500-square-foot Dr. David L. Murphy Sobering Center opened Jan. 2.
[Get DTLA stories in our daily email newsletter.]
The facility at 640 S. Maple Ave. is open 24 hours a day. It is staffed with medical practitioners, social workers and sober coaches, people who have cleaned up and can offer life advice. Patients, most of them from Skid Row, are given beds, medical treatment when required, food and snacks, and a chance to connect with social services. The average patient will stay in the facility somewhere between a few hours and overnight.
The sobering center was created in part to ease the burden on area hospitals. For decades, dozens of severely inebriated people every day have been taken by ambulance to Los Angeles County-USC Medical Center. Not only does this mean longer waits for hospital patients with other emergencies, but, Mayor Eric Garcetti said at the December announcement of the sobering center, the visits are "damn expensive" and drain the resources of the Los Angeles Fire Department.
At the opening event, staff and elected officials said they expect about 8,000 visits a year by 2,000 people. The building has the capacity to provide beds for up to 50 people at a time, with separate spaces for men and women.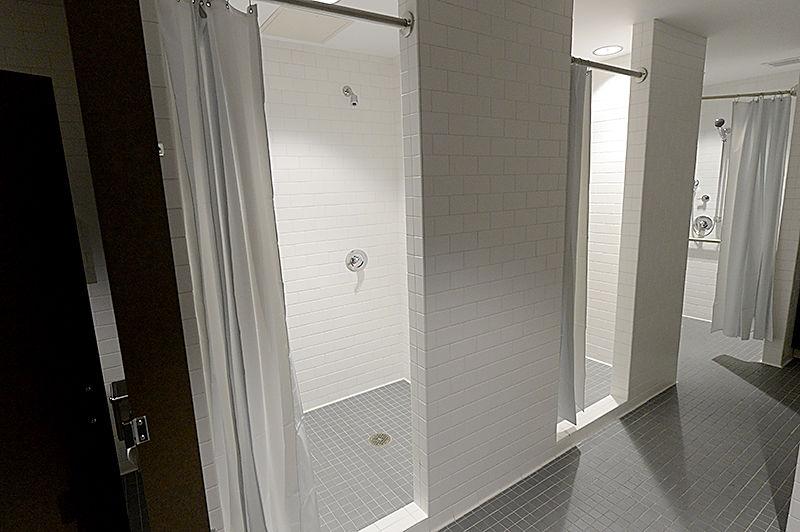 The start, however, has been much slower. By Feb. 23, only 81 patients had been admitted and discharged, according to Lezlie Murch, senior vice president of programs at Exodus Recovery Inc., which operates the center in partnership with the county.
County and health officials said that the slow start was expected. One issue is word of mouth. Getting homeless service groups, city and county workers, and residents aware of the center takes time, according to Marc Trotz, director of the County Department of Health Services' Housing for Health program. 
"Programs like this that we haven't had before, it takes about a month or two to really be well known in the community," Trotz said.
The center works with a number of Skid Row outreach teams that have been helping to bring inebriated individuals to the facility. Murch said that staffers have been spreading the word to officers at the LAPD's Central Division, which is in Skid Row, on the idea of offering an alternative for people who might be arrested.
"It's going to take them time to get people here," Murch said. "They don't need to take someone to jail. They can bring them here."
A bigger contributor to the slow start may be emergency services mandates. Currently, fire department personnel and emergency medical services staffers are not allowed to take patients to the sobering center, as state law dictates that EMTs and paramedics instead bring them to a hospital for treatment. The County Board of Supervisors is seeking a change in regulations so that first responders will be able to bring people directly to the facility, according to Al Naipo, senior deputy for communications for County Supervisor Mark Ridley-Thomas, whose district includes Skid Row. On Jan. 24, the board voted to sponsor state legislation that would update the law to allow paramedics to take inebriated patients to the center. State Assemblyman Mike Gipson is working on the legislation, but a timeline for it is unclear.
"Such a change is vital to provide immediate help and free up crews to respond to other calls, instead of waiting with patients at hospitals as they await treatment," Naipo said in a statement to Los Angeles Downtown News.
Some change could occur in the spring, when the Los Angeles Fire Department's SOBER (short for SOBering center Emergency Resource) Unit comes online. It will pair a Los Angeles Homeless Services Authority worker with a physician's assistant or a nurse practitioner. The teams will focus on identifying and transporting serial inebriates to the sobering facility (a wrinkle in how the units are designated frees them from the requirement to take ambulance patients to hospitals).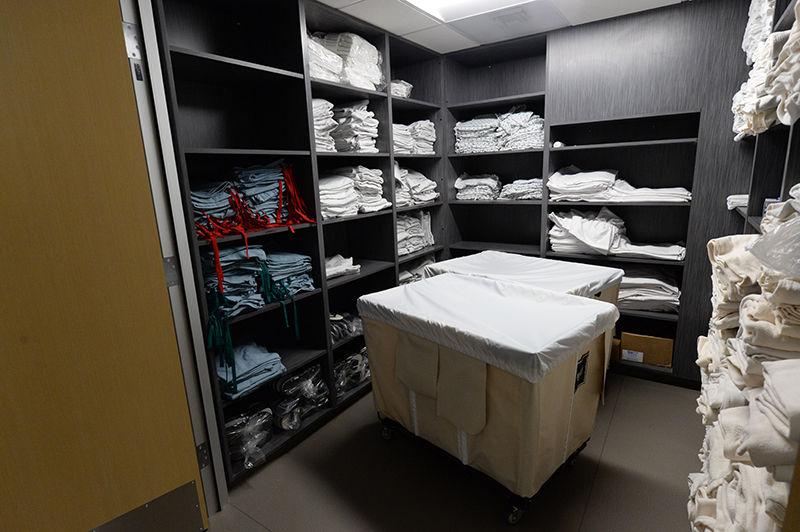 Skid Row has an estimated population of at least 5,000 homeless people, of which up to 50% are believed to be dealing with addiction, according to the Los Angeles Mission. Fire Station 9, which is on Skid Row, transports an average of 25 intoxicated people a day to County-USC Medical Center, according to an LAFD official at the December event. 
Murch said most of those who have been brought to the sobering center in the first month were treated for alcohol intoxication, though others have come in high on heroin, crack or crystal meth. 
The majority of patients have arrived during the day, in part because that is when most Skid Row outreach teams are active. At night, police are more likely to bring people in, according to Murch. 
After being brought to the center, patients are taken to an intake area where the staff assesses their condition. If there's a medical issue, a nurse will inspect the patient. In many cases, an individual will be directed to a bed where she or she can lie down; ultimately they will be paired with a sober coach.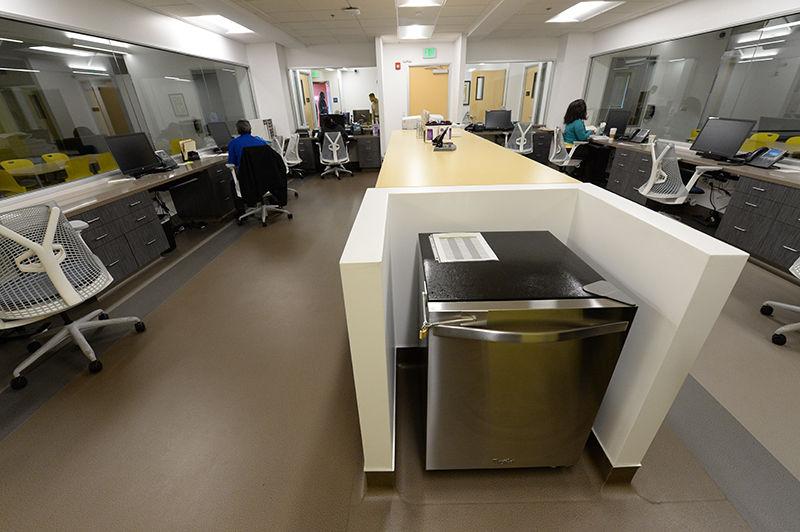 Patients are offered towels and can take a shower. They are also given water and light snacks. The center has laundry facilities. 
Once a patient sobers up, the staff seeks to connect him or her with long-term sobriety programs and other social services. Murch said that approximately 20% of the people admitted have taken advantage of those opportunities, exceeding initial expectations. 
The center is set up to be flexible with its treatment. 
"We have an idea in terms of detox and medical needs," Trotz said. "The next six months is Exodus, DHS and collaborators fine tuning it so that it's the most productive it can be."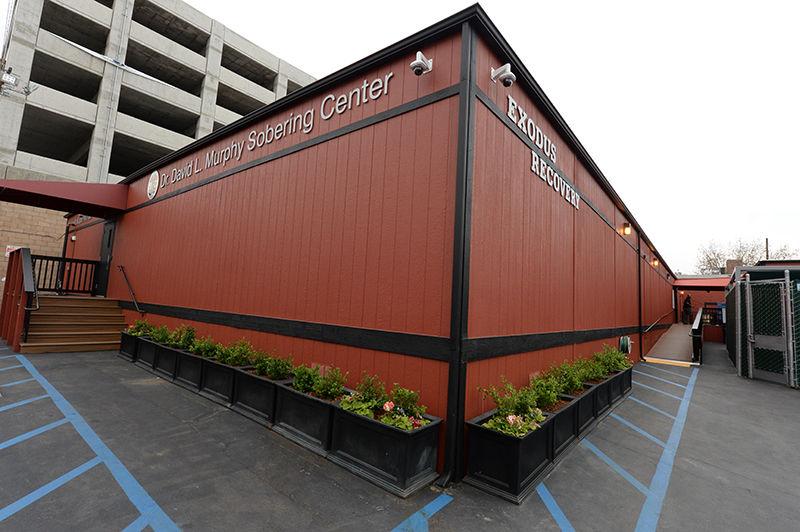 The facility was designed on the concept that alcohol intoxication would be the primary concern, but Trotz said that the people coming through the doors will dictate much of the center's actions and what kind of treatment they need. 
© Los Angeles Downtown News 2017