DTLA - The music blaring from boomboxes outside the 7-Eleven at Fifth and Broadway had been bothering residents for weeks. So on June 1, broker and Downtown Los Angeles Neighborhood Council board member Jacob Van Horn picked up his phone, began streaming live video to Facebook, and confronted the men on the corner.
[Get DTLA stories in our daily email newsletter.]
The pair of older men with a boombox and a cart complained about Van Horn's demands for them to pack up and move, but the problem came when a man in blue off screen told him, "Hey, don't put that camera on me."
"We're in a public place," Van Horn replied.
The man shot back a threat, and Van Horn stood his ground. "You're gonna do what if I put the camera on you?"
A scuffle broke out, and the phone was knocked from Van Horn's hand. It escalated to a fistfight that went to the ground. Van Horn wound up with a black eye and cuts.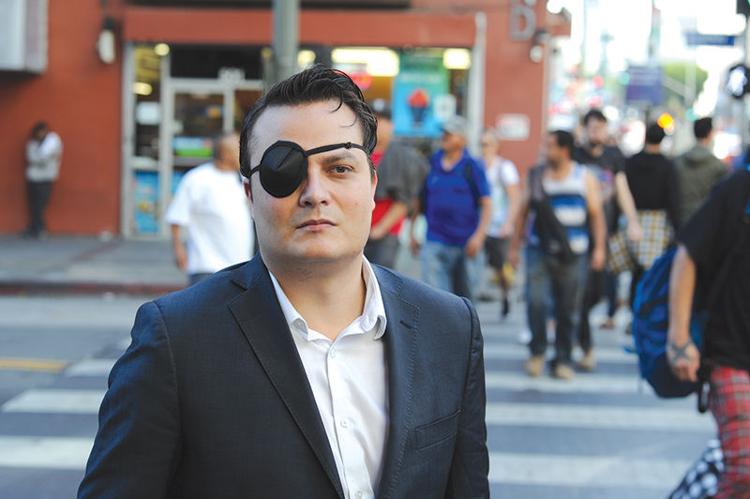 It was the latest in a string of violent moments that are unsettling people across Downtown. Whether the community is truly becoming more dangerous, or if it just seems that way because of how news travels on the Internet, local workers and residents are increasingly concerned about safety.
"Every day I get calls, emails, texts talking about harassment on the street, women feeling unsafe walking around, dealers hanging around blasting music," Van Horn said in a phone call. "I did go out there looking for a confrontation, because if I get attacked, so much the better to make a point."
Van Horn acknowledges that doing so was ill-advised, and something police caution against. Still, the video received a supportive response on Facebook. A number of commenters offered to join him next time, while others cheered the proactive — if vigilante — tactic.
The sense that things are changing has been recognized by 14th District City Councilman José Huizar.
"Not only have I heard from constituents complaining about increased incidents and even violence in Downtown Los Angeles, I've seen and experienced it myself in recent months where I've been aggressively approached and was concerned for my safety and completely understand how others would feel the same," Huizar said in a statement to Los Angeles Downtown News.
LAPD Capt. Marc Reina, who took over Central Division on Christmas Day, has made it a priority to increase officer visibility and flexibility with Downtown patrols. He doesn't deny that people feel the environment is more dangerous, but notes that he must respond to anecdotal experiences and LAPD statistics in a quickly shifting community.
"We have 16 footbeats now, and almost every neighborhood has a two-officer beat that doesn't move around. We do try to balance crime with deployment," Reina said. "What's happening in Downtown is a revitalization of new business and housing. If you're down on your luck, you're going to go to a target-rich environment."
Quiet Observers
Although year-over-year crime boosts are small, figures have been ticking up for several years. Total violent crime in Central Division is up 8.3%, with a 15.7% boost in aggravated assaults, through June 3 compared with the same period in 2015, according to LAPD statistics. Downtown is on pace to have about 450 more violent incidents in 2017 than occurred in 2014.
Property crimes, meanwhile, are up 14% compared to 2015, with a staggering 64% rise in burglary and theft from a vehicle. There were 1,880 incidents in the first six months of the year, about 230 more than two years ago.
Much of the increase in violent crime can be traced to Skid Row, which is seeing a nearly 10% boost in the category compared to last year, according to Reina.
"Much of the concerning activity happens in the Historic Core, which has a direct connection to Skid Row," Reina said.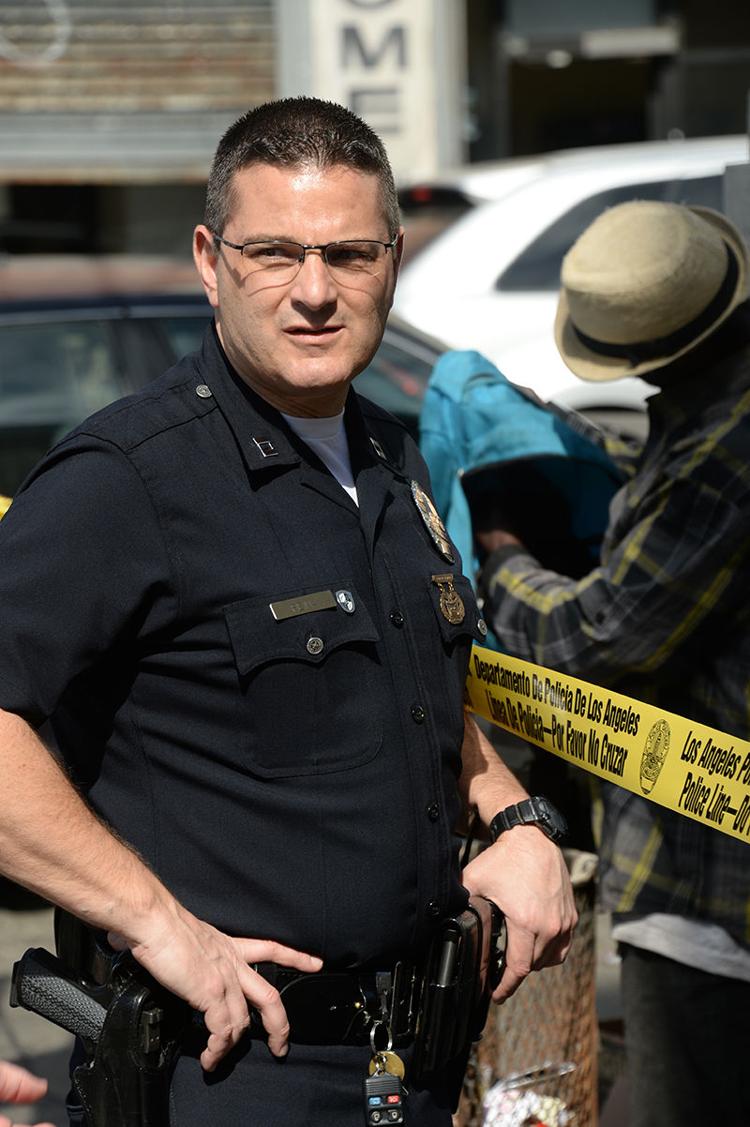 While few people may follow LAPD statistics, word-of-mouth of Downtown crime spreads quickly through Facebook and Twitter. In the past few months alone online communities have raged about incidents including muggings in the Historic Core, assaults by mentally ill homeless people, and constant drug dealing.
Reina is taking steps to address the situation. This year, Central Division added footbeat officers to the Financial District, South Park and Skid Row. Central also bumped its bike unit from five to nine officers, including a supervisor. They're the most flexible component of police patrols, and can move from hotspot to hotspot when needed.
Blair Besten, executive director of the Historic Core Business Improvement District, said this has an effect.
"I have noticed the comments about an uptick in aggressiveness, yet whenever we have an LAPD presence with foot beats, mounted units, or bike officers, it has a palpable influence on the area," she said.
Another matter is the gap between incidents people see versus those that actually get reported to the LAPD. This is a familiar topic to Betsy Starman, a longtime Historic Core resident with professional experience helping homeless people. Her intersection of Fifth and Broadway is rife with drug dealers, and she said there has been little improvement despite police attempts to crack down.
"I live in a building where someone's getting beat up on a daily basis. But people don't report the crime. We urge them to," Starman said. "Maybe they have warrants or are here illegally, but they don't want trouble, either way."
The Homeless Factor
Drug dealers at Fifth and Broadway have been a problem for years. Starman said it is especially frustrating to see that dealers and gang members have become accustomed to the schedules of LAPD patrols and feel emboldened to hold court on the streets.
An apparent gang killing happened near 800 W. Fifth St. on May 26, when a man was approached by one or more individuals who shot him, then fled in a vehicle, according to LAPD. Other fatal incidents have involved the police. On April 7, officers shot and killed a man who had stabbed multiple people on Skid Row in broad daylight.
The spread of tent encampments throughout Downtown, meanwhile, has put many stakeholders on edge, particularly because of encounters where an individual, often mentally ill, acts in an aggressive manner. The killing of an 85-year-old Korean man near Eighth and Olive streets by a homeless person last April spread worry across the community. More common are those who approach strangers and verbally assault or grab at them.
The reality is that homeless people are themselves often targets of assaults and robberies, and increased violence in Skid Row is pushing many individuals to other parts of Downtown, according to Reina. The city and county, meanwhile, lack a framework to get immediate help for homeless people who appear mentally ill but are not actively a danger to themselves or others.
Regardless of who is behind a crime, there is a growing sense that Downtown "is not as safe as it could be," City Attorney Mike Feuer said in a statement to Downtown News. His office is working with the LAPD to create more awareness events, including a forum for women's safety in early June.
"Certainly not all crimes are being reported, especially quality of life crimes," Feuer said. "Arrests and prosecution are important but they are reactive solutions… our goal is to prevent a crime from occurring in the first place."
The LAPD may lead the way in crime prevention, but Downtown stakeholders are trying to band together. There are increased talks of neighborhood watches (one already exists for South Park) and engaging property and business owners.
"We need some of the building and store owners to do their part, because we have a lot of people where, if it's not affecting them personally, they don't care," Van Horn said. "If we really make it an inconvenience for the predators, it's not going to get rid of the problem overnight, but it will help. We can't just rely on LAPD."
Starman has been compiling her own list of incidents taken off social media and word-of-mouth to create a picture of daily life, especially around her Fifth Street residence. Last month, she was posted at a Starbucks with a box of pepper-spray canisters, handing them out to anyone who had contacted her in advance online.
There were a lot of takers. 
© Los Angeles Downtown News 2017