DTLA—Every so often, a newly elected official elevates the mood of the populace, capturing the emotion of the time and place. When everything goes right there is giddy enthusiasm and hope for a brighter future — Barack Obama's 2009 inauguration comes to mind, and on a local level, there was Antonio Villaraigosa being elected mayor in 2005 (even if AnVil later squandered his potential). People love to believe in possibility.
Then there is Alex Villanueva. I'm not sure what exactly the opposite of the above description is, but the dude is embodying it. Most newly elected officials enjoy a honeymoon period. Villanueva seems intent on turning the honeymoon into a dumpster fire.
Villanueva was sworn in as the 33rd sheriff of Los Angeles County on Dec. 3, following a stunning upset of incumbent Jim McDonnell. What made this truly remarkable was that in his 32 years in the Los Angeles Sheriff's Department, Villanueva plateaued at the mid-level rank of lieutenant. If the general public did not imbue deep hope in Villanueva, it was largely because few people had any clue who the guy was.
Eight Curious Things About the New Sheriff
Sure, he was savvy enough to run as a Democrat in a hard Blue county, but his campaign trail calls for reform of the department hardly made him different from any aspiring politician who stumps on the clichéd promise of change. Still, he figured out how to get elected. Give him credit for that.
Four months after being inaugurated, the public is getting a clearer picture of Villanueva, and it's frequently bizarre. His first big step was removing virtually the entire command staff of the department and installing his own team. While one can comprehend wanting a fresh start, it can probably be achieved without flambéing everyone with institutional knowledge of a department that has 17,000 sworn and civilian employees.
More recently, Villanueva has been garnering headlines not for righting the department or embarking on bold new law enforcement initiatives, but for igniting a war with the County Board of Supervisors. It has gotten so bad that supes Mark Ridley-Thomas and Sheila Kuehl last week authored a motion asking county lawyers to investigate the legality of a new commission that Villanueva formed. They are scheduled to vote on the matter on Tuesday, March 12.
This is explosive, and it looks like the situation will get worse before it gets better. Power players often like to resolve things quietly, but on Tuesday, March 5, in the wake of introducing the motion, Ridley-Thomas tweeted, "This is clearly a regrettable situation, but we believe that the Sheriff acted outside of the law. We take this unprecedented and uncomfortable position because it is necessary. We cannot allow the last decade of reform and accountability to be abandoned."
Read that closely. The line, "we believe that the Sheriff acted outside of the law," speaks volumes.
Villanueva staunchly defends himself, but the really wacky thing is that the standoff — which could permanently poison the relationship between the supervisors and the sheriff — is completely unnecessary. In a world where elected officials usually choose their battles carefully, you have to wonder: Why did Villanueva pick this one?
Calling Caren Carl
The turmoil swirls around a Villanueva ally named Caren Carl Mandoyan. Three years ago, McDonnell fired Mandoyan from the sheriff's department in the wake of domestic abuse allegations. The Los Angeles Times in January reported that a female department employee, who once had been in a relationship with Mandoyan, had alleged that he physically assaulted and stalked her. No criminal charges were filed, but the county Civil Service Commission reviewed and upheld McDonnell's decision.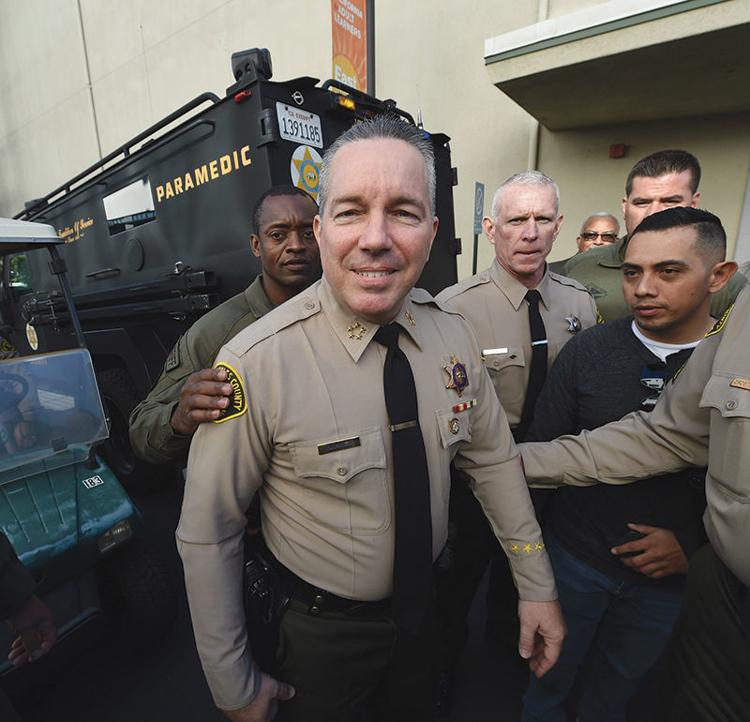 Mandoyan was part of Villanueva's campaign team, and shortly after the new sheriff was sworn in, he reinstated the former deputy. The story instantly blew up. The supervisors fiercely objected.
There are many layers to the proceedings, including Villanueva proposing to create a new "Truth and Reconciliation Commission" to look into cases of workers dismissed during McDonnell's four-year tenure. But McDonnell was widely viewed as a reformer whose mission was to clean up the mess the department had become under disgraced former Sheriff Lee Baca and equally disgraced Undersheriff Paul Tanaka. (The two were snagged in a corruption scandal and Tanaka went to prison, while Baca will likely wind up there soon.) McDonnell's disciplinary moves rankled many longtime deputies (the union for deputies backed Villanueva in last November's election), but LASD watchers generally applauded his efforts.
Jim McDonnell on Pimps, Terrorism and the New Law Enforcement
Villanueva has asserted that the reinstatement of Mandoyan was vetted, and news reports feature remarks from Mandoyan's attorney defending his client.
But the supervisors remain resolute. Hence a situation that is the equivalent of the supervisors and Villanueva both climbing into facing semi-trucks, slamming the gas pedals, and hurtling toward each other.
I can understand Villanueva wanting to come out of the gate strong and position himself as a change agent willing to confront power, but good gravy, is Mandoyan really the guy he wants to go to the mat for at this time? The January L.A. Times report said the deputy alleged that Mandoyan grabbed her by the neck, and later tried to break into her home (again, attorneys have disputed that in published reports).
Even if Villanueva believes that the allegations against Mandoyan are 129% wrong, and that the female deputy overstated the incidents, the new sheriff should recognize that in the wake of Harvey Weinstein and the exposure of unseemly behavior by too many men in power, the public looks at abuse complaints in a completely different light. In the Mandoyan case it wasn't just vague ideas tossed into the air, but something that came with evidence that prompted a respected Los Angeles Sheriff and the Civil Service Commission to make a ruling removing Mandoyan. You can't just flip that and expect the populace to go, "Okey dokey! You know best!"
Villanueva doesn't look heroic by backing his buddy. Maybe he doesn't care.
Mid-Level Perspective
Should we be surprised by Villanueva's move? Yes, because it's shortsighted and completely out of touch with the time. But if you peer closely, you can also see the seeds of where the action may have come from: One LASD observer pointed out that, after a three-decade career that never surpassed the middle ranks of the department, it'd be foolish to expect Villanueva to operate with a top-tier perspective. He doesn't think that way.
We've seen new arrivals have trouble in similar situations. Carmen Trutanich surprised everyone when he was elected City Attorney in 2009, upsetting then-City Councilman Jack Weiss in the race. Trutanich arrived with an agenda and an aggressive vision, but was never able to navigate City Hall effectively. Instead he clashed repeatedly with the City Council and the mayor, and saw his department's budget slashed. In 2013 he lost his re-election bid.
It's hard to tell where the current proceedings will go. The county lost a court ruling last Wednesday when a judge refused to overturn Villanueva's reinstatement of Mandoyan. Still, the supervisors have this week's motion, and have sought to have Mandoyan turn over his badge and gun and halt his pay. They are not backing down.
This is, as the expression goes, a marathon, not a sprint, though it should be neither. Given crime concerns, there are a million other places where the sheriff could focus his energy. He could easily walk this back, eat a little crow, then seek to implement his agenda.
While the sheriff is elected, the supervisors control the county's budget and bureaucracy, and they can make Villanueva's life very difficult. He has to deal with them for at least the next 44 months.
Villanueva might win the Mandoyan battle. He might not. But as he wages this war, the sheriff's star is being tarnished.
Copyright 2019 Los Angeles Downtown News