Things in Los Angeles move quickly, but while people are getting ready to celebrate the start of the next decade, just as many people are taking a moment to look back before closing the book on 2019.
it's a great time to go back and take stock of some of the headline grabbing events that have occurred in the central city.
Below is a rundown of some of the biggest headlines across a variety of topics that grabbed Downtown resident's attention in 2019.
News and Politics
The year started off with a bit of history, as the waterfall at the Fort Moore Pioneer Memorial monument on Hope Street was turned on for the first time in over 42 years, marking the final stretch of a slate of renovation work planned for the monument. The renovations would be officially completed in July, with the burial of a new time capsule in the monument's flag base.
The closing year also saw the City Council race heat up, as candidates begun to throw their hats into the ring to potentially replace outgoing councilman José Huizar. Former State President pro tempore Kevin de León emerged as a front-runner earlier on, alongside former Los Angeles Unified School District Board President Monica Garcia. Richelle Huizar, the wife of José Huizar, had previously announced in 2018 to run for her husband's seat, but opted to drop out, just a few weeks after FBI agents were seen raiding Huizar's home, City Hall office and Boyle Heights offices. No charges have been filed.
We did get additional details on those raids in 2019 however. In January, a search warrant attached to the raids was obtained, revealing the scope of the investigation, which included mayoral staff, Chinese developers and multiple City Hall officials and staffers. No arrests have been made and, again, no charges have been filed. However, the question of how to restore trust in city government, despite the raids, have been a topic of discussion during the lead up to this March's primary election vote.

On the law and order side, Downtown also was reintroduced to a familiar face, as Timothy Harrelson was tapped to step in as Commanding Officer of Los Angeles Police Department's Central Division.
The City also placed a spotlight on illegal dumping, seeking to raise fines for those found guilty of either illegally leaving refuse on the streets, or refusing to sign up for proper trash hauling services.
The annual homeless count conducted by the Los Angeles Homeless Services Authority found a sharp increase in people living without homes. The count, which is conducted every year over a three-day period in January, found a 16% rise in homelessness in the city and a 12% rise in the county compared to 2018 numbers. In Downtown's Skid Row, there was an 11% rise over 2018, up to 4,757 people. The count also found that 17% of people on the streets were experiencing homelessness for the first time.
In response to the numbers, there were a number of actions taken to try and help alleviate the crisis. The city received $20 million in state Homelessness Emergency Aid Program funds, of which $2.7 million was allocated for hygiene programs on Skid Row. The city also continues to try and expand its Bridge Housing program, with two more in the works in Downtown. The Downtown Women's Center opened a women's only overnight shelter in August, and the Union Rescue Mission opened its own overnight shelter in its former employee parking lot after close to a year of construction and organizing.
But while the city and county move forward on ways to combat the homeless crisis, other government offices were finding issues with their rollout. An audit from City Controller Ron Galperin found that LAHSA was failing to meet a majority of its stated goals, including housing placement and contacts, and that its outreach methods were not working as intended. A separate audit said that the city is failing to meet goals for Proposition HHH, the $1.2 billion bond meant to fund permanent supportive housing. Galperin's office cited rising construction costs and lengthy processes as the main reasons.
The city and county's efforts to address took another blow late this year when LAHSA Executive Director Peter Lynn announced that he was stepping down. Heidi Marston, who currently serves as chief program officer, will step in as the interim executive director after Lynn officially exits at year's end.
On a more personal note, in August, the Arizona-based Times Media Publications purchased Los Angeles Downtown News alongside four other papers previously owned by Southland Publishing.
Development and Business
The biggest news in Downtown development this year is what didn't develop. At the start of the year, Oceanwide Holdings announced that work had stopped at the massive $1 billion Oceanwide Plaza, citing financing issues and a funding shortfall. Experts pointed to the Chinese government's capital control efforts as a reason for the financial troubles. Nearly a full year later and the project remains stalled. Some minor additions have been done, but activity on the site is a fraction of what it had been.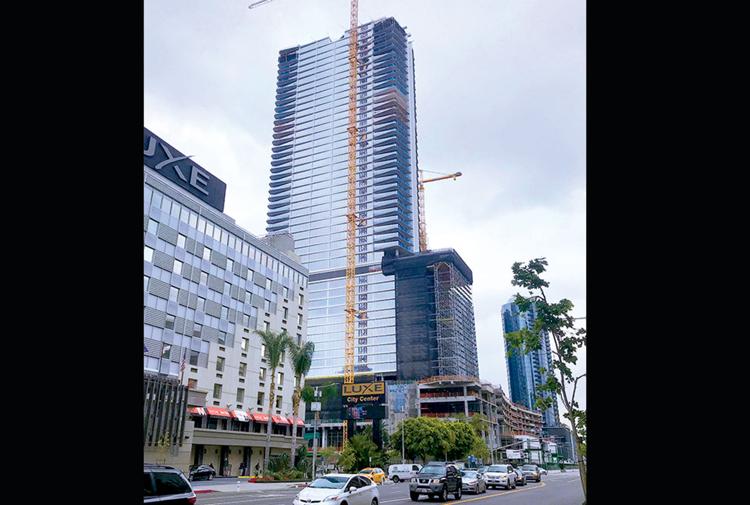 However Downtown was not without positive development news. In February, the $1 billion housing and retail project The Grand, designed by Frank Gehry, broke ground on Bunker Hill, 15 years after it was originally proposed.
Other projects wrapped. The final Metropolis tower converted to apartments, now known as Thea at Metropolis. MacFarlane Partners' Park Fifth, just north of Pershing Square, opened its combined 660 residential units to the public in the fall. The 472-unit Aliso complex in the Arts District opened as well, reshaping part of the neighborhood next to Sci-ARC and adding a new paseo linking Third Street and Traction Avenue. Not to be outdone, LA Plaza Village, after three years of construction, reached the finish line, brining 355 units and four massive murals to the area that borders Chinatown and the Civic Center.
New hotels, including the nine-room Firehouse Hotel in the Arts District and the Hoxton Hotel on Broadway, arrived. More are in the works; in May, the CitizenM hotel planned for Fourth and Spring streets broke ground.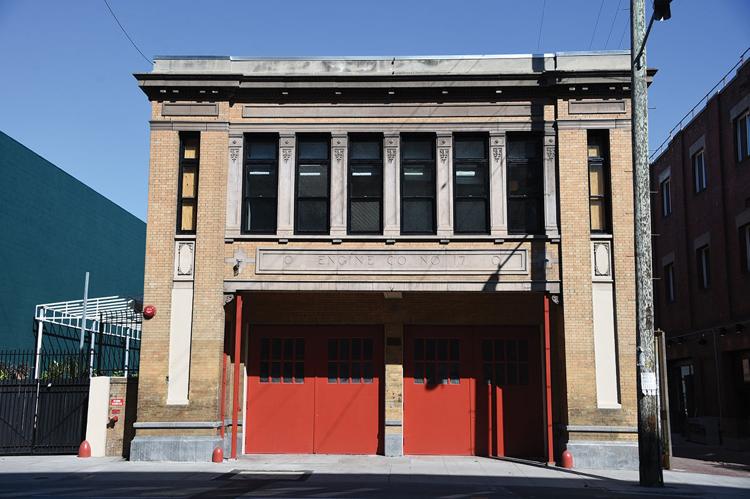 There was also some exciting retail news. The Alamo Drafthouse, a dine-in movie theater chain, officially opened in The Bloc in August, four years after it was originally set to arrive. The cannabis industry grew its retail presence, with new stores such as Stiizy and Sweetflower arriving on the eastern side of Downtown.
On the culinary side of Downtown, new additions drew crowds, while the exit of a few longtime favorites created consternation from foodies.
However, over the course of the year, some big named restaurants have opted to close. Over the course of just 11 months, The Manufactory came and went and Cafe Pinot, a favorite for the business lunch crowd, also ceased operations at its longtime Maguire Gardens home at the Los Angeles Public Library. Tony Esnault and Yassmin Sarmadi, owners of the influential Church and State in the Arts District, sold their concept to a group led by Bill Chait and later reopened under the same moniker.
Possibly the biggest culinary headline of the year, was the release of the all-California Michelin Guide, which marked the tiny red book's return to Los Angeles for the first time in nearly a decade. Four Downtown eateries, Orsa and Winston, Q Sushi, Shibumi and Hayato received one-star designation.
Arts
This past year was a major one for Downtown's artistic calendar. Venues in the area played host to everything from John Leguizamo's one-man show Latin History for Morons to massive festivals such as the All My Friends electronic music celebration. Rapper Tyler, the Creator brought his Camp Flog Gnaw back to Dodger Stadium, but crowds were disappointed when the previously unannounced special guest was revealed to be Drake.
Major works and exhibitions were showcased as well. Composer Yuval Sharon wrapped up a three-year residency at the Los Angeles Philharmonic with his immersive opera Atlas. Across the street at the Museum of Contemporary Art, the space celebrated 40 years with exhibitions pulling from its permanent collection and paying homage to its past shows. At The Broad, their exhibit on art in the civil rights Soul of a Nation drew massive crowds eager to see the work of Robert Frank and Betye Star, among others. Also at The Broad museum, Iranian artist Shirin Neshat unveiled I Will Greet the Sun Again, a massive retrospective of more than 20 years of her photography and movies. It also included a new two-part movie Land of Dreams.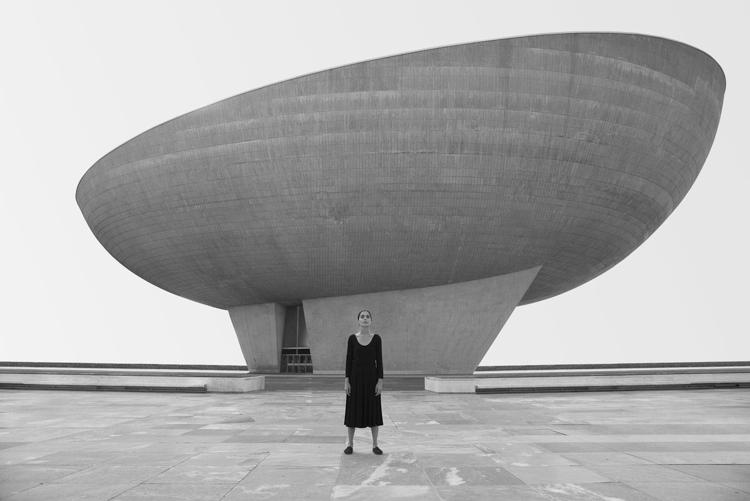 This year also saw some leadership shakeups at some major artistic institutions. In January, Mark Murphy, the founding executive director at Redcat, stepped down from his post after 16 years. Placido Domingo, the famous tenor and long-running general director of the L.A. Opera, resigned in the wake of accusations of sexual misconduct from 20 women; subsequent performances at other American opera houses were canceled, although he still retains international bookings. Also on Bunker Hill, Los Angeles Philharmonic CEO Simon Woods abruptly stepped down a week before the season began, and only after a year and a half on the job. Chad Smith was appointed his replacement. In April, Meghan Pressman was announced as the new CEO of the Center Theatre Group, which operates the Ahmanson Theatre and Mark Taper Forum.
sthomas@timespublications.com and
nslayton@timespublications.com
©Los Angeles Downtown News 2019