Third- through fifth-grade students at Metro Charter Elementary School walk, with chaperones, from the school's main facility at 700 Wilshire Blvd. to the Ketchum-Downtown YMCA at 401 S. Hope St., which has recreational space.
A physical altercation on Tuesday, Dec. 12, however, raised concerns about safety.
According to Metro Charter Principal Kim Clerx, a third-grade class was walking through the Central Library to the steps at the U.S. Bank Tower on Fifth Street.
While waiting to cross Fifth Street, an allegedly homeless man approached and jabbed at a student's abdomen with a sharp metal object.
The child was injured and taken by police to L.A. County + USC Medical Center, but returned to school on Thursday.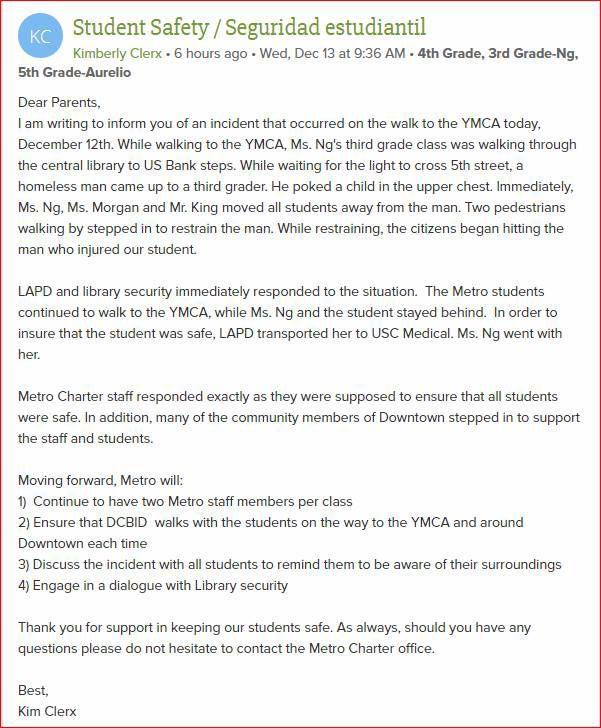 Two passersby restrained and began striking the man who assaulted the student, and library security showed up "within a minute or two," Clerx said.
A statement to parents from Clerx says that Metro Charter will continue to use two school staffers, plus staff from the Downtown Center Business Improvement District, on the walks to and from the YMCA.
The school will also work closer with the LAPD, and talk to students about how to be aware of their surroundings, Clerx said.
"We spoke with the students about finding the nearest adult if they ever feel uncomfortable," she added. "We've been discussing and implementing more rules, like how students now have to have a partner to take the stairs on campus." 
Details have not been revealed on the assailant's identity or any pending charges.
Metro Charter is currently in a split-campus configuration, with kindergarten through second graders commuting to Pleasant Hills Baptist Church near Exposition Park and older students in 700 Wilshire.