DTLA-Voters won't go to the polls for another year, but the race to replace 14th District City Councilman José Huizar is heating up, with a new, politically connected candidate throwing her hat in the ring.
On Monday, Feb. 25, Monica Garcia, the president of the board of the Los Angeles Unified School District, announced her candidacy for the seat. The election to replace Huizar, who will be termed out next year, is in March 2020.
Garcia has served on the LAUSD board for 12 years, and has spent the majority of that time as president of the body that, among other tasks, hires the superintendent and oversees a $7 billion annual budget. She was born in East L.A. and lives in the community of Rose Hills, near El Sereno.
In 2007, Monica Garcia Became LAUSD Board President for the First Time
Garcia said "community wellness," a term she uses to encompass issues such as education and public safety, will be a driver in her campaign. The 14th District encompasses Downtown Los Angeles and Boyle Heights, and extends up to Northeast L.A. neighborhoods including Eagle Rock and portions of Highland Park.
District inhabitants, said Garcia, "need a new lens on the role of government and the role of community."
Garcia was elected to the school board in 2006 and has won four elections. Her territory includes much of the 14th Council District.
The daughter of a father who worked at a furniture manufacturing business and a mother who raised five children and then worked at a pharmacy in Boyle Heights, Garcia is a graduate of USC and UC Berkeley. She has also worked as a social worker.
Garcia has a long history in the political sphere, too. She served as Huizar's chief of staff when he sat on the LAUSD board. After Huizar was elected to the City Council, she won a race to fill his school board seat.
Huizar has been under scrutiny since last fall, when FBI agents searched his home and offices as part of an apparent corruption investigation. Although no one has been arrested and no charges have been filed, Huizar in November was stripped of his council committee assignments by Council President Herb Wesson. Additionally, Huizar's wife, Richelle Huizar, abandoned her own run for the 14th District seat two months after she had entered the race.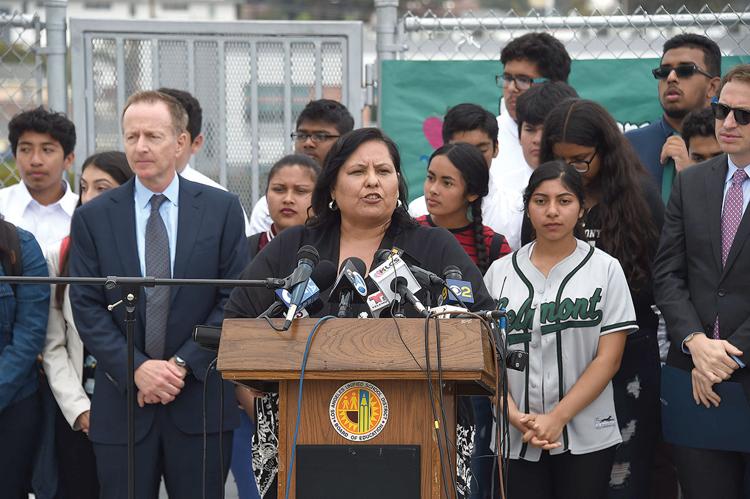 When asked how she would restore community trust in the wake of the proceedings that enveloped Huizar, Garcia said, "Let's be clear: It is beyond this council district, but we must start in this council district. I've known Councilmember Huizar and his wife and family for more than 25 years. I'm very sad about the situation they find themselves in, but this campaign is about the people of the 14th and community and the appropriate role of government. We start by saying we trust the people of the 14th, we trust that the residents and stakeholders are clear in who they are and what they want. They want people who are partners in dealing with their own issues."
For Team Huizar, Winter Is Here
Garcia's entrance into the race came two weeks after former state Senate President Pro Tem Kevin de Leon announced his candidacy. A longtime political powerbroker, de Leon's territory also included portions of the 14th Council District. Last year he failed in an effort to topple U.S. Sen. Dianne Feinstein.
Kevin de Leon Enters Council Race
Garcia, 50, acknowledged that the election will be tough, but said that is par for the course.
"I've never had an easy election," she said. "I'm the third Latina in 155 years to be on the school board."
In addition to Garcia and de Leon, five other people have filed papers to raise money for the race. If no one earns a majority of the vote in the March primary, the top two finishers will advance to a runoff eight months later.
Copyright 2019 Los Angeles Downtown News