DTLA—It's hard to imagine anyone in Downtown Los Angeles who had a more challenging 15 months than LAUSD Superintendent Austin Beutner. 
In May 2018 a divided school board hired him to helm the district. He was instantly plunged into tense negotiations with the union United Teachers Los Angeles, and in January red-clad educators walked out for six days. During the strike the LAUSD was pilloried and Beutner was subjected to nasty personal attacks at rallies and on the union's social media platforms.
In UTLA-LAUSD Strike Battle, Tactics Are Key
The teachers came back but nothing got easier. A May election to replace ousted board member Ref Rodriguez — who had supported hiring Beutner, and who was forced to resign over campaign finance shenanigans — brought in Jackie Goldberg, the favorite of UTLA. The following month Los Angeles voters clubbed an effort to raise $500 million a year for local schools. The parcel tax Measure EE needed two-thirds approval, but despite heavy lobbying from Mayor Eric Garcetti, Beutner and UTLA, it got only 45% support.
There's one challenge not mentioned in the above list: providing a high-quality education to 500,000 K-12 students. That's because for much of Los Angeles, school politics overwhelms learning.
That reality was on Beutner's mind last week as students at 1,386 district schools returned to class following summer break. Beutner and I discussed the subject the week before in a conference room in district headquarters on Beaudry Street. The really wacky thing, he pointed out — without using the word "wacky" — is that despite all the stories that gained traction, the district recorded across-the-board increases in state English and math tests, and the graduation rate rose. Meanwhile, suspensions and chronic absenteeism fell.
The statistical shifts were mostly small, and Beutner acknowledges that 56% of district students are not at state grade level in reading, and 67% are below the line in math. Still the numbers turned in the right direction for the first time in forever. That hasn't yielded headlines.
"Maybe because we live in a town of storytellers the conflict is more interesting than progress, or collaboration is less interesting than conflict," he said. Pointing to a sizable but little-discussed reduction in healthcare spending since he took over, Beutner added, "Look at just the progress we made in reducing the cost of providing healthcare, saving almost $100 million. That's real money. But there was not a story written because it's not conflict. A cage match is far more interesting."
Money Matters
When Beutner spoke to about 2,000 school principals and other administrators on Aug. 15 at Walt Disney Concert Hall, he had a theme: myths of the LAUSD.
He rolled out several. Some were shocking enough to make an adult choke on a box of milk, such as the one about the LAUSD's "bloated bureaucracy." Beutner said that rather than profligate spending, 97% of every dollar in the district budget now goes to schools. He even had a nifty graphic showing that just 3% is spent on "Central" administration.
A more problematic myth also concerns money, specifically, Beutner said, the idea that the LAUSD has plenty of it. Things get tricky here, because during the strike UTLA repeatedly charged the district was pulling a Scrooge McDuck and hoarding the cash that could cover teachers raises. Okay, no one actually referenced McDuck, but the hoarding assertion was widespread — if people believe the district has a secret fat bankroll, the union is partly culpable.
In fact, Beutner has been warning of a fiscal calamity since he took over. The district, he says, spends about $500 million a year more than it takes in (the vast majority of funds come from the state), and if the situation is not rectified, the LAUSD could become insolvent in a few years. Hence that big swing for Measure EE.
L.A. Unified, he said, spends about $16,000 per student per year. That sounds impressive, but Beutner said New York City drops $29,000 annually per pupil. More local money would mean smaller class sizes, more counselors and a path to improved academic performance.
"You can't cut your way to make 16 [into] 29, and you can't repackage your way to make 16 [into] 29," he told me in the conference room. "There's no math that does that. That's the existential challenge that we as a community need to face up to."
A moment later he added, "We think it's somehow adequate. It's not. There's just no conception of adequacy."
He said another school-funding ballot measure could appear in 2020. Whether it's a local or state initiative remains to be seen.
Politics and Charity
Beutner is a product of public education. He attended Michigan public schools as a child, and his mom was a public school teacher.
He's come a long way, and if his last 15 months have been challenging, then his past decade has been astounding.
Beutner arrived on the L.A. scene in 2010 as First Deputy Mayor under Antonio Villaraigosa, and the year he spent in the post was the smoothest of AnVil's tenure (Beutner, who had a made a fortune in the New York financial services world, took a dollar a year for the gig). He left, briefly ran for mayor, dropped out and later chaired the 2020 Commission, a civic panel that authored a pair of hard-hitting reports with recommendations on how to make the city and government function better. Not surprisingly, elected officials buried the papers.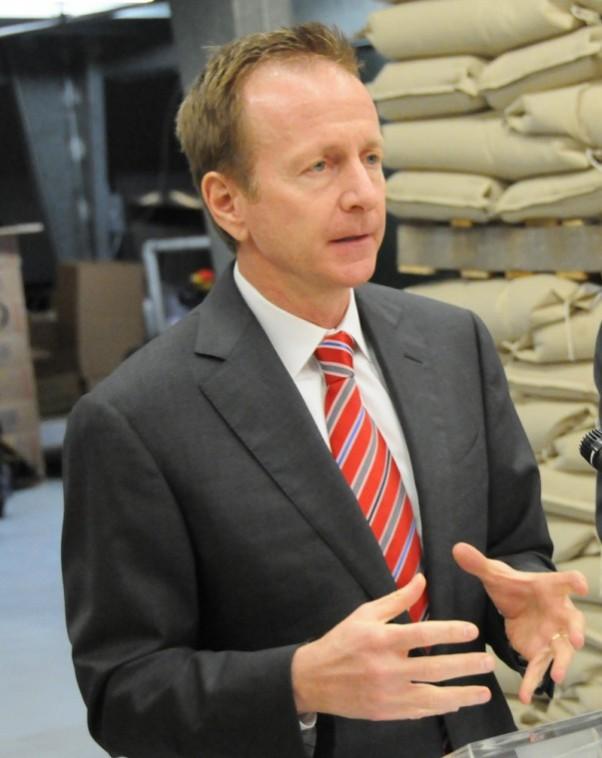 He served a year as publisher of the Los Angeles Times, and though locals praised his moves to boost quality, Beutner was fired after refusing to kowtow to the paper's then-Chicago overlords. He also started a charity, Vision to Learn, that has provided free eyeglasses to more than 180,000 low-income children across the country.
The charity is how he met Michelle King shortly after she was appointed LAUSD Superintendent in 2016. He became an advisor to her, part of a group offering suggestions on ways to improve the district.
It's a path many have forgotten — when Beutner began working with King, people assumed she'd be there for years. Tragically, she became sick and left her post in September 2017. She died of cancer the following February.
"When she became ill I guess I knew enough to say maybe I can help," Beutner recalled. "I didn't set out on this path."
The unlikely road to the superintendent's office, combined with his private-sector past, had detractors charging that Beutner arrived with an agenda to cudgel traditional public schools and turn LAUSD institutions en masse into charter schools — that hasn't happened. Other suspicions, including that he would undertake a massive reorganization of the district, have also not occurred.
That builds into another myth Beutner cited: The path forward, he said, doesn't require a dramatic reweaving of 60,000 district employees and 70,000 classes. Rather, it's something far simpler: Ensuring that individual schools are at the "center" of every effort to improve education, and that as much as possible, key decisions happen not at headquarters, but in schools with empowered principals and in local communities.
The approach doesn't seem like just a sound bite. If I had a quarter for every time Beutner used the word "center" during our 45-minute talk, then I'd have $4.
It's less disruption, Beutner said, and more stability.
"I think I have a pretty good understanding, and I think the people here do, of what works: an experienced school leader with the budget they need," he said. "A high-quality teacher in the classroom, colleagues to help support the social-emotional needs of the child. It's not a secret."
The first-year educational advances provide a base on which to build, but ultimately Beutner will be judged by what significant changes he can effect in a district where the majority of students are not at grade level in reading or math. The challenges are immense — according to the district, the families of 78% of students are classified as low-income, and 47% of kids who enter kindergarten change schools by fifth grade, a hurdle to creating a stable learning environment. Only 12% of the students who start ninth grade graduate from college.
Beutner was neither the obvious nor the safe choice to head the district, but that may be what best prepares him for success. In his decade in the L.A. spotlight he has established a track record as a forward-thinking leader who is unafraid to kick against the status quo if it prohibits progress. That mindset can pave the way to dramatic achievements, such as Vision to Learn, which literally has given nearly 200,000 children a tool to succeed. But the approach can also lead to conflict with an entity that isn't really ready for the kind of change and performance demands that Beutner brings — just think of the clash with the old L.A. Times regime.
I asked Beutner how being superintendent stacks up to everything he has done.
"Maybe the greatest challenge and the greatest opportunity," he answered. "It's certainly the toughest challenge."
A moment later he added, "It is the biggest opportunity of anything I've worked on in my life. I think some of the experiences I have are relevant, and if I do nothing else other than raise awareness in our community of the importance of public education, that will be progress, because we're not there yet."
Copyright 2019 Los Angeles Downtown News