DTLA - On May 11, Phillip Washington started one of the toughest jobs in Los Angeles: CEO of the Metropolitan Transportation Authority. In replacing Art Leahy, who held the post for six years, Washington took charge of an agency with a $5.5 billion annual budget, more than 9,000 employees and a serious growth mission: Metro is currently building or expanding five rail lines, including Downtown's $1.55 billion Regional Connector.
Get DTLA stories in our daily email newsletter.
Washington grew up in Chicago and joined the Army at 18. He would ultimately earn the highest enlisted rank before departing to study transportation and join the Denver Regional Transportation District in 2000. He became general manager in 2009.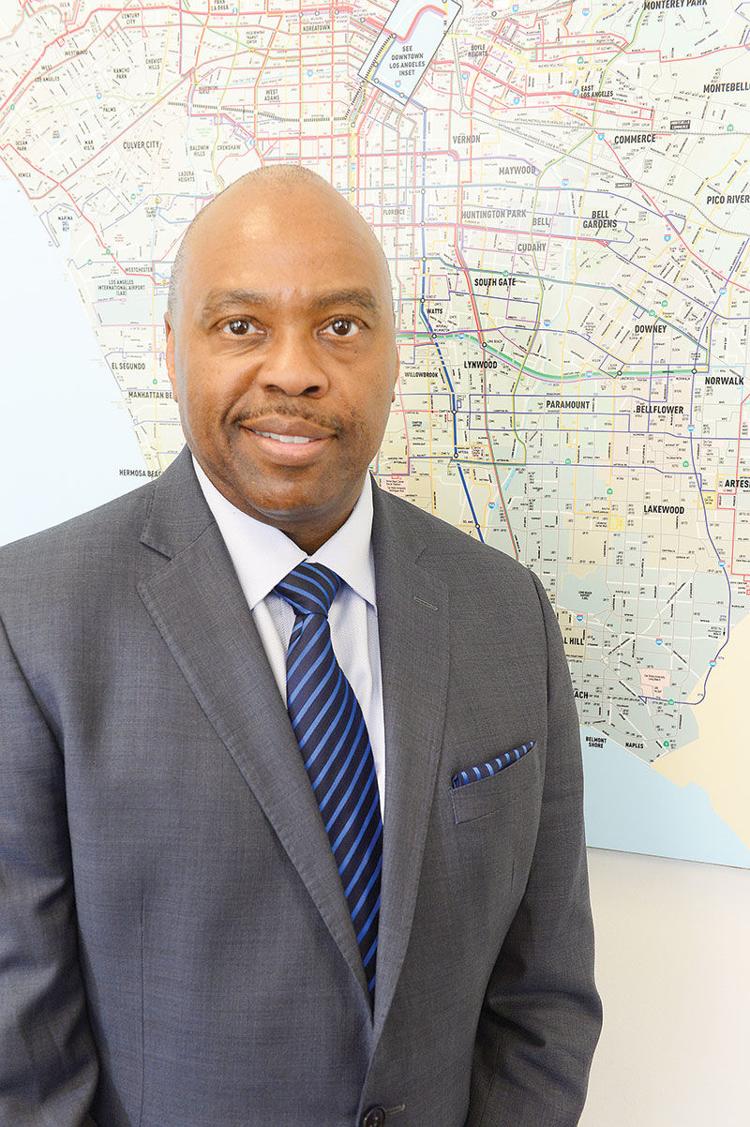 Washington, 58, faces challenges well beyond building rail lines. There's Metro's bus system with approximately 170 routes that serves about 1.1 million riders a day, along with the region's political pitfalls. Additionally, Washington is pushing Measure R2, a proposed tax increase to pay for future transportation projects. It is expected to be on the November ballot. 
Los Angeles Downtown News sat down with Washington at Metro headquarters to discuss regional challenges, Downtown aspirations and why L.A. can be a transit leader for the world. 
Los Angeles Downtown News: You've talked about how Los Angeles is ready to tout a "world-class" transit system. How far are we from achieving that vision?
Phillip Washington: I don't think we're far away at all. What we're striving for is connectivity — we need to show how our projects connect to other existing modes of transportation in a meaningful way.
When I look at the potential for our system, I think about European cities like Paris and London. Our infrastructure forefathers are being vilified, in some cases, because we're saying that they didn't plan for future growth. They were looking out for 30 or 40 years, but it still wasn't enough when you look at the congestion today. We need to have a long-term view. We owe that to our kids and grandchildren and generations beyond. 
Q: The L.A. Times recently reported that Metro has had declining ridership over the decades. How does that figure in to your vision for the system?
A: Ridership is cyclical — it goes up and it goes down. What we are focused on is enhancing the rider experience. [This] month, we are installing cell service in the tunnels from Union Station to [the] Seventh [Street station]. We're looking at real-time information and apps, and at our on-time performance. When a bus is supposed to be there, we want it there.
The mode share, if you will, will increase, and my goal is 20%. People say, "Phil, that's insanely optimistic to think 20% of people out there will take transit." But I think that's where we're going in the next 15 or 20 years. This is not your grandfather's transit agency anymore. We do not need to set our hair on fire when ridership dips a couple percentages. 
Q: Let's talk about some Downtown projects. First, how does the Regional Connector fit into this countywide network?
A: The Regional Connector is a huge game-changer. We're talking about a one-seat ride for passengers, east to west and north to south. Someone can get on a train in Azusa and go to Long Beach. That's pretty doggone good.
The Regional Connector is going to attract 17,000 new riders and carry about 88,000 daily riders. So you see why I don't freak out about cyclical ridership dips? We're opening up two lines this spring: the Gold Line extension and Expo Phase 2. I guarantee you that both of those will exceed ridership projections. I will make you a bet on that.
The Regional Connector is opening everything up in the Downtown area to the rest of the region in a significant way. It's making it so that someone can come Downtown, get something to eat, and continue to Santa Monica. That's exciting, and it's exactly what we want to see. 
Q: In November, the Little Tokyo community complained about Metro construction that would have hurt businesses during the holiday season. They charged that Metro had ignored their concerns — you showed up at one of those meetings. Ultimately the schedule was pushed back. What happened?
A: First of all, I think the right decision was made. You would think a big agency like Metro is not flexible, but we want to work with the community. There were some unknown utilities that were found as part of that Little Tokyo work, and we were looking to get in early to get out early.
We have closure issues all over the county. What we want to do is understand communities better. When I first arrived here, I put a double-track project in Northridge fully on hold in order to better hear the community. 
Q: What about some other Downtown projects: the overhaul of Union Station, and the idea to expand light rail into the Arts District?
A: The Union Station Master Plan has two parts to consider: We have our growth, just on the L.A. Metro end, that over the next 10 years is going to be significant. The flipside is, what do we need to do to support high-speed rail along with that? We need to have some financial commitments on high-speed rail before I go to my board and say we need to accommodate that.
There have been some proposals made over the past few years for one or two at-grade rail stations in the Arts District. We're looking at it but we haven't taken a position on it. We do know about the Arts District's renewed activity, and some of the restaurants and shops popping up are impressive.
Q: Metro recently debuted Downtown's Division 13, a bus maintenance facility, which has cutting-edge sustainability features. How important is sustainability in upcoming Metro projects? 
A: Sustainability must be taken seriously early on in the design specifications, and you may indeed have to spend more money early on. It's a great payoff in the end, though, for the environment but also on our investment. What we don't want to do is retrofit — retrofits are terribly expensive.
We cannot keep up with tech advances. This is why we created an Office of Extraordinary Innovation last year. Government is incredibly over-prescriptive. What we want to do is get away from telling everyone exactly what widget to use. We're going to unveil a policy that lets the private sector bring their ideas to us, unsolicited, because right now the private sector is totally reactive to government. They wait until we put out a [Request for Proposals], and then we evaluate their bids. With this policy, you bring them to us! These are ways to stay abreast of tech. 
Q: In 2008 county voters passed Measure R. A follow-up, Measure J, was rejected in 2012. Now you're pushing Measure R2, a tax increase that would rase $120 billion to fund additional regional transportation projects. Is this critical? 
A: There's a three-legged funding stool when you talk mega-infrastructure projects. The first is local investment, like sales tax revenue, and the success rate of local initiatives was about 70% around the country. So that leg, in terms of local investment, is pretty strong.
The second leg is the private sector. The private sector has capital and they're willing to invest in infrastructure — for a reasonable return. We use that in exchange for project acceleration and to transfer some risk away, primarily. So that leg is strong.
The third leg is federal dollars. We just got a new transportation funding bill late last year. People say it's a long-term bill, but I argue [against] that because five years is not long-term to me. With local investments, we're talking 30 years, like with Measure R. But that's the best we can do. 
It would help to complete another part with R2. We are on the verge of being the infrastructure capital of the world. If we're successful with R2, we have a lot of opportunities.
Q: Developing transit can be very political. Do you have any takeaways so far on L.A.'s politics and how it affects your job?
A: Absolutely not. [Laughs] The only comment I would make is that you work within the politics that you're dealt. But we have a region and we have leaders who understand the importance of infrastructure investment — more so than any area in the country.
Correction: A previous version of this story noted Washington rose to the "second-highest" enlisted rank in the Army. He actually served as command sergeant major, the highest enlisted rank. 
© Los Angeles Downtown News 2016