It's midday on New Year's Eve and the Fashion District's Santee Alley is buzzing. Scores of visitors peruse the multitudes of shops that line the neighborhood, fingering through various deals and stopping to eye new outfits.
    On the sidewalk, pedestrians shuffle from stall to stall; bookended on nearly every block with men and women in front of carts and trucks, selling everything from sliced fruit in a cup, to churros and bacon-wrapped hotdogs.
    As the world welcomed the start of 2020, those vendors, who are just a sliver of the 50,000 that are estimated to operate in Los Angeles, were also able to look toward a new future. Last week, on Thursday, Jan. 2, the City of Los Angeles kick started its legal street vending program and began accepting permits for legal street food vending. Under the new rules, every Los Angeles street vendor will be required to buy a permit with the city, or face fines.
    Still, while most are praising the new rules for street vendors, some are worried that too many people who will be ultimately impacted by the change, are still unaware of the incoming laws.
    Rudy Espinoza is the Executive Director of Leadership for Urban Renewal Network, a community development organization that focuses on equitable community building and said that his biggest concern is that too many street vendors in Los Angeles have not been provided effective education to properly participate in the program.
    "The big takeaway is that there has been a huge lack of investment in education and that is a big concern of mine," Espinoza said during a phone call with Los Angeles Downtown News the day the new rules went into effect. "I think a lot of street vendors, many who are in Downtown, don't know what the rules are and there has to be a serious investment to reach them."
    Espinoza, who's organization LURN was part of the Los Angeles Street Vending Coalition that has been fighting to legalize street vending for over a decade, argued that most vendors that he has talked to want to acquire permits and legitimize their businesses, but are simply unaware of how to go about it.
    "Street vendors want to be formalized, the members of our campaign want an education campaign, but you have to let people know that a permit exist," Espinoza said.
    Mario Hernandez has sold bacon-wrapped hotdogs and other foods out of his food truck in the Fashion District for the past three years and was one of the vendors at work when a Los Angeles Downtown News reporter canvassed the neighborhood to question how many people knew of the rule changes.
    Hernandez said that he was made aware of the changes by a family friend a few weeks ago, and admits that if it weren't for that chance announcement, he probably would still be left out of the loop. He said he's concerned that others might be in the same boat.
    "I don't think others out here do know," Hernandez said. "I've tried to tell a few, some listen, others don't."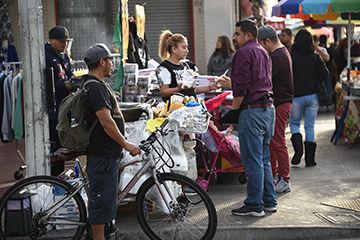 The need for education is not lost on Adel Hagekhalil, director of Streets LA, the city department responsible for the new street vending program. Last week, Streets LA quietly launched a new website with information on joining the program, but considering that the likelihood that a vendor will actually use the website is slim, person-to-person education was deemed the more effective strategy. In an interview with Los Angeles Downtown News on Tuesday, Hagekhalil said that considerable education efforts are likely to begin in the next few weeks, after a community organization is selected to carry out outreach.
    In addition, eight BusinessSource centers across the city have been charged with providing assistance for the permits. The Central Los Angeles location, at 1055 Wilshire Blvd., will represent Downtown.
    "The city is here to support them and work with them to become legal businesses in the city of Los Angeles," Hagekhalil said. "We are working really hard to get that done. To really create places where people can be proud of their business, today is a great day for them to be able to show that they are part of this city."
    Under the new guidelines, street vendors are expected to carry a $541 permit — during the first six months the permit is $291 — in addition to a state business tax registration certificate, a California state seller's permit and a L.A. County Public Health permit. A person does not have to be a United States citizen to apply for the permit.
    A sixth-month grace period was agreed upon to give people enough time to sign up for the permits and to allow enough people to gather the proper items to get through the process. The $291 reduced permit fee was also intended to foster an easier transition into the program, Hagekhalil said.
    The new rules also come with new regulations on where street vendors can set up their carts, baring vendors from selling in prohibited vending zones, typically around large gathering spaces like Staples Center in Downtown Los Angeles and the Hollywood Walk of Fame.
    "The bottom line is, that we see vendors as a business partner with the city and we want to work with them," Hagekhalil said. "As a vendor, you have rights, but we need you to ensure that others have the same rights. We want to make sure that the areas with no vending are protected."
    Although Hagekhalil has a relatively glowing description of street vending, that hasn't always been the case in Los Angeles.
    For the better part of the last century, the practice has been effectively banned in Los Angeles, growing in frequency during the 1980s following the enactment of the United States Refugee Act in 1980. The act granted asylum for hundreds of thousands of Central American refugees, many of whom, would eventually settle in Los Angeles.
    In retaliation, hostilities began to increase between vendors and brick and mortar business owners, with the latter turning to law enforcement, which could often be followed by a fine, potential jail time, or even deportation if the individual was undocumented and charged with a misdemeanor.
    For the past decade however, advocates for street vending and other equitable entrepreneurial businesses have fought to see those rules revoked.
    In 2017, the Los Angeles City Council voted to decriminalize street vending in Los Angeles, which officials believed was necessary to protect individuals from potential deportation. That vote was followed nearly a year later by the passage of SB946, which not only decriminalized street vending on the state level, but also directed local municipalities to construct their own rules regarding street vending.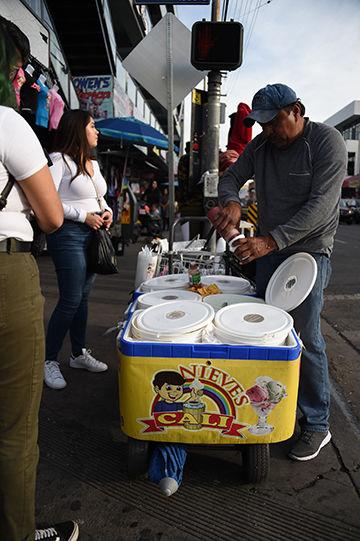 After a year of back and forth, Los Angeles City Council approved its regulations, with the understanding that it would take about a year to handle the roll out.  
    As of Thursday at 11 a.m., Hagekhalil said that six people  had already been issued permits from the Streets LA office, with more showing up for information on how to obtain them.
    Still, some business owners are wary of the city's ability to properly administer the new program.
    For 16 years, Eduardo Camti has owned Alley Dogs in Santee Alley, where his 30 employees sell hotdogs and other hot foods. For most of that tenure, Camti said unpermitted and regulated street vendors have surrounded his business, undercutting his prices and siphoning off potential customers.
    Camti said that he is a proponent of legal street vending, but, despite the Streets LA's assurance, has no faith in the city's ability to properly regulate the new industry.
    "The problem is that there is not enough people in the department to control the permits they issue," Camti said. "This is simply a fact."
    The department did add 17 employees for the new program, but Camti isn't convinced that is enough. Camti's added that he believes that there aren't enough measures in place to actually curb illegal street vending, and there won't be enough incentive for people to buy into the program.  
    "I've seen it over and over the last 16 years, when there is an inspection, there are people who just disappear, there is no way to control them," Camti said. "Maybe they will catch one, but there is no way to catch them all. There is no way to see what the state of the merchandise is."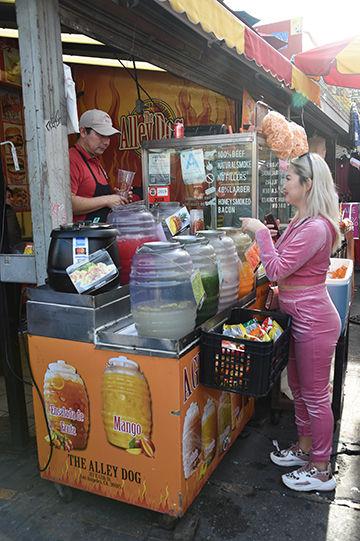 Vendors found to not be in compliance with the rules will be fined $100 on first violation, $150 for the second and $200 for the third. A fourth violation will lead to a possible revocation of the vendor's permit.
    Espinoza said that while there will be some vendors who ultimately opt to skirt regulation and continue to run their business illegally, the specter of an enforcement agency getting involved should be enough for most.
    "That's just what it is like in any legal industry," Espinoza said. "I think there will be people who are slow to comply or won't comply at all, this is what it is we're going to help."
    Hagekhalil said enforcement of any infractions would not be a criminal matter and that any member of the public with concerns should call the city's 311 line or contact Streets LA compliance number directly at 213-487-6000.
sthomas@timespublications.com.
©Los Angeles Downtown News 2019