It's only been three years since professional football returned to Los Angeles, but the city has embraced the Rams and the Chargers (okay, maybe not the Chargers so much). It helps that the Rams made the Super Bowl last season.
The new NFL season kicks off on Thursday, Sept. 5, which means that for the next five months, people will be flocking to local watering holes on Sundays (plus Monday and Thursday evenings) to watch one of the L.A. teams, or their hometown franchise. Downtown Los Angeles is more than up to the task, with a plethora of places where you can catch a game, grab a bite and cheer with a crowd. Here are a dozen of them.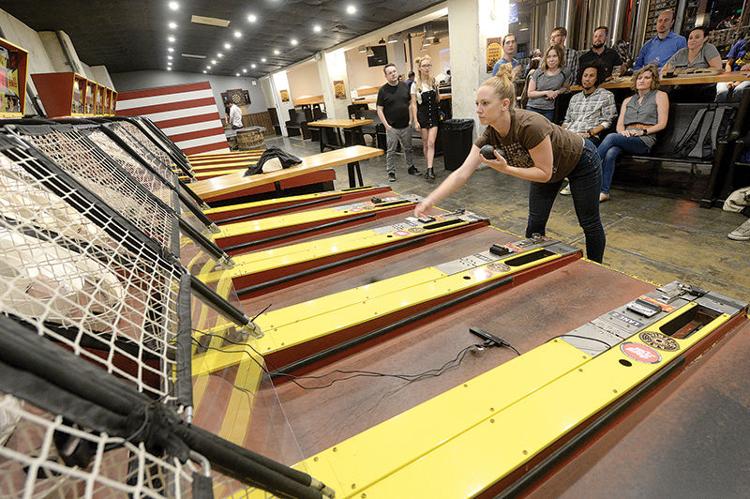 Arts District Brewing Co.
First Down: The important thing to remember is that this is a brewery. Yes there is a full bar and kitchen, but the main draw is the made-in-house beers on tap, from light lagers to heavy Belgian-style ales.
Game Day Plan: Instead of wall-to-wall televisions, the Arts District Brewing Co. has a large projection screen showing games. The game-day menu features wings, burgers and sharable plates such as nachos, and they're best enjoyed on the picnic table-like set-ups. In between games and at halftime, step away from the table and try the Skee-ball machines, or play a game of darts or table tennis.
At 828 Traction Ave. or artsdistrictbrewing.com.
Beelman's
First Down: This Spring Street spot is known as a destination for Carolina Panthers fans. So expect to see loads of Cam Newton and Christian McCaffrey jerseys in the Historic Core.
Game Day Plan: The menu here is meat-free, but that doesn't mean you have to miss football-appropriate dishes. Beelman's serves Impossible Burgers, vegan hot dogs and twists on nachos and other items. Games are shown on a projector as well as a pair of TVs. Expect drink specials on game days.
At 600 S. Spring St. or beelmans.com.
Bunker Hill Bar and Grill
First Down: For a slightly less raucous viewing experience, head over to Fifth Street and Grand Avenue, where the games will be on and there is indoor and outdoor seating.
Game Day Plan: The bar plans to open an hour earlier than usual, at 10 a.m. on Sunday, so fans can catch all the action. There's a full bar, and a weekend brunch menu, served until 3 p.m., has options including pancakes, eggs benedict, chicken wings and tacos. There are also upscale spins on familiar dishes, such as a truffle burger or a short rib French dip.
At 601 W. Fifth St. or bunkerhillbar.com.
Casey's Irish Pub
First Down: The underground Financial District bar is still the place to go for Irish fare and strong happy hours. Keep an eye out for $5 Jameson picklebacks, which will hit harder than the defense sacking Tom Brady. That's a joke, because the NFL never allows Brady to get hit anymore.
Game Day Plan: If you haven't watched sports at Casey's, get excited. The bar has 13 TVs, a games room with a projector screen and foosball, as well as outdoor darts and table tennis. It also has Sunday brunch and Guinness ($8 pints). It helps that Casey's is simply large, so plenty of fans can pack in and get loud.
At 613 S. Grand Ave. or pouringwithheart.com.
Clayton's Public House
First Down: Located on the Spring Street side of the Spring Arcade Building, this English pub has dark wood, British and Victorian art on the walls, and fish and chips on the menu.
Game Day Plan: Although the space isn't heavy on televisions, the NFL will be on. The long bar has two dozen or so beers and ciders on tap. Not into beer? There are also a plethora of cocktails.
At 541 S. Spring St. or claytonspub.com.
Crane's Bar
First Down: The subterranean spot in the Fashion District welcomes drinkers of all backgrounds, but be warned: The owner is a Pittsburgh Steelers fan, so if you're not down with Ben Roethlisberger, keep that to yourself.
Game Day Plan: The bank vault-turned-bar is the right mix of high- and low-brow for watching football. Along with an impressive tap list and colorful Christmas lights, there are many cocktails. On weekends happy hours can go from 2-8 p.m.
At 810 S. Spring St.
Down and Out
First Down: The Down and Out is usually busy during the week, and gets especially crowded during Sunday NFL games. Get there early for a good spot.
Game Day Plan: If you want to get high-fives for your Todd Gurley jersey and cheer on the Rams in a loud space that serves pub fare and cheap drinks, this is your destination. The Historic Core dive bar has 10 televisions that will carry all of the NFL games, and there's also a large projector screen.
At 501 S. Spring St. or downandoutbar.com.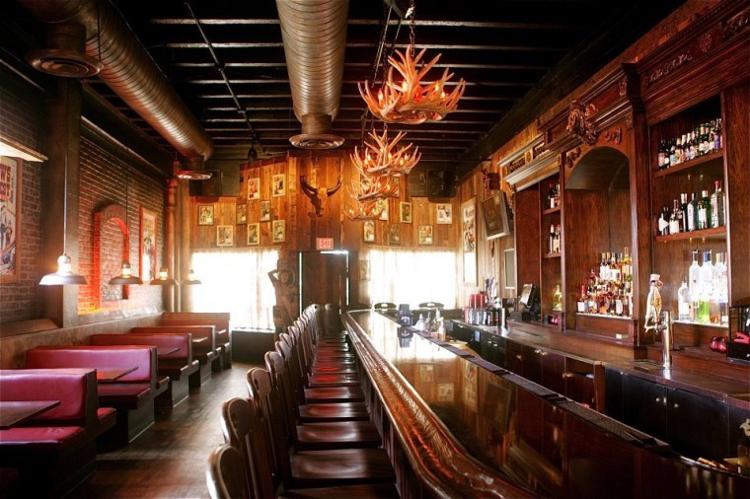 The Escondite
First Down: The Skidrokyo spot is known for a strong brunch menu. It also is a gathering spot for Chicago Bears fans.
Game Day Plan: The long-running joint shows games on Sundays, but it also is a destination for Monday Night Football, as it does happy hour from 5 p.m. until closing.
At 410 Boyd St. or theescondite.com.
Nixo Patio Lounge
First Down: The joint in the Luxe City Center hotel is a bit more than a hotel bar, with an outdoor patio and view of the crowds at L.A. Live across the street. The large communal tables offer an opportunity to sit and meet fellow football fans.
Game Day Plan: Sit next to fire pits or on long couches and catch the games on the bar's numerous TVs and projection screen. There are burgers and pizzas, along with shared plates that offer something a bit beyond the usual football fare — lobster mac and cheese and ahi poke tacos may ease the stress when your team is facing fourth and long. And if your team is the Raiders, they will frequently be facing fourth and long.
At 1020 S. Figueroa St. or luxecitycenter.com.
Tom's Urban
First Down: If you want to be sure that your game will be on, head to South Park. Tom's Urban has scores of TVs, along with a solid selection of mainstream and craft beer, and there's a cocktail menu that goes beyond your basic beverage list. Tom's Urban has also been pitching itself as a place for fantasy league drafts. Just remember, Andrew Luck retired.
Game Day Plan: The sprawling space in L.A. Live has indoor and outdoor seating, and televisions are everywhere. Game day specials were not available at press time, but do expect them. The menu has a selection of sports bar classics, with pizza, burgers and chicken wing platters.
At 1101 S. Figueroa St. or tomsurban.com.
Wangs Tavern
First Down: The catch here is that Wangs Tavern is closed as football season begin. But operators promise that they will reopen in the coming weeks, in time for a good chunk of the NFL season.
Game Day Plan: When Wangs does reopen, it's a quintessential sports bar. TVs cover the walls and platters of chicken wings (including boneless versions) are the specialty. This is the kind of space best enjoyed with a group, so come with fellow fans of your favorite team — even if that team is the Tampa Bay Buccaneers — and get loud.
At 801 S. Grand Ave. or bigwangs.com.
Yard House
First Down: Another L.A. Live option is Yard House, where there are more than 20 televisions. All are tuned to sports, so you won't miss a play. And football is all about gaining yards — just thought we'd point that out.
Game Day Plan: The space with indoor and outdoor seating is fully committed to the gastropub concept, mixing fancy burgers with Asian fusion and Mexican-inspired dishes. The big draw though is the beer, with around 100 domestic, craft and imported options. Yes, you can order an actual yard of beer. There are happy hour specials, with discounts on beer, wine, pizza and appetizers.
At 800 W. Olympic Blvd. or yardhouse.com.