DTLA - At the beginning of almost every year since the turn of the millennium, Los Angeles Downtown News has predicted that the coming 12 months would be big for the local real estate and development scene. Indeed, each year that proves to be true, with a number of major projects coming online, breaking ground or being broached.
[Get DTLA stories in our daily email newsletter.]
That said, 2017 will be a really big year.
We're serious, as 2017 will be highlighted by the arrival of a pair of $1 billion projects, including the tallest building west of the Mississippi. Additionally, we'll see the opening of a huge new park, as well as progress on developments that will change the look and feel of communities including the Arts District and South Park.
In the following pages, we run down 20 projects to watch in 2017.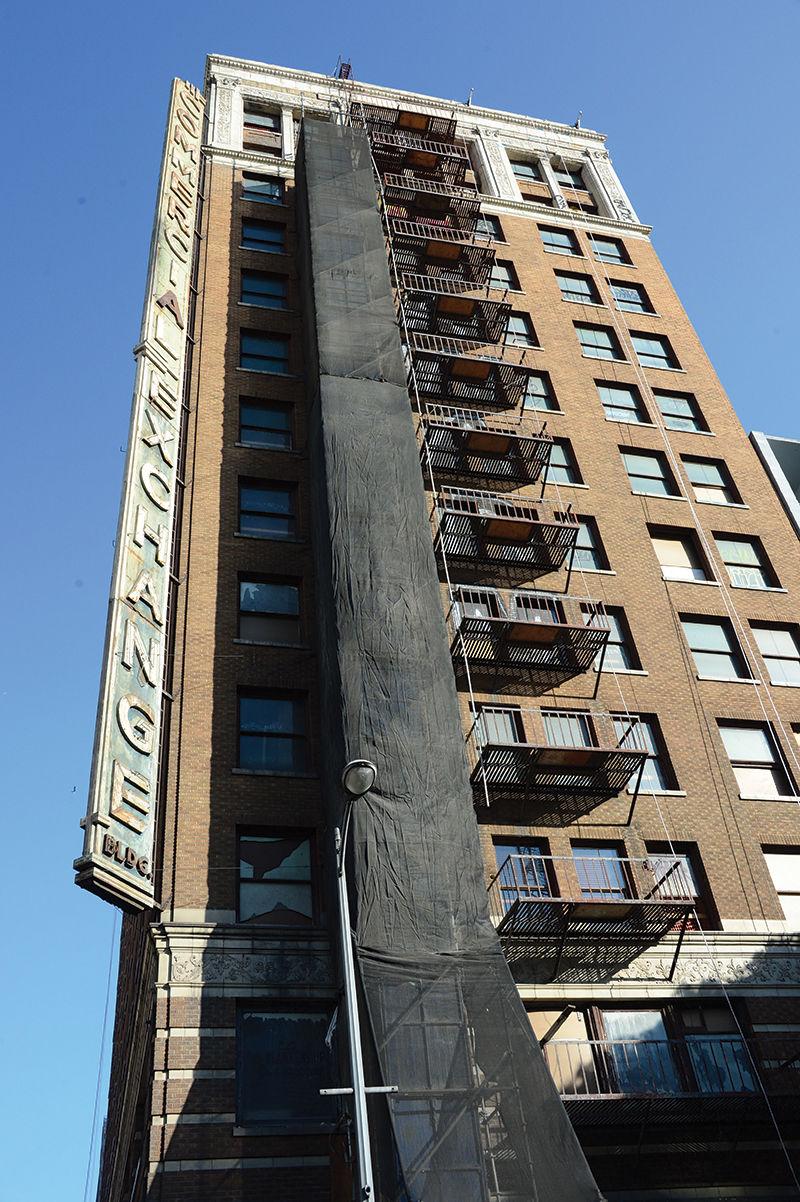 OPENING THIS YEAR
Tower of Power: The $1.1 billion Wilshire Grand replacement has literally reshaped the skyline of Downtown Los Angeles. Originally broached at the tail end of the recession, the 73-story edifice at the northwest corner of Seventh and Figueroa streets has been commanding attention for more than a year, and last September its spire was attached, making it the tallest building west of the Mississippi River. Korean developer Hanjin's landmark structure is scheduled to open in the first half of the year, and will bring new business to the Financial District, both in the 400,000 square feet of office space and its slew of retail space. The 900 hotel rooms in the tower, to be operated by InterContinental, will help address Downtown's shortage of space for travelers. 
Mega Homes: All eyes are on Metropolis, as the $1 billion South Park mega-project's first phase, consisting of an 18-story, 350-room Hotel Indigo and a 38-floor structure with 308 condos, nears its opening. The Gensler-designed complex is the first U.S. project for Shanghai-based development juggernaut Greenland Group. Metropolis has studio to two-bedroom condos from about 520 to 1,500 square feet. It also has some of the highest prices of any Downtown project, starting around $600,000 and going north of $2 million. Move-ins are slated to begin early this year.
It's Not Easy Being Green: In April 2014, Los Angeles State Historic Park closed for what was supposed to be a year-long renovation. The project has been beset by numerous delays, including the discovery of contaminated soil and needing time to literally let the grass grow. Finally, the 32-acre attraction on the edge of Chinatown is nearly finished. The park is expected to open this month, according to a representative of the State Parks department, and the finished product is a far cry from the former flat, rustic expanse. Rolling landscape surrounds a central meadow, and there's a visitor's center, a lookout point, a promenade, bathrooms and a paved parking lot. Expect regular programming with music and activities. Expect it also to be one Downtown's most popular new additions.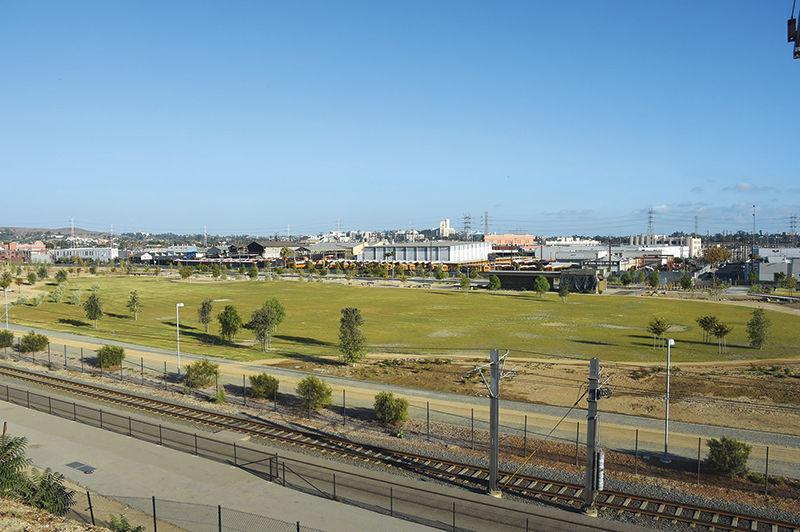 New Digs: The 1926 Hotel Figueroa has experienced quite the makeover. The shabby-chic Moroccan decor has been replaced by a more Spanish Colonial look, though with a modern twist. Capital Hall Partners and its investment partner Green Oak Real Estate purchased the property at 939 S. Figueroa St. in 2014, and closed the hotel in November 2015 for the renovation. There are 268 guest rooms, plus a pair of bars from cocktail star Dushan Zaric, two restaurants from chef Casey Lane, and a two-level outdoor bar. The Hotel Figueroa is slated to debut in March. Reservations are now being accepted.
Taking Ownership: Downtown's parched condominium market is getting some relief with the imminent opening of Ten50, the South Park tower from San Francisco developer Trumark Urban. The 25-story, $100 million structure at 1050 S. Grand Ave. has 151 one- and two-bedroom residences ranging from 686-1,368 square feet, as well as a few one- and two-story penthouses. Every unit has hardwood floors and large windows, and amenities include a fitness center, entertainment room and small areas of green space. Ten50 is more than half sold, according to Trumark Urban. 
Road Diet: The delay-plagued project known as MyFigueroa finally broke ground in October, and is reshaping a long segment of the Figueroa Corridor from South Park to South L.A. near USC. The $20 million project will slash eight driving lanes to five on Figueroa Street, creating bike lanes with protected curbs and sidewalks that are friendlier to pedestrians and mass-transit users. Landscaping and new signage is also part of the package. MyFigueroa is scheduled to wrap construction in June, and could mean a new wave of Downtowners leaving the car in the garage and getting to and from Exposition Park on two wheels.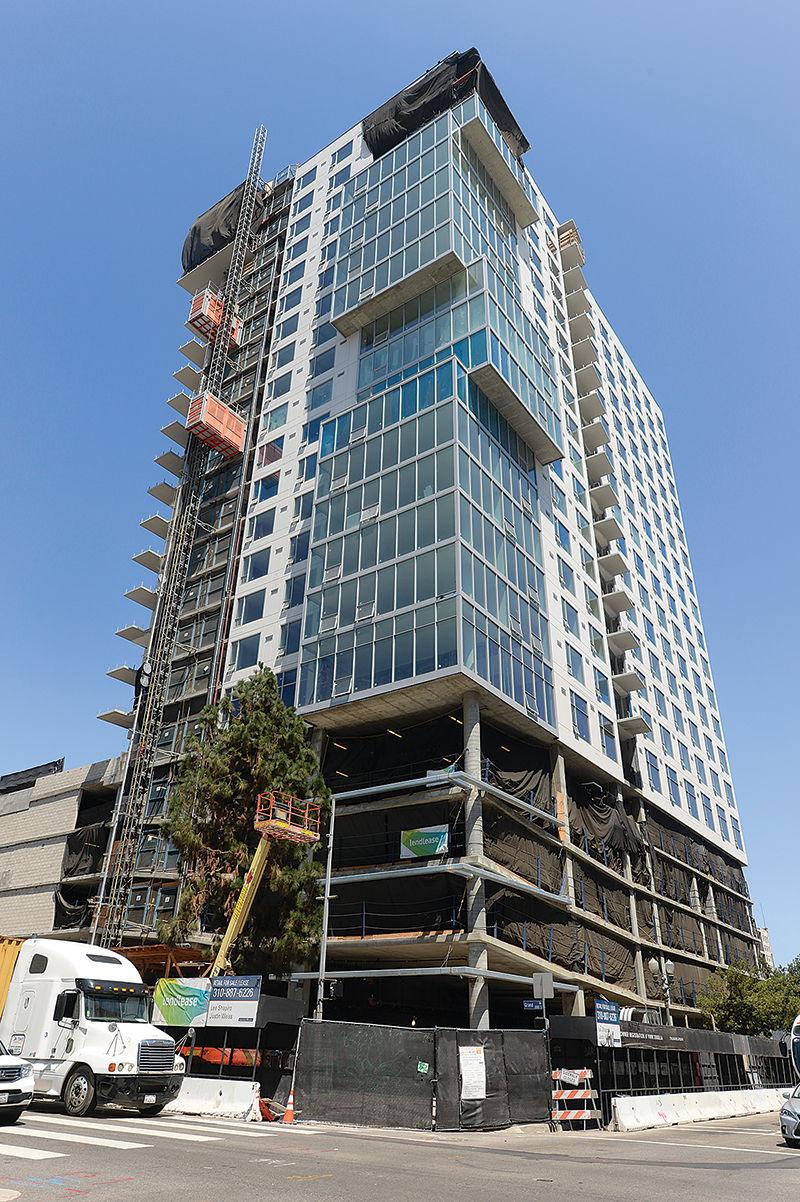 Glassy Heights: Carmel Partners made a splash in the Financial District by developing the massive Eighth & Grand complex, with 700 apartments and a large Whole Foods. Its sequel is Atelier, a 33-story apartment tower opening in March at the southwest corner of Eighth and Olive streets. Pre-leasing of 363 studio to three-bedroom units began in December, and residences range from around 460 to more than 1,800 square feet. Units are outfitted with hardwood-look floors, high-end stainless steel appliances and Nest smart thermostats. Atelier will continue the evolution of high-end rentals in the heart of Downtown Los Angeles. 
Arts District Activation: The Arts District was crazy busy in 2016, with developers flocking to the area in the same way that gold seekers hit San Francisco in 1849. One of the most intriguing projects, developer Blatteis and Schnur's At Mateo, is set to open on March 1. The project at Palmetto and Mateo streets has turned a lot with old warehouses into a commercial and office hub, with four buildings holding 130,000 square feet of retail and restaurant space and 50,000 square feet for office workers. No tenants have been announced yet, but expect to hear details very soon. 
Head West: City West will get a spike in residents in the middle of 2017. That's because prolific developer Holland Partner Group is nearly finished with its Sixth and Bixel project. The pair of seven-story buildings at, you guessed it, Sixth and Bixel streets, will have a total of 606 apartments, which will come online in two phases; the first arrive in May, and more will be available in the summer. Residences range from studios to three-bedroom units. The $200 million project will also have 25,000 square feet of commercial space. The project will mean more street life and more patrons for nearby businesses such as the Teragram Ballroom, the Monty bar and the restaurant Plan Check.
South Park Spot: Mack Urban and AECOM Capital are enmeshed in a $1 billion, multi-phase project that will spread across six acres in South Park. The first part of the development, a 362-apartment building dubbed the Wren at Pico Boulevard between Hill and Olive streets, is scheduled to open in February. Units average 761 square feet, and rents in the seven-story edifice average $2,700. It will add to the residential life in the quickly changing community. The second phase of the project, a 38-story tower at Grand Avenue and 12th Street, is under construction. 
Stay a Night: New York-based developer the Sydell Group has spent years transforming the 1924 Commercial Exchange Building at 416 W. Eighth St. The work on the project renamed the Freehand Hotel is nearly finished, and guests will begin checking in come March. The 200-room establishment, designed by Roman & Williams, will add a twist to the Downtown hotel scene with five kinds of rooms. They range from traditional rooms and suites to hostel-like accommodations where guests can just book a bed. The building, with its exterior blade sign intact and restored, will also have a gym, a rooftop pool, a restaurant and two bars. 
IN THE WORKS
A Grand Old Time: On Dec. 14, developer Related Companies received City Council approval for the $950 million Grand Avenue Project. The company also revealed that it has secured a $290 million investment from Chinese developer CORE. But what will the Frank Gehry-designed development across from Walt Disney Concert Hall look like? That should be answered this year, as the only renderings are old, and Related has been careful about releasing information. With a goal to break ground in 2018, this year could also bring more design details and perhaps the announcement of tenants for the retail component. The project would include a residential tower, a 300-room Equinox branded hotel, and a large retail and restaurant complex that faces Grand Avenue. The site is currently a parking structure.
Wake Up Call: Irvine-based SunCal's mega-project 6AM is perhaps Downtown's most ambitious development yet. Early designs from noted Swiss architecture firm Herzog + de Meuron show a sprawling complex composed of long mid-rise buildings that would create a maze-like collection of shops, restaurants, art spaces and more, with apartments perched above. Two 58-story towers would rise along Alameda Street. SunCal filed paperwork for the $2 billion development in September, and in 2017 the project could lock in initial approvals. Entitlements and final designs are expected to take two years. 
Heading North: Atlas Capital, which is already building out the Row DTLA complex in the Industrial District, is primed to make a splash in Chinatown with another mega-project, College Station. Rising on a 5.7-acre site at Spring and College streets, College Station would create six low-rise apartment buildings with retail space on the ground floor, and various plazas and paseos in between the structures. There would be 770 apartments and 51,000 square feet of retail, including a roughly 37,000-square-foot market. A late 2016 groundbreaking has been pushed back to early this year.
Another Chinese Play: South Park is mega-project central, with Metropolis, Oceanwide Plaza and Circa all under construction. The straggler is a three-tower project from Beijing-based Shenzhen Hazens, on the site of the Luxe Hotel. The $750 million effort has been in the planning stage for about 18 months, and the developer hopes to move forward in 2017. It would create a 32-story, 250-room W Hotel and a 32-floor condominium tower along 11th Street at Figueroa and Flower streets. The structures would be connected by an eight-story podium with open-air amenities on top. A later phase would bring a 42-story tower to Figueroa Street and Olympic Boulevard, where the Luxe hotel now stands. Altogether, there would be 650 condominiums and 80,000 square feet of retail space. 
Dive Into the Reef: The $1 billion mega-project The Reef could transform a fairly quiet neighborhood on the outskirts of Downtown that is near major transit lines but lacking in new development. Owners Ara and Avedis Tavitian got a green light for the project at 1933 S. Broadway in late 2016, and this year could bring final designs and a groundbreaking. It would create a 208-room hotel and a seven-story building with about 100 apartments, plus retail space and a 17,000-square-foot plaza, on a lot that the existing Reef building sits on. Another parking lot east of Broadway would see mid-rise buildings with about 440 apartments, as well as 32- and 35-story towers with nearly 900 combined condos. 
A Streetcar They Desire: The Nov. 8 passage of the $120 billion tax Measure M means Metro has more money to allocate to regional transportation projects. That includes the Los Angeles Streetcar, which is slated to receive $200 million in funding — but in 2053, about 33 years after the streetcar is supposed to open to the public. A 2020 debut remains the goal for the nonprofit L.A. Streetcar, Inc. and City Councilman José Huizar, who has led the effort. In 2017, streetcar backers will push for expedited funding, though they could face competition from supporters of other proposed Metro projects. Additionally, an engineering analysis is underway and could be completed this year. The $266 million project has secured $65 million for construction from a tax on property owners along the route. 
The Times Are a' Changin': In December, Vancouver-based Onni Group revealed plans for its redevelopment of Times Mirror Square, which it acquired in September. Onni will maintain the Art Deco-style Los Angeles Times building, but the big news is that it intends to demolish two of the other four structures, and will erect a pair of high-rises that will have a whopping 1,127 residential units. Though construction is not likely to begin in 2017, expect to hear more details and see refined renderings of the structure that will change the look of the Civic Center. The project will be across the street from the under-construction Regional Connector station at Second and Broadway.  
My Fair Square: In May, the French firm Agence Ter was tapped to redesign the Financial District's long-disappointing Pershing Square. This could be the year that the budget of the project is revealed, along with details on how to finance it (during the design competition teams were given a theoretical $50 million budget, but that could change). Agence Ter presented a concept of "radical flatness" for the five-acre park at 532 S. Olive St., and key to the project is improving the interactions with surrounding streets. Also, expect to see spruced-up designs this year, and possibly a timeline for work.
Rock Revival: Patrons of the all-ages music venue The Smell were shaken last May when the L&R Group of Companies, the parking lot operator that acquired the parcel the building sits on and several other adjacent lots, slapped demolition notices on several businesses at Third and Main streets. An uproar ensured, and though no buildings have been razed, Smell owner Jim Smith instantly began raising money to find a new home. While The Smell has been in Downtown for nearly two decades, rising rents could force it to a different neighborhood. That means Downtown could lose a vital underground rock and roll hub in 2017.
© Los Angeles Downtown News 2017