DTLA - The stock market is bouncing like crazy and there are rising concerns that the economy is slowing, but in Downtown Los Angeles, the development boom continues. In 2018 the Central City saw the arrival of more than 3,000 housing units, with the opening of projects including the $500 million Circa, and Holland Partner Group's Grace and Griffin apartment buildings at Eighth and Spring streets.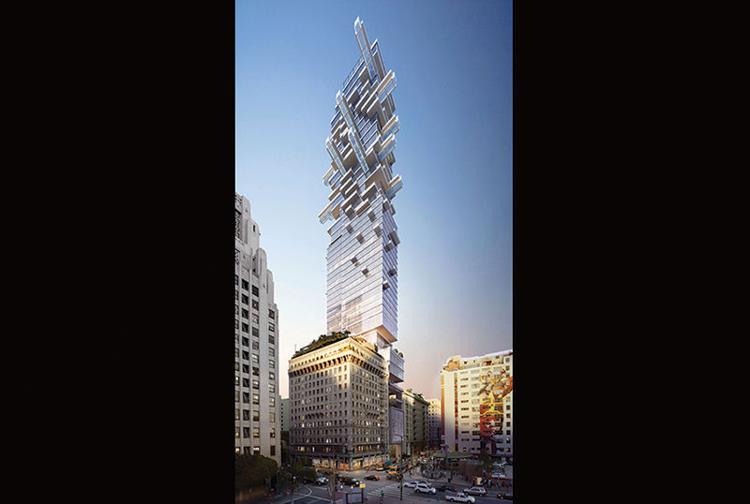 While concerns of a recession may ultimately impact lending markets and lead to a Downtown development slowdown, there are a number of local projects slated to debut in the new year, and construction is under way on other big developments. In the following pages, we detail 19 prominent projects worth watching in 2019.
Opening This Year
Aven: Developed by Mack Urban and AECOM Capital, Aven is scheduled to open in January. The 38-story edifice at 1120 S. Grand Ave will bring 536 apartments to South Park, along with 13,000 square feet of ground-floor commercial space. The project includes an unusual but community-friendly amenity: a half-acre park on the northern side of the building that will be open to the public. Aven is part of Mack Urban's $1.2 billion transformation of six acres of land along Grand Avenue and Olive Street (the first project, Wren, opened in 2017). Mack Urban is currently looking at building a 713-unit, 60-story building at 1120 S. Olive St. and a 53-story tower at 1115 S. Olive St.
Ford Factory Building: After some delays, the Ford Factory Building in the Arts District is finally slated to reopen. In 2016 San Francisco-based developer Shorenstein Properties and Warner Music Group announced that the record label would relocate from Burbank into the 257,000-square-foot edifice at 777 S. Santa Fe Ave. Crews are currently building out the interior of the five-story structure, and an adjacent 600-stall parking garage has been completed. Neither Warner Music nor Shorenstein returned calls for comment about when employees will move in, but the hundreds of workers will add to a community that has already seen tremendous growth.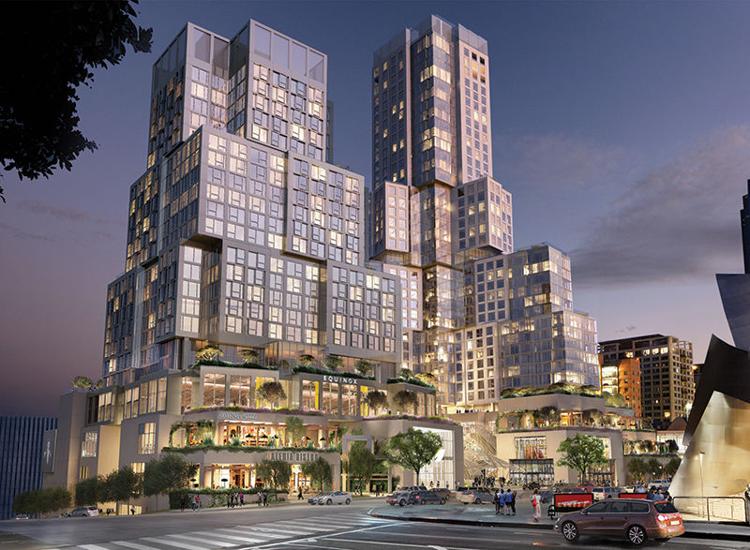 825 South Hill: The final touches are underway at Onni Group's latest residential project. The Vancouver-based developer's 53-story tower will bolster the residential scene, with 490 apartments at 825 S. Hill St.; move-ins are scheduled for early in the year. Designed by Chris Dikeakos Architects, the building includes a podium deck with a pool, multiple lounges and now-standard Downtown amenities such as a fitness center, dog run, electric vehicle parking and bike storage. The one- to three-bedroom residences start at $2,530. Onni Group has become one of the biggest players in Downtown, with projects ranging from the renovation of Times Mirror Square to Studio House, which has micro-units.
Trademark DTLA: The two buildings that comprise MacFarlane Partners' Pershing Square-adjacent project are nearing the finish line. Long known as Park Fifth, the development has been renamed Trademark DTLA and includes a seven-story building at 437 S. Hill St. and a 20-story edifice with 347 apartments. The buildings will both have rooftop pools, and will offer studio to three-bedroom residences. The project stands to inject even more life into the Financial District, and could be a residential precursor to a long-anticipated modernization of Pershing Square. 
The Aliso: The Arts District project has been slowly coming together. Legendary Investors Group and Fairfield Residential's $215 million complex at 950 E. Third St. comprises six buildings, all designed by Kava Massih Architects, and with a total of 472 apartments. One building is already open, and the entire development will include 22,000 square feet of ground-floor retail space. Across from the Southern California Institute of Architecture, the market-rate residences will continue to alter a once-sleepy community that has seen significant change in recent years. The remaining buildings will come online over the course of the year. The Aliso includes a public walkway linking Traction Avenue to Third Street. It also is marketing itself to pet owners, with its website touting the project's "pup culture."
La Plaza Village: The mixed-use development from Trammell Crow and La Plaza de Cultura y Artes is in the pre-leasing phase. The $160 million project includes 355 apartments split between five- and eight-story buildings; 20% of the residences are set aside as affordable housing. Johnson Fain handled the designs for the 425,000-square-foot complex at Broadway and Cesar E. Chavez Avenue. The project will include a 43,000-square-foot museum and teaching kitchen, dubbed La Plaza Cocina, and 37,000 square feet of retail space. Move-ins are expected in January.  
Music Center Renovation: Anyone who has gone to the Ahmanson Theatre, Mark Taper Forum or Dorothy Chandler in recent months has found the Music Center Plaza blocked off by big fences. That's because of the $40 million overhaul of the space that is underway. Designed by Rios Clementi Hale Studios, and on pace to finish by Labor Day, the project will improve the plaza and enhance connections to surrounding streets. Key elements include widening and opening the stairway to Grand Avenue and moving Jacques Lipchitz's "Peace on Earth" sculpture and water feature so that the capacity for events at the plaza can be doubled to 5,000 people. Additional buildings are being added and will house a restaurant, cafe and wine bar. 
Green Street: The cannabis industry in Downtown Los Angeles will have a home base once the appropriately named Green Street opens. Developer Bow West Capital is transforming a seven-story building at 718 Hill St. in the Jewelry District, with plans to open in January. The project will include several floors of co-working space, an art gallery and a 5,000-square-foot restaurant on the ground floor. Bow West Capital, which purchased the 1913 edifice in 2017 for $14 million, is also upgrading the roof so it can hold parties and events. The building owner already has inked deals with a few notable tenants, including Vincente Sederberg LLC, otherwise known as The Marijuana Law Firm, and Green Street Agency, a cannabis branding and business development and consulting agency. 
Six Four Nine Lofts: Not all of the housing coming to Downtown is market rate. Skid Row Housing Trust's permanent supportive housing complex in the heart of Skid Row broke ground last February and remains on pace for a late 2019 opening. Funded partly through Measure HHH funds, the ground-up, six-story building at 649 S. Wall St. will have 55 residential units. The project has a second component, the three-story, 25,000-square-foot Joshua House Health Center, which will be operated by Los Angeles Christian Health Centers. 
DTLA Proper: A former YMCA building at 11th Street and Broadway will receive new life once it reopens as a hip boutique hotel. The Kor Group, in partnership with Stork/Alma Development, will bring a 148-room hotel in a 91-year-old building online in the summer. Omgivning designed the project that includes two food and beverage spaces and a rooftop bar and pool. The project was announced in 2015. It is one of several key efforts in the area, along with the nearby Hoxton Hotel and the renovation of the historic Herald Examiner Building. 
In the Works
Oceanwide Plaza: The $1 billion project from China's Oceanwide Real Estate Group has already altered the Downtown skyline, with its three towers overlooking Staples Center. Oceanwide Plaza includes two 40-story residential buildings with a total of 504 condominiums, along with a 49-story Park Hyatt hotel with 184 rooms. The eye magnet will be the long, ribbon-like electronic billboard, and the project will also have 153,000 square feet of retail space and 37,000 square feet of open outdoor space. The towers designed by CallisonRTKL will continue to take shape this year, and an opening is scheduled for 2020.
The Grand: Late last year, developer Related Cos. razed the "Tinker Toy" parking structure at the southeast corner of First Street and Grand Avenue, clearing the way for construction to finally begin on the $1 billion mega-project. While passersby won't see much shape in the Frank Gehry-designed development this year, extensive excavation and early construction will take place. Ultimately The Grand will feature a 39-story residential tower with 436 units, with 20% set aside as low-income housing, and a 20-story, 309-room Equinox hotel. The year could also lead to news about tenants in the 215,000 square feet of commercial space, which will have shops, restaurants and a movie theater around a plaza that opens to Grand Avenue. The Grand is slated to open in 2021. 
Convention Center Overhaul: Anschutz Entertainment Group last year secured key approvals for a $1.2 billion expansion and renovation of the Los Angeles Convention Center, and more information should spill forth this year. Plans call for adding 350,000 square feet of new convention space and linking the South and West halls, which are now separated. Also in the works is a 40-story, 850-room extension of AEG's J.W. Marriott hotel. The specific financial plan still needs to be negotiated, although the project will be paid for by AEG, with the city making annual payments once the work is completed. Construction is not expected to start until 2020, with a planned 2022 opening.
Times Mirror Square: What a change for the Civic Center landmark. Onni Group bought the Times Mirror Square complex in 2016, and last summer the L.A. Times left the building for a new headquarters in El Segundo. Now Onni will move forward on its re-imagination of the full-block site. Two buildings are in line to get Historic-Cultural Monument status, while three others will be torn down to make way for sleek glass-and-steel towers standing 37 and 53 stories. AC Martin is designing the project, which will add 1,127 residences. Onni is still seeking approvals for the project, and though no groundbreaking has been set, this is the year that more details and designs should become public. 
Perla: The Historic Core's first new condominium high-rise won't open until 2020, but the building will take shape and sales will continue throughout the new year. Crews have been building out Perla's 12-story curved podium, and this year will move on to the tower levels; the 35-story edifice will hold 450 condos. SCG America, a subsidiary of the Shanghai Construction Group, is developing the project designed by architecture firm CallisonRTKL. In the coming year expect to see some details of the Art Deco-style atrium. The project at the southeast corner of Fourth Street and Broadway will include a landscaped podium deck with a pool and dog run.
Watercourt Plaza: People working in the Cal Plaza office towers will deal with construction this year, as the Watercourt, for decades the site of the Grand Performances concert series, is renovated. The $4.5 million project will start early in the year, and the namesake water features will be removed and replaced by a lawn area and seating that brings audiences closer to the performers. The project also addresses an aging water feature that has become prone to leaks. Gensler is designing the new look of the 1.5-acre plaza, and work is estimated to take 24 weeks. The work includes the addition of more benches, landscaping and potted plants. During construction, the Downtown lineup of Grand Performances concerts will be limited, with more shows taking place in other venues, including at Los Angeles International Airport.
Colburn School Expansion: Downtown started buzzing last spring when the Colburn School announced that Frank Gehry would design its expansion. This year should bring renderings and details for the 200,000-square-foot project. Plans call for a 1,100-seat concert hall, a 700-seat dance and theater venue and a 100-seat cabaret-style venue to replace two parking lots on Olive and Second streets. An outdoor venue is also in the works. Sel Kardan, president and CEO of the Colburn School, said a budget is still being determined, and once the design is finalized, fundraising will begin. This would be the third Gehry-designed project on Grand Avenue, joining the Walt Disney Concert Hall and The Grand, which is slated to open in 2021. 
Fifth and Hill: Late last year, JMF Enterprises' revealed designs for its proposed Pershing Square-adjacent housing development, and the Jenga-style tower with jutting elements got tongues wagging. In 2019, more details and refined designs should be produced for the 53-story building at Fifth and Hill Streets. Miami-based architecture firm Arquitectonica is handling designs for the project with cantilevered pools that jut out from the building. Many details are still up in the air as the developer considers two options: One consists of 160 condominiums, and the other would bring 31 condos and a 190-room hotel. Construction is not likely to begin until 2020 at the soonest.
Weingart Tower: The desperate need for permanent supportive housing could be partly addressed through a multi-phase project from the Weingart Center and Chelsea Investment Co. The overall goal is to create 700 residential units in three buildings. A draft environmental impact report for the $135 million project was released in October and detailed the plan to construct three towers on two separate sites. The first, an 18-story building with 303 low-income units, would rise on a city-owned parking lot at 600 S. San Pedro St., followed by another 18-story tower and a 12-floor edifice that would replace a group of buildings that the Weingart Center already owns at 554 S. San Pedro St. The second parcel would hold 382 units. No opening date has been announced, and in 2019 plans will be refined and financing will be explored.
sean@downtownnews.com and nicholas@downtownnews.com.
© Los Angeles Downtown News 2019