DTLA - As temperatures hit 90 in Downtown Los Angeles last week, and the effects of climate change grow increasingly severe around the globe, this year's Earth Day feels all the more relevant. It arrives on Sunday, April 22.
[Get DTLA stories in our daily email newsletter.]
It also marks a good time to look at what steps are being taken to save the planet, including those by real estate developers. It might surprise many that Downtown has one of the densest clusters of environmentally friendly buildings and businesses in the city. 
That's the takeaway from the ECOMap developed by the United States Green Building Council's Los Angeles chapter. The USGBC, which is behind the Leadership in Energy and Environmental Design (or LEED) certification system, created the map to track sustainable projects.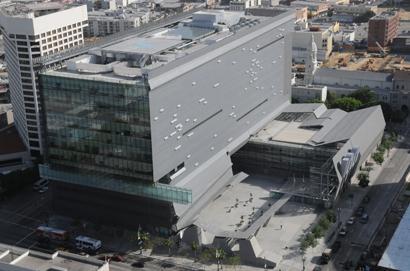 Some of the Downtown spaces are obvious, such as the Los Angeles Cleantech Incubator in the Arts District, but there are also unexpected inclusions, among them the Downtown Women's Center at 442 S. San Pedro St., and a Starbucks at Sixth and Spring streets (see sidebar for some highlights).
USGBC-LA Executive Director Dominique Hargreaves said that the map was created to provide a glimpse at what businesses and projects are sustainable. If people want to support more green building, they can start by supporting what's already there, she added.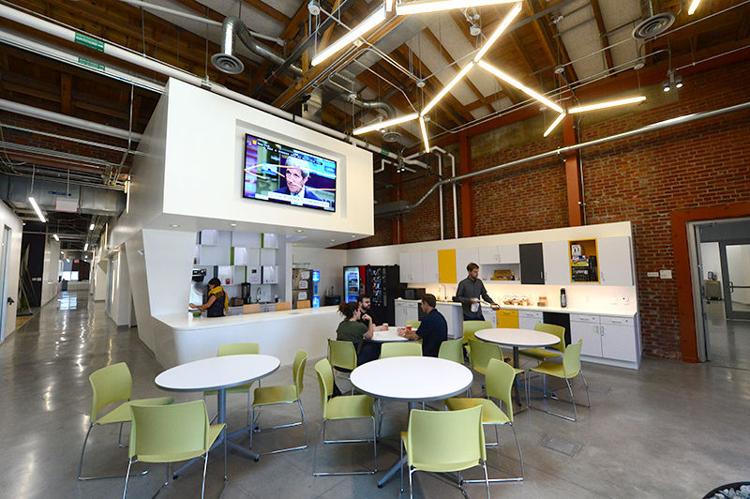 The density of green projects in Downtown makes sense, given the construction boom, Hargreaves said. That goes hand in hand with the Sustainable City Plan that was adopted in 2014.
"Many building owners, residents and businesses are plugged into that document, in terms of what it calls for with water conservation, an uptick in renewables, and 'greening' businesses," she said.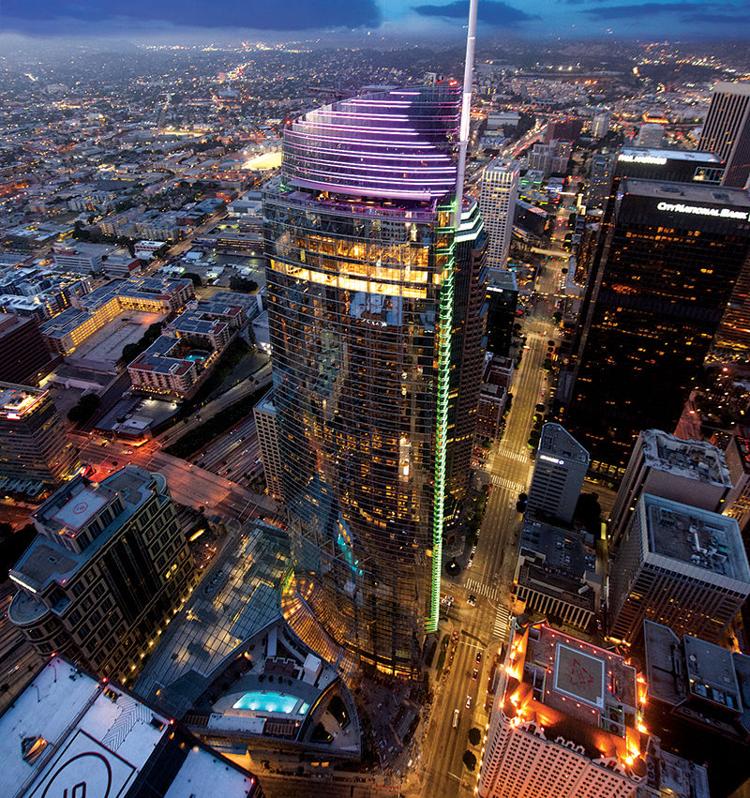 Using the map, people can click on an icon for each business or building and see what makes it eco-friendly. U.S. Bank Tower, for instance, is cited for its reduced mercury lamps, limited use of potable water and recycling efforts. 
Other environmentally friendly buildings include the new Wilshire Grand Center, the Hall of Justice, City Hall and the new United States Federal Courthouse. Hargreaves said the roster of government structures is no surprise.
"In L.A., as well as statewide, some of the most sustainable, high-performing buildings are our public spaces, and they should be," she said. "It's pretty gratifying to see on the map.
The ECOMap is at usgbc-la.org/resources.
---
10 Eco-Friendly Buildings or Businesses in Downtown
The USGBC ECOMap details scores of sustainable buildings and businesses in Downtown. Here are some you'd expect to be on the list, and a few surprise.
United States Federal Courthouse
350 W. First St.
Why It's Green: The new 10-story courthouse received a LEED Platinum rating for its use of natural light, reclaimed water and a façade that helps reduce solar heat.
Los Angeles Convention Center
1201 S. Figueroa St.
Why It's Green: The facility has invested significant resources in sustainability efforts. Among other things, it recycles heavily, and has low-flush toilets to reduce water waste.
Caltrans District 7 Headquarters
100 S. Main St.
Why It's Green: Among other elements, the huge Civic Center property has a wall of photovoltaic panels that generate some of the building's energy.
Wilshire Grand Center
900 Wilshire Blvd.
Why It's Green: The tallest building west of the Mississippi also gained LEED Gold certification for its water and energy conservation system. 
Junipero Serra State Office Building
320 W. Fourth St.
Why It's Green: Another government property, the Historic Core edifice is noted for its energy efficiency, reduced mercury lamps and trimming of water waste.
Downtown Women's Center
434 S. San Pedro St.
Why It's Green: The homeless services provider has reduced its use of potable water and overall water waste in its headquarters. In addition, 75% of the space utilizes natural light.
Walt Disney Concert Hall
111 S. Grand Ave.
Why It's Green: The home of the L.A. Phil was designed with a focus on sustainable architecture. There's a rooftop garden, too. The ECOMap calls it "one of the greenest buildings in Los Angeles that is not actually a LEED certified building."
Starbucks
Various locations, including 603 S. Spring St.
Why It's Green: The coffee chain has streamlined interiors across its stores, reducing energy costs and consumption.
777 Tower
777 S. Figueroa St
Why It's Green: The Financial District high-rise is recognized for a 75% reuse or recycling of durable goods, along with reductions in potable water use and conventional commuting trips.
Gensler
525 S. Flower St.
Why It's Green: The architecture firm's offices are recognized for its heavy reduction in drinking water and energy waste, and the sustainably harvested wood furnishings.