DTLA -A fierce debate has broken out at El Pueblo de Los Angeles, with some stakeholders divided over the Metropolitan Transportation Authority's $18.9 million plan to improve pedestrian connectivity between Union Station and the historic monument.
[Get DTLA stories in our daily email newsletter.]
On March 1, the Metro board of directors certified the final environmental impact report for a project that would narrow Alameda Street, build a new raised crosswalk, and restrict vehicular traffic on Los Angeles Street. Opponents have argued that Metro should pursue one of the other options it studied, a full closure of Los Angeles Street, in the effort to enhance pedestrian life, create new park space and promote safety over car-centric transportation.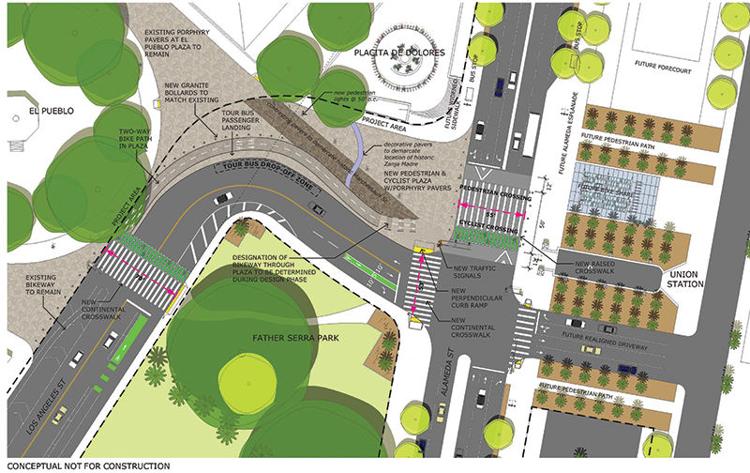 Currently, Los Angeles Street runs along Father Serra Park, the green space that abuts the El Pueblo Plaza and is across from Union Station. The street forks into two where it meets Alameda Street, with three lanes for cars.
The approved design would kill the northern lane and ban left turns onto Alameda. New pedestrian space and a wider bike lane would replace the vehicle lane.
For Metro, the city staff that oversees El Pueblo, and a mélange of merchants and other tenants, the road-diet plan is a suitable compromise. Opponents argue that it misses an opportunity for more ambitious urban planning around the region's transit hub.
This split played out at three meetings last year of the El Pueblo board of commissioners. Commission President Robert Vinson and board member David Louie argued that a full closure of Los Angeles Street between Alameda and the 101 Freeway entrance is the best long-term play. Other commissioners backed a partial closure; ultimately, no consensus on the matter was reached.
Louie, speaking on his own behalf, noted that Metro's staff report suggests a full closure would be the environmentally superior option, with fewer overall traffic impacts than the path ultimately approved by the Metro board.
"We're passing up an opportunity to add nearly one acre of park space to Father Serra Park, and to remove a street that right now acts as a barrier between that park and El Pueblo," Louie said in a recent interview. "Metro went with a partial closure because of pushback from merchants, who were worried about business being hurt. But any number of experts would say that a road through a plaza is no optimal solution."
Merchant Opposition
Metro released a draft version of the EIR in August and began taking public comment. A majority of the statements were in support of the partial closure of Los Angeles Street, said Elizabeth Carvajal, transportation planning manager for Metro.
"The strongest opposition to a full closure came from the merchants. Their concern is that a full closure restricts loading and off-loading, including of tourist buses," she noted. "They expressed they had experienced temporary closures in the past and made it clear they felt strongly against doing that."
About 60 merchants signed a petition, written and drafted by the Olvera Street Merchants Association, in support of only the partial closure. This would prove key to Metro's final decision, which also had the support of County Supervisor Hilda Solis. In a statement to L.A. Downtown News, a spokesman for Solis noted the "overwhelming majority of the community" were against a full closure, and that there were no official comments in support of a full closure registered by Metro in the final EIR.
Vinson, Louie and others allege that they had arranged for public comments in support of a full closure in advance of the March 1 Metro board meeting, with an understanding that Solis, who sits on the Metro board, would move the item off the "consent calendar" (which offers no public comment period, only a board vote) to allow for new discussion. The item remained on the consent calendar and was approved without additional debate.
A number of local organizations and urbanism experts have expressed support for a full closure — Metro would not disclose a budget, but stated it would be more expensive — in written comments to Metro over the course of January and February. The nonprofit Los Angeles Neighborhood Land Trust, the Trust for Public Land, and the resident council of the nearby housing complex Carthay Manor all remarked on the need for more green space, which would be possible with a full closure. Avison Young broker Derrick Moore, a retail expert in Downtown, wrote that a full closure could benefit small businesses at El Pueblo in the long run.
"A more pedestrian-friendly environment has the potential to create a park-like experience and provide greater synergy between Union Station and El Pueblo, and also provide a retail 'adhesive' and continuity that invites visitors to remain in the area longer — potentially increasing sales volumes," Moore wrote. "There are countless studies and examples around the world where the removal of cars in urban settings has actually enhanced lifestyles and shopping experiences in these parklets and paseos."
Bus Access
Chris Espinosa, the general manager for the city's El Pueblo de Los Angeles Historical Monument department, acknowledged that city staff is often in conflict with the merchants association over topics such as rent increases at Olvera Street or the proposal to house homeless people in temporary shelters on an El Pueblo parking lot. In this case, his staff agreed with the merchants, and recommended a partial closure.
Preserving convenient bus loading and off-loading near the central plaza, rather than further down Los Angeles Street, was a priority considering the number of tourists and school field trips that visit El Pueblo, Espinosa said.
"Olvera Street is largely little mom-and-pop shops, so unlike with some nonprofits, any changes can affect their bottom line in a big way," he said. "You also have to think about Downtown commuters, because a so-called full closure would still leave a cul-de-sac by the 101 Freeway entrance on Los Angeles Street."
Metro's EIR is vague on the impact to freeway commuters, merely noting that while the full-closure option would have a greater morning-commute disruption, the approved partial closure would affect afternoon commuters in a comparable way. For the El Pueblo Commission's Vinson, the fear about hypothetical traffic impacts, or bus access being 50 yards away instead of right at the plaza, does not justify passing over a rare opportunity to "unify" El Pueblo by killing a stretch of roadway.
"As your read through the EIR, it points to everything being great with [a full closure] as the best option," he said in an interview. "It's safer for pedestrians. Folks have been killed crossing that street. I think it would make a tremendous entryway into El Pueblo and highlight the Chinese American Museum."
Despite the opposition, the path appears set, and Metro is moving forward with the approved plan. The final design phase will kick off in spring, according to Metro's Carvajal. A series of federal and state grants means the El Pueblo renovation, and work on Alameda Street, is fully funded, she said. It is slated for completion in 2020.
Metro is also hunting for $10 million more to fund the transformation of Union Station's short-term parking lot into an esplanade.
© Los Angeles Downtown News 2018