DTLA - On an overcast Tuesday afternoon, the Row DTLA complex in the Industrial District is bustling. Dozens of construction workers are doing renovations on one of the six massive buildings. On the central and western portions of the site, shoppers parade down the long thoroughfares between the concrete structures. Some stop to duck into a clothing or other boutique. Others head to a new oyster bar or one of the handful of dining options.
[Get DTLA stories in our daily email newsletter.]
Since being purchased by Atlas Capital and Square One Capital in 2014, the site previously known as Alameda Square has seen a slow yet progressive upswing, with the new owners seeking to make it a destination for workers — it holds 1.3 million square feet of creative office space — and visitors. It's a turnaround (the budget has not been disclosed) for a campus that was long known mostly for housing clothing manufacturer American Apparel.
"Over the last 12 months, we've done over 100,000 square feet in office leasing," said Chris Penrose, first vice president with the brokerage firm CBRE, which is marketing the office space. "Now that the retail is starting to open up, with the soft goods and the restaurants, we're seeing more and more interest from office users. The foot traffic is getting higher and higher each week. It's exciting."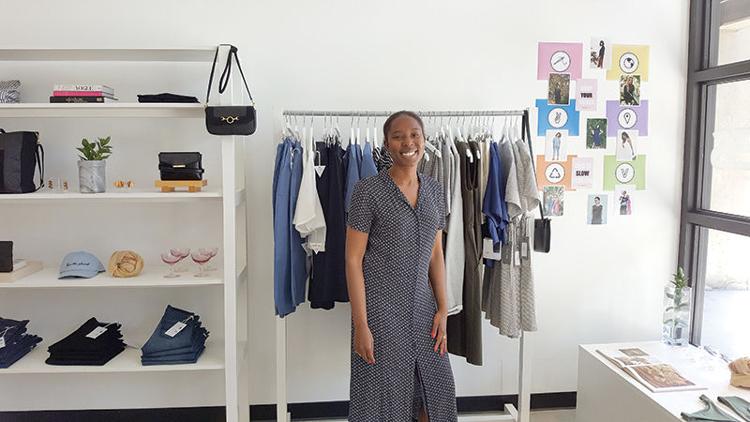 High-profile tenants include the digital media company Mitú, which fills 13,000 square feet of space, and footwear company Adidas, which will occupy 31,000 square feet for its sales, entertainment outreach and social media efforts. Major additions on the retail and food side include home goods and wine store Flask & Field, and Tartine Manufactory, the spinoff of a San Francisco-based juggernaut that will fill 38,500 square feet of space with a bakery, a grain mill, a market and a cafe.
An Unlikely Neighborhood Is Downtown's Next Hot Investment Zone
Then there's the weekly Smogasburg pop-up market, which every Sunday morning draws big crowds to sample wares from dozens of food stalls and craft vendors.
"Row DTLA can accommodate larger tenants, on top of a large retail tenant base that is just starting to now develop," said Gibran Begum, managing director at brokerage firm Newmark Knight Frank, which is not involved in Row DTLA. "Many other office spaces in Downtown don't sit on that type of retail element."
Produce Origins
The complex at Seventh and Alameda streets was built between 1917 and 1923 and opened as the Los Angeles Terminal Mart, a hub for produce growers alongside the train tracks going into Downtown Los Angeles. It continued that role for decades before turning mostly into a manufacturing center.
In the modern era it became known as the home of Dov Charney's American Apparel, with its thousands of employees and salmon-colored buildings. In the early part of the century the campus was owned by prominent businessman Richard Meruelo's Meruelo Maddux Properties, though Meruelo encountered financial difficulties. In 2011 the site was acquired by the newly formed Evoq Properties. Three years later Evoq sold its assets to Atlas Capital and Square One Capital for $357 million. The new owners announced their plans to create the Row DTLA office and retail hub in 2016.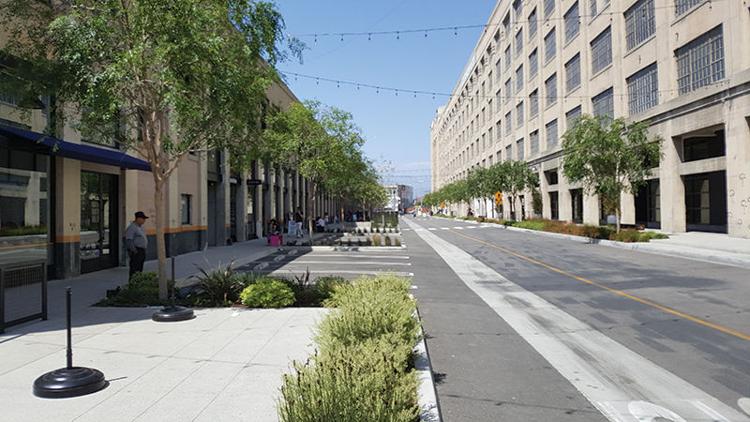 As plans solidified, American Apparel faltered. The company went bankrupt, and after being acquired by the Canadian firm Gildan Activewear, the Downtown operations closed in April 2017. The company no longer has a role on the campus and its former building is being upgraded.
Today Atlas manages the complex (the owners declined to speak with Los Angeles Downtown News, and instead referred questions to CBRE and the Runyon Group). According to Penrose of CBRE, four of the site's six buildings are online; the fifth will open for office and retail tenants later this year.
Penrose said one office building is completely leased, and three others have varying levels of occupancy. Other recent signings include office space for footwear company Athletic Propulsion Labs and MidFirst Bank. There are currently 15 office tennants signed.
The complex is filling up in part because there is little high-quality creative office space on the same scale in the area, Begum said. The market is tight as some planned projects have yet to debut, while others, such as the Ford Factory Building on Seventh Street, have been leased out to a single tenant (in that case the Warner Music Group). He said that rents for the area are on par with creative office buildings in the Historic Core.
Dana Vargas, vice president with the brokerage firm Jones Lang LaSalle, said the Arts District is one of the most expensive submarkets in Downtown, but the amount of space and historic buildings can accommodate the ongoing growth. That makes it appealing to companies on the Westside that are looking to expand in the long-term, she said.
The project also benefits from one of the first changes the owners made: the construction of a 10-story parking lot that can hold 4,000 cars.
"Here you can keep the employees close and in a secure environment," Begum said. "And parking, it has plenty of that. It's one of the few spaces in the area that has very easy and generous parking."
Marketplace
An effort to attract shopping and food tenants coincided with the office push. The owners hired the Runyon Group to handle retail leasing. The arrivals have been diverse, everything from the Rappahannock Oyster Bar to the cult footwear and apparel company Bodega, which opened a high-ceilinged, 8,000-square-foot outlet. To reach the wares, shoppers must first wander to the end of a building and pass through what looks like storage space for a produce wholesaler.
The goal is to make Row DTLA a hub for the Industrial and Arts districts, according to David Fishbein, a principal with the Runyon Group.
"On a larger scale the goal is to be a destination for the whole city, and an iconic personification for where L.A. is really going," he said. "It's a leader in design and fashion."
Retail tenants include stationery and design store Poketo, perfume shop Scent Bar and the home furnishings store A+R. Another home goods store, Hawkins New York, is expected to open in the coming months, as is a retail arm of Athletic Propulsion Labs.
Overall, Row DTLA has 37 retail and restaurant tennants. Rents go for an average of $3.50 per square foot, according to Fishbein.
Derrick Moore, a principal with the firm Avison Young and an expert on the Downtown retail market, said stores are migrating to the site as a clientele base continues to grow in the Arts District. Still, he noted that the complex is less accessible than other retail rich Downtown areas such as the Broadway corridor, which presents challenges for Row DTLA businesses hoping to see greater foot traffic.
One early approach to bring in customers was a sort of test run for retailers. Atlas and the Runyon Group organized several on-site pop-up markets. The roughly two-month-long events allowed shops such as Tokyobike to try out the space and help activate the campus. Tokyobike, which started as a pop-up in November 2016, now has a permanent location where it sells sleek, high-end bicycles and cycling gear.
RoseMary Sindt, the store's manager, said that weekends remain the busiest time, but foot traffic has been increasing on weekdays this year. She expects crowds to grow as additional restaurants open.
She added that Row is emerging as an alternative to the traditional shopping mall, with a focus on independent shops, with many stores complementing each other.
"There is a lot of crossover here," Sindt said. "All of the retailers are very design oriented."
Dechel McKillian agreed. The owner of Galerie.LA, a Row store that sells sustainable fashion and apparel, said that the collection of small boutiques is drawing customers who are interested in independent stores and are willing to make the trek to the complex, rather than visit a more established shopping destination.
"I can't imagine having a retail space on Melrose or somewhere else," McKillian said. "It's the curation of other stores here — they are independent, local or small. We're in good company."
Fishbein of the Runyon Group credits a recent jump in commercial leasing to the Tartine Manufactory deal. The culinary complex, originally scheduled to open in the fall of 2017, is now slated to debut in the summer.
An Industrial District Food-for-All
A retail beachhead for the project was established by Smorgasburg, which began in June 2016. The open-air food hall and crafts market, which runs from 10 a.m.-4 p.m. every Sunday, draws 7,000-12,000 people, according to manager Zach Brooks.
Smorgasburg is a spinoff of a Brooklyn market, and early on Downtown crowds would generally stay in a confined space. Now, they tend to venture out to the Row DTLA stores, Brooks said.
"With the shops now open and the restaurants opening, you can feel the energy," Brooks said.
Row DTLA has even begun to attract outside events. The "29Rooms" happening, a pop-up "experience" focused on branded art installations, and popular with Instagram users, took place in December. In August, the All My Friends music festival will fill the complex, with artists including Jamie XX and MIA. The Adult Swim Festival will take place in October.
Fishbein pointed out that Row DTLA has arrived even as some other touted retail projects such as At Mateo and the Broadway Trade Center have lagged. He said the campus now has more than 40 retail leases signed. Meanwhile, the upgrades continue on other parts of the property.
The Runyon Group and CBRE representatives said additional signings will be announced in the coming weeks.
© Los Angeles Downtown News 2018