DTLA - There's a sense of an ending at Caravan Book Store.
    Things in the Financial District shop are similar to how they have been most days for the past 64 years: Customers slowly meander around the tables and shelves stacked high with first editions and rare tomes. The general sense of quiet is punctuated every few minutes by the tick-tick-tick of a receipt printing.
[Get DTLA stories in our daily email newsletter.]
However, many customers arrive with a tinge of sadness. On Jan. 31, owner Leonard Bernstein announced that Caravan will shutter this month. Now a few signs advertise discounts. Angelenos with fond memories keep popping in to chat with the man behind the counter and tell him they'll miss the store.
Bernstein has a slightly different mindset.
"Everyone's sad," he chimes in a sing-song voice. "But not me!"
Bernstein, who is 71, admits he'll miss Caravan, which has been a mainstay in the shadow of Gas Company Tower as Downtown has evolved. In anticipation of closing, Caravan is reducing the prices of many items by 10%-20% through Saturday, Feb. 24. The shop at 550 S. Grand Ave. will shut down on Feb. 28.
Bernstein is soft-spoken and instantly recognizable by his bushy, walrus-like mustache. He partially grew up in the shop, and as a child he spent time there after finishing school. Later he worked in the store and then took over the business.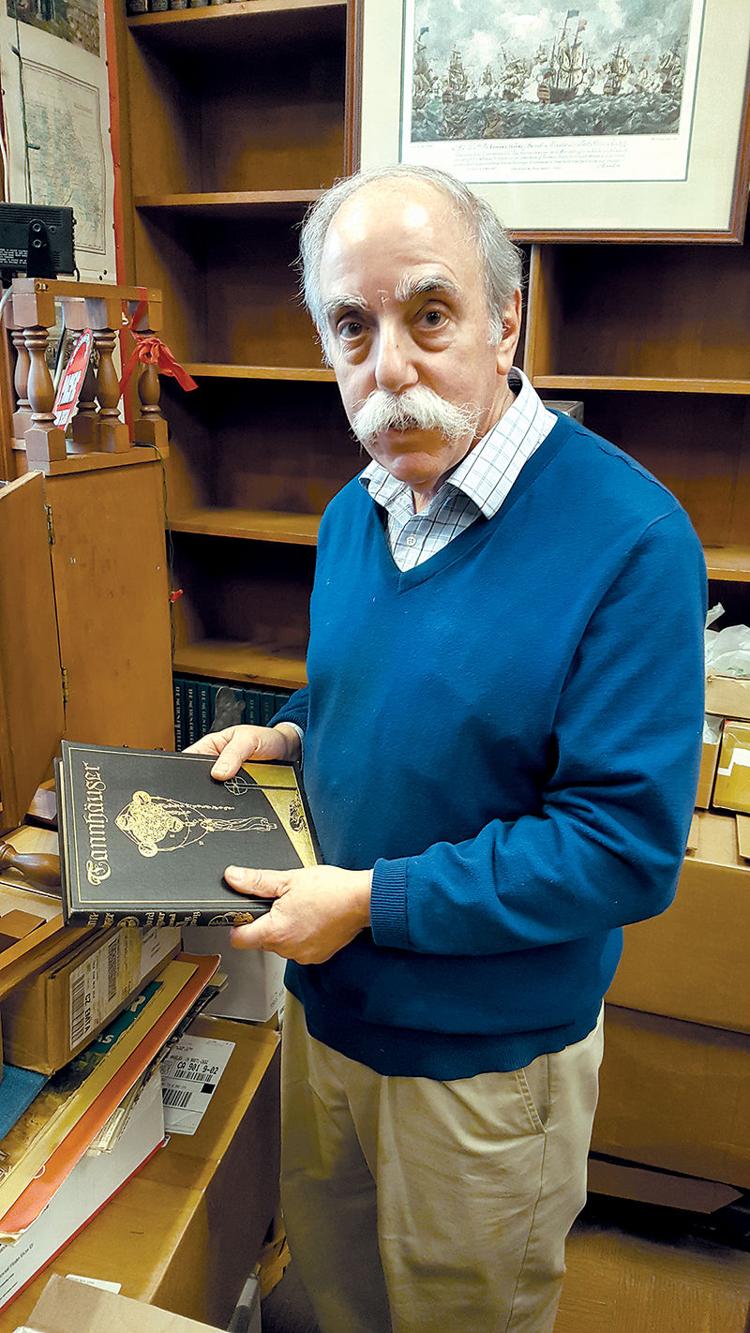 Caravan stands in stark contrast to its neighbors in the PacMutual Building: a FedEx, Starbucks and the Water Grill restaurant. The store is quiet and warmly lit, overflowing with books. Copies of Harper's magazine, yellowed with age, are stacked on a shelf. Model ships and aging prints of American history stand on tables and fill other parts of the shop. Abraham Lincoln is particularly well represented in busts and carvings. The work of Los Angeles artists is on display in the window, alongside some older books.
On a recent weekday afternoon Obadiah Mazo approached Bernstein and asked about one of the artworks. Bernstein filled in some backstory and led Mazo to the rear of the display. He unlatched part of the shelf — "This is the lazy way, which I'll use," he deadpanned. They chatted some more before Mazo left with the prints.
Caravan is, for a few more days, the final remaining part of a booksellers row that once dominated a stretch of Grand Avenue.
"Leonard is the last man standing in a lot of ways," said Brad Johnson, vice president of the Antiquarian Booksellers Association of America and chair of its Southern California chapter. "His Caravan closing is something of an end of an era."
Turn Back the Page
Bernstein's parents, Morris and Lillian Bernstein, opened Caravan in May 1954 in the National Oil Building at the southwest corner of Sixth Street and Grand Avenue. They started the store as a way to spend time together during the day. A photo of Morris behind the counter at Caravan shows him sporting a mustache not unlike Leonard's.
Caravan moved to its current location on the opposite corner in 1980. At the time, the bookselling business was a thriving industry in Downtown Los Angeles. Leonard Bernstein fondly looks back on the era; he rattles off the name of a soda shop and an Italian deli he used to frequent around the corner, and talks warmly of the people who ran the businesses.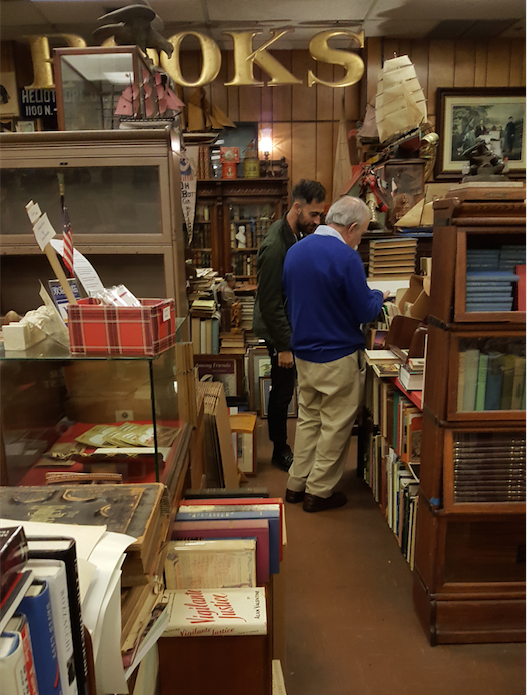 Bernstein took over the store in the 1980s and has been behind the counter ever since. His son and two daughters have helped out over the years, but they have their own careers and didn't want to take over, Bernstein said.
The fans and longtime customers keep trickling in. The day before Mazo made his purchase, Katherine Bratton, who works at a nearby law firm, stopped by. She had shopped at Caravan over the years.
"I heard you were closing," she told him. "I wanted to wish you well and the best of luck."
Bernstein has two brothers who also worked in the shop while growing up, but the antiquarian items had a special pull for him. A fan of American history and all things California, Bernstein said Treasure Islandand the works of John Steinbeck had a major impact on his life.
Steinbeck is on the shelves, as is a mid-century Chinese cookbook and a set of Horatio Alger boys' adventure books. There are sections devoted to railroads and aviation. One of the shop's specialties is its collection of books on the American West.
"You have to be interested in the books you're buying," Bernstein said. "If someone offered me a collection of economics books I'd say I'm sorry, but I'm not interested."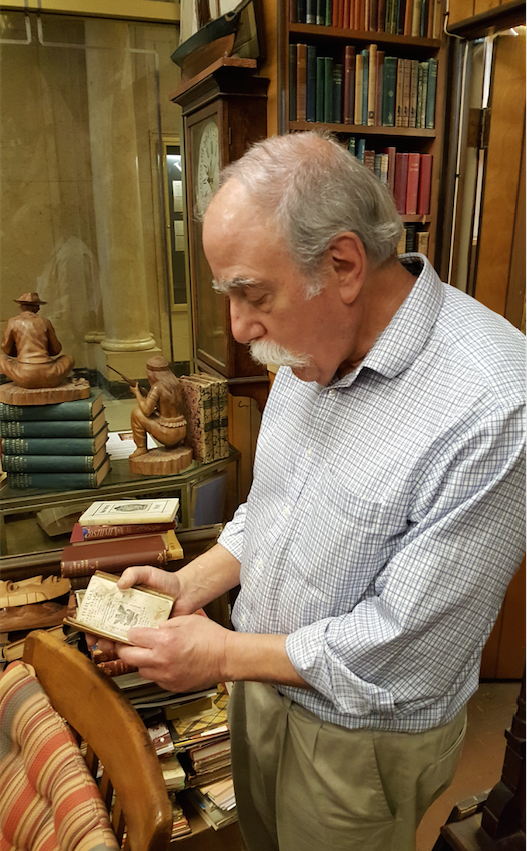 Caravan has seen its share of celebrities come through the doors. In 1992 former President Jimmy Carter and his coterie of Secret Service agents stopped in. While Carter was looking, Bernstein said, food critic Jonathan Gold entered and tried to get the proprietor's attention, not realizing who was in the shop. Seeing the customer in need of assistance, Carter politely bowed out.
Customers stood out for a variety of reasons. Bernstein recalls one who would come in regularly but hardly say a word. When the man finally spoke, he and Bernstein ended up having a long chat about books on the American Civil War.
Johnson said that part of selling rare books is building relationships with customers. People will come in off the street and may not be sure what they want. That also happened on a recent afternoon when Nancy Allen entered Caravan. A visitor from New Mexico, she walked in after seeing the "Store Closing" sign. She looked around, asked Bernstein some questions, then left. Fifteen minutes later she returned and bought a print, noting she wouldn't get another chance.
It speaks to Johnson's point.
"That sort of serendipitous experience, Leonard was a part of that," Johnson said. "Leonard knew where all the bodies are buried."
Writing an Ending
The nature of the antiquarian book market means there is no set supplier. Caravan's inventory comes through a variety of partnerships and deals. Bernstein said that in some cases people have one or two books to sell. Other times a private collector dies and dealers bid for the set. When writer M.F.K. Fisher passed away in 1992, Bernstein was told her books were up for grabs and he had an "Indiana Jones adventure" as he hurried to see what was available. He acquired a large part of the collection.
The price points are as varied as the titles. Some books in Caravan sell for $35. One recent customer asked about a turn of the 20th century copy of Richard Wagner's opera Tannhauser, filled with intricate illustrations; it was $375. Caravan currently has a 16th century set of Caesar's commentaries ($1,500) and a page from an early 17th century King James Bible ($350).
Bernstein said business has been good in recent years. He also said he could keep running the shop, but the time is right to close.
Bernstein admitted that the recent demise of other antique and rare booksellers influenced his decision. He also pointed to the January death of Fred Bass, the longtime owner of New York City's The Strand bookshop. Bernstein liked being able to make the decision on his own, while still in good health.
Bernstein plans to continue dealing books in some form, most likely through private or online sales. In an email to his customers he said he can be reached "by appointment, by email, by phone, and by good old-fashioned U.S. Mail."
Still, Bernstein knows he will miss his community.
"It's the interaction, it's the people," he said, a smile on his face as he waved his hand at the shop. "That's what it's all about."
Then he stopped. A customer had stepped to the counter and had some questions about a few books.
© Los Angeles Downtown News 2018