DTLA—Six months ago this week, Angelenos witnessed one of the most stunning events ever to hit City Hall. On the morning of Nov. 7, 2018, a battery of FBI agents stormed the third floor suite of 14th District Councilman José Huizar. They emerged a few hours later carrying a bevy of cardboard boxes. Other FBI teams conducted similar raids at Huizar's home and his Boyle Heights field office.
The activity, complete with a sniffer dog named Ginger who reportedly had a nose for flash drives and electronic equipment, looked like something straight of a CBS procedural, though it turned out this was actually a reality show. I'd call it "Survivor" but the name is already taken. Plus, the castaways who spend 39 days starving and getting sunburnt on an island in the middle of the ocean seem to have things better than Huizar.
For Team Huizar, Winter Is Here
The anniversary lands on Tuesday, May 7, so half a year after that fateful day seems a good time to take stock of what has transpired, and to ponder what is still to come.
The Upside: Look Ma, No Charges!: If Team Huizar is seeking a silver lining, it's that even after seven search warrants were served, and the councilman broke the record for bad press in a single month by a Los Angeles politician, no charges have been filed and no one has been arrested. In fact, in standard FBI fashion, we haven't heard boo from the bureau since that day. Plenty of people have made plenty of inferences, and speculating on what if anything Huizar did has become a popular parlor game even for people who don't have parlors. But the FBI has not publicly commented on the case or any potential targets, and no one outside the federal building has any clue what, if anything, prosecutors are planning.
The Downside: The Waiting Game: Although Huizar has yet to publicly face the wrath of the Feds, his reputation is toast.
Even if the fall of the house of Huizar is no longer daily news, people in Downtown who follow City Hall continue to talk about the raid, and to wonder when the other shoe will drop. Actually, that's not right; given the gravity and the public nature of the situation, the other shoe is actually a 900-pound Kevlar boot.
I'm not trying to fan flames, but people remain shocked and awed by what transpired. It seems that every week I speak to someone who is wondering when there will be some revelation or next step.
Huizar's in Trouble. Cue the Vultures
This has to be brutal for Huizar himself. You know how sometimes you go to a party or event and you see people talking quietly and are convinced it's about you, even though that's impossible? In Huizar's case, they're all whispering about him, and they're all wondering what he'll face next.
Quiet Time: So what is happening? One person versed in law enforcement and investigations cautioned against thinking that the lack of news is, for Huizar, good news. Instead, the individual pointed out that the FBI and federal investigators will take as much time as they need to assemble a case, and won't be rushed, no matter the cawing of constituents or the media. It takes work to sift through boxes of documents, and if computer equipment or flash drives were uncovered, there could be thousands of emails to peruse.
Plus, the Feds in L.A. have been kinda busy lately, what with the cases of Michael Avenatti, the college admissions scandal and last week's breaking news of an Army veteran who had been planning a major local terror attack. Any of those could pull attention away from a case against an elected official.
Memories of Godoy: One reason the raid got so much attention was because Los Angeles had never seen anything like it. Another reason people took notice was because it continued a string of brutal news involving Huizar: In the preceding weeks, the councilman was the subject of two lawsuits filed by former employees, who charged retaliation and harassment. Both also alleged that Huizar had engaged in an extramarital affair with a different former employee.
Huizar denied the allegations, but they made everyone recall Francine Godoy, another former employee whom Huizar admitted having an affair with back in 2013. In the court of public opinion (not an actual court) politicians can usually get one mulligan for a sexual dalliance, but the second one is the sinker.
Wesson's Hammer: Eight days after the raid, City Council President Herb Wesson yanked Huizar from every one of his council committee posts, including his slot as chair of the powerful Planning and Land Use Management committee. For those who don't speak City Hall, being chair of PLUM is like learning a secret handshake that tells every developer who wants to get anything built in L.A. that he or she should write big checks to your political campaigns, office holder account and favorite charities.
But with no committee assignments, Huizar has almost no juice in City Hall. It also means that the guy who represents Downtown, the most thriving part of the city, can't throw his weight around. And local politics is all about throwing weight around.
A Likable Guy: Here's something amid the trouble: Huizar is a likable guy, and when not in political mode he's friendly and projects a regular dude vibe. He has a compelling personal story of going from a small town in Mexico to being elected to the L.A. City Council. In the years before the Godoy affair, I saw him appear at numerous events and, from the stage, he often introduced his wife Richelle. It was always a sweet gesture.
Before his Rome fell, he seemed to be trying to do a good job. He sought to help the district respond to a devastating homelessness crisis, and with an urban planning background he undertook numerous efforts to address mobility in Downtown. He pushed the Broadway streetcar, which always seemed like a pipe dream, and a modernization of Pershing Square, which is 114% necessary.
All that work may be remembered in time, but right now it is all overshadowed.
About Richelle: Six months after the raid, people also continue to chatter about Richelle Huizar. That's because the councilman had spent more than a year grooming her to be his successor, and she accompanied him to dozens of community events. She was the frontrunner to win his City Council seat even before she formally declared her candidacy last September.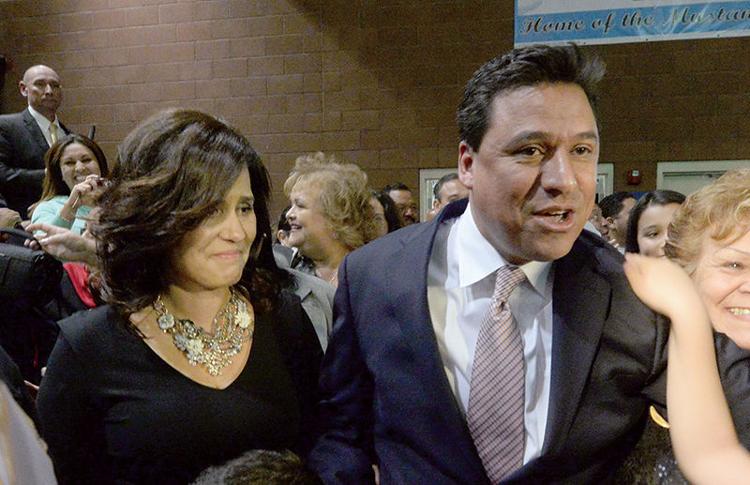 Then things exploded, and as story after story unfolded, the questions she would face on the campaign trail became apparent. She quit the race the day before Thanksgiving.
Still, everyone continues to wonder if she will be enveloped in the investigation. The L.A. Times last November reported squishy details about donations to a Boyle Heights high school where she was a paid fundraiser.
She has not publicly commented about what went down. All that said, I've also heard people wonder whether she might be able to run for this seat or another one day in the future.
Tip of the Iceberg: Here's the really big thing that people wonder about: Does this go deeper than José Huizar?
In January George Washington University counterterrorism expert Seamus Hughes posted information on Twitter about a warrant related to the investigation. It involved the FBI seeking information on a flotilla of local developers and political figures, including Deputy Mayor for Economic Development Ray Chan, Wesson's Chief of Staff Deron Williams, and Ninth District Councilman Curren Price.
FBI Investigation Spreds to Local Developers
But just like a TV season-ending cliffhanger, no one knows what's coming next. There is no clue as to whether any of the named individuals are being sought as witnesses or are considered suspects. Again, no one has been arrested or charged.
On the Horizon: So where is this going? Will Huizar play out the string for his remaining 18-plus months in office, earning a paycheck and taking occasional small steps on local projects, but without any significant role to play? One can see the reason to keep a low profile — the salary is darn good, and resigning is akin to admitting wrongdoing.
Then again, while the Feds don't rush things, they also are not known to dedicate so many resources to something, then to walk away. At the same time that nothing seems to be happening, everything could be happening.
Time will tell.
Copyright 2019 Los Angeles Downtown News