In March, the city launched a one-year pilot program for dockless vehicles, allowing scooter and electric bike companies to bring tens of thousands of the devices to Los Angeles. The program came with the hope that this will get more people out of cars, but with the caveat and knowledge that it will be a work in progress. Six months in, Downtown Los Angeles has emerged as a key neighborhood, with devices parked — or plopped — on seemingly every block.
The results so far appear mixed, with some people using them to bridge the first-mile, last-mile gap posed by public transportation options, and others angered over scooter "clutter." Many riders seem unsure whether to use the devices on sidewalks or the street, while police deal with the challenge of whether to spend their time ticketing scofflaws (sidewalk riding is illegal).
The pilot program, implemented by the Los Angeles Department of Transportation, was the result of nearly two years of discussions, and established a slate of guidelines for dockless vehicle operators. Permits were issued to eight companies in March, and so far approximately 36,000 vehicles have been green-lighted in Los Angeles, according to LADOT, more than any other city in the United States. Approximately 30,000 are scooters operated by companies including Bird, Lime and Lyft. Dockless bicycles account for the remaining stock, operated by companies such as Wheels, Spin and Jump.
While some communities are filled with devices, more are coming. According to the LADOT, only about 20,000 vehicles had actually reached city streets by June, with the remaining 16,000 eligible to be deployed.
The greatest number of devices, approximately 7,700, are in Council District 11, which includes Venice. The 14th District, which covers Downtown, ranks fourth, with 3,300 vehicles, though maps that chronicle the density of deployment show that the Central City is among the most packed neighborhoods for the devices.
In a prepared statement, a spokesperson for LADOT said that the vehicles are cutting the number of car trips in the city. According to the department, there are nearly 1 million dockless vehicle trips each month in Los Angeles.
"Those one million dockless trips translate into one million single occupancy vehicle trips avoided," the statement read. "This is a good reminder that access to various transportation choices helps connect us to more people and to more places."
Clutter and the Community
Dockless vehicle users download an app to a smart phone and then scan a device to use it. They often pay about $1 to activate it, and 15 cents per mile traveled. Helmets are encouraged, though California law does not mandate their use. While companies ask riders to be considerate, the devices can be dropped anywhere.
In the effort to address clutter, the pilot program allows people to report improperly parked vehicles on the city's My311 app. Once a report is made, operators have two hours to address the issue. LADOT reserves the right to revoke or modify pilot permits for companies that do not follow the rules. It is uncertain if any companies have faced penalties.
The app has been used frequently in Downtown. According to a recent LADOT report, CD 14 accounted for 587 service calls through June, second only to the 1,687 requests in Council District 11.
Timothy Li, a Little Tokyo resident, said that he reports scooters blocking driveways and sidewalk onramps "nearly every day," with concerns that they make life difficult for the neighborhood's senior citizens.
"I see a lot of people just leave the things near crosswalks so I report them and then move them out of the way," Li said. "The public shouldn't be the ones that have to be on top of it."
The LADOT requires riders to leave vehicles within what is called the "furniture zone," the space between the curb and where pedestrians walk. LADOT asks that at least six feet of space be left for pedestrians and persons with disabilities to pass. Yet that requirement is nearly impossible to enforce.
Geoffrey Straniere, a senior project coordinator with the city's Department of Disability, said that elderly and disabled individuals increasingly raise the issue of improperly parked scooters blocking sidewalks and bus stops.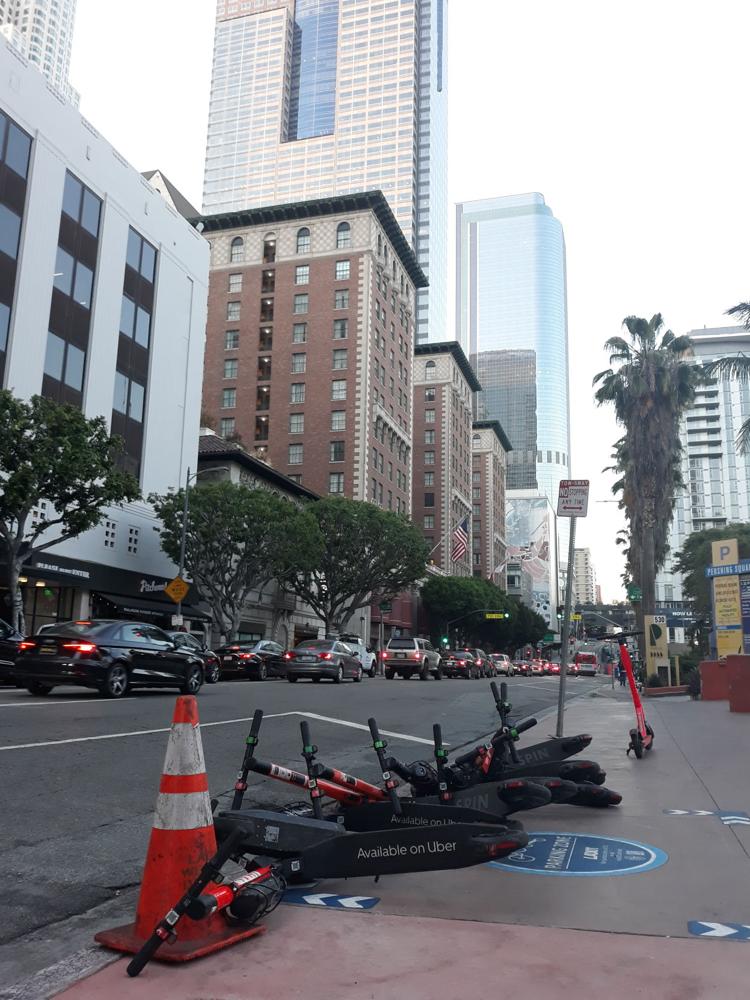 Yet Straniere noted that few sidewalks in Downtown are wide enough to satisfy everyone.
"We can't just knock buildings out of the way because we want a six-foot sidewalk," Straniere said. "I really do want a six-foot sidewalk, but that's just the type of thing that we have to address with development moving forward, and we'll have to come up with solutions for the vast majority of the sidewalks that we have here in Los Angeles."
LADOT has also created nearly 50 "drop-off zones" in Downtown, which are marked by paint and text on the sidewalk, though users are not required to park devices there.
During a June town hall meeting on the subject of scooters, representatives for Lime, Jump and Bird said that they are working to encourage good rider behavior, including perks for those who submit images of their properly parked vehicles.
Many operators noted that they reserve the right to kick riders off of the platform if they are the source of repeated complaints.
In a prepared statement, a Bird spokesperson pointed to an in-app feature called "Community Mode" that allows people to directly report improperly parked scooters to the company. Bird has the second largest stock of vehicles in the city, with 6,500 permitted.
"These reports help Bird promptly respond and take appropriate action, including removing people from our platform," the statement read.
Uber, which owns the dockless mobility operator Jump and has the third larger roster of vehicles citywide, declined a request to comment.
A representative for Lime, which has the largest fleet of dockless vehicles in Los Angeles, said that the company is partnering with LAPD to hold rider safety and etiquette events.
At the town hall, José Elias, Metro Bike Share Coordinator, reiterated that the rules and regulations guiding dockless vehicles are meant to be augmented based on community response.
"It is a pilot program," Elias said. "That is why we are here, to see what works and what needs changing."
Health and Safety
While improperly parked vehicles cause consternation, a greater issue in Downtown may be safety, particular the risks for pedestrians from riders who duck rules and whip the speedy vehicles along sidewalks.
Vanessa Conklin, who lives next to Grand Central Market, said she keeps her head on a swivel as riders blow past her on the sidewalk. Still, she said she is seeing more people now riding in the streets.
"It seems to be getting better, Conklin said. "At first it was a few groups of riders that would almost take over the sidewalks. They still use the sidewalks but it's not as many."
Mobility advocate Terenig Topjian lauded the expansion of dockless vehicles. Still, he acknowledged a point that many users have touched upon: Riding scooters on Downtown streets that lack protected lanes — and instead just have painted stripes or no designated area — makes riders feel unsafe and deters some people from using the streets.
"If you don't have a lane for bikes and scooters you feel unsafe right next to the cars, and there are parked cars [whose drivers] are going to open their doors," he said. "Sometimes I myself find going on the sidewalk at a slower speed just for safety reasons."
According to the Los Angeles Fire Department's Emergency Medical Services Bureau, from Jan. 1-May 25 there were 160 accidents involving scooters in the city. Fifty-nine people were transported to a medical facility.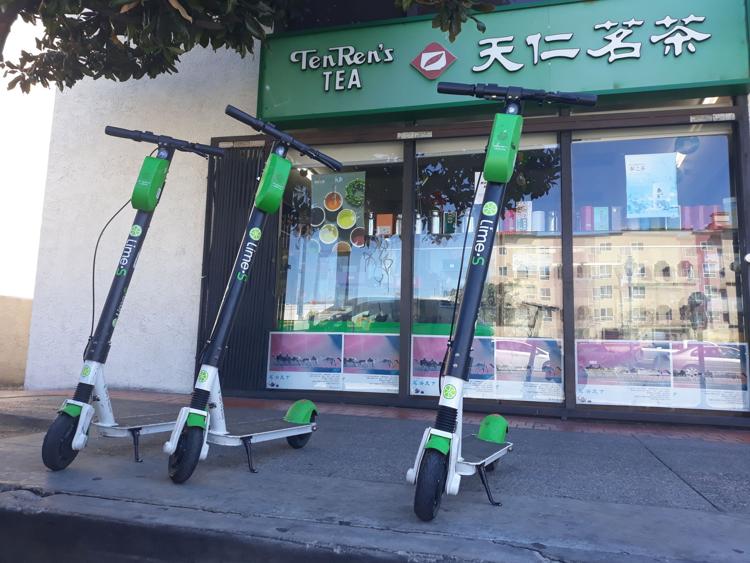 A recent LADOT report stated that there were 52 traffic collisions involving scooters from January through the end of April. It is unclear how many were the result of a scooter on the sidewalk.
The prevalence of dockless devices has drawn some scrutiny from elected officials. In June, 11th District Councilman Mike Bonin (who chair's the Council's Transportation Committee) called for a reduction of the fleet size, while First District Councilman Gil Cedillo has sought, so far without success, to ban the vehicles from Chinatown by excluding the neighborhood from the pilot program. At the same meeting, the council directed the fire and police departments to explore a new fine structure to deter riders from using sidewalks.
Currently, riding on the sidewalks nets a $197 fine.
"It's basically the wild wild West," Cedillo said. "One day all of these scooters just showed up in my district. They have disrupted my district, a district of immigrants and seniors and new families, because there are no rules and regulations."
In a July 30 letter to the City Council, Caroline Samponaro, Lyft's head of micromobility policy, acknowledged Cedillo's concerns while noting that the company is working on safety and parking solutions including end-of-ride photo requirements, incentivizing the use of city parking zones and tipped scooter sensors.
"As Councilmember Cedillo's motion indicates, there are policy concerns related to scooters regarding safety and clutter," the letter states. "Lyft takes these concerns seriously and continues to incorporate stakeholder input to implement solutions."
During the June meeting Councilman David Ryu, whose Fourth District includes portions of Hollywood and Koreatown, which have also seen heavy scooter deployment, said that the pilot program was instituted to avoid the scenario that Cedillo was describing.
"These new technologies are really coming at full speed and we want to make sure that we are ahead of the curve and not behind it," Ryu said.
An LADOT spokesperson said that the department will evaluate the program after a year in regards to public safety, equitable access and sustainability.
Currently, the department provides quarterly updates to the council.