A 52-story high-rise has been proposed for the southern tip of South Park. It would create more than 300 residential units, along with a hotel.
On Wednesday, Feb. 1, the L&R Group of Companies, which operates a string of parking facilities, filed plans with the city for a mixed-use project at 1600 S. Figueroa St., on the site of the Toyota of Downtown L.A. dealership. Plans call for 202 condominiums and 134 rental units, with 23 condos and nine apartments reserved for low-income individuals. Additionally, the tower would hold a 250-room hotel.
[Get DTLA stories in our daily email newsletter.]
The auto dealership and repair shop on the 1.14-acre site would be demolished ahead of construction. L&R, which owns both Joe's Auto Parks and Wally Parks, acquired the site last April for $30 million. The dealership is relocating to a space at Figueroa Street and Washington Boulevard.
L&R representatives did not return calls for comment.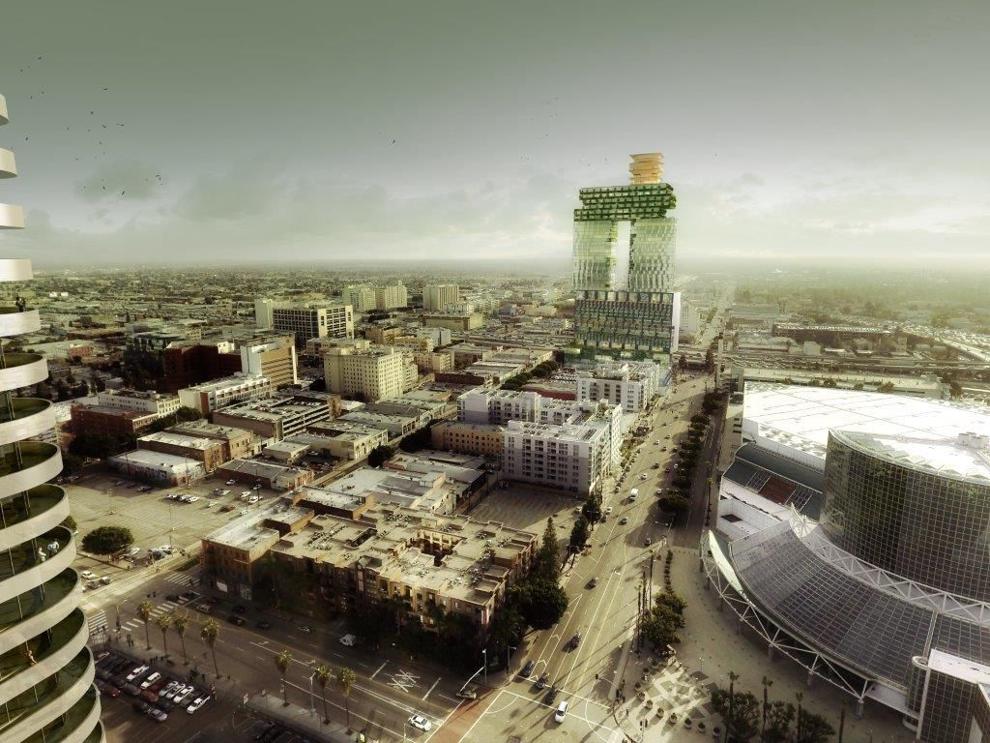 The proposed project would also include about 6,500 square feet of office space and 9,000 square feet of ground-floor retail. The hotel would have a 3,000-square-foot restaurant. There would be 499 parking stalls, with five levels underground and four above grade.
Designs from the Downtown-based architecture firm Gensler show a more experimental look than most projects in the Central City. The base is a solid podium lined with balconies, while the portion between the 19th and 39th floors is divided into two parts, separated by a large open chasm running north to south. Above that is a third tier that supports a block of penthouses on the western side of the project.
The ground floor would hold retail space and lobbies for the different sections, while the office component would take up the next three levels. The hotel would cover the 5th-18th floors.
The 19th floor would hold residential amenities including a fitness center and a pool. Residences would be on floors 20-44, with penthouse on floors 45-52.
Entitlements are currently being sought, according to a representative from the engineering and consulting firm Psomas. No groundbreaking or budget has been revealed.
South Park is seeing a significant amount of high-rise construction. The Metropolis project has 40- and 56-story towers in construction, and additional towers are rising near Staples Center at Oceanwide Plaza and Circa. Developer City Century plans to construct a 22-story residential project at 1233 S. Grand Ave.