It's almost 10 p.m. on a Sunday night, and on the darkened upper level of the Last Bookstore seven people sit around a small table. It is illuminated only by an electric chandelier that casts a soft glow. The group is deep into a discussion of Zoje Stage's creepy child novel Baby Teeth.
Suddenly, a book tumbles off a shelf behind them. It hits the ground with a loud bang and startles the group.
"What was that?" one member asks.
It turns out to be a hardcover of The Ghost of Winston Churchill from the War and History section. But no one else is there.
There's no answer for the noise, but the fright suits the group. It is a January meeting of The Thing in the Labyrinth, the Last Bookstore's monthly horror book club. It is one of 11 book clubs the store organizes.
According to Eric Larkin, head of community and interactive events for the Last Bookstore, the clubs are part of the Historic Core mega-shop's effort to provide more events that engage customers.
"We had the typical book store events — signings, lectures, and those are great and we'll always do those. You come, you sit, you hear someone else talk, maybe ask a few questions, you get a book signed and you leave," Larkin said. "But you don't really get to engage. Theoretically, with book clubs, you come back month after month, you have discussions and share a laugh."
The book clubs launched last spring, and there has been a tweaking process. A poetry club didn't pan out, in part because there are so many poetry events in Los Angeles, Larkin said. Instead, the store has found success by going micro, looking for more niche and specific topics, and bringing in authors and academics versed in the genres to moderate the discussions.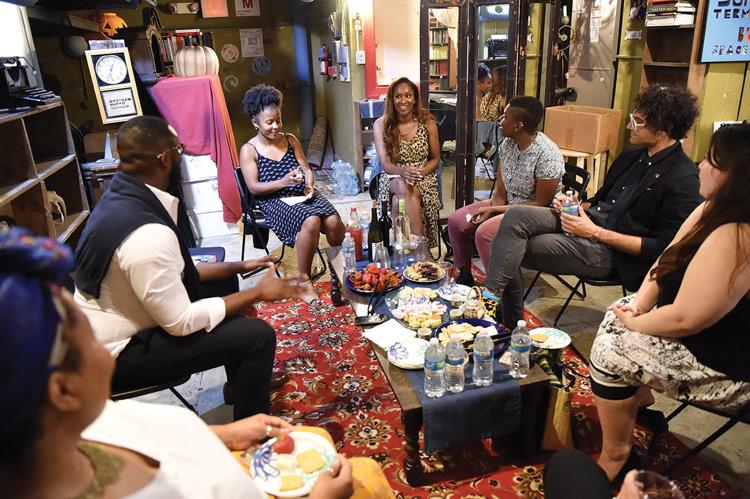 "There aren't too many Afrofuturism or Gothic book clubs," Larkin said, referring to two that Last Bookstore offers.
Other options include the Queer Book Club, a True Crime Tuesdays group, and the We're All Gonna Die!: Dystopian Book Club. A graphic novel club launched at the start of the year, and a current events and politics club began in late February.
Kathryn McGee, a horror author who leads The Thing in the Labyrinth, said that the bookstore approached her to helm the group. She hadn't moderated a book club before, but said that hearing what others think of the novels adds to her own reading experience.
It was similar for Tyree Boyd-Pates, a curator at the California African American Museum and the moderator of the Afrofuturism Book Club. He said he joined after a friend heard that the bookstore was looking for someone to lead the group.
"The cool thing about our book club is that the subject matter of Afrofuturism has seen an uptick in light of Black Panther," he said. "The book club came at the right time. There's a diversity of people who want to get science fiction from a diverse set of voices."
Sharing the Experience
Each club meets once a month on the second level of the store. Nestled in a corner between the History and Science Fiction sections — the horror club meets a few feet away, under that electric chandelier for effect — the groups gather around a table, with snacks, tea and wine set up for them. Members pay $10 each month, and at the end of the session have the chance to buy the following month's book. The moderators choose the selections.
C.B. Lee, the moderator of the Queer Book Club, said that many Last Bookstore clubs have a kind of core group that shows up, with occasional new faces. McGee said that as her horror club has grown over the months, the format has evolved, and conversation flows naturally as the members become more confortable.
At their February meeting, discussing Robin Talley's Pulp, the Queer Book Club members joked about the ongoing rain and shared their thoughts on the novel. A few admitted that they weren't able to finish Pulp in time for the session, but were close.
"I like that this exists. It's forcing me to try and finish the books on time," Emily Woo Zeller said near the start of the meeting. "And I like the story."
Lee said many people in the group might not have picked up the book of the month on their own, so the clubs offers both a sense of community and a chance to expand one's literary horizons. And having a specific focus creates a place where people who identify as LGBTQ can talk about those issues, she said.
"One of the best parts of books is that no one experiences it the exact same way," Lee added. "It can often feel like a lonely experience, but with a club you can really engage with a book in a totally new way."
Boyd-Pates agrees that the clubs provide a sense of community and function as a welcoming window for anyone seeking to learn more about the chosen themes, issues or identities. Even if someone doesn't specifically fit with an audience, there are entry points to peer in, he said.
Another bonus is that the meetings can help members process what is going on in the world around them. Peter Clines, a science fiction author and moderator of the dystopian We're All Gonna Die! club, said his group's discussions reflect current events and politics. He said there is an "awareness" of how the themes in the selections reflect today's world.
"A recurring topic is our definition of a dystopia, and where a given book fits on the real world/dystopian/apocalyptic/post-apocalyptic yardstick," Clines said. "One thing that happens a lot is discovering our latest set of defining traits could just as easily apply to the world today. That makes for even more discussions when people are either not at all surprised or, in a few cases, caught kind of off-guard by it."
Back at The Thing in the Labyrinth meeting, the members are digging into Baby Teeth. They go back and forth on the book, wondering if there actually is a supernatural element to the plot, or if some hints in the text were just a red herring. They ultimately agree there wasn't really much of a twist at the end.
"I was hoping for some possession or something," Jonathan Sondoral says to the group.
Finding the Right Balance
Larkin and the moderators say that many of the participants have never previously joined a book group. Larkin attributes part of the Last Bookstore's success to identifying the niche topics and getting moderators who are engaged and well-versed in the subject matter. The snacks help too, he adds.
Lee said the opportunity to explore literary themes and characters also engages members. Plus, there's the opportunity to spin in unlikely directions.
"I think it's fun to mix up genres. Even in queer books there's so much variety," she said. "I'm thinking of going from nonfiction to memoir to poetry — give people the breadth."
The moderators say they are always open to suggestions on what to read next. Boyd-Pates and Lee want to focus on new and emerging authors, while McGee aims to alternate between new fiction and classics. At one meeting, members debated reading Mary Shelley's Frankenstein in the coming months.
Boyd-Pates thinks the clubs have a bright future and will bring people together at a time when technology makes it easy to be physically isolated. The meetings remind people that they have shared interests.
"The reason why these book clubs are so popular is because they speak to niche communities and provide real-time responses to existential questions that we are all discussing and thinking about," Boyd-Pates said. "That's why they're so exciting. They offer these particular communities an outlet outside of the Internet."
That said, the Internet and social media have been helpful. Boyd-Pates said his club and others have grown thanks to Facebook and other websites and social media platforms.
Other times, people find the clubs in old-fashioned ways. Midway through the Queer Book Club's February meeting, a woman stumbled upon the group as she walked through the Last Bookstore's maze-like upper level. She said she didn't know the store has book groups. After a quick thought, she noted she might have to join one.
The Last Bookstore is at 453 S. Spring St. or lastbookstorela.com.
Book Clubs to Check Out
The Last Bookstore offers 11 different book clubs, each with its own moderator and reading list. If that seems overwhelming, Los Angeles Downtown News rounded them up. You can try one or try them all.
Graphic Novel Book Club
Next meeting: Monday, June 17
Enjoy stories told through sequential art and discussions. It's not focused on superhero comics though; this week the club talks about Jen Wang's The Prince and the Dressmaker, joined by Wang.
True Crime Tuesdays
Next meeting: Tuesday, June 18
This group is all about real-life crime. This month the club is reading Bill James' The Man from the Train.
Feminist Book Club
Next meeting: Wednesday, June 19
Moderated by Julia Callahan, the club tackles all things feminist, in an intersectional way, from non-fiction to novels. This week the group discusses R.O. Kwon's debut The Incendiaries.
The Thing in the Labyrinth
Next meeting: Sunday, June 23
Meeting under a dim chandelier, this horror-focused book club is not for the easily scared. This month? It's zombie fiction, with Ling Ma's Severance.
Spiritual Classics Book Club
Next meeting: June 24
Moderated by journalist Nick Shindo Street, each book the club reads deals with some level of mysticism, religion or existentialism. That includes centuries-old tomes, such as St. Teresa of Avila's The Interior Castle, which the group will weigh in on next week.
Gothic Book Club
Next meeting: June 25
Horror is one thing, the dread and drama of Gothic literature is another. Next week the members share their thoughts on Henry James' classic The Turn of the Screw. Wear black.
Queer Book Club
Next meeting: July 1
Author C.B. Lee leads the group each month with discussions on LGBTQ-focused books, be it memoirs, current event books or fiction. The next meeting is a team-up with the State of the Union Book Club, talking about Samantha Allen's Real Queer America: LGBT Stories from Red States.
State of the Union Book Club
Next meeting: July 1
Politics is a wild world, especially as the presidential primaries heat up. For fans of current events, this is the book club for you.
Ficcion en Español
Next meeting: July 8
As the name suggests, the focus here is Spanish-language books, with meetings shifting between English and Spanish. For July, the book club is reading Samanta Schweblin's sci-fi thriller Kentukis.
The Afrofuturism Book Club
Next meeting: July 9
California African American Museum curator Tyree Boyd-Pates moderates this group, looking at all things speculative fiction with an Afrocentric perspective. In July, that means reading N.K. Jemisin's The Stone Sky.
We're All Gonna Die!
Dystopian Book Club
Next meeting: July 14
Forget current events, doom is approaching. If that's your mindset, give this one a try. Led by sci-fi author Peter Clines, the club looks to the future, just not an upbeat one. Next up on the reading list is Sam J. Miller's cyberpunk novel Blackfish City.
—Nicholas Slayton