DTLA - I have seen the teachers, nurses, librarians and other Los Angeles Unified School District employees who have walked off their jobs and gone on strike, and the sight is inspired and infectious. I have heard the clarion call for better pay and smaller classes. And I have observed something I never expected in a labor dispute:
A lot of cowbell.
[Get DTLA stories in our daily email newsletter.]
As I stood amidst the teachers and their supporters who gathered on San Pedro Street in Little Tokyo on Tuesday, Jan. 15, I saw a man holding a small purple cowbell emblazoned with the logo of the union SEIU 721. Steps away a woman wore a full-sized brown cowbell around her neck, and a few feet from her, another woman grasped a black mini-cowbell that bore the emblem of TD Bank. There was not a bovine in sight, but there were people tooting horns and banging drums. Others tilted their head back and put their lips to a vuvuzela, those elongated droning instruments last seen making a racket at the 2010 South Africa World Cup.
But again and again, I heard the cowbell.
Labor Pains: Tactics and the Teachers' Strike
I had to wonder, just like the old "Saturday Night Live" skit, did the union United Teachers Los Angeles, in its advisory whipping up protesters, say that the action outside LAUSD headquarters on Monday morning was dandy, but that on Tuesday, they really wanted more cowbell.
The force the teachers showed at the Tuesday gathering and at other rallies last week was powerful. It helps explain why, in polls and published reports, you repeatedly hear how avidly the general public supports the teachers. They're winning the PR fight and it's not even close.
Still, just like the cowbells, some elements of the strike that has roiled Los Angeles feel upside-down. That feeling starts with UTLA President Alex Caputo-Pearl.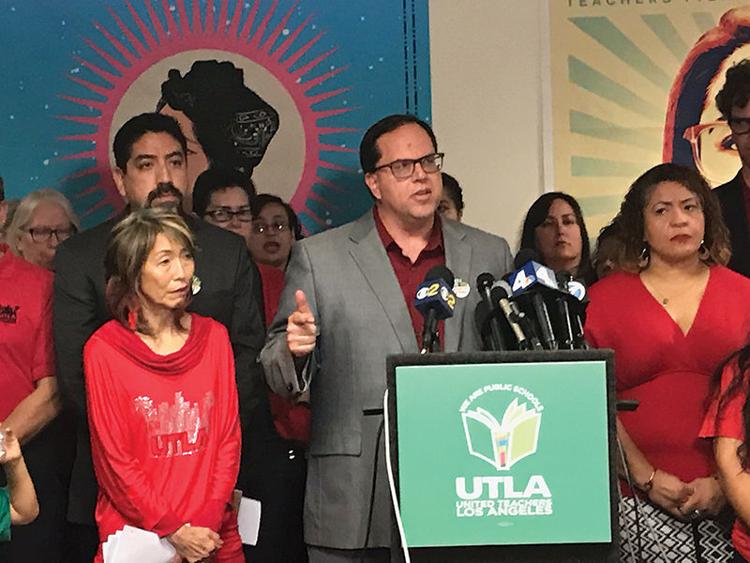 As a leader, the guy is an odd duck. He can fire up a crowd of supporters, but time and again he pointlessly slams LAUSD Superintendent Austin Beutner. I'm not sure what lesson he thinks his insults and behavior is delivering to kids.
Then there is Caputo-Pearl's assault on charter schools. The Tuesday rally was outside the Downtown offices of the California Charter Schools Association.
I get why the crowd was there: UTLA charges that charter schools are "siphoning" students away from the district. Since the state pays school districts a set amount for each student, the district loses money when parents decide their child can get a better education at a charter school than a traditional public school.
Of course, another motive to attack the charter group is that most charter schools are non-unionized. The fact that both charters and traditional public schools have the same mission — educating kids for free — doesn't seem to matter. 
But here's the kicker: The CCSA has nothing to do with the impasse between the union and the LAUSD. While UTLA wants a moratorium on new charters, the negotiations are only between the District and the union, and charters are not even a negotiating point. This is like having an argument with your neighbor Mr. Apples over property lines, and then for no reason you walk a block over and kick another neighbor, Mr. Oranges, in the groin, because he too owns property.
There's also an inherent irony as the UTLA lashes out against the CCSA: Charter schools in Los Angeles employ thousands of teachers. Boil it down and you have one group of teachers bashing another group of teachers.
If you want to make it educational, take a lesson from a book every middle school student reads: Animal Farm. In George Orwell's tome, one of the Seven Commandments of Animalism is, "All animals are created equal." But after the insurrection, it is tweaked to, "All animals are equal, but some are more equal than others."
The current lesson seems to be, "All teachers are equal, but UTLA teachers are more equal than charter teachers."
Money Interpretation
It's easy to grasp why the teachers have taken to the streets. For decades they have faced a swollen and often inept LAUSD bureaucracy. Teachers frequently spend their own money on supplies for their students. Classes of 40 or more kids can hamper successful learning.
Beutner agrees. He has acknowledged each of those points, and has called on the union to work with LAUSD to lobby Sacramento for more money. Caputo-Pearl tends to ignore the logic in the request and instead charges that the district is hoarding cash.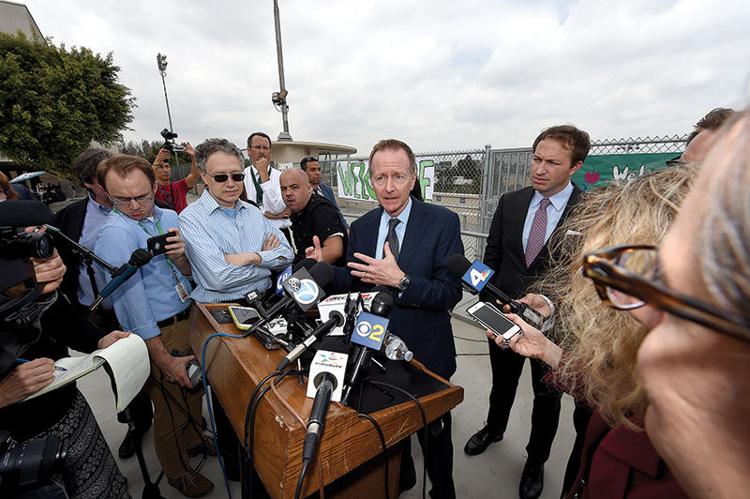 Negotiations have gone nowhere for 20 months, even if a solution appears to be in sight. LAUSD has offered teachers a 6% pay raise with half in the current school year and the other half backdated to 2017; UTLA wants 6.5% retroactive to 2016. A skilled negotiator should have them singing kumbaya on that matter within 20 minutes.
The greater concern is class size, with UTLA demanding more teachers, nurses, counselors, etc. This would of course mean more potential members for the union, which matters in the wake of a court ruling that says public employees no longer need to automatically pay union dues.
The Ugly Road to a Teachers' Strike
The Friday before the strike began, Beutner offered a $130 million hiring package. UTLA shot it down, and demanded that the district use a large chunk of a $1.8 billion reserve fund to go on a hiring spree.
Beutner responded as he did 93 times before, saying that a significant portion of the $1.8 billion is already set aside for raises, and the remainder will disappear as the district confronts a revenue imbalance sparked by declining enrollment on one side, and rising pension and healthcare costs on the other. He says LAUSD will lose hundreds of millions a dollars a year, and that a hiring binge will lead to insolvency.
A county study backs up the District's stance. Still, Caputo-Pearl rails against the data, though he has produced no counter-evidence. 
Dude, Where's My Leadership?
The strike has slammed Los Angeles. The families of 500,000 students last week struggled with kids who were bored and frustrated. Only about one-third of the students showed up for class, and the district lost more than $10 million in state money every day.
And pity the teachers who spent much of last week walking picket lines or attending marches in cold rain (not to mention their lost salaries). If no one has developed pneumonia, it will be a miracle.
All of this sparks another question: Where was the leadership that could find common ground before the strike?
It seems to have gone the way of the dodo. For months, the people with real juice seemed content to sit on the sidelines, waiting for the situation to fix itself. Even when UTLA halted negotiations the Friday before the strike, no one in power twisted arms to get Caputo-Pearl back to the bargaining table over the weekend.
A buzz finally started in the middle of last week, and on Thursday the sides talked for the first time in six days. At press time progress was being made. It's possible there has already been a breakthrough.
Mayor Eric Garcetti got deeply enmeshed in the situation last week, and while that's a positive, it's fair to ask why he didn't wield his powers before the walkout. Admittedly the mayor of L.A. has no jurisdiction over the LAUSD, but Garcetti is the guy who's all #MayorsGetThingsDone and is positioning himself to run for president. If he thinks he can bring the country together, he should be able to do something with a union and a school district.
Garcetti prefers to solve conflicts behind the scenes, and maybe he's not comfortable with using the bully pulpit. Or perhaps he think there is more political cachet in being the guy who steps in and helps stop a teachers' strike, that it generates better headlines than preventing one in the first place. Maybe it's something else — this mayor is always planning and running scripts for the future. 
Whatever happens, at least one week of learning has been shot. Los Angeles has seen an ugly divide, and even if it's bridged, it won't be forgotten. 
© Los Angeles Downtown News 2019