DTLA - After the first issue of this paper was published in 1972, a reader looked at me and asked, "Now that you've printed this, what else is there to say about Downtown Los Angeles?"
[Get DTLA stories in our daily email newsletter.]
A hilarious remark, given that in the past 45 years we have published, on average, a million words a year about Downtown. That's 45 million words. In short, we've printed more about Downtown than any entity in history. The further irony is that the story has just begun. Most of Downtown's future is still to come.
That said, selling Downtown News was absolutely the right thing to do, and I did so last Thursday. See page 2. No matter how deep my passion for newspapers, for Downtown News specifically and for Downtown Los Angeles, it was time, as our Art Director Brian Allison said, to let the reins go. As I've said, I started the paper when I was 29, and now I'm 73. He had a point.
Brian has every right to be that blunt. Some of you may not know that he is my son-in-law, and his wife, rock star General Manager Dawn Eastin, is my stepdaughter. It was an amazing stroke of luck to have had family to help me run this very tough but enormously satisfying little business. They have poured heart and soul into doing what has needed to be done for more than 20 years. Smart, solid, focused, get-it-done people whose work ethic knows no bounds, Dawn has decided to take her vast talents elsewhere, and Brian is staying on.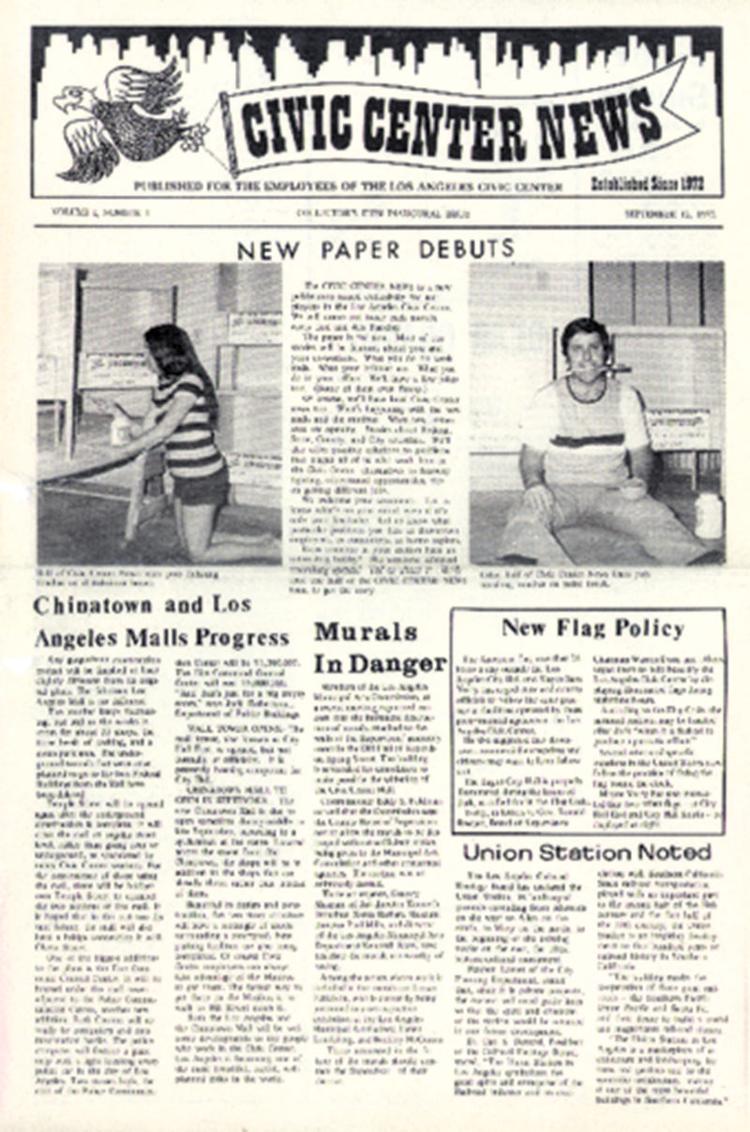 And how can I even begin to thank Downtown Los Angeles more broadly before I acknowledge the great role that Executive Editor Jon Regardie has played in the always improving quality of award-winning journalism the paper has displayed during his 11 years here. We would not be where we are if Jon hadn't decided to take the Executive Editor slot. He had been a consultant helping me find someone for the position, and on decision day he came in and said, "I want the job."
He saw where Downtown was going, and he wanted to be part of it. His fan base has become enormous, quite well deserved. Great writer, humorist, thinker and friend. A solid-based visionary and editor. I'm deeply grateful to all three of those key leaders of Downtown News — and to Catherine Holloway, Claudia Hernandez, Yumi Kanegawa, Ashley Schmidt, Danielle Salmon, Eddie Kim, Gary Leonard, Sal Ingles, Brenda Stevens, Nicholas Slayton, Michael Lamb, Ofelia Martinez, Lorenzo Castillo, Gus Bonillo, Alexis Rawlins, Doug Davis, Dan Johnson, and all the marvelous freelancers who have added their reporting on Downtown to this enormous body of work.
I feel compelled to mention more names, even though I know I'll cringe later at those I forgot. I'm on a tight deadline, and this is the best I can do. You'll note that some are living and some are dead, but all have in some way helped me or the paper, which means they helped Downtown. 
In no particular order: I'm grateful to David Asper Johnson, Mary Staffa, Warren Procci, Al Greenstein, Tom Bradley, Jim Wood, Wendy Lestina, Jon Goodman, Nelson Rising, John Whitaker, Wayne Ratkovich, Mike Laris, Casey Laris, Claire Weston, Andrea Hsu, Rob Maguire, Jack Smith, Dick Riordan, Austin Beutner, Janice Wood, Steve Smith, John Semcken, Bill Luddy, Emily Gabel-Luddy, Ed Avila, Jim Thomas, Loren Herold, Liz Harrison, Michelle Isenberg, the whole Downtown Breakfast Club, Bob Harris and everyone who worked on the Downtown Strategic Plan including the Community Redevelopment Agency, Eric Garcetti, Mike Feuer, Darryl Holter, Brent Maire, Patrice Hopper, leakers behind the scenes at the 1990s Music Center and later at the Convention Bureau, Karen Hathaway, Tom Gilmore, Jan Perry, Steve Hathaway, Cory Hathaway, Ira Yellin, Darlene Kuba, Jim Laris, Gary Eastin, Marty Bannister, Jann McCord, Chris Martin, Ted Tanner, the person who provided the dirt on Mark Willes' words behind the scenes at the L.A. Times, the waitress who told us about the children on Skid Row, Ryan Vaillancourt, Al Wickers, Marc Williams, Mark Tarczynski, Hamid Behdad, Lon Williams, Steve Boyer, Joe Faulkner, Robin Blair, Dollie Chapman, Bruce Bolkin, David Comden, Bill Cooper, Don Cosgrove, Don Spivack, Michael X. Ferraro, Greg Fischer, Mark Flaisher, Bill Forsythe, Ned Fox, David Friedman, Kristin Friedrich, Joe Gorman, Linda Griego, Robin Kramer, Jack Kyser, Tim Leiweke, John Lestina.
The list goes on: Nancy Hereford, Phyllis Moberly and the Center Theatre Group crew, Barbara Casey, Paula Holt, Betsy Hailey, Diane Wittenberg, Brenda French, Phil Aker, Hal Bastian, Don Battjes, William John Behrendt, Paul Gordon, Kathryn Maese, Bonnie Kennedy, Blair Besten, Jake Loewenthal, Carl Muhlstein, Erin Daffern, Jack Needleman, Steve Needleman, Mark Ridley-Thomas, José Huizar, Robert Cushman, Bert Dezzutti, Nick Patsaouras, Dylan Yiyang Laris, Peklar Pilavjian, Gilbert T. Ray, Chuck Reed, Julia Schachter, Kevin Roderick, Dan Rosenfeld, Richard Rowe, Lucille Roybal-Allard, Jack Skelley, Faustino Mendoza, Lisa Hernandez, Marjorie Bernstein-Singer. 
Really, I could go on for hours. After 45 years, you can imagine.
I give enormous thanks to all our readers, customers, business associates and friends. The paper would not be here without you. What a breathtaking gift you are to me and to Downtown.
The original goal of the paper was to humanize the city, and I think we have succeeded at that. The secondary goal is to create an identity for Downtown, uniting the 16 or so various neighborhoods on at least some matters. An ongoing goal is to shine a light wherever it is needed. These are works in progress. I wish I had another 45 years to do the rest of the job. 
Downtown News and Downtown Los Angeles have been the center of my adult life. I was a kid when I started the paper, and I grew up while running it. As did the city. 
Try to imagine my joy at the experience. I was a small town girl in the center of an enormous city. Through hard work, a good idea, lots of luck — and the help of so many people — I was able to have a voice in the formation of what is essentially a new city. It has been not only a joy but a deep honor. I mean, how many people get to do that?
Sue Laris is founding editor and publisher of Los Angeles Downtown News.
© Los Angeles Downtown News 2017