The results of the Readers Poll for the 31st annual Best of Downtown issue are in, after thousands of people cast online ballots over a three-week period. Here are the winners for categories including Best Boutique Hotel, Best Dance Studio, Best Veterinarian and more.
BEST YOGA STUDIO
Yoga Circle: Living in Downtown can be stressful. Yoga Circle puts minds and bodies at ease with classes that meet seven days a week. Yoga Circle opened in 1999, and the San Fernando Building studio continues to promote wellness, strength and happiness with its experienced instructors. Drop in for a single class, buy a package or get a month of unlimited yoga. Namaste. At 400 S. Main St. or yogacircledowntown.com.
Reader Recommended
Peace Yoga Gallery, 903 S. Main St. or peaceyogagallery.com.
Evoke Yoga, 731 S. Spring St. Suite 600 or evokeyoga.com.
BEST NAME-BRAND HOTEL
Doubletree by Hilton Los Angeles: The venerable Little Tokyo landmark has a collection of rooms and suites, and serves business and leisure travelers with amenities including a gym and a business center. The lovely Kyoto Garden is a pacific escape in the center of the city. There's even what the hotel dubs a "War Room" for board meetings, depositions and more. At 120 S. Los Angeles St. or doubletree3.hilton.com.
Reader Recommended
Omni Los Angeles Hotel, 251 S. Olive St. or omnihotels.com.
L.A. Grand Hotel Downtown, 333 S. Figueroa St. or thelahotel.com.
BEST BOUTIQUE HOTEL
Luxe City Center: The Luxe is across from Staples Center, and it's an easy walk from the hotel to the heart of Downtown. There's a playful approach here — the website describes the Platinum Suite as "the rock star of rooms. Sometimes with actual rock stars in it." The Nixo lounge offers scenic views with your dinner, there's a fitness center, and dogs are welcome. Woof! At 1020 S. Figueroa St. or luxecitycenter.com.
Reader Recommended
Standard Downtown L.A., 550 S. Flower St. or standardhotels.com.
Miyako Hotel, 328 E. First St. or miyakoinn.com.
BEST FLORIST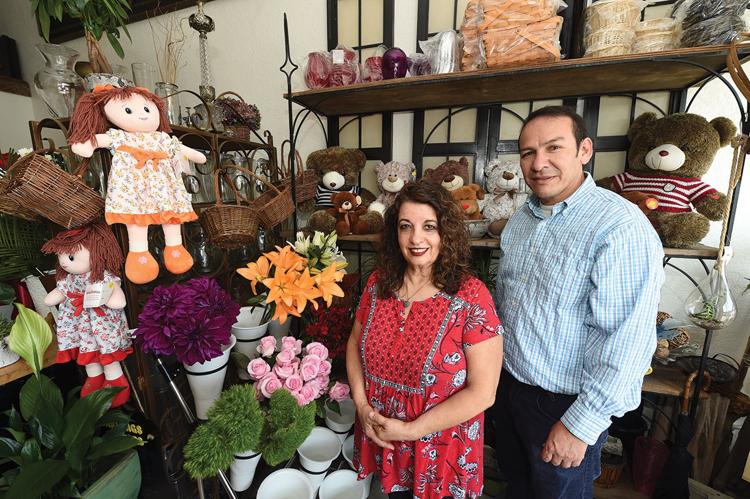 Darling's Holm & Olson Florist: Darling's has been doing flowers since 1925, and can handle arrangements for birthdays, weddings, proms and more. There's even an "I'm Sorry" bouquet (with lavender roses). It's got a deep stock of colorful, sweet-smelling lilies, tulips, hydrangeas, peonies, orchids and more. At 1219 W. Temple St. or darlingsflowersla.com.
Reader Recommended
Downtown Flowers, 505 S. Flower St. or downtown-flowers.net.
Bloomies Flowers and Gifts, 515 S. Olive St. or bloomiesflowersandgift.com.
BEST DAY SPA
Desuar Spa & Boutique: This Financial District destination offers a litany of restful services, from Swedish and deep tissue massages to facials; there is also tanning and waxing. They provide robes and slippers, and memberships are available. Feeling romantic? You and that special someone can order a couple's massage. At 220 W. Fifth St. or spadesuar.com.
Reader Recommended
Frais Spa in the O Hotel, 819 S. Flower St. or fraisspa.com.
Ritz-Carlton Spa, 900 W. Olympic Blvd. or ritzcarlton.com.
BEST HAIR SALON
Salon Pure: The cool spot in the Santa Fe Lofts has a team of experienced stylists who do cuts and colorings for men and women. There's a number of styling options, from the Flat Iron to an Updo, and extensions and Brazilian Blowouts are among the services offered. You can book an appointment online. At 117 E. Sixth St. or salonpure.com.
Reader Recommended
The Loft 8W Salon, 560 S. Main St. Suite 8W.
Neihule, 607 S. Olive St. or neihule.com.
BEST NAIL SALON
Harmony Nail and Threading Salon: The Little Tokyo spot has a bevy of nail stations, and offers the expected lineup of manicures, pedicures and other treatments. Glimpse the online gallery to check out the dynamic array of colors and styles. It's open seven days a week. At 239 S. San Pedro St.
Reader Recommended
Nail Place L.A., 712 W. First St. or nailplace-la.com.
Nail Envy, 513 S. Broadway, Unit 114 or nailenvylosangeles.com.
BEST BARBER SHOP
DTLA Cuts: This spot on the Figueroa Corridor has eight chairs and a sort of Art-Deco-meets-classic-barbershop look. Services range from the standard men's haircut to a buzz cut to a beard trim. If you want your face to feel extra smooth, there's a hot towel and shave with a straight razor. Prices are reduced for college students. At 2288 S. Figueroa St. or dtlacuts.com.
Reader Recommended
Goodbarbers, 215 W. Sixth St. Unit 11.
Bolt Barbers, 460 S. Spring St. or boltbarbers.com.
BEST DENTIST
Dr. James C. Feng: Dr. Feng graduated from the UCLA School of Dentistry in 2000 and has been working on Bunker Hill since 2003 — yep, he's been here longer than most DTLA residents. He specializes in "smile makeovers," and in addition to general dentistry he offers implants, cosmetic dentistry and emergency services. At 350 S. Figueroa St. or downtownladds.com.
Reader Recommended
Calm Dental, 525 S. Olive St. or calmdental.com.
West Coast Dental, 1725 W. Sixth St. or westcoastdental.com.
BEST CHIROPRACTOR
Downtown Live Chiropractic: Back pain is, well, a pain, but when it arises, the experienced Dr. Levon is a go-to for local workers and residents. The South Park office is easy to reach and Levon takes the time to explain the science and purpose that go into each adjustment and treatment plan. At 714 W. Olympic Blvd. Suite 1001 or downtownlivechiropractic.com.
Reader Recommended
Downtown Chiropractic, 800 W. First St. Suite 301 or dtlachiropractic.com.
Chinatown Chiropractic Clinic, 838 N. Hill St. or lachinatownchiro.com.
BEST DANCE STUDIO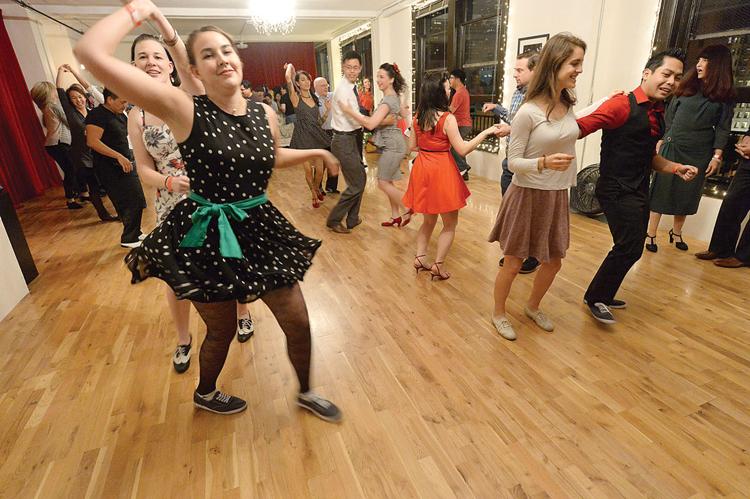 The Lindy Loft: Lindy Loft owners Dax Hock and Sarah Breck are champion dancers whose mission is to deliver their love for swing to Downtown. The Lindy Loft's wood floor holds an assortment of classes in Lindy, Swing, Balboa, Shag and more. Never tried it? Don't fret — the schedule includes multiple weekly group sessions for newbies. There's even monthly "Dance in a Day" workshops. At 560 S. Main St. Unit 9N or lindyloft.com.
Reader Recommended
Downtown Dance & Movement, 1144 S. Hope St. or downtowndancela.com.
BEST DRY CLEANERS
Cleaners on 8th: When it comes to a dry cleaners, there's really only one multi-part question: Can they launder your clothing and do it quickly? The Cleaners on 8th team answer both parts of that query with an emphatic yes, and in addition to laundry service, the Historic Core spot does alterations. At 225 W. Eighth St.
Reader Recommended
Art's Cleaners, 209 W. Seventh St. 
Executive Image Cleaners, 600 W. Ninth St. 
BEST HOSPITAL
Good Samaritan Hospital: The City West institution has been treating patients in its current location since 1911. It boasts 408 beds, 18 surgical suites and state-of-the-art equipment, including in the $100 million Frank R. Seaver Ambulatory Surgery Center that opened last year. In addition to keeping Downtown healthy, Good Sam offers community services such as infant CPR classes and the annual Blessing of the Bicycles event. At 1225 Wilshire Blvd. or goodsam.org.
Reader Recommended
Adventist Health White Memorial Medical Center, 1720 Cesar E. Chavez Ave. or adventisthealth.org/white-memorial.
California Hospital Medical Center—Dignity Health, 1401 S. Grand Ave. or dignityhealth.org/socal/locations/californiahospital.
BEST AUTO DEALER SERVICE DEPARTMENT
Audi of Downtown L.A.—L.A. Auto Group: Your German luxury car is making a strange noise or won't start. What's going on? The factory-trained Audi technicians on Figueroa Street have the tools and experience to diagnose the problem and get the vehicle running. Appointments are easy to make, whether it's simple scheduled maintenance or a big fix. The service center also has loaner vehicles and shuttle service. At 1900 S. Figueroa St. or audidtla.com.
Reader Recommended
Porsche of Downtown L.A.—L.A. Auto Group, 1900 S. Figueroa St. or porschedowntownla.com.
Toyota of Downtown L.A.—L.A. Auto Group, 1901 S. Figueroa St. or toyotaofdowntownla.com.
BEST PUBLIC TRANSPORTATION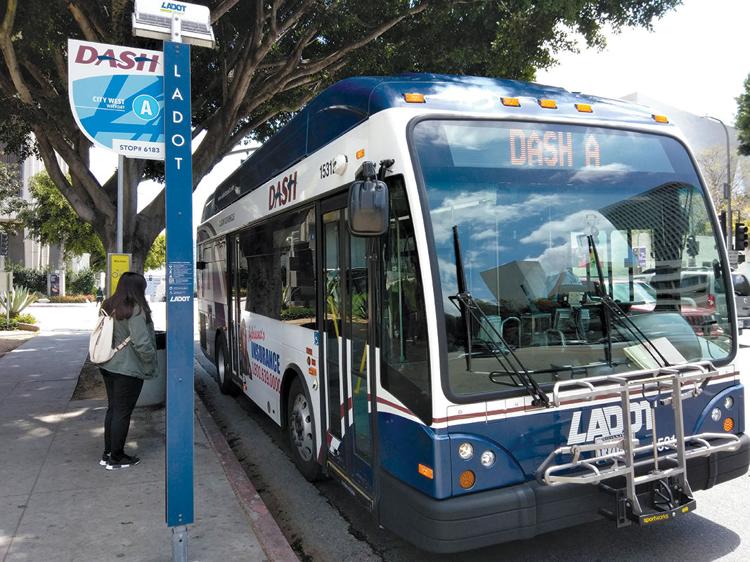 DASH: The Los Angeles Department of Transportation continues to move Downtowners around the Central City on five local mini-bus routes. DASH expanded its Downtown offerings this year, and there is now service in the Arts District, as well as throughout South Park, the Historic Core, Bunker Hill and beyond. At 50 cents a ride, it's among the best bargains in L.A. At ladottransit.com/dash.
Reader Recommended
Metro Subway/Light Rail, multiple lines or metro.net.
Metro Buses, multiple routes or metro.net.
MOST BEAUTIFUL HISTORIC THEATER
Palace Theatre: One of the gems owned and operated by the Delijani family, the Palace originally opened in 1911, and still boasts a lavish stage, ceilings and walls. It's a go-to-spot for film crews, and every summer screens movies as part of the Last Remaining Seats series. The Palace is a lovely reminder of how Broadway was once the center of the L.A. nightlife scene. At 630 S. Broadway or palacedowntown.com.
Reader Recommended
Orpheum Theatre, 842 S. Broadway or laorpheum.com.
State Theatre, 703 S. Broadway or statetheatre.la.
BEST VETERINARIAN
DTLA Vets: The business founded by doctors Leia Castaneda and Eve Flores has become a vital safety net for Downtown parents of furry children. The Historic Core clinic offers everything from regular check-ups and vaccines to surgery and, when required, compassionate end-of-life care. They provide pet dental care and, should you think it right for Fido or Fifi, animal acupuncture treatment. At 333 S. Spring St. or dtlavets.com.
Reader Recommended
Grand Park Animal Hospital, 333 S. Alameda St. Suite 222 or grandparkvets.com.
Little Tokyo Pet Clinic, 236 S. Los Angeles St. or littletokyovet.com.
BEST BUSINESS IMPROVEMENT DISTRICT
South Park BID: The BID staff provides all those services city government just can't handle on its own, and "Green Team" members can be glimpsed on the streets every day. The BID hauls away 30,000 pounds of trash each week, and safety teams operate on foot and bike 24/7. Anyone in the 52-block area can make a service request by phone or online. At 1150 S. Hope St. or southpark.la.
Reader Recommended
Historic Core BID, historiccore.bid.
Chinatown BID, 727 N. Broadway or chinatownla.com.
BEST WEDDING SPOT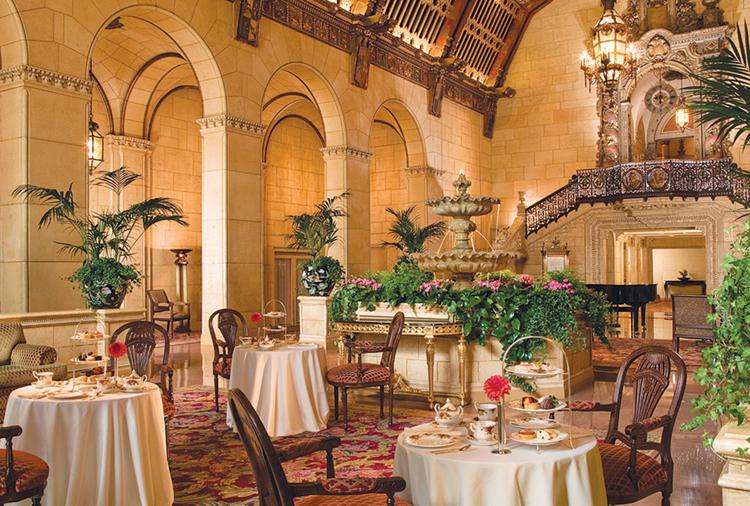 Millennium Biltmore Hotel: The grand dame of L.A. hotels remains a popular spot for brides and grooms. The Biltmore's event planning staff is skilled at orchestrating weddings large and small, and imbues elegance and romance into everything from choosing the room to selecting flowers to customizing the meal. The team is also experienced at handling events involving numerous cultures and traditions. At 506 S. Grand Ave. or millenniumhotels.com.
Reader Recommended
Music Center, 135 N. Grand Ave. or musiccenter.org.
Vibiana, 214 S. Main St. or vibiana.com.
BEST PRIVATE EVENT VENUE
Millennium Biltmore Hotel: The Biltmore has 70,000 square feet of space for corporate or celebratory events, everything from suites to the Crystal Ballroom that can hold 800 guests under a lovely hand-painted ceiling. When a meal is served, the experienced staff hums, ensuring that no one waits too long to get their dish or have a plate cleared. Cool fact: Eight Oscars banquets were held here in the 1930s and '40s. At 506 S. Grand Ave. or millenniumhotels.com.
Reader Recommended
J.W. Marriott, 900 W. Olympic Blvd. or marriott.com/los-angeles.
Oviatt Penthouse, 617 S. Olive St. or oviatt.com.
BEST RESIDENTIAL REAL ESTATE AGENT
Alex LiMandri: LiMandri, a founding principal of the DTLA Life brokerage, has been repping Downtown real estate interests since 2007, and possesses an encyclopedic knowledge of the local rental and home sales market. He knows every neighborhood and can help a veteran resident find a new flat, or shepherd a newbie into his or her first Downtown home. At 1000 S. Grand Ave. or dtlalife.com.
Reader Recommended
Bill Cooper, larealestateexpert.com.
Roxanna Godinez, loftway.com/agents/roxanna-godinez.
Christiano Sampaio, loftway.com/agents/christiano-sampaio.
BEST MOVING/STORAGE COMPANY
Los Angeles Self Storage: The 11-story edifice just west of the 110 Freeway has 5-by-10-foot spaces starting at $139, with prices going up from there. Units are accessible seven days a week, and there is a 24-hour digital recording system. You can even ask for an air-conditioned storage space. At 1000 W. Sixth St. or smartselfstorage.com.
Reader Recommended
StorQuest Self Storage, 3707 S. Hill St. or storquest.com.
Uncle Bob's Self Storage, 801 E. Commercial St. or lifestorage.com.
BEST ARCHITECTURE/DESIGN FIRM
Jerde: Last fall the long-running architecture firm Jerde ditched its Venice home for new digs in the CalEdison building in Downtown Los Angeles, putting it closer to a market where it hopes to increasingly work. Jerde has an international portfolio, but also a local base — decades ago it designed the complex now know as FIGat7th. At 601 W. Fifth St. or jerde.com.
Reader Recommended
NBBJ, 523 W. Sixth St. Suite 300 or nbbj.com/locations/los-angeles.
Steinberg Hart, 818 W. Seventh St. Suite 1100 or steinberghart.com.
BEST CREDIT UNION
NuVision Federal Credit Union: NuVision, which began as the credit union of Douglas Aircraft, offers an array of financial services, from auto and RV loans to mortgages to IRAs. It also serves businesses, and there are numerous e-banking options. Loads of services are available online. At 555 W. Fifth St. or nuvisionfederal.com.
Reader Recommended
L.A. Financial Credit Union, 716 W. First St. or lafinancial.org.
First City Credit Union, 717 W. Temple St. or firstcitycu.org.
Copyright 2019 Los Angeles Downtown News