DTLA - If you didn't take a photo, were you even really there?
[Get DTLA stories in our daily email newsletter.]
  Last year, Downtown Los Angeles emerged as the place for massive themed installations of colorful designs and pop art. Interactive and full of opportunities to snag perfect photos to post on social media, the displays drew hundreds of thousands of visitors to stand in line and pose.  
At the Museum of Ice Cream off Seventh Place in the Arts District, customers walked into a room lined with wall-mounted phones, hearing upbeat, slightly sardonic messages about ice cream before checking out the rest of the space.
The pop-up's 10 brightly colored rooms touted large art pieces depicting things like melting popsicles and a "grow room" of mint, though the pool filled with sprinkles was the most popular of all. There was even some actual ice cream to eat, but it was not the focus of the "museum," which closed its run in December. 
Reflecting on Yayoi Kusama's Epic 'Infinity Mirrors' at The Broad
These days, people are congregating at the intersection of Hewitt and Palmetto streets, where the Happy Place opened in November. The bright yellow façade is eye-catching, but so is the line of people waiting to enter the warehouse. Inside are a series of 13 rooms full of photo ops, including a fat pot of gold to literally jump into. 
The list of spaces like these has grown rapidly in and around Downtown L.A. Across the Los Angeles River in Lincoln Heights was the 14th Factory, a warehouse of large-scale art installations that ran from March through June of last year. The 29Rooms pop-up at Row DTLA took place in December, featuring artsy kiosks full of neon and flash. Concocted by women-oriented media brand Refinery29, the eight-day event quickly sold out.
In addition to settings for the perfect selfie, other experiential spaces opening in Downtown L.A. emphasize a hands-on aspect. Case in point: Rage Ground, the Central City's first "rage room" — a venue meant for (safely) smashing objects for fun — opened over the summer. "Escape rooms," in which people work together and use clues to escape from a setting within a given time limit, have also found great success in Little Tokyo and the Fashion District. 
Entrepreneurs have taken notice, fast. One of them is Jared Paul, the founder of the Happy Place, who was inspired by a personal love of immersive events. The Happy Place is meant to convey a strong message of carefree positivity without relying on a traditional stage show, he said.   
"Lots of companies are saying trends suggest people are buying fewer TVs and such," Paul said. "People have a huge library of content to stream at home, but they want to interact. It's less about acquiring material objects. I think some of that is driven by shareability. 'I'm seeing everyone doing cool things, so I want to do cool things too.'"
The hype and visibility of these spaces, especially short-run events like 29Rooms, is bait for all kinds of people from around Southern California. Such events represent an evolution of live programming, said Vance Garrett, vice president of experiential global entertainment with shopping center juggernaut Westfield. And social media remains crucial for the trend's existence: "There's a new toy we have factored in, Instagram, which has helped amplify it," Garrett acknowledged.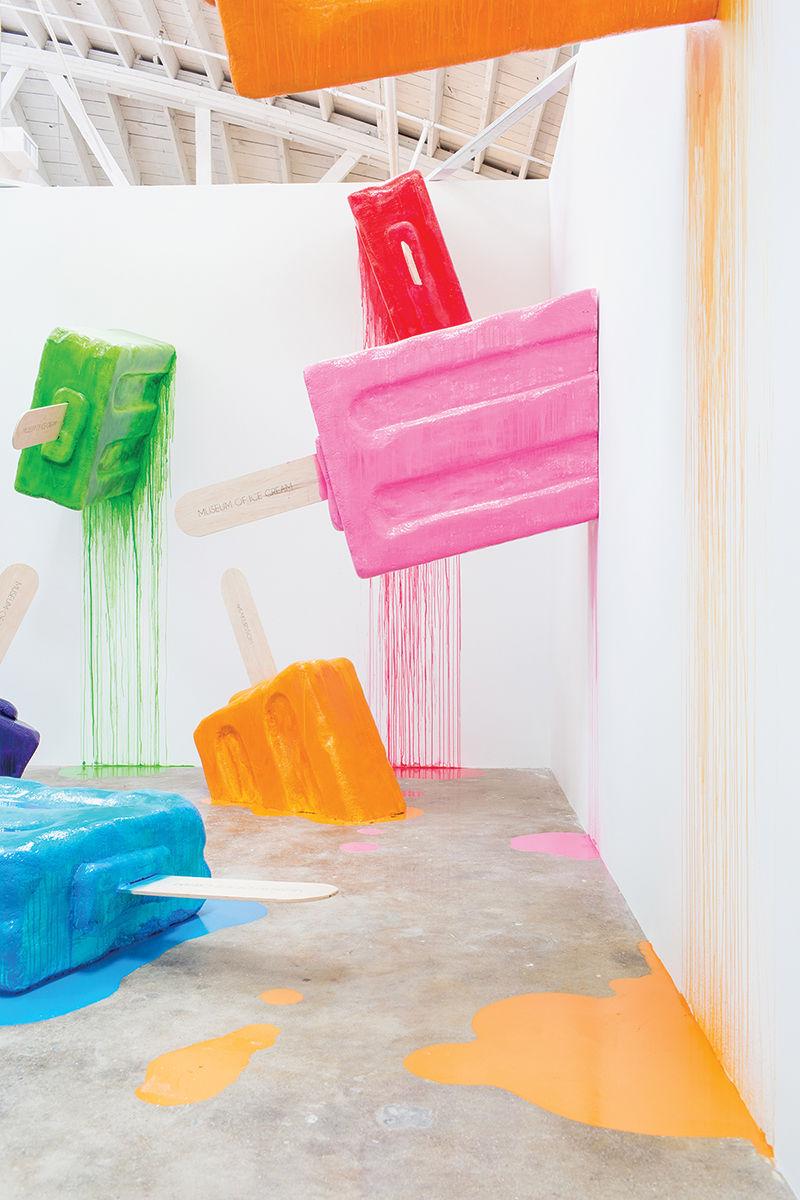 Visitors aren't just going to have fun, but to show off that they're hip enough to take part. Anastasia Washington, a model and actress, admitted that she goes to these pop-ups and exhibits not just to enjoy the art, but also for the photo opportunities, which feed her strong social media and marketing presence.
"I do really enjoy going to see art, experiencing food and activities and would probably go anyways, but it wouldn't be with as much urgency or coverage if I was in another field of work," she said.
Lights, Cameras, Action
For what seems like a fairly simple venture — enter rooms, pose and take photos, repeat — the cost of admission can feel high. The Museum of Ice Cream charged $29 a pop, while the ongoing Happy Place costs $28.50. Row DTLA's 29Rooms sold general admission for $19 but also offered an "After Hours" ticket at $85 with guided tours and no crowds. 
Industry experts note that these types of exhibitions can be extremely profitable short-term investments. Ticket sales represent the bulk of revenue, with merchandise and sponsorships adding extra cash flow. 
Producers did not disclose the revenues of their spaces, but with large crowds, ticket sales can add up. In November, the Museum of Ice Cream said that more than 500,000 people had visited its locations in New York City, Los Angeles and San Francisco. 
Beyond the cost to set up the main attraction, the primary overhead investment for event producers is rent and payroll for staff (the Happy Place, for instance, has about 100 full- and part-time employees). 
"The pilot program might cost different from the subsequent activations," Garrett said. "It can be anywhere from $50,000 to seven figures, depending on the scope." 
The spectrum of investment is wide, but successful debuts can pay off big. American Express backed the Museum of Ice Cream's Los Angeles launch, while Refinery29 baked in partnerships with Adidas, Victoria's Secret and Perrier (among others) into its 29Rooms. For sponsors, a constant stream of visitors sharing their experience on social media means a constant stream of eyes on their own branding, Garrett said. 
One app in particular has become a favored corporate tool: "Sponsors really prefer Instagram," Garrett added. "You can easily understand the metrics as opposed to Snapchat or something else. Brands recognize the point of experience and how they're touching their audience." 
The trend is a national one. The Museum of Ice Cream originally launched in New York City and expanded to San Francisco after the massive success in L.A. Locally, the offerings are popping up all around in the city: The Museum of Selfies has opened in Glendale and Candytopia is set to open in Boyle Heights. 
That being said, event producers and organizers say that Downtown L.A. consistently offers benefits that few neighborhoods do. Peter Wolf, co-owner of Rage Ground at 1120 ½ Main St., said that he and his partners scoured the county for a space and was thrilled to find a lease in Downtown L.A. with not only a reasonable rent rate, but few restrictions on noise or usage of the property. The Happy Place's Paul echoed the sentiment, complimenting the support of the business and residential community in the Arts District in particular. 
"If you're going to paint a building yellow, it would be out of place in Beverly Hills or a residential neighborhood," Paul said. "But the Arts District is a mixture of the art galleries and local businesses, beating their own drum."
Fad or the Future?
John Hennessy, who runs Escape Room LA at 120 E. Eighth St., has watched the immersive entertainment business take off in the city in the past three years. He considered Hollywood for the launch of the business in 2014, but found a limited number of spaces — most of them in unattractive strip malls. 
In Downtown, he's settled into an office building with an older aesthetic, on a block that adds to the aura of the escape room experience. The availability of other spaces in the building, meanwhile, has allowed him to expand the number of escape rooms. 
"I think it's a much more valuable experience for people," Hennessy said. "It stays with you longer than the short-term high of buying a shirt. At the same time, we've seen copycats popping up, thinking they can make quick money off of it."
The Industrial and Arts districts are especially ripe for temporary large-scale exhibitions, thanks to the number of warehouses and factory-like spaces that still stand today. Property owners don't always want to commit to long-term deals in a hot real estate market, which is just fine by event producers who want to capture a burst of attention and close while demand remains hot. The Happy Place, for one, is only running through February for now. 
Expect more copycats and variations on the theme as 2018 unfolds. It's unlikely such trendy experiential events will leave a permanent mark on Downtown L.A.'s transforming arts culture. Still, there's one silver lining — visitors are now looking for more ambitious and immersive spaces, and what worked in 2017 may not capture attentions in the near future, Hennessy said. 
As Westfield's Garrett puts it, a mere "decorated room" won't be good enough to spur swells of hype in the future, perhaps leaving room for creative growth in an increasingly profitable cottage industry. 
© Los Angeles Downtown News 2018