DTLA - It's unclear exactly when Fifth Street earned its nickname "The Nickel," or its reputation as a corridor for procuring whatever elixir will quell one's demons for a day.
The community now known as the Historic Core was a financial and office hub in the early 20th century, and the district's eastern edge began to change as cheap hotels sprung up to service transient rail workers.
[Get DTLA stories in our daily email newsletter.]
Later in the century, the Historic Core became a neighbor to a growing Skid Row as the Central City saw a flight of businesses and residents and a rise in crime, notably involving drugs. Even amid new investment in Downtown that began in the 2000s, the district kept a reputation for sketchy activity.
"A lot of people in this neighborhood worked to clean it up not too long ago, like around a decade," Brady Westwater, a longtime resident and former president of the Downtown Los Angeles Neighborhood Council, remarked while walking past the Alexandria Hotel on Fifth Street. "We went after people who had scouts and a network of customers. They're not just servicing the neighborhood, but people passing through."
Changes in how drug crimes are prosecuted have led to peaks and valleys in activity over the years. Today, Westwater and other stakeholders in the Historic Core say that business on the Nickel is booming, even amid the rapid growth in residents, businesses and new development across Downtown.
It happens in broad daylight. Outside the front doors of the worn but beautiful Rosslyn Hotel, a man in a New Orleans Saints jersey — No. 25, Reggie Bush's old number — held court on a cool weekday afternoon last month, chatting with a janitor and nodding congenially to some passersby.
Every so often the man reached into an adjacent stroller and palmed small items to acquaintances who seemed to know exactly who he was and where to find him. One visitor didn't bother disguising the transaction, fidgeting with an orange pill bottle while the man riffled through a chubby roll of bills. Hardly anyone walking past the duo on the stained sidewalk seemed to notice, let alone mind.
Betsy Starman has been living in Downtown for seven years, and has gotten used to a constant barrage of offers for drugs near her Fifth and Broadway apartment.
It's ironic, in a sense — Starman is a former addict in recovery, who spent years on the streets in Venice dabbling in small-time crimes before sobering up and settling into a career connecting homeless individuals with mental health and substance abuse services.
In recent years, Starman has gotten to know familiar faces and their backstories. No purported dealer she chats with expresses fear of consequences from the police, she says.
"I meet a lot of kids out there, little dealers who think they're all that selling some benzos, pot, Vicodin. Getting arrested is just part of a game now, as one girl I know tells me. They can just always come back," Starman said. "Some of them tell me they're from South L.A. or even Van Nuys. Others are in the SROs here and bored during the day. But it's not getting any better on Fifth." 
Busted Hopes
In recent years, Fifth Street has been the site of several substantial drug busts. The Rite Aid at Fifth and Broadway was indicted in 2014 in a state investigation into fraudulent prescriptions for painkillers and anti-anxiety pills, kicked off by LAPD reports of suspicious drug dealing outside the store.
Across the street, the restaurant inside the budget department store Fallas Paredes was shut down in July 2016. The food court was a common area for drug deals, with suspects openly counting and dividing up pills on the tabletops. Police made several arrests a month there, according to LAPD Senior Lead Officer Sean Lewis.
Fallas Paredes management closed the restaurant after receiving pressure from the LAPD's Central Division, which oversees Downtown.
"When the hamburger stand closed, I have to admit, there was a big reduction in drug crimes around there," Lewis recalled. "There was less of a place to hide, and the business went out on the street. And when we put LAPD bodies out there, the dealing went down. But it's come back up since."
There have been other busts. In July, Michael Gutierrez, 42, was arrested after police spotted him near his hideout at the Starlight Motel in Mid-City. He had been conducting business from a room in the Alexandria Hotel. More than 300 grams of methamphetamine and 100 grams of heroin were confiscated during his arrest. 
Arrests in Downtown more frequently involve smaller quantities. A November Historic Core bust netted a dealer caught with dozens of different pills, a few baggies of crack and powder, plus a taser and a small knife.
In cases with smaller quantities, the dealer often serves little to no time, and can feasibly return to the street days later. That's led many stakeholders in the Historic Core to blame state reform in prosecuting drug crimes for the unceasing narcotics dealing happening along the Fifth Street corridor.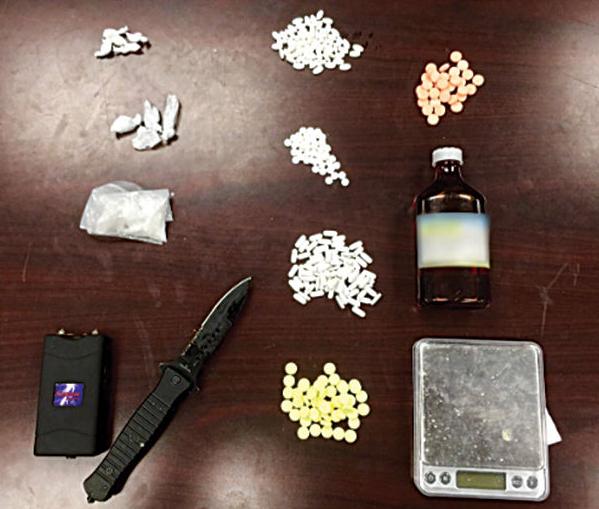 Looking at 47
Passed in November 2014, Proposition 47 changed a number of non-violent felonies into misdemeanors, including several types of drug possession. The goal was to relieve state prison overcrowding by having more offenders stay in local jails. A side effect has been that many sentences for non-violent crimes are shortened even further.
The law has resulted in 4,700 inmates being re-sentenced and released from state prisons, with an additional reduction of 8,000 inmates a day in county jail systems, according to a report from the organization Californians for Safety and Justice.
Statistical analyses of whether Prop. 47 has led to an increase in crime remains inconclusive, but experts who work with drug addiction say the policy has created a perfect storm of conditions to cycle dealers — and users — back to the street faster than before, with many low-level offenders released with little or no jail time.
"What we have found is that arrests are down, and crimes are up," said David Ramage, director of operations for Impact Drug and Alcohol Treatment Center, who has worked with a drug court program near Skid Row. "The most successful drug treatment program the county has had in the last 25 years was drug court, which incentivized repeat offenders to stop. You get arrested down there with heroin now, there is no consequence."
[Prop. 47 and Good Intentions on Skid Row]
There have been more than 100 drug-related arrests in the Historic Core this year, according to the LAPD, but overall there has been a significant decrease in the number of drug crimes that are successfully prosecuted. City Attorney Mike Feuer has described Prop. 47 as a "broken system," noting last year that arrests for nonviolent felonies-turned-misdemeanors fell "more than 50%" since the implementation of the law.
"Almost no one has gotten anything close to meaningful drug rehabilitation, and we've prosecuted thousands of these cases," Feuer said in April 2016.
Central Division commanding officer Capt. Marc Reina acknowledged that the LAPD is aware of the constant drug dealing in the Historic Core, but said the department can only do so much.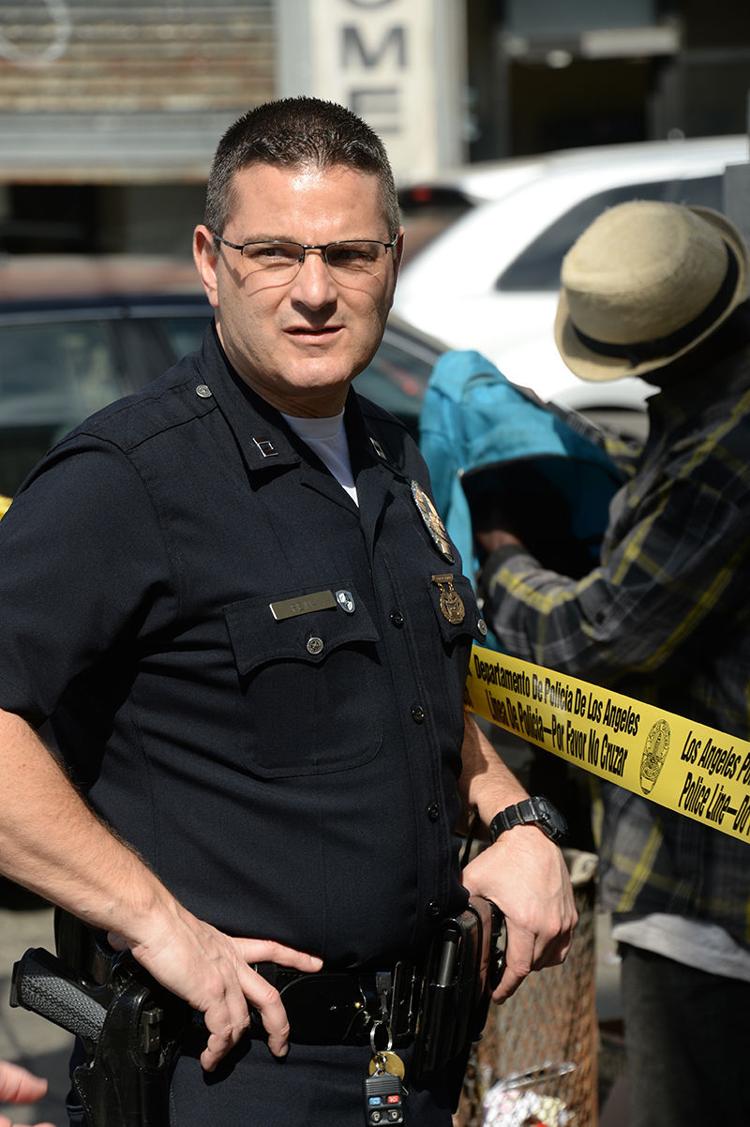 "We get a lot of complaints on Fifth Street narcotics sales. It's blatant on the street," he said. "We do have a lot of active investigations. One of the main things is that we're sending our undercover teams to go and make buys."
The bulk of the action happens on the street, added Senior Lead Officer Frank Martinez, rather than inside the cheap single-room-occupancy buildings that some stakeholders assume are fueling the business. One longstanding tactic is the co-opting of homeless tents as miniature distribution centers by gang members, Martinez said.
"A lot of the time, gang members will kick out a transient sleeping somewhere and start serving from their tent. This isn't tracked well by anyone, and part of the attraction is that if the homeless person is using, the dealer will give them some drugs to stay away and let them use the tent during the day," he added.
Standing outside of her office on a November afternoon, Blair Besten, executive director of the Historic Core Business Improvement District, gazed at an older man in a wheelchair at Fifth and Spring streets, a melancholy frown on her face. Besten has gotten to know many of the homeless people who frequent the block, and this man was clearly not his usual self, she said.
"The dealing is all day and it's a mixed bag of people locally and from outside the area. We have this guy, a local, that a few months ago had mainly an alcohol problem," Besten mentioned later. "Thanks to local dealers, he's moved onto combinations and harder stuff. Even after our relentless outreach, he's dying right here in front of us, and there is literally zero we can do about it."
Cause and Effect
Supporters of Prop. 47 say that shorter sentences for nonviolent drug crimes are mitigating the long-lasting negative impacts of incarceration for people suffering from drug addiction and mental illness. Those who want to reform the law, however, are debating the consequences of fewer arrests.
Critics have blamed the lack of a properly funded "safety net" for those who were re-sentenced or freed from incarceration under Prop. 47 over the past three years. Previously, diversion programs gave incentives to repeat offenders to avoid felony charges and prison time in the future, Impact's Ramage said.
"Now there is no prison, so to speak, so why bother with the alternative to prison?" Ramage said. "You ask someone caught with a bunch of drugs whether they want summary probation or six months in a drug program, they're going to choose probation every time."
It's unclear what can actually change in coming years in Downtown. The City Attorney's office is set to receive $12 million in Prop. 47 money to fund a drug-intervention program, and the County of L.A. will get $20 million more for substance abuse services and housing for the mentally ill. A proposed state ballot measure aims to edit Prop. 47 so that stealing more than $950 worth of items in a year gets upgraded to a felony (currently, any single theft of $950 or less is considered a misdemeanor, even in repeat offenses).
In the Historic Core, however, observers say the most effective solution may be to increase the visibility of law enforcement on the streets. The presence of uniforms helps, even without ramping up arrests, LAPD sources say. Actually committing more foot beats to the area, however, remains a challenge.
"We can only do so much. When I patrolled the Historic Core, I used to beg for more bike units and foot patrols," the LAPD's Lewis said. "High visibility does keep crime away. But resources have to be put elsewhere in Downtown, to violent incidents especially."
Given the scarcity of resources, it appears the drug dealing on the Nickel is here to stay.
© Los Angeles Downtown News 2017