DTLA - On any given day in Skid Row's San Julian Park, you might spot a quartet of old-timers arguing over basketball stats, or a couple sashaying to the sound of James Brown blasting from a portable boombox, or a man with cherry-red boxing gloves furiously punching the air with constant, and somewhat clumsy, effort. Some people sit in quiet contemplation, while others can't resist talking to themselves.
[Get DTLA stories in our daily email newsletter.]
The one constant in this unofficial town square is the man in the northwest corner of the park. Five days a week, Wendell Blassingame sits at an old table laid out with reams of documents, pamphlets, a small Bible and a blushing bromeliad plant. A yellow umbrella, faded by sun and wind and propped up inside a large traffic cone, provides shade.
From morning until mid-afternoon, Blassingame holds court. Hardly a minute goes by without someone calling out "hello" and "thanks," or asking a question, or just sharing gossip. Blassingame talks so much that his voice sometimes turns hoarse by the afternoon, but his big, gravelly laughs ring out anyway.
The 67-year-old, built like a boulder with a distinctive wiry mustache and glasses, has no title and no employer here. Yet he is at once a guide, a confidant, a mentor, authority figure and activist — a cross between a social worker and the town ambassador, driven by the understanding of how overwhelming it is for the poor and homeless to find the right kind of help, or even the right person to trust, on Skid Row.
For the last dozen years, Blassingame has taken it upon himself. With an insider's knowledge of a labyrinth of resources, he has personally assisted hundreds and hundreds of people in their search for stable housing. By his count, he has guided 159 people into permanent homes outside of Skid Row, with others finding shelter in single-room-occupancy hotels and affordable properties in Downtown Los Angeles.
"I've taken the time to make connections with building owners and management companies, and I just tell them, 'I'm Wendell, I'm not with any agency, I just represent the people of Central City East,'" he says on a warm afternoon in the park. "I've helped people using my credit, co-signed rentals, fundraised to cover security deposits, even accompanied people on the bus. There's no special secret to this work. I'm just not going to let people suffer through lies and confusion to get help."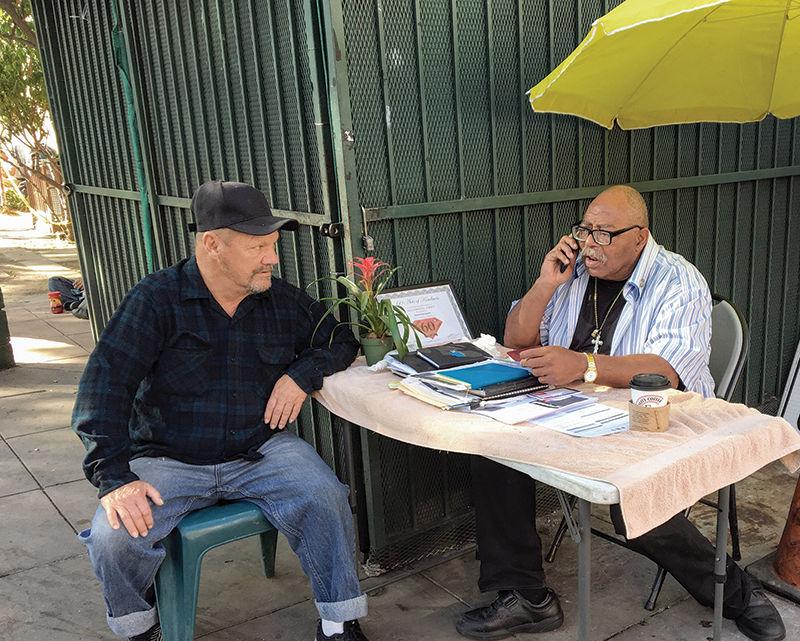 Broken promises, from government agencies, peers and even volunteers, are part of life on Skid Row. Blassingame knows because he once slept on the streets himself. Now, armed with a clutch of documents and personal conviction, the Skid Row resident plys his trade with a head-spinning mix of improvisation, hacks and sources in high and low places.
"He's on the front lines, including working with our case managers," says Andy Bales, head of the Union Rescue Mission on San Pedro Street. "He's always at collaborative meetings and so professional. I just assumed he was a big shot at a local agency."
When it comes to Skid Row, many people only see the tents, filth and crime. Blassingame pushes them to look harder.
"He made me recognize and love the real culture of Skid Row. At first I just saw an area that needed help," says Betsy Starman, a Historic Core resident who works at the Midnight Mission and is a close friend of Blassingame. "I didn't see a community. But he is so protective of the culture, and he helps keep that community together, with everyone helping everyone. And people love him for it."
It's hard to fathom where Blassingame finds the energy to set up his table every weekday, rain or shine, even while battling the flu. He also is a board member of the Downtown L.A. Neighborhood Council, and every weekend hosts movie screenings at the James Wood Community Center just across from San Julian Park. Friends have called him "a fool" for working so hard for no pay, he admits with a cheeky shrug.
"I'm on fixed income but I'm getting paid for my work. Not in cash, now. But I'm touching someone's life," he says. "I'm not judging them by the condition they're in when they come to me. I just want these people to know they're special, that someone cares about and respects them."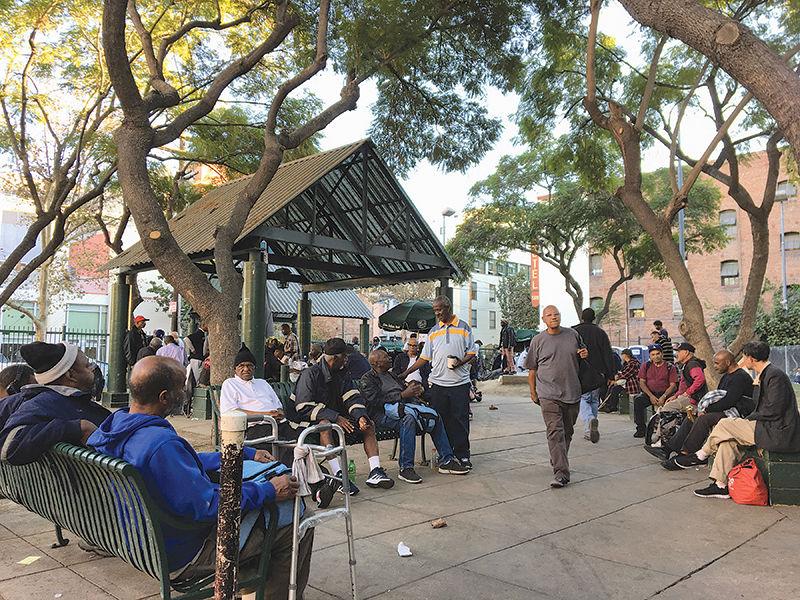 ****
Blassingame is midway through a cigarette when an older woman in a purple blouse shuffles up to his table. She starts to form a question, but he's already recognized her, and responds without prompting.
"I called a couple places this morning but they're full. I have one spot waiting to call back," Blassingame says matter-of-factly. "I got your number right here, I'll let you know when we can do a walk through."
Her mouth scrunches.
"Why?" she asks.
"So you can see how it looks."
"I don't care what it looks like. I just want to move by the 22nd," she says, frowning. "What about, y'know, those market-rate units?"
Blassingame nods while reaching for a pen and a clean piece of paper.
"How much you making, like $980?," he answers. "Meet me tomorrow morning between 10 and 11 a.m. and we'll figure it out."
The woman nods, slips the paper into a well-worn leather purse, and shuffles out of the park with a lilting "Thank you!" Blassingame nods to himself. It's his third time meeting her, and he knows she's been trying to find housing through official channels for two years already.
In theory, the tools to house homeless individuals are more powerful than ever before. Los Angeles city and nonprofit officials tout new technology, investment and outreach, notably via a countywide database dubbed the Coordinated Entry System, which is supposed to survey individuals and match them to their best housing options.
In reality, the CES has a reputation as a dead end to those in Skid Row who actually try to use it. Every day Blassingame hears another complaint about how someone is stuck in the process, with no updates and no progress.
"So people question, 'Are they really going to be able to help, or did they just take my private information to put it in a database?'" Blassingame says.
He takes a more old-school approach to his role as fixer. Blassingame's "baby" is a thick ream of papers with a matrix of every affordable housing resource in the city, schedules for shuttles to shelters, references for mental health and addiction care, spots for a shower or a cheap bite to eat, and so on. With the help of allies like Starman, Blassingame has even scouted resources to make sure they're legitimately useful. He's often the first call for residents who notice a neighbor about to move out — exciting news that gets Blassingame hustling to make his own calls to try and match the room with someone in need.
"I'm not an agency, and I don't leave a paper trail. When an apartment is about to become vacant, word of mouth happens," he explains. "So I get an upper hand, of sorts, and I often talk to owners before they even complete the paperwork to designate vacancy."
Blassingame will frequently vouch for people who need housing ("I tell people to just put my name down three times as a reference if they need to"). A common challenge concerns evictions and abandonment, the latter referring to when a tenant skips out after failing to pay rent.
Brian Beasley faced two abandonment fines when he returned to Skid Row in 2006 after a stint with family in the South, and the fines prevented him from obtaining new housing. Blassingame introduced him to a manager with SRO Housing Corporation who offered to smooth over the charges, with Beasley paying the money over several months. Blassingame stood by him throughout the process.
"He would talk to me about how rough it is in Skid Row, and how I needed to control myself even if I wanted to fight. He told me exactly what I needed to do to defeat this thing," Beasley says. "I don't want to imagine what it would have been like without him. He's a guiding force."
Beasley got out of Skid Row after waiting five years for a Section 8 voucher that allowed him to move to a studio apartment near Baldwin Hills. The worsening homelessness crisis, though, means Blassingame sees new faces every day.
He can tell they're green by sight  ("the new ones look lost, they're always looking around") in the same way he can spot the burnouts ("W.D.C.s, or 'we don't cares.' They're staring at the ground while walking"). They remind him of how he felt when he was lost on a Skid Row side street, drunk and a little delirious with questions of why, and how, his life had changed.
****
Blassingame has a short commute. Each day, after he finishes assisting people at San Julian Park, he tucks his table, chair and umbrella into the park's gated shed and walks about 10 yards to the front door of his home.
He's been living in the Florence Hotel for more than a decade, ascending and descending the worn mahogany stairs to his third-floor apartment. A bed and a TV dominate most of the small space, while a dresser and tables bear plaques and certificates given to him by the city, nonprofits and other organizations over the years.
He's not sure what to do with them — he shakes his head and chuckles at the thought of hanging them all over the white walls. Too flashy.
Blassingame rises each morning before the sun does, taking a moment for prayer before getting dressed and walking out into the relative tranquility of Skid Row at dawn. He walks east on Fifth Street, turning south on Gladys and doubling back on Sixth. Unlike at San Julian Park, Blassingame speaks to no one on his morning walk.
"It's not my goal. I just want to get my blood circulating. But it's to see, and remind myself, of the increase in tents and people just standing around, freezing," he remarks.
Blassingame, who spent most of his childhood in Crenshaw, landed in Skid Row more than a decade ago. A self-professed "party animal" when he was younger, his taste for alcohol turned toxic after the 2002 passing of his wife, Lois, with whom he had raised four boys. A second blow came just months later when Blassingame, a successful electrician, fell off a building and severed two fingers. The former Marine soon fell into a fog of fear, then doubt, and finally apathy.
"I was in my we-don't-care period. I was living off 111th Street, but a couple of my buddies would come down to Skid Row to get drunk," he says. "There wasn't a park here at the time. The trash cans got lit up at night. And instead of tents, everyone was in cardboard boxes."
Eventually he ended up spending nights in Skid Row, sometimes on cardboard on the sidewalk. One night, someone described Blassingame as a "filthy bum," a humiliation that welled up tears and self-reflection.
Sitting on the curb, he thought about how he was raised by a loving mother who pushed him to straight As and Sunday church. How he graduated from San Jose State, held a well-paying job and raised a family.
"I knew I had to be better than this," he recalls.
A turning point came in the following months, when he was living in a shelter. He had been attending events put on by SRO Housing Corp., always helping set up and clean. That piqued the interest of CEO Anita Nelson, who was impressed by his drive and dedication. Eventually he began running Movies on the Nickel, a weekly film screening in the James Wood Center. His responsibilities at the center have only expanded since.
"Initially I thought he was an employee," Nelson says. "Over time, he showed how reliable and trustworthy he really was. What happens in the community center today just wouldn't be consistent without him around. He's a true volunteer, and we've entrusted him with his own key to the center, because he earned it." 
****
A day after speaking with the woman in purple, Blassingame sees her again. Except it's 3:30 p.m., not the morning window he specified. She offers a curt apology: "I was at a study. I forgot."
"Oh, okay," Blassingame says, smiling. Then he squints. "Are you alright? Not how you look. Are you okay, you understand what I'm tryin' to say?"
"I'm fine," she replies.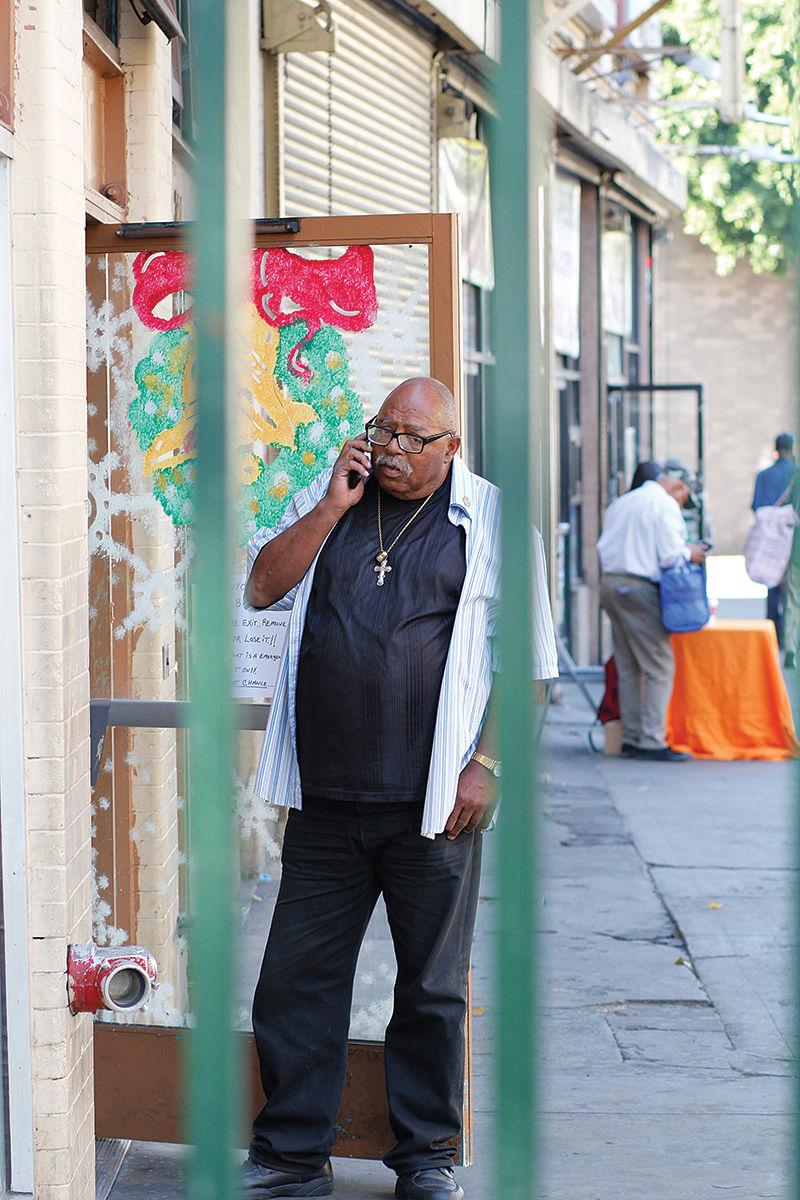 He instructs her to go to an office for an application to fill out, and inquires about her credit history. It turns out she had a car repossessed, and her nephew was evicted from a unit that was in her name. But she seems more worried about the $20 credit check for the application.
"I don't have that," she says, shaking her head.
He tells her not to worry, but after she departs, Blassingame looks at the sky and huffs a small sigh. She's not serious enough about housing right now, he says. The look she gave when rebuffing the notion of paying $20 for a credit check was telling.
"Most people, if they're serious, they can save that $20. But you know, if you want to get help, you come to me. If you want to play games, then you'll end up back on the roller coaster," he says. "When they're really ready, they'll come back. I'll pray for them."
There are always others to help — Blassingame estimates he works on arrangements for a dozen or more people a day. There was the man who needed a Greyhound ticket to go home to see his ailing mother; Blassingame packed him a meal and new clothes for when he arrived. There was the newly wedded couple that needed to find housing outside of Skid Row. Another man needed help with paperwork after an acrimonious divorce that left questions of custody of the kids; Blassingame encouraged him to pursue counseling on top of that.
"I remember when he used to tell me, 'It's all gonna be alright, Red,' with that big ol' smile on his face," his friend Beasley says. "And I love how that big smile flashes again when you go back to him with a success story. That's how invested he is in our well-being."
In a twist, Blassingame recently received his own opportunity for an upgrade: He finally got a call from the city's housing authority offering him a Section 8 voucher, which would allow him to move to a larger apartment somewhere outside Skid Row.
The woman on the phone was shocked to hear him decline.
"She thought I was sick!" he says, guffawing. "She asked me to write a paragraph for her explaining why I didn't want it."
He's not exactly sure why he said no, other than feeling there is so much more work, and so much more joy, to soak in at San Julian Park. He smiles lightly before gazing at the branches waving overhead.
"Consider me a tree planted. I take the sunshine, I take the rain. I take people leaning on me, birds and insects climbing on me. But I'm not moving, you understand? I'm just reaching out like the branches over this place. That's all."
© Los Angeles Downtown News 2017