News, Business and Politics: Chinatown rejoiced when a consortium of medical providers announced that they had purchased Pacific Alliance Medical Center for $33 million, and planned to reopen the former hospital. While it would not resume full operations, a scaled-down version of the renamed Allied Pacific Healthcare City would begin serving patients in the fall.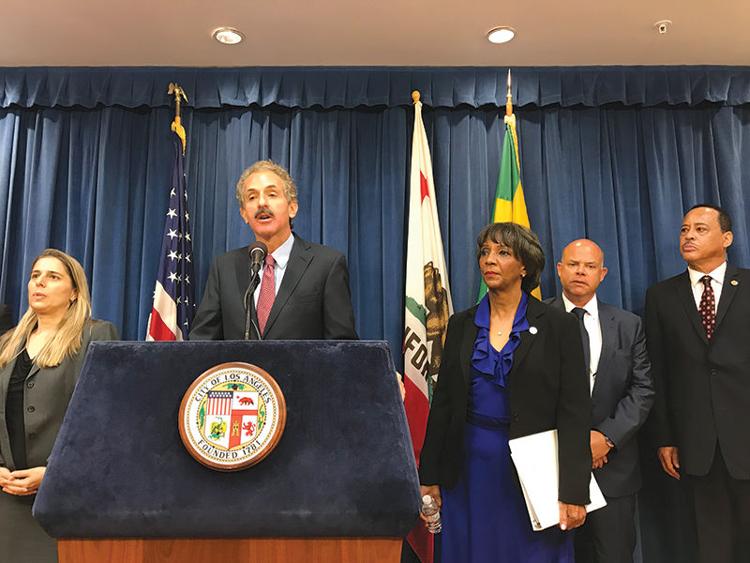 Downtowners worried by rising crime had more concern, as Downtown News reported that the number of car break-ins grew by 30% in a year. LAPD brass noted that break-in teams were working in Downtown, and again reminded people never to leave valuables in their vehicles.
On July 10, the Mayfair Hotel (1) in City West completed its long-running transformation. Veteran Downtown developer the ICO Group of Companies overhauled the former budget establishment, transforming it into a boutique hotel with 294 rooms
The Arts District gained buzz when streaming video giant Spotify announced it would move to the community. The company inked a deal for nearly 110,000 square feet of space in the At Mateo complex, with plans to relocate employees in 2019. 
Also: Metro revealed two options for the terminus of the West Santa Ana Branch Transit Corridor, with possible endings at Union Station or in the Financial District; City Attorney Mike Feuer (2) announced the eighth settlement for the "dumping" of homeless patients, with Silver Lake Medical Center agreeing to pay $550,000; and developer Jade Enterprises opened the Onyx apartments, bringing 410 rental units online in South Park.
Restaurants and Retail: Downtown said goodbye to Mas Malo, as the Seventh Street Mexican joint closed on July 30 after eight years in business. The Middle Eastern restaurant Shekarchi also closed, but only so it could move a few blocks away; it debuted in a new home on Olive Street on July 16. Another new arrival was Dama; the Latin-inspired restaurant with more than 200 seats arrived in the City Market South complex. Shoppers seeking upscale Japanese sportswear were satiated when Visvim arrived in the Bradbury Building.
Entertainment: The Bunker Hill museum The Broad brought back one of its most talked-about pieces, Ragnar Kjatansson's room-sized music-and-video installation "The Visitors" (3), as part of the exhibit A Journey That Wasn't. The show explored representations of time. At Pershing Square, the Downtown Stage summer concert series was bigger than ever, with a lineup of acts including The Bangles, the Psychedelic Furs and L.A. favorites Ozomatli.
© Los Angeles Downtown News 2018