I have a confession: I'm a trivia addict.
My love for trivia runs deep, and it always has. As an 8-year-old I'd thumb through Trivial Pursuit cards with my grandmother in between episodes of "Jeopardy!" In high school, I joined the Academic Decathlon team just for a shot at competing in the trivia-bowl style matchup at the end of the competition.
Now I'm almost 28, and my passion for trivia is just as strong. I still keep a box of Trivial Pursuit cards on my coffee table at home, and my podcast list is filled with general knowledge shows such as "Triviality" and "Beat My Guest." If you happen to catch me mumbling to myself in my car, there is a good chance I'm answering a trivia question.
Fortunately, I've found that my job at Downtown News offers an opportunity for even more trivia pursuits, thanks to the numerous local bars that offer evening question-and-answer sessions. The roster is unique and diverse, with opportunities in numerous districts.
I recently stopped by three local trivia nights in the effort to tap my inner James Holzhauer. Here's how it went down.
Clayton's Public House
Date: June 17
Team Name: White Broncos
Finish: 4th out of 8 teams
Best Team Name: The Arcadians and the Baby Shark
Toughest Question of the Night: Name all the states that border Colorado and name the three Jonas brothers.
Answer: Arizona, Utah, New Mexico, Oklahoma, Nebraska, Wyoming and Kansas. Also, Joe, Kevin and Nick Jonas.
The Details: One of the more beautiful pubs in Downtown boasts one of the community's most enjoyable and delightfully difficult trivia nights. Clayton's, in the Spring Arcade Building, holds a well-attended trivia night every Monday that is well orchestrated and enjoyable. I return at least once a month.
It is hosted by Quizmaster Ian, who in addition to an excellent taste in music lightens the mood with quick quips and laughs. His questions, spread across eight rounds, include a visual component and a mix-and-match section. They are tough enough to make you second-guess yourself more than once, but accessible enough so that you face palm from time to time when you muff that easy answer.
The questions bounce from political queries — sample: Who appointed Chief Justice John Roberts? A: George W. Bush — to a round in which you match musical artists to their landmark Broadway shows.
Pro Tip: Watch out for Clayton's regulars The Arcadians and their various team name iterations. Those guys know their trivia, and have beaten my co-worker Nicholas Slayton and I the past three times we've played. We'll get them one day.
Trivia is every Monday at 7 p.m. at 541 S. Spring St., (213) 863-4327 or claytonspub.com.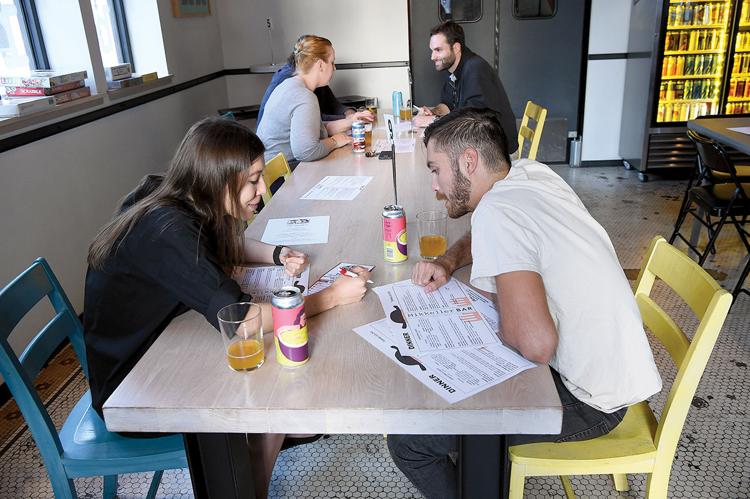 Mikkeller DTLA
Date: June 25
Team Name: Magneto Was Right
Finish: 1st out of 7 teams
Best Team Name: Fo' Shizzle, My Quizzle
Toughest Question of the Night: Who has the most MLB All-Star Game selections?
Answer: Hank Aaron.
The Details: I have a special place in my heart for this South Park spot's trivia night. When I returned to Los Angeles nearly a year ago, and started scouting places to sip drinks and answer general knowledge questions, Mikkeller was the first blip on my radar screen. It quickly became a favorite for its warm staff and outside-the-box questions.
Current Quizmaster Alex is knowledgeable and keeps the night moving at a brisk pace, but also lenient enough to listen when there are questions related to his questions. Alex is a reminder of just how important a solid quizmaster is in running the show. (Trust me, I've experienced some poor ones.)
Like at Clayton's, the questions vary on the difficulty scale and cover a wide range of topic, from sports to history to pop culture. It's safe to say that you'll know at least a few answers per round.
Mikkeller's trivia night is actually held in its adjoining Kaffebaren coffee shop. Fortunately, staff members like Mika, who helps host the trivia night, will run over to the bar and grab you a drink when necessary.
What really sets Mikkeller apart from other trivia nights is the drink selection. Originating out of Denmark, Mikkeller holds a rotating selection of brews that keep things fresh for repeat attendees. Recently, they even had a peanut butter and jelly beer. Yes, I tried it. Yes, it tasted like a PB&J sandwich. No, I don't need to try it again.
The crowd is typically easygoing and talkative (without shouting out answers), with a few regular teams that return each week.
Trivia is every Tuesday at 7:30 p.m. at 330 Olympic Blvd., (213) 596-9005 or mikkellerbar.com/la.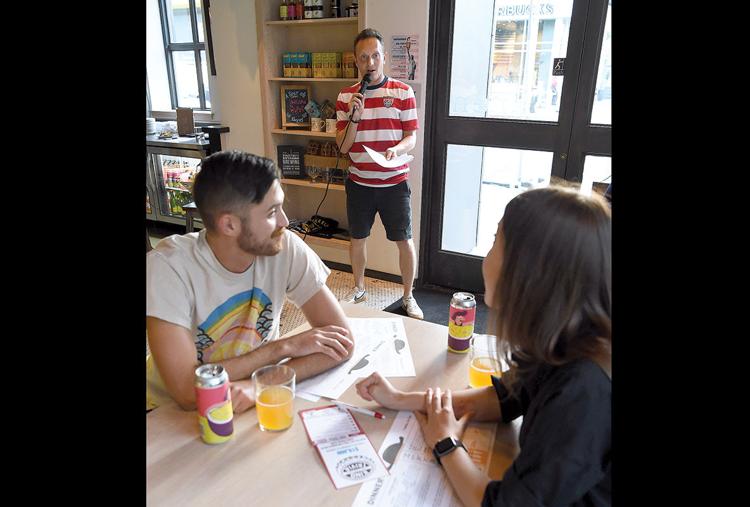 Imperial Western Beer Company
Date: July 1
Team Name: The Kids Are Alright
Finish: 2nd out of 5 teams
Best Team Name: Spoiler Alert
Toughest Question of the Night: What is the second biggest port city in Libya?
Answer: Benghazi.
The Details: The Art Deco Imperial Western Beer Company, at the always-buzzing Union Station, just started its trivia night last month. It takes place on a patio facing Alameda Street, and the open air is a nice touch, especially since most trivia nights are held indoors.
Quizmaster Dylan did an excellent job last week. She was energetic but also appropriately lenient, handing out occasional points for half-answers.
I'm still kicking myself that I didn't know that the song "Jazz Singer" came from the musical Chicago. We guessed Moulin Rouge, because we clearly know nothing about musicals.
Canadians were in luck last week, as four of the eight rounds were centered around the country for Canada Day. They included "Name actor Ryan Reynolds' 10 highest-grossing films" (our team got six of them) and a round where you matched cities to their Canadian province (we got seven). Also, did you know that Canada's two national sports are hockey (makes sense) and lacrosse? You do now.
Imperial Western is trying to build up a clientele. Last week, at multiple points, the bartender at the patio bar would invite teams inside for beer shots and tastings. It went over well.
The competition was solid, though I did witness the cardinal sin of trivia nights: A couple guys who were clearly scrubbing through their phones. But they got what they deserved: They finished dead last.
Don't mess with the trivia gods.
Trivia is every Monday at 7 p.m. at 800 N. Alameda St., (213) 270-0035 or imperialwestern.com.
Seven More Trivia Nights
Nearly every day of the week, Downtown workers and residents can find a place to answer some thought-provoking questions. Here are seven more options where you can satiate that trivia hunger and get a drink or a bite.
First Draft Taproom
Every Monday at 7:30 p.m.
1230 S. Olive St., (213) 536-5267 or firstdraft.beer.
Angel City Brewery
Every Tuesday at 7 p.m. and every Saturday at 1 p.m.
216 S. Alameda St., (213) 622-1261 or angelcitybrewery.com.
Wangs Tavern
Every Tuesday at 9 p.m.
801 S. Grand Ave., (213) 629-2449 or bigwangs.com.
Brack Shop Tavern
Every Wednesday at 6 p.m.
525 W. Seventh St., (213) 232-8657 or brackshoptavern.com.
High Tide
Every Wednesday at 8 p.m.
605 E. Fourth St., (213) 221-7317 or hightidedtla.com.
Grand Central Market
Every Wednesday at 8 p.m.
Broadway side of the market at 317 S. Broadway or grandcentralmarket.com.
Pali Wine Company
Every Thursday at 7:30 p.m.
881 Traction Ave., (213) 372-5026
--Sean P. Thomas