DTLA - For years, bookstores have been vanishing, suffering from the rise of e-readers and brutal competition from Amazon and other online businesses that offer lower price points. So it was a change of pace when not one, but two specialized bookstores opened in the Arts District recently.
Get DTLA stories in our daily email newsletter.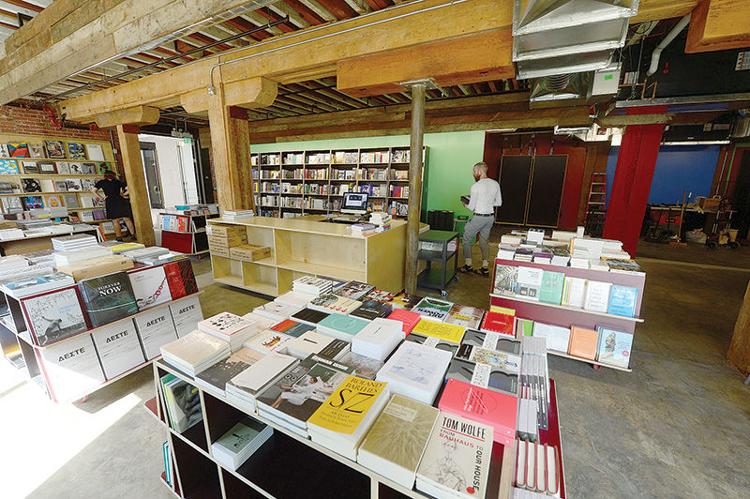 Artbook @ Hauser Wirth & Schimmel and Hennessey + Ingalls sit just a few blocks from each other along a stretch of Third Street in the Arts District, and both cater to book lovers with an interest in the visual arts. They join antiquarian seller Caravan Books in the Financial District and the Historic Core's Last Bookstore as rare places in Downtown Los Angeles where someone can buy a physical tome.
The arrivals spark a couple questions: Given the economic climate, why did two book shops with a seemingly overlapping base open so close to each other just three weeks apart? Also, are there enough customers to go around?
For the first question, the heads of each store point to the booming Arts District, which is seeing a surge not just in residents, but also culture.
That is the case particularly for Hennessy + Ingalls, which was founded in Santa Monica in 1963 and spent more than five decades in the city. Last year the store made plans to relocate to a 5,000-square-foot space in the One Santa Fe complex in the Arts District. The shop opened on Feb. 26, after Hennessy + Ingalls closed both its Santa Monica and Hollywood locations.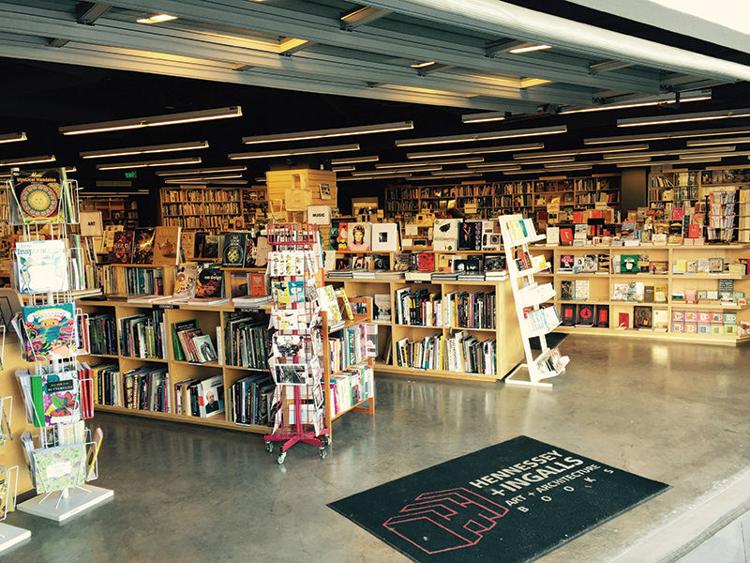 Hennessy + Ingalls specializes in books on the visual arts, from older periods to tomes on animation or musicians' photography. It also carries a heavy selection of books on architecture, including Southern California building designs. The approximately 55,000 titles are set amid rows of tables running to the back of the store, piled high with books. The shelves and tables are a light tan color, giving a canvas for the bright book covers to stand out from.
Owner Brett Hennessey said the move Downtown stemmed from a financial decision. The store's lease in Santa Monica was up and would be too costly to renew, so he started looking elsewhere.
"We looked in Mid-City, Westwood, Culver City. We never really thought about Downtown, since we've always been a Westside company," said Hennessey, the grandson of founder Reginald Hennessey. "We took a tour of Downtown about a year ago, after all of the announcements, like Hauser Wirth & Schimmel, and started thinking about it. We've had a strong relationship with SCI-Arc for decades. So that was a draw, the community and the property."
Artbook, at 901 E. Third St., opened March 13 as part of the Hauser Wirth & Schimmel complex. The 2,000-square-foot store is a partnership with Distributed Arts Publishers, which puts out publications from museums and cultural institutions, mainly focused on 20th-century visual works. The store features books on art and design from the 20th and 21st centuries, along with displays that spotlight publications tied to exhibitions being held in the gallery.
The store is smaller than its neighbor to the east, and has big racks of books along the walls. A few low-level display tables and a checkout and customer service station stand in the open space. It has approximately 9,000 titles for sale.
Distributed Art Publishers tends to partner with art institutions, said Peter Fankhauser, the Arts District store manager. He pointed to other Artbook stores at New York City's MoMA PS1 — a branch of the Museum of Modern Art focused on contemporary art — and the Walker Art Center in Minneapolis. In the case of Hauser Wirth & Schimmel, Fankhauser said that the selections at Artbook can help give context or background to the types of contemporary art on display at the gallery.
"I think the primary goal is to really provide an entry point to people coming into the gallery, if they're interested," Fankhauser said.
Big Enough for Two?
The two bookstores are only a few blocks from each other. Although not identical, they both specialize in the world of art and design.
Still, there are enough differences, store staffers say, that they won't cannibalize each other. Instead, the proprietors and managers believe that the two shops are actually helping to meet a demand. Although the Arts District's boom has brought a wealth of residents, bars and restaurants, inhabitants have been starved for a bookstore.
"Now that the Arts District is growing from a living perspective, people have been really looking forward to having things, too," Hennessey said. "What kind of makes a neighborhood a neighborhood is a cool bookstore. It's always been the staple of a really niche community."
The operators of Hennessey + Ingalls and Artbook are loosely collaborating. Fankhauser said that he regularly sends customers east on Third Street to Hennessey + Ingalls if a shopper might have better luck finding a specific book there, while Hennessey + Ingalls does the same for Artbook. Hennessey said part of that cross-promotion comes from both stores being new to the area. It's also about keeping the clientele happy.
"It's nice having other bookstores in the area," Fankhauser said. "I think it's all in the interest of building up a more critical discourse about arts in the Arts District. That doesn't exist unless you have places where you can find publications."
Hennessey said that bookstores function like car dealerships — they tend to cluster together and feed each other. While Third Street may never emerge as "Bookstore Row," there are now more offerings than in the past.
Artbook is at 917 E. Third St., (213) 988-7413 or artbook.com. Hennessey + Ingalls is at 300 S. Santa Fe Ave. Suite M, (213) 437-2130 or hennesseyingalls.d7.indiebound.com
© Los Angeles Downtown News 2016