DTLA — The bumping curves and jagged crown of U.S. Bank Tower have defined the Downtown Los Angeles skyline for more than three decades. No other skyscraper in the city is as iconic as the building that, for about another year, will remain the tallest structure west of the Mississippi.
Get DTLA stories in our daily email newsletter.
Its status and location would seem to make it a top choice for white-collar firms, yet over the past decade a combination of reputed lax maintenance and unwieldy floor plans led businesses to flee the 1.4 million-square-foot edifice. As recently as 2013, the building still sometimes called Library Tower was nearly half empty.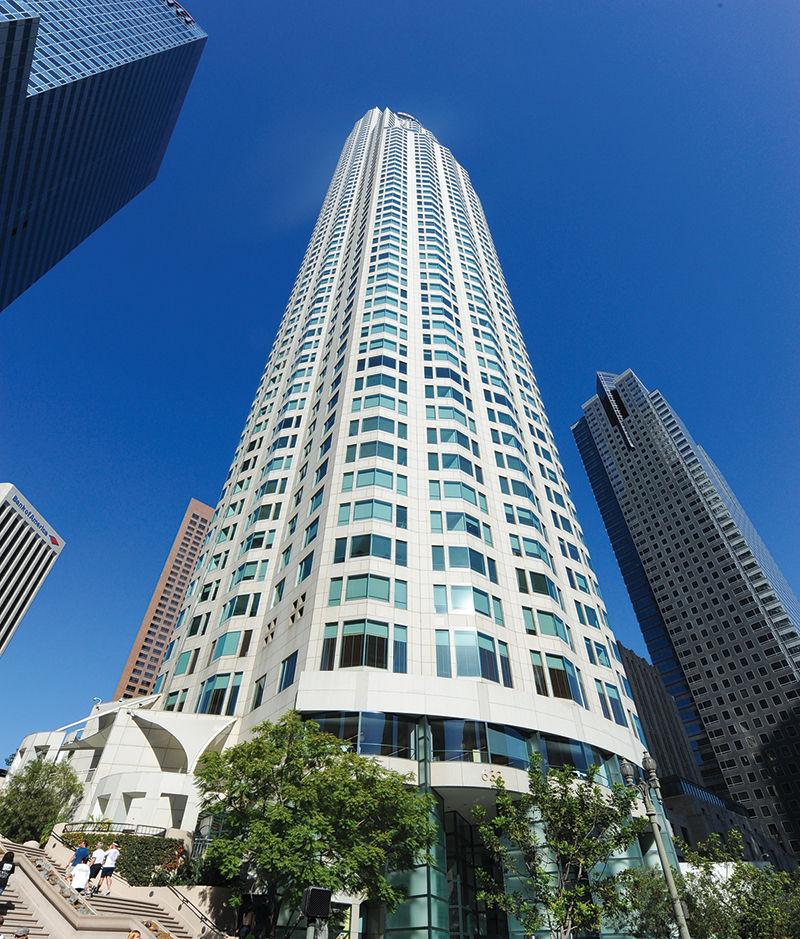 Things are changing. In 2013, Singapore-based OUE bought the 1989 skyscraper from beleaguered MPG Office Trust for a reported $367.5 million. The company has since begun an aggressive turnaround, highlighted by the attention-grabbing announcement of a new rooftop restaurant and viewing platform.
Overlooked are some other elements of a renovation that will ultimately cost about $100 million, with $60 million dedicated to fixes at the top of the building and the lobby. Then there is the biggest inside shift: a serious uptick in occupancy.
Early this year, law firm Lewis Brisbois Bisgaard & Smith took temporary space in the building after its offices at Figueroa Plaza (221 N. Figueroa St.) were damaged by an inferno at the neighboring Da Vinci apartments site in December 2014. The firm took 200,000 square feet — nearly 15% of the building's floor space. That has since been converted to a long-term lease, said OUE Senior Vice President John Gamboa.
That's not the only addition. OUE's leasing team has secured more than a dozen new and renewal deals, with key transactions including U.S. Bank (a 10-year renewal for 100,000 square feet) and Regus Office Space occupying 50,000 square feet.
The net result is that the 72-story building is 75% occupied, according to Gamboa.
"We're still on the hunt to make sure we fully realize the potential of this asset," Gamboa said. "We're fixing the infrastructure. We're upgrading our signage. We want to add some energy to the Maguire Gardens amenity. We're considering new ideas for the 72nd floor when the current office tenant rolls over. This is just the start." 
Top to Bottom Upgrades
The work at U.S. Bank Tower starts literally on the ground floor. The lobby is being redone with more glass to open the space up to the street, and it's getting a 130-foot-wide video wall that will be used in a variety of ways, including to show imagery depicting Los Angeles neighborhoods and culture.
The elevators, meanwhile, are being upgraded with what is dubbed "destination dispatch" technology that will mean fewer stops for each rider.
While those elevators will speed workers to their offices, they will also connect visitors to a pair of observation decks on the 69th floor dubbed Skyspace. That will lead to a private event space and bar on the 70th floor. The 71st floor will hold a restaurant led by chef Vartan Abgaryan, formerly of Silver Lake's celebrated Cliff's Edge.
Farther down, the 54th floor will host an array of interactive tech exhibits, including a virtual 360-degree "topography wall" with Los Angeles points of interest and an "infinity mirror" that seems to peer into the building's core. 
"Skyspace is a big deal for us. We really think it's going to redefine the building," Gamboa said. 
All the activity is a major shift from when MPG Office Trust owned U.S. Bank Tower.
The company began as Maguire-Thomas Partners, led by Robert F. Maguire and James A. Thomas. The powerhouse duo developed Downtown landmarks including U.S. Bank Tower (then dubbed Library Tower), Wells Fargo Plaza and Gas Company Tower. Eventually Thomas went out on his own and the company became Maguire Properties.
Maguire ran the company, but in time was hammered by a string of poor investments. He was forced out and the business, highlighted by the seven Downtown towers in its portfolio, eventually became MPG Office Trust. Yet MPG could not regain its financial footing and, facing a well of debt, began defaulting on a number of loans. It ultimately decided to sell its assets. National office giant Brookfield took on the biggest portion, snapping up four key Downtown skyscrapers for a reported $450 million.
OUE was a more unlikely buyer. The company, which has roots in the hotel industry, saw potential for U.S. Bank Tower to become a destination for both tenants and the public, Gamboa said. With construction speeding forward on the $1 billion Wilshire Grand replacement, complete with its own rooftop deck, OUE opted to move aggressively and spend on upgrades to bring back U.S. Bank Tower's luster.
"MPG had not invested in the asset as much as they should have because they were capital-constrained," Gamboa said. 
Price Potential
OUE was also drawn by price. The U.S. Bank Tower deal worked out to about $260 per square foot, while trophy assets in Los Angeles were fetching $500 a square foot, Gamboa said. The company purchased it with cash and closed the deal within three months.
"I don't know if you can even find residential at that price. It's a home run," he recalled thinking.
OUE has been "very opportunistic" in its leasing approach, especially with the Lewis Brisbois signing after the fire, said Michael Soto, research manager at real estate analysis firm Transwestern. Downtown's office market is a game of musical chairs, in that tenants jump from building to building, he noted, adding that the key to success is having a proactive, well-funded marketing and leasing program that can consistently poach big tenants and court companies on the cusp of major growth. 
"There's more interest in that building now than there was under previous ownership," Soto said of U.S. Bank Tower. "They've done a great job marketing the building, and the lobby upgrades and Skyspace are exciting developments."
Downtown as a whole still lags behind Westside office hubs. The local vacancy rate clocked in at 17.9%, compared to 13.4% in West L.A., in Transwestern's third-quarter 2015 report. Ditto pricing: Top office towers in Downtown are getting about $3 per square foot, compared to $4.19 in West L.A. 
Lower costs could lure tenants to Downtown, and a major boost will probably come when — or maybe that's if — the Central City lands an "anchor" company like Yahoo or Buzzfeed, both of which sniffed around Downtown before landing in Playa Vista and Hollywood, respectively, Soto said.
That said, improvements in MPG's former portfolio will help the Downtown market, said Steven Marcussen, executive director of leasing at brokerage Cushman and Wakefield. 
"We're in a phase of the market where those troubled buildings have cleared and have strong ownership behind them. If you look carefully, all the big empty space was in [MPG] buildings and they're beginning to fill up," said Marcussen, who is working on leasing about 350,000 square feet of office space at the Wilshire Grand. "A lot of capital is coming into the city, rail is being built, the L.A. Convention Center is getting redone, the new hotels in Downtown — it's all helping."
OUE is prodding markets including Chicago, Boston, New York and Miami for its next big deal, but Gamboa said the company is focused on its single U.S. asset for now.
"We're a value-added investor. We're not going to buy something that's stabilized. We want upside, where we can add our mark," Gamboa said. "That's the U.S. Bank Tower."
© Los Angeles Downtown News 2015