DTLA--A number of Downtown Los Angeles business leaders were angered late last year when the Metropolitan Transportation Authority eliminated Pershing Square from consideration as a terminus for the upcoming $4.6 billion West Santa Ana Branch Transit Corridor. The stakeholders have maintained that, as Metro conducts environmental studies for the project, the agency should be open to a route that funnels people from Southeast Los Angeles County into the heart of the city.
The prospect of a Pershing Square stop is looking increasingly dim. On Monday, Feb. 25, Metro CEO Phil Washington indicated that it would be an added expense for a proposal that is unlikely to be realized.
Downtown Groups Angry Over Rail Line Plan
"We're not saying that we are going to just say no completely, but there are operational and there are constructability challenges with bringing that line into Pershing Square," Washington said during a luncheon at The Palm hosted by the Los Angeles Current Affairs Forum. "There are foundational issues. There are all kinds of issues with doing that."
Metro Says No Arts District Station Unless 'Manna Falls From Heaven'
Most of the 20-mile route has been determined, though discussion of where the line will end in Downtown has gone on for months. Metro has sought to balance the mission of getting riders close to their jobs in Downtown while also ensuring that people who need to connect to other trains or transit systems will be able to do so easily.
A stop in the center of Downtown has not been eliminated, as Metro continues to consider a terminus in the vicinity of Eighth and Flower streets, which would have a walkable connection to the Seventh Street/Metro Center station. The rail hub Union Station is also being considered.
Metro Debates Station Options for Rail Line
Downtown stakeholders have charged that Metro had not been transparent when Pershing Square was pulled from consideration in December. They also maintain that the move was premature, and that all options should be on the table before a final route is selected. Construction of the project, which is being funded by Measure M money approved by county voters, is not expected to begin until 2022.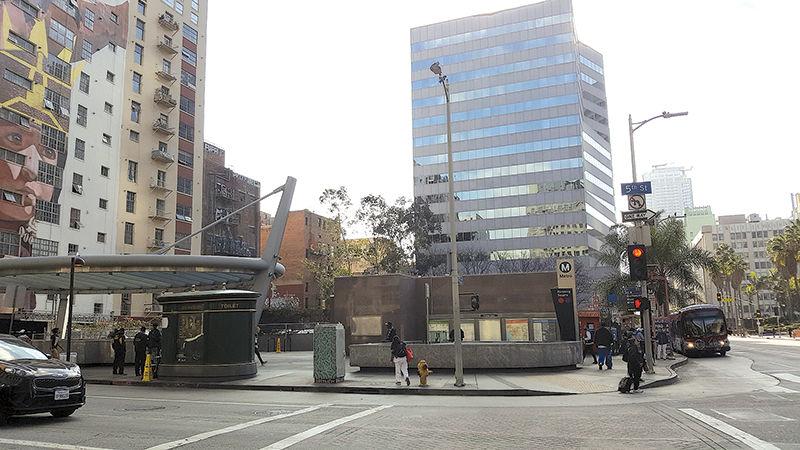 After being informed of Washington's comments, Kate Bartolo, a spokesperson for the community coalition seeking to keep Pershing Square under consideration, said the group's perspective has not changed. She called the elimination of Pershing Square from the environmental study "both premature and high risk."
"It is only through a study that one can actually identify and quantify issues or challenges any alignment may present," Bartolo said in an email. Referring to the Eighth and Flower and Union Station options, she added, "CEO Washington's comments about constructability and operations at Pershing may directly apply to the other two options. You just don't know until you study them. By far, the cheapest money you can spend is upfront by including all viable alternatives — including Pershing Square — for further study."
Washington recognized the opposition to the elimination of Pershing Square, but said that removing it from consideration is the appropriate decision in an era of limited resources.
"There are some people who say, 'Study it anyway Phil. Just study it anyway,'" Washington said at the Current Affairs Forum luncheon. "And then you're looking at a 12-month delay and millions of dollar more just to study something that you know probably will be eliminated at the end of the day."
Uber and Lyft
During the event, Washington touched on other subjects that impact Downtown Los Angeles. That included the idea of seeking to put regulations, and perhaps some sort of tax, on Uber, Lyft and other shared-ride vehicles. The app-based services are ubiquitous in Downtown and other communities.
Washington's comments came in advance of a Thursday Metro Board of Directors meeting at which the subject was broached. Although no specifics regarding pricing or enforcement have been revealed, Washington said there is concern when for-profit companies are using public roads.
"Why should the Ubers and Lyfts of the world use public rights-of-way to become millionaires and get rich?" Washington asked. "We should be regulating that in some way."
Washington called for a report on the idea of looking at regulating the businesses, also known as TNCs (for Transportation Network Company). That is expected to be delivered next month.
Copyright 2019 Los Angeles Downtown News