DTLA - The list of rules on the front window of the Fashion District's Pop Obscure Records starts off as expected: no food or drinks, for instance. Near the bottom, it gets more unusual: No Justin Bieber fans. No Taylor Swift fans.
    "That kind of sums it up," said Dustin Lane, sitting behind the counter and chuckling. "Read in that what you will."
[Get DTLA stories in our daily email newsletter.]
    Lane, 43, and his wife Sherry Lee, 49, opened the store at 735 S. Los Angeles St. in mid-July. The 25,000-square-foot space carries approximately 10,000 new and used vinyl albums. The catalog ranges from '60s jazz and rock to modern electronic acts to movie soundtracks.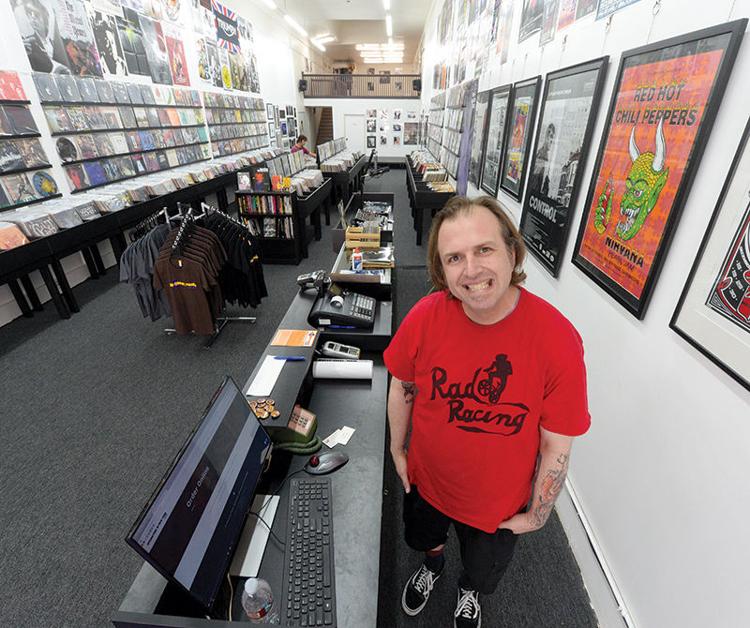 Lane and Lee originally wanted to open the store in Seattle, but decided to bring it to Downtown Los Angeles, where they used to live, because they wanted to return to the area. They settled on the Los Angeles Street spot within a day of seeing it.
    "The next day I was out buying records," Lane said. 
    The build-out took four months. The end result feels like something out of the heyday of record stores. The front half of the long, narrow space holds the vinyl bins, with the walls covered in band posters and blown-up album covers — Nine Inch Nails sits next to David Bowie and Chuck Berry. A framed copy of Hunter S. Thompson's "Thompson for Sheriff" campaign poster is behind the register. There is a turntable and headphones so customers can sample the wares before buying.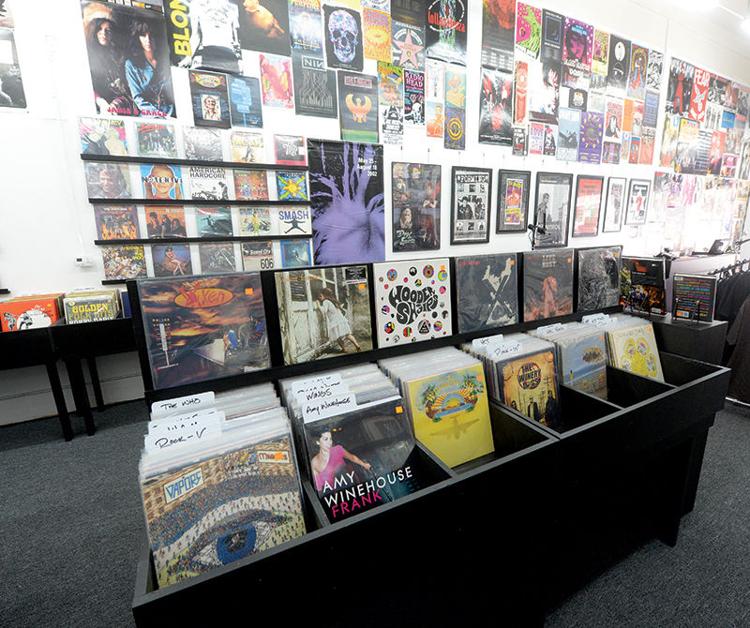 Most records are $10-$15, though there are some rare and hard-to-find options, including some of the store's few CDs. Those are, fittingly, labeled "Obscure." Offerings include a CD of former Red Hot Chili Peppers guitarist John Frusciante's Going Inside for $30, and the Smashing Pumpkins' Drown, priced at $50.
    On a recent afternoon, a visit to the store allowed Bryan Holan to complete a 51-year-long quest. Holan had given his copy of the Rolling Stones' "Satisfaction" single to a girlfriend in 1965, who kept it after they broke up. He never could locate the same edition of the single until he found it at Pop Obscure.
    Another customer, Genevieve Riolo, found the store by accident as she was walking by. 
     "This place is great. It's authentic," Riolo said. "It's good to have something like this in Downtown."
On Display
     There are two gallery spaces in the rear of the store. One holds Lee's concert photos, with images of bands including Sonic Youth, Jane's Addiction and other alternative-rock acts. The second space, in a raised loft, houses a collection of musician photographs by Dennis Keeley. The works span four decades, everything from Ozzy Osbourne to De La Soul. 
     Lee and Lane plan to change the exhibits monthly. Lee said the goal is to show established artists upstairs and give the downstairs space over to up-and-coming artists.
    "I know a lot of people are afraid to go for it, so I want to help them and create a space to showcase their work," Lee said.
    There is also a small stage. Lane said he hopes to have two to three performances a week. Lectures and comedy shows are also possibilities.
    Still, the store's presence raises a question: Can a space dedicated to vinyl albums survive in the era of Spotify and digital files?
    Lane and Lee think it can. In 2015, vinyl record sales hit their highest level since 1988, according to the Recording Industry Association of America. Last year's Record Store Day — an annual event to support independent record shops — saw more than half a million albums sold. Record stores have popped up in communities such as Highland Park and Echo Park.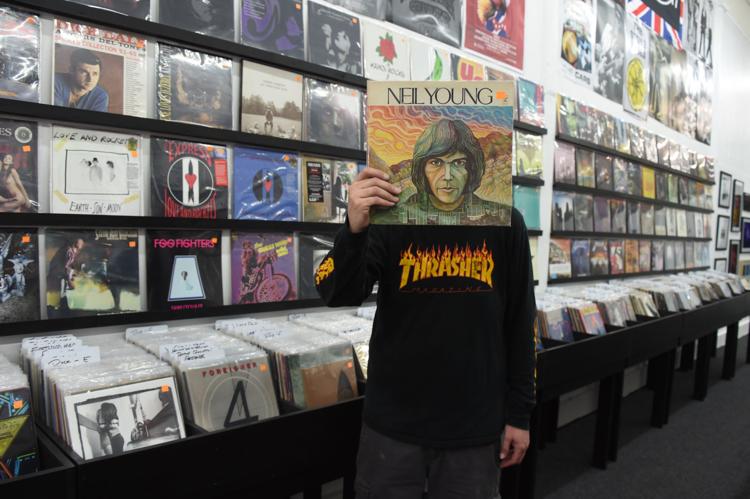 "Digital music, digital art, it just doesn't have that same quality," Lee said. "With records you get that warmth and sound from the vinyl and you have this tactile piece of art in your hands." 
    The couple said they are happy with how Downtown has welcomed them, and now are working on building out their programming. While cataloguing some new arrivals, Lane said that Pop Obscure is going to get louder and busier. He hopes Downtown gets into it.
Pop Obscure Records is open Tues.-Thurs., 11 a.m.-7 p.m.; Fri.-Sat. 11 a.m.-8 p.m.; and Sunday 11 a.m.-5 p.m. At 735 S. Los Angeles St., (213) 628-3898 or popobscurerecords.com.
© Los Angeles Downtown News 2016