DTLA - By Blair Besten's count, the man she calls "James" has been living and sleeping in the Historic Core for a decade or longer, usually curling up near the intersection of Eighth Street and Broadway.
[Get DTLA stories in our daily email newsletter.]
One of his most troubling routines was to step into oncoming traffic at Seventh and Spring streets to defecate on the pockmarked asphalt nearly every day. Besten, the executive director of the Historic Core Business Improvement District and a neighborhood resident, also frequently found him wandering without any shoes, or sleeping with no layers on cold, windy nights.
Last year, she decided to try to get him help. It was easier thought than done — James wouldn't agree to treatment. Besten persisted, spending hours observing him with psychiatric specialists. At one point, he was spotted chewing on bits of tar from the roadway, and the group decided to intervene.
"It took a long time. He was sick, had sores all over him, and eventually the team got him to agree to go into an ambulance," Besten recalled. "He was transported to the county hospital."
James would have been taken for a psychiatric evaluation and potential medical care, even against his will, if he had posed an immediate threat to himself or others, or was gravely disabled in a way that prevented him from meeting essential needs, such as eating. Most unhealthy or unsafe behaviors — like walking into traffic or eating foreign objects — fall short of this standard, which means law enforcement and county workers cannot intervene with a 72-hour involuntary psychiatric hold, referred to as a "5150."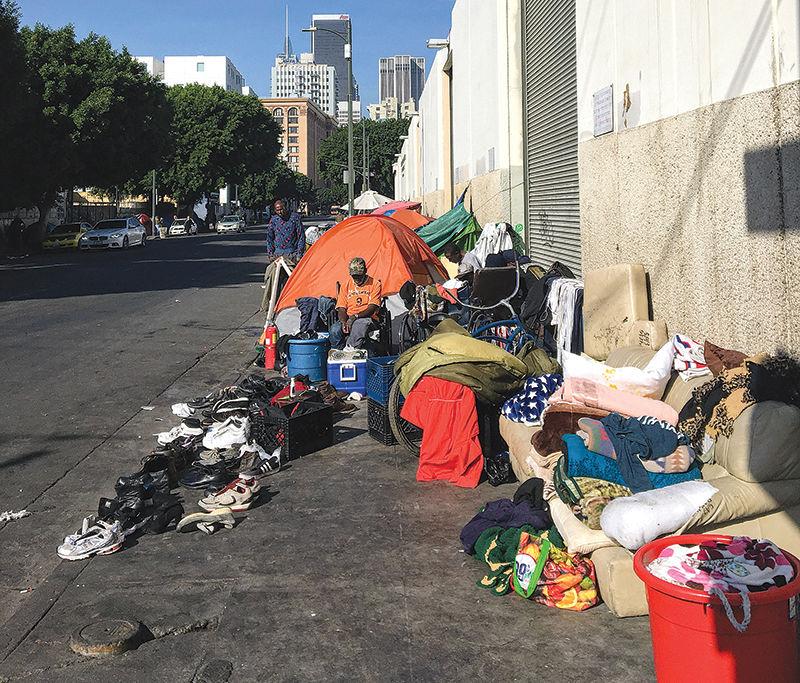 A new state bill aims to change that. Introduced on Jan. 30 by Assemblymembers Miguel Santiago — whose 53rd District includes Downtown Los Angeles — and Laura Friedman, it would change the state's definition of "gravely disabled" to include people who don't seek necessary medical treatment because of mental illness. The move followed the Los Angeles County Board of Supervisors' motion a day earlier suggesting a change in the state law.
The proposed bill received political support from a broad range of stakeholders, including Los Angeles City Councilman Joe Buscaino, who recalled experiences from his 15 years as an officer in the L.A. Police Department.
"On many occasions, I encountered homeless individuals who were soaked in their own urine or lying in their feces and completely malnourished," Buscaino said in a statement after the county's motion. "Yet due to the narrow definition for 'gravely disabled,' I was not able to get these people to the medical care they desperately needed."
Councilman José Huizar, whose 14th District covers nearly all of Downtown, echoed Buscaino's concern.
"We've known for a long time that a third of those experiencing homelessness in the city and county of Los Angeles are grappling with mental health issues — many with severe illnesses that they cannot manage on their own," Huizar said in a statement to L.A. Downtown News.
Issues of Consent
Changing the standards laid out in the existing Lanterman-Pettis-Short Act could be a political challenge. Signed into law by Gov. Ronald Reagan in 1967, the law effectively ended psychiatric hospital commitments by the judicial system, and debuted strict regulations on when and how a person could be held for psychiatric treatment.
A game-changing response to rampant abuses of power (and whittling funds), the act was hailed as a way to give patients more sovereignty and let local governments lead the charge in providing resources.
Increasing the power of government to assess and potentially commit homeless individuals to hospital care comes with ethical questions regarding consent, and those pushing for reform are preparing for a battle with patient-rights advocates, possibly including the American Civil Liberties Union. Many stakeholders working on the front lines of the homelessness crisis, however, feel a change is needed to protect the most vulnerable people in their communities.
Andy Bales, CEO of the Union Rescue Mission in Skid Row, recalled one man who repeatedly refused treatment before dying on the street of a stroke; this year, he was surprised to hear that LAPD had found one of URM's guests, lost and wandering with no clue of his identity or home, in Westlake.
"What I've learned in 32 years is that the longer someone is on the street, the bigger mental health issue you're going to find," Bales said. "There's even a lot of head trauma that's not accounted for, from being attacked, beaten, et cetera. That can cause behavioral issues permanently. None of us, including me, could make it more than a few days on the street without experiencing a mental health crisis."
Approximately 16,000 of L.A. County's 58,000 homeless people are estimated to suffer from severe mental illness, and there has been a 28% increase between 2015 and 2017, according to the Los Angeles Homeless Services Authority.
Question of Resources
Changing the law would give officials more flexibility to evaluate mentally ill homeless people, but it's unclear whether the county has the resources to take on more patients.
Currently, once a clinical evaluation finds someone is eligible for an involuntary psychiatric hold, law enforcement or county workers call area hospitals to secure a bed for them.
If none are available, they're taken to a county emergency room, which are often "saturated" with other patients, said Irma Castaneda, deputy director of the emergency outreach bureau in the county Department of Mental Health. In both cases, the decision to admit a patient lies in the hands of doctors in the hospital — they can be discharged before the 24-hour mark based on a second evaluation.
"The majority are discharged to a third party, like a clinic or a shelter," Castaneda said. "To go to a permanent locked facility, they need to go through the judicial conservatorship process, where a psychologist has to determine they can no longer care for themselves."
That process is a labyrinth, and can only begin with a formal recommendation from a treatment facility (not family or friends). It requires multiple legal negotations and investigative reports on a patient's background.
Observers also note that a lack of beds, especially on the county level, and the challenge of working with mentally ill homeless people discourages hospitals from taking them on as patients. In recent years several hospitals have been prosecuted and fined for "dumping" patients on Skid Row, sometimes still in their gowns and with no arrangement for after-care.
In Besten's case, the relief over seeing James get into an ambulance and seek help was short-lived. After arriving at a hospital, James was discharged to an urgent care center in Culver City. He was then released the following day, and Besten still hasn't found him. The county hospital told her they recommended further treatment, but the urgent care facility has not returned her phone calls questioning the release, she said.
"We need more facilities, we need beds, we need a framework by which hospitals don't turn people away after just a few hours," Besten said. "There needs to be a hand-holding process from ER to a facility to stabilize to longer-term board and care, and then re-evaluation." 
Deadly Conditions
The consequences of not getting severely mentally ill people off the street and into care can be fatal. A report from the county Department of Mental Health found that a "significant" number of the 831 deaths of homeless individuals in 2017 were from preventable or treatable illnesses, suggesting that mental illness may have stopped many victims from seeking help.
Mentally ill homeless individuals also sometimes find themselves in confrontations with law enforcement, which have repeatedly turned deadly in Downtown Los Angeles.
Carlos Ocana, a 54-year-old man with a reported history of mental illness, fell to his death from a Skid Row rooftop after being tazed by an LAPD officer in 2014. In 2015, Charly "Afrika" Keunang was shot and killed on a Skid Row sidewalk after a verbal dispute with police escalated into a fistfight; he had spent years in a psychiatric hospital as part of a prison sentence for armed robbery. And last year, 70-year-old Alejandro Mendez was shot and killed by an LAPD officer at Broadway and Olympic Boulevard after acting aggressively with a long metal pipe toward passersby and police; multiple witnesses claimed Mendez appeared to suffer from mental illness.
Huizar has been critical of how police are used as first responders, and has repeatedly called for a paradigm shift that will create and empower civilian outreach teams to respond to mental health crises on a real-time basis.
"We want to make sure that when an individual is out on the streets, and may need mental health assistance, that the first place we call is not LAPD and law enforcement," Huizar told Downtown News in September. "They are not equipped to deal with these issues, and it's not where we should be placing these individuals, in the hands of law enforcement where their problems continue to not get treated."
While reforming state law could mean more mentally ill people receive longer-term care, it would still leave a broad swath of individuals without a forcible pathway to treatment. Some advocates, like longtime Skid Row activist Louise Mbella, are calling for shorter-term solutions such as building an emergency shelter focused on people with moderate mental health problems, who often struggle to find options for care.
"They go to a shelter, end up fighting other people, and end up back on the street," Mbella said. "A new law might allow doctors to take care of those on the extreme side of the spectrum, but a specialized shelter may allow others to get some more consistent help."
The county projects that Measure H, a sales tax passed by voters last March to fund homeless services, will generate around $259 million in its first year; it remains unclear how much of that will go toward mental health services, but there is a push to hire more homeless outreach workers around the region.
Santiago and Friedman's bill, AB 1971, is currently being amended with more specific language and is expected to be reviewed by various Assembly committees.
© Los Angeles Downtown News 2018