DTLA — Four glossy glass towers are rising at Metropolis, the six-acre mega-project just north of L.A. Live.
The first move-ins will begin this month, according to the developer, the U.S. subsidiary of the Shanghai-based company Greenland, and by the end of the year the full first phase of the $1 billion development will be open, delivering a 38-story condominium tower with 308 homes and an 18-story Hotel Indigo. Ultimately the project will create more than 1,500 for-sale units.
[Get DTLA stories in our daily email newsletter.]
Representatives of Metropolis have for months touted strong sales of the condominiums, saying that the first tower is already 70% sold.
A question is brewing: What effect will that actually have on the streets of South Park and on the evolution of the neighborhood?
Early concern focuses on the likelihood that residences are being purchased by people from other countries, particularly China, who won't live in Metropolis full-time.
The worry extends to the overall South Park condo explosion — nearly everyone in Downtown cheers the 3,500 for-sale units that are under construction or in the pipeline, but real estate experts fret that the community benefits could be muted if there is a preponderance of "absentee" owners who are snapping up luxury units. Residences in the first phase of Metropolis range from $600,000 for studios to more than $2 million. 
In an emailed statement, Metropolis Marketing and Sales Director Sofia Padilla said that 60% of sales to date are from the United States, with the "vast majority" being California buyers. 
"Additionally, as the first for-sale residential project to deliver in Downtown in nearly five years, Metropolis is attracting strong interest from Downtown renters who have witnessed the area's transformation firsthand and are looking to make it a longer term place of residence," she wrote.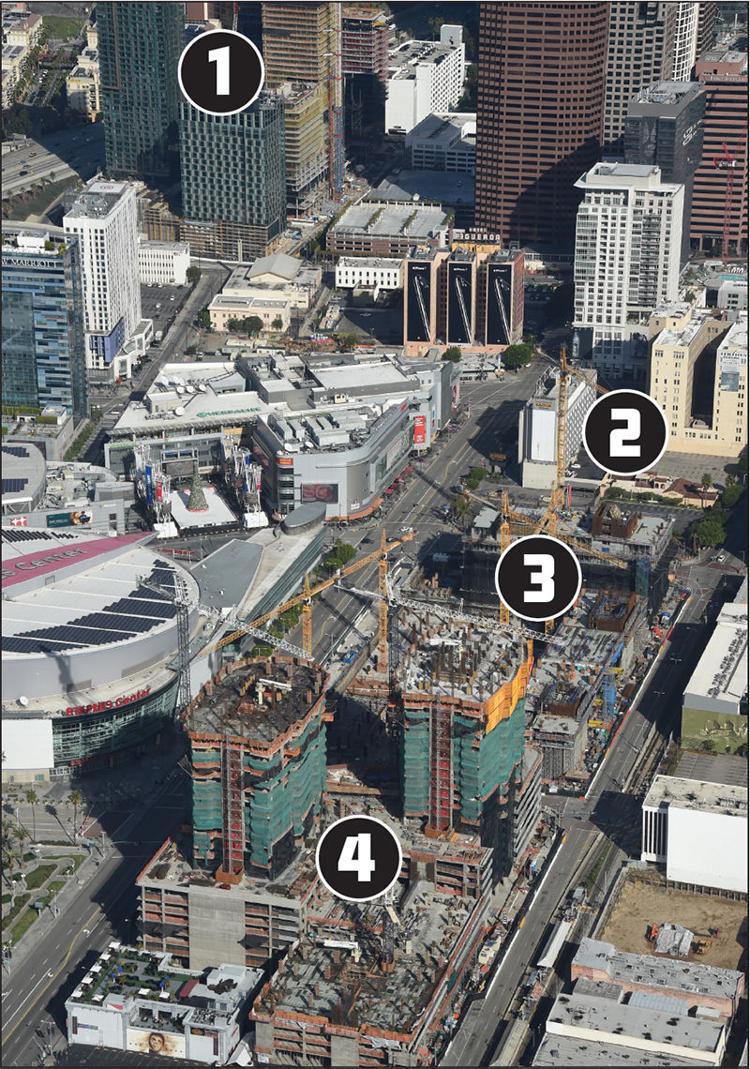 Local condo brokers, however, say they have not seen a swell of buyers from Los Angeles, and that sales instead are trending international, largely Chinese, with high down payments common. Greenland has a dedicated China sales center for Metropolis, according to area brokers and the project's main website.
"They have a whole pool of units that aren't available to U.S. buyers," said one realtor, who asked not to be named to avoid impacting business relationships.
Those sales could stem from a series of factors that relate to the current local real estate market as well as economic trends across the globe.
On the former front, Southern California has long seen an influx of Chinese homebuyers, notably east of Downtown in the San Gabriel Valley. Luxury condos in Downtown are starting to pull buyers away from those single-family homes. The attraction is the same for those individuals as it is for Los Angeles residents, with proximity to restaurants and cultural activities. (A hot condo market doesn't hurt, either.)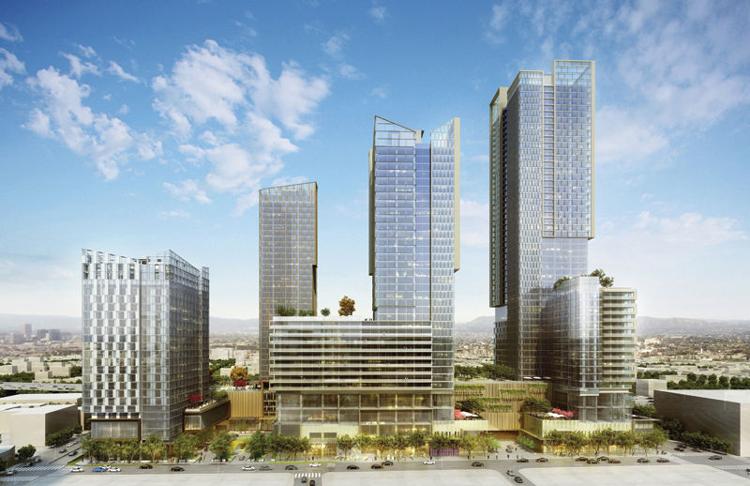 Then there are the global aspects, as the slowing economy in China has helped to inspire a sizzle of outbound investment. Los Angeles, New York City and London are among the cities that have seen an infusion of Chinese money.
For sellers, one advantage of Chinese buyers is their habit for simple transactions: 71% of them pay in cash, according to a 2016 survey from the National Association of Realtors. That echoes the way purchases are often made in China. 
Foreign buyers of all description also tend to pay more for homes than U.S. purchasers. Chinese buyers, the survey said, take more U.S. units and spend more money than people from any other foreign country.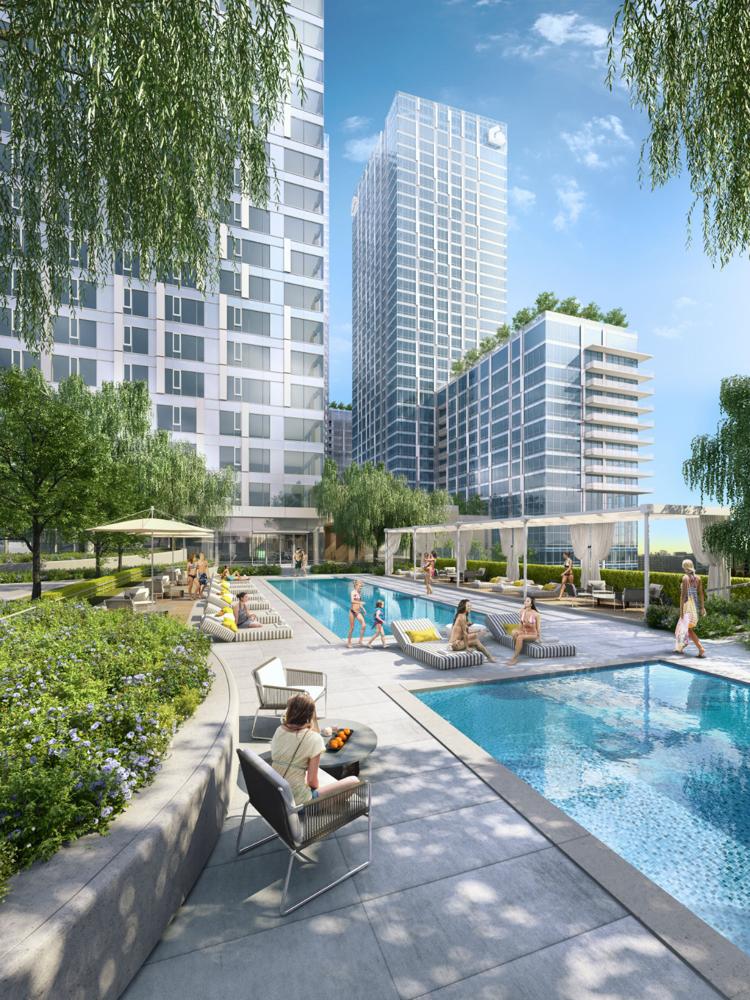 It is impossible to know how things will shake out at Metropolis, but in general, according to the Realtors survey, 40% of Chinese buyers plan on using their new home as a primary residence. The other 60% treat the property as a rental unit or use it sporadically for trips to the U.S. By way of comparison, 63% and 74% of buyers from Mexico and India, respectively, planned to use new U.S. property as their primary residence.
"The safe assumption to make is that a foreign buyer is going to be an absentee owner or renting it," Hamid Behdad, a real estate expert and head of the Downtown-based Central City Development Group, said about Metropolis' sales. "If you're not a citizen, you may be vacationing here or your kids may use it, but being absent is a real likelihood."
[Digging Into China's Downtown L.A. Investment Boom]
While any sale helps the developer's bottom line, absentee owners can create a ghost-town feel in an ostensibly occupied building. That could turn off potential buyers looking to join a community and, at Metropolis, it could stunt the leasing of more than 70,000 square feet of retail and restaurant space along Francisco Boulevard.
Downtown real estate experts warn that if the complex has a weak residential base, it could be hard to lure tenants, particularly when ongoing construction in the neighborhood is also considered.
The Mortgage Question
A bigger problem may come for other prospective buyers seeking a mortgage. Lending in Downtown Los Angeles is already difficult, with stringent requirements on down payments and income checks, said realtor Roxanna Godinez of the firm Loftway.
Absentee ownership in a building is particularly unattractive to lenders, added realtor Allyson Connolly. She said certain lenders could halt loans if a building exceeds a specific percentage of non-owner-occupied homes.
"The main reason is that, if there's a financial downturn and you have an owner with multiple properties, which ones are they going to stop paying the loan on?" she asked. "Not the one they're living in."
Some developers use homeowners association contracts as a way to cut down on absentee owners, stipulating that units must be occupied a certain amount of time or that the owners are not allowed to re-sell the unit or rent it out for a year or longer. Others screen buyers, limit "off-shore" marketing or sell units in smaller batches, according to real estate experts.
It's unclear whether any of these measures are in place at Metropolis, although multiple local brokers say they have not seen any restrictions. The project is fetching some of the highest prices ever seen in the L.A. condo scene — more than $1,200 per square foot — which could set a bar for other area projects.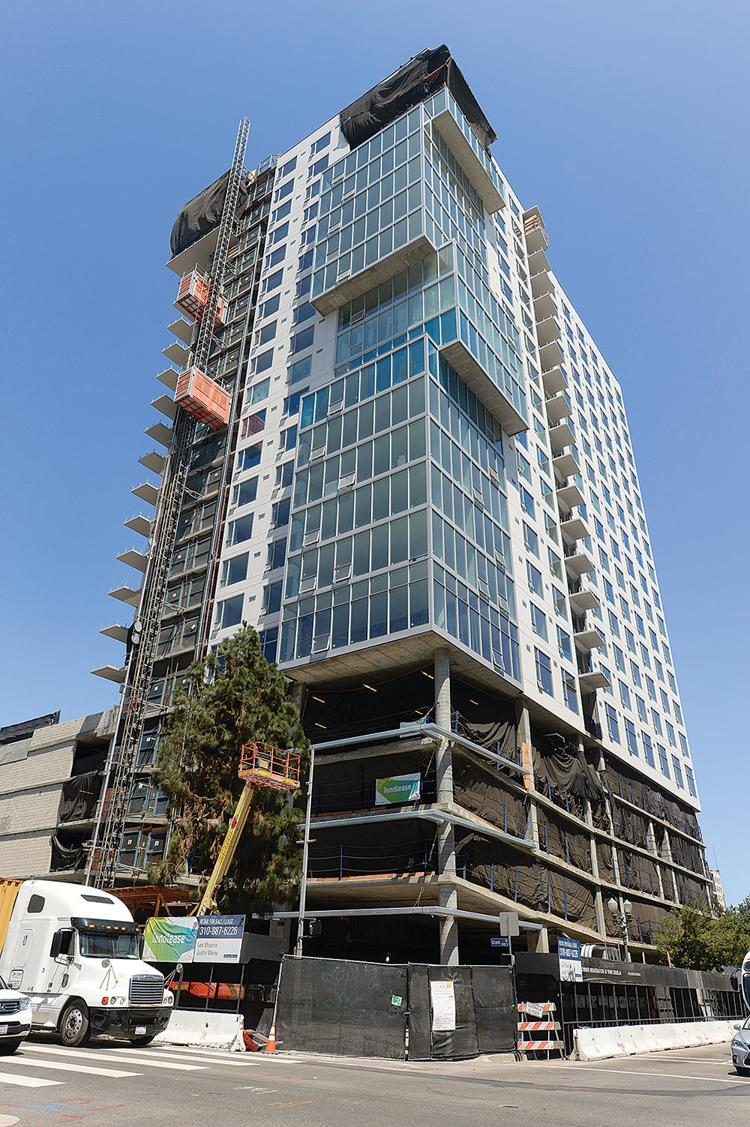 The picture is slightly different at Ten50, the only other Downtown condo development slated to come online in the near future. Its 150 units are more than 50% sold, according to Arden Hearing, managing director of developer Trumark Urban.
"More than 80% of our buyers so far work in Downtown. These are not international, offshore buyers, although it's still a very diverse building," Hearing said. "The strategy is by design. The building has a tight DTLA community vibe, and we did not market units offshore. Of course if we wanted to, there would be ways to do that effectively."
As with Greenland, San Francisco-based Trumark Urban is new to the Downtown housing market and sees huge potential for condos. Ten50 residences are selling for around $800-$1,000 per square foot, and units have been released in phases. Hearing said buyers come overwhelmingly from within the city.
Behdad said that even if sales at Metropolis were to slow, he does not expect prices would come down. The cost of construction in a luxury mega-project like Metropolis means Greenland is going to demand a premium, he said.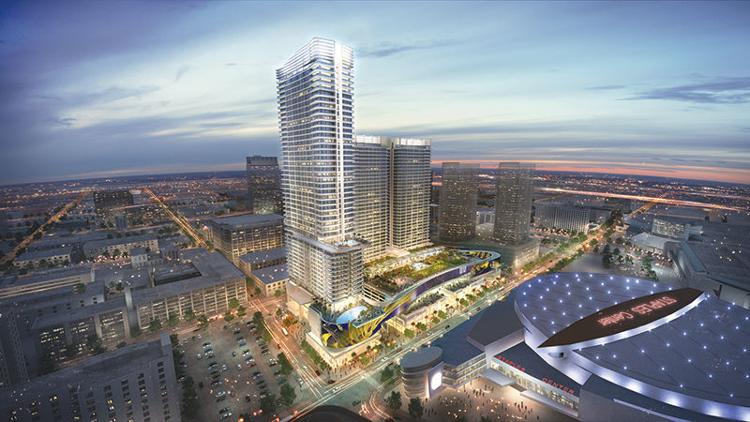 The overall scene could change quickly, and while Greenland will be the first to arrive, it won't be going solo for long. Beijing-based developer Oceanwide is deep into construction on a mega-project that will bring 648 luxury condominiums, a hotel and retail space to Oceanwide Plaza across from Staples Center; it is slated to debut in 2018.
Just south of Oceanwide Plaza, the twin-tower Circa will have 650 condos when it opens in early 2018. Another Chinese developer, Shenzhen Hazens, is designing a three-tower complex with a W Hotel and another 650 condominiums a block north of Oceanwide's project.
In other words, the condo floodgates are about to break open, ushering in new money and new residents. It remains to be seen if Metropolis will lead to a filled project that puts bodies on the streets, or whether fears of a ghost town in its towers come true.
© Los Angeles Downtown News 2017