DTLA - The news hit like an earthquake, shaking the heck out of the Los Angeles literary community. The first three sentences of an email sent on Aug. 30 were nothing less than stunning.
[Get DTLA stories in our daily email newsletter.]
"I'm writing to inform you of a change at ALOUD," wrote Louise Steinman, who launched the adored series 25 years ago. The message was quickly forwarded to inboxes across the region.
"As of this week, my position as curator and that of my Associate Director, Maureen Moore, were eliminated.
"We are no longer employed by the Library Foundation of Los Angeles."
This was mindboggling. Over a quarter century ALOUD staged somewhere in the vicinity of 1,500 events (it celebration its 1,000th program in 2010), bringing Angelenos a thrillingly diverse lineup of authors, poets, scientists, artists and thinkers. Strangers bonded over the power of the written word, and at ALOUD events a city too often disparaged as focused on flash instead revealed its depth. Steinman was the program's heart, soul and brains, and in some ways a community's unifier in chief.
ALOUD Series Leader Abruptly Leaves
Then, suddenly, there was a shake-up. Inexplicably, she and Moore were gone.
Why? Great question. The Library Foundation of Los Angeles, the nonprofit that oversees ALOUD (and which, many don't realize, is not part of the Los Angeles Public Library system), has refused to offer details, falling back on the chestnut of calling it a "personnel matter." Requests for comment by reporters have been rejected. 
Frequently, bad news fades over time and public attention shifts to the next icky thing. That's not happening here, as a cadre of local writers and academics have coalesced in the wake of a literary disaster.
There has been a persistent demand for answers and transparency, as well as calls for the reinstatement of Steinman and Moore, with articles (including a deeply reported one at Cultural Weekly), opinion pieces and email chains. Protestors have interrupted ALOUD events. A petition has been signed by nearly 1,000 people, including Pulitzer Prize winners and poets laureate. The Los Angeles Times has published a pair of Op-Eds decrying the situation. Author, journalist and Loyola Marymount professor Rubén Martinez has called for LFLA President Ken Brecher to resign. 
Outcry Erupts in Wake of ALOUD Leaders' Departure
My guess is that, as in many instances where a popular leader is fired, Brecher assumed that there might be a minor kerfuffle, but that things would soon revert to business as usual. Yet two months in, the outcry continues. The LFLA seems to have misjudged the depth of affection and respect that Steinman and Moore had engendered. The nonprofit's let's-wait-this-out-in-the-bunker approach is failing.
Many have called for Brecher to provide answers, but the answers don't end with him, because there are two just-as-important questions: Where is the Library Foundation board of directors amid all this? And why are these business and cultural leaders remaining silent as Los Angeles' most important literary institution is being ripped apart?
Big Names, Free Entrance
There was a time, before I had kids, that I attended ALOUD events regularly. I saw a litany of brilliant writers and speakers in the Central Library's Mark Taper Auditorium. I caught T.C. Boyle, one of my favorite authors, multiple times. My wife and I enjoyed appearances by Simon Winchester, Geraldine Brooks, Chilean novelist Alberto Fuguet and many others. 
The ALOUD events were thoughtful and thought-provoking, and with the usually free entrance I felt like I had stumbled upon some great secret of Los Angeles (a feeling heightened when I'd see some of the same authors do Westside events where people paid for tickets). A reading was followed by an on-stage Q&A; these were uniformly incisive. It was clear that Steinman carefully chose her moderators, and that she had a killer Rolodex.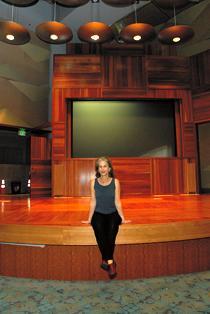 I loved those events. 
But I won't go back to ALOUD until there's clarity on what happened to Steinman and Moore.
I doubt Brecher and the LFLA Board will lose sleep over my decision. I also admit I've probably only been to one ALOUD event in the last decade (I blame the aforementioned kids; do you know what babysitters cost these days?). Still, I can't support this series when those who gave it life appear to have been treated so poorly.
Notice I said "appear," because I don't know what happened, and that's the problem. Did Steinman and Brecher butt heads? Was this about money? Was there a dispute related to the recent Visualizing Language, an art exhibit in the library propelled by Steinman and Moore that displayed dynamic work by Oaxacan muralists? Did Steinman borrow Brecher's red Swingline stapler and not give it back? It's probably not the latter, but until the LFLA provides answers, the speculation will continue.
The LFLA's spin attempt has been clunky and unconvincing. A mass email on Oct. 10, about six weeks after the fracas began, referenced a broader agenda, stating in part, "We have created a new public programming department that includes programs such as Lost & Found at the Movies, special exhibitions, ALOUD, Teens Leading Change, and more. While we do not discuss confidential personnel matters, we greatly honor the legacy of ALOUD and the dynamic role it has played in the cultural life of Los Angeles and will continue presenting its vibrant conversations."
I'm not joking when I say that I got a couple emails after this was sent out, and both used the letters "B" and "S."
On Oct. 17 the LFLA announced the hiring of Jessica Strand, the Associate Director of Public Programming at the New York Public Library, as the LFLA's first Director of Public Programs. Maybe Strand is amazing, the Michael Jordan of library programming, but it still doesn't explain why Steinman and Moore were kicked to the curb.
Besides, Steinman had already established herself as the Michael Jordan of library programming. We don't need a replacement.
A $487,000 Salary
Change frequently rankles, especially when it involves a beloved figure losing his or her job. What sets this situation apart is the uproar from heavy hitters in the Los Angeles literary scene. These are the people who get behind anything promoting writing. Yet now they're in attack mode.
In addition to Martinez, who authored the letter demanding Brecher's resignation, there is the Ad Hoc Committee in Support of ALOUD (which put together the petition), including noted authors and journalists David Ulin, Héctor Tobar, Terry Wolverton and Lynell George. Those who signed the petition represent a nationwide who's who of literature and learning, including Aimee Bender, Janet Fitch, Pico Iyer, Miranda July, Jonathan Lethem, Thomas McGuane, Viet Thanh Nguyen, Luis Rodriguez and so many others. 
Questions are being raised about the LFLA, too. The most striking is, why did Brecher make $487,582 in the fiscal year that ended June 30, 2017? That's $440,000 in base pay and the remainder in "other compensation," according to publicly available tax forms. It's also a hefty increase over the already astounding $407,500 in base pay he was awarded in the previous fiscal year, and the $370,000 in base pay he took home in the fiscal year that ended in 2015. 
If Brecher's a 21st century alchemist who can turn tin foil into gold, then I get the overall compensation and the $70,000 raise in two years, but otherwise I'd like to hear the justification. This is a nonprofit, after all, not some bank or big-bucks development firm. Even Mayor Eric Garcetti "only" makes about $246,000.
As mentioned above, not only has Brecher been publicly silent about the reason for the departure of Steinman and Moore, but the board of directors hasn't made a peep. There are some heavy hitters here, with executives from big Downtown companies such as City National Bank and AECOM, and a U.S. District Court judge. Eleven board members signed the Oct. 10 email statement touting the new programming department, but do they care that the local literary community is rebelling?
Amid the tumult, the ALOUD series continue, and whereas in the early days it was easy to walk up and get a seat at show time, now many events are fully reserved well in advance — this recurring, sold-out audience is a testament to what Steinman and Moore created and curated. 
The people may still come, but I won't be there. I suspect I'm not the only one.
© Los Angeles Downtown News 2018