DTLA - Graffiti is a scourge on Downtown Los Angeles and other communities. We're not talking about artfully done (and still often illegal) murals, but rather tagging, sometimes from gang members marking turf, and other times from teens who want some form of validation and a way to impress their friends. The scarring of walls and other blank space is straight-up vandalism.
Get DTLA stories in our daily email newsletter.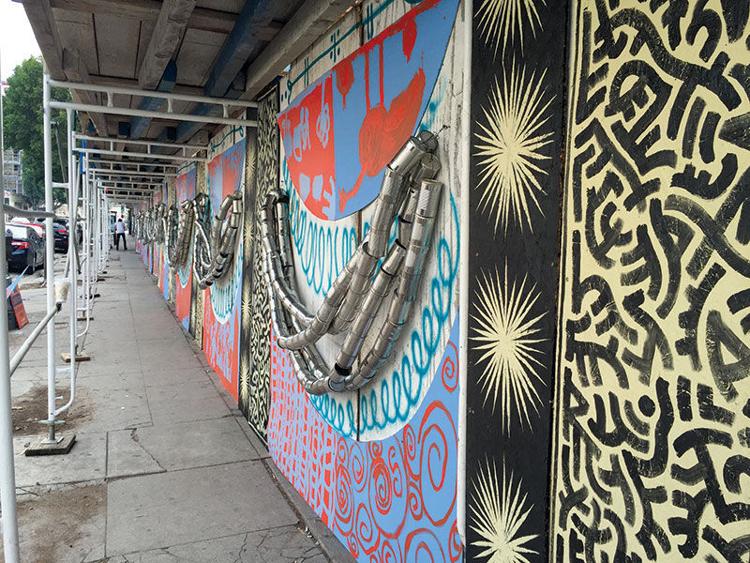 Graffiti demands an immediate response, as allowing it to fester invites others to tag. The city last year spent $7.5 million to remove 30.6 million square feet of graffiti citywide. That doesn't include the cost of private cleanups.
Better than quickly eradicating graffiti is preventing it from appearing in the first place. That's where a new effort in South Park shows promise. City and business leaders should look at initial results and seek to determine if this is an idea worth expanding.
Los Angeles Downtown News this month reported on how the South Park Business Improvement District took a novel approach to an oft-tagged construction fence surrounding the under-construction Onyx apartments at 440 W. Pico Blvd. The site was being tagged about 25 times a month.
The SPBID pulled together $10,000 and worked with the Do Art Foundation and Metro Charter Elementary School to spread artwork across hundreds of feet of fencing. The collection of black-and-tan patterns and red, white and blue faces with a string of cans for a smile were installed in January. The SPBID reported just two instances of tagging in the two months after the works went up, a decrease of 96%.
While the idea of deterring graffiti with art is not new, the results here are worth exploring. Developers in South Park and other communities should consider similar efforts.
Some questions remain. Will the taggers stay off the fence for the long haul? Is there less graffiti in the area, or just less on this site, with vandals finding other nearby canvases?
The SPBID deserves credit for trying a different solution to a persistent problem. Graffiti defaces and degrades the neighborhood. It's worth seeing if this plan can be expanded.
© Los Angeles Downtown News 2016