DTLA—The status of scooters and other dockless devices is an often contentious issue in Los Angeles. It's also an important one. Discussion and debate occur citywide, with some of the most heated conversations playing out in Downtown. That's because the vehicles have arrived here en masse. You can't go a block without seeing a scooter or electric bike. Sometimes they stand single and stoic, waiting to be activated by a user with a smart phone. Other times they lie capsized in bunches, a cluttered heap blocking the right-of-way. 
The city has been struggling to get its arms around the issue, and in the spring the Los Angeles Department of Transportation initiated a year-long pilot program in the effort to gather data and determine what works and what needs improvement. Give the department credit for taking this step. It is difficult but necessary, and ideally this sort of Wild West period will ultimately lead to stability and clear, consistent and enforceable rules.
The pilot program has many months to go, but one thing has already become apparent in Downtown Los Angeles: There are too many dockless devices here. The problem isn't the ones being used, but rather the ones that are not. One commonly sees five or more scooters standing in a bunch on the sidewalk, brightly colored but doing nothing. There's a sense of clutter even when they are lined up neatly in a row.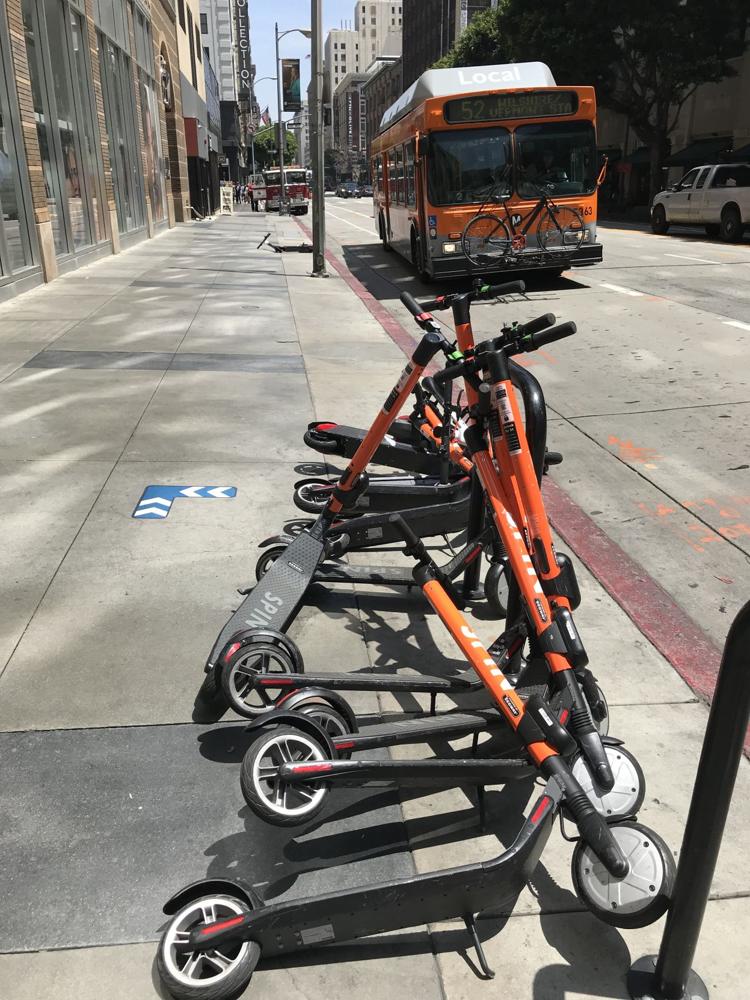 According to a recent article in Los Angeles Downtown News, by June 20,000 dockless vehicles had reached city streets, with 16,000 more permitted but yet to be deployed. More than 3,300 had been allocated to Downtown.
Even as this pilot period continues, we urge the LADOT and the dockless vehicle companies to look closely at their statistics and scale back the number of devices that have been deployed to the Central City. Maybe one day a large number of scooters and e-bikes will be constantly in use, but right now too many stand stagnant. Fewer should be on the streets. More can be added as usage increases.
Get Ready for the Electric Scooter Invasion
Other issues also need addressing, and the companies themselves must do more to promote common sense and safety rules. Too many people ride scooters on the sidewalk, which is illegal. One also occasionally glimpses people riding double on devices that are intended for one person — it's a stupid bit of consumer behavior, but sometimes consumers need to be trained and repeatedly reminded what is allowed and what constitutes responsible usage.
The dockless devices hold great potential and could keep large numbers of people from climbing into cars. They are a viable alternative for short trips, and can get mass transit users from a bus or train stop to their job or home. This includes destinations in Downtown L.A.
Scooters and e-bikes may prove to be a valuable component in the future of Downtown mobility. But that is the future — right now they are just a small part of the solution, and there are too many devices on local streets. It's time to look at limiting the supply until the demand picks up.
Copyright 2019 Los Angeles Downtown News