DTLA -The Halloween candy has been consumed. It's getting cold outside (well, cold for Los Angeles). An ice rink has popped up in Downtown. All of this can only mean one thing: It's time for a Thanksgiving feast. 
[Get DTLA stories in our daily email newsletter.]
Almost everyone looks forward to gathering with friends and family and gorging on gravy-slathered turkey, candied yams, stuffing and pumpkin pie. The downside is the slaving over a hot oven and the post-meal cleanup. 
Fortunately, Downtown Los Angeles has you covered. On Thursday, Nov. 24, a number of local restaurants will do the cooking and cleaning for you. Or, if you prefer, you can pick up a bird and the trimmings and place it on your table. In the following pages we run down eight Thanksgiving meal options, one day-after feast and a way to get fit and help a charity.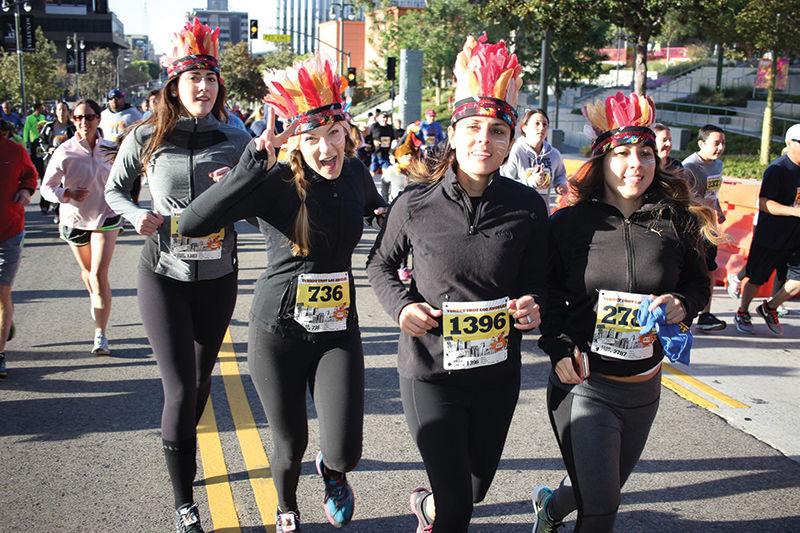 A New Chapter on Thanksgiving: The hip Ace Hotel's ground-floor restaurant L.A. Chapter will be open on Thanksgiving and is serving its full menu of cocktails, steak frites, avocado toast and more. There will also be a Thanksgiving menu served from 11 a.m.-9 p.m. Options includes a root vegetable panzanella for $11, a pressed turkey plate with red wine bordelaise for $25 and, for dessert, sweet potato pie ($9). Order a la carte or bundle everything together for $40.
At 927 S. Broadway, (213) 235-9660 or
French Twist: The Patina Restaurant Group has a long history of serving Thanksgiving dinner to Downtown Los Angeles crowds. This year is no different, and the lovely Café Pinotat the Central Library is serving a three-course prix fixe Thanksgiving feast from 2-8 p.m. The $59 meal features all of the classic dishes, but with a French twist. The menu includes turkey with chestnut stuffing, butternut squash veloute with a cinnamon crème fraiche topping, and pumpkin pie with bourbon Chantilly cream on top. The price is $19 for kids 10 and under. 
At 700 W. Fifth St., (213) 239-6500 or
patinagroup.com/café-pinot.
Hotel High Life: Another traditional Thanksgiving option in Downtown is the Millennium Biltmore Hotel, and this year the Financial District landmark is hosting a buffet brunch in its Crystal Ballroom. The options are vast, with an egg station, a waffle bar, salads, a seafood table and the traditional Thanksgiving choices. The meal is served from 11 a.m.-3 p.m. and the price is $62 (kids are half price while those 4 and under eat for free). The brunch includes mimosas and Bellinis, if you're into that sort of thing. 
At 506 S. Grand Ave., (213) 612-1695 or
Reinventing the Classics: Thanksgiving tradition calls for a turkey dinner with all the trimmings. But this is the 21st century and Downtown Los Angeles, where reinvention is happening every day. Take Artisan House at Sixth and Main streets. The large restaurant is hosting a Thanksgiving brunch buffet from 11 a.m.-4 p.m. The meal is $30 and skews toward the classics, but with some modern twists. For instance, look for turkey roulade with brioche bread stuffing, truffle mac and cheese and roasted Brussels sprouts with bacon confit. Naturally there are a variety of desserts, among them pecan pie and pumpkin treats. As with any decent brunch, bottomless mimosas ($10) are available.
At 600 S. Main St., (213) 622-6333 or
Thanksgiving? Mais Oui!: They may not celebrate Thanksgiving in France, but that doesn't mean you can't get a French spin on Thanksgiving in Los Angeles. The Historic Core's lovely Le Petit Paris is offering a three-course Thanksgiving menu from 11 a.m.-10 p.m. Appetizer choices include poached eggs with sautéed mushrooms and burgundy escargot, while main course options are turkey medallions, roast salmon or a green vegetable risotto. For dessert, enjoy a pumpkin macaron or indulge in a chocolate and caramelized pecan tart. The meal is $55 and reservations are required.
At 418 S. Spring St., (213) 217-4445 or
Take-Out Options
The Comfort of Home: Odds are, you're no Wolfgang Puck in the kitchen. But that doesn't mean you can't serve food he'd be proud to prepare. The Wolfgang Puck Bar & Grill at L.A. Live is offering a take-out deal. Order a 14- to 16-pound turkey with a variety of sides, with options such as sourdough stuffing with celery and sage, and yams covered in a maple pecan butter. The meal is $400 and serves 10 people, but the restaurant is also offering everything a la carte. Delivery to locations within seven miles is an extra $25. The last day to order is Tuesday, Nov. 22.
At 800 W. Olympic Blvd., (213) 748-9700 or wolfgangpuck.com.
Fresh and Fast: The Ralph's Fresh Fare on Ninth Street is offering a variety of easy, pre-cooked meals. The supermarket has an express turkey dinner available for $49.99. That buys a 10- to 12-pound bird and mashed potatoes, stuffing, green beans and gravy. A "deluxe" version runs $69.99 and adds rolls, cranberry sauce and a pumpkin pie. If turkey isn't your thing, Ralph's has a sliced ham meal with similar sides for $49.99 and a prime rib dinner for $69.99. There are even gluten-free dinners. Everything is pre-cooked, so instead of spending all day watching the oven, just warm up the food, set the table and enjoy.
At 645 W. Ninth St., (213) 452-0840 or
The Whole Meal: A little over a year ago, the Downtown Whole Foods opened, and with it came a bundle of to-go options for Thanksgiving. The Financial District supermarket is at it again this year, and has everything you need to prepare a traditional holiday dinner. Or, let them do the work: Whole Foods has meals for the holiday built around a 10- to 12-pound turkey. It comes with sides and serves eight; the price is $99.99. Advance reservations are recommended. 
At 788 S. Grand Ave., (213) 873-4745 or
Something Different
Round Two: The gorgeous Perch, on a rooftop overlooking Pershing Square, won't be open on Thanksgiving. Still, it's getting into the holiday spirit, and on Friday at noon will begin serving its weekend brunch. Dig into crab benedict and steak frites, or try the charcuterie and cheese plates. Drinks include mimosas, Bellinis and Bloody Marys, as well as a $25 sangria pitcher. There will also be live music from noon-3 p.m. from the band Strangers on a Saturday Night.  
At 448 S. Hill St., (213) 802-1770 or
The Sandwich Feel: Like Perch, the Financial District's Mediterranean-inspired Miro will be closed on Thanksgiving day, but the week of the holiday it is offering a special turkey pâté. Chef Gavin Mills said the turkey and cranberry pâté, with sage and cornbread on the side, is meant to replicate the taste of an after-Thanksgiving sandwich prepared from leftovers. Diners can always choose to complement the meal with one of Miro's many whiskey offerings.
At 888 Wilshire Blvd., (213) 988-8880 or
Work Up an Appetite: Admit it: You are going to eat way too much on Thanksgiving. So why not sweat a bit beforehand? The annual Turkey Trotis back, bringing 5K and 10K runs to Downtown at 8 a.m. on Thanksgiving day. More than 5,000 people are expected to turn out for the fundraiser where the start and finish line are at City Hall. Registration fees vary by age and what race you enter, but range from $20-$60 (on Nov. 19, the prices increase slightly). This is a charitable event and all proceeds benefit Skid Row's Midnight Mission. After the race, there will a festival with music, fruit from Whole Foods and java from Groundwork Coffee. 
At 166 S. Olive St. or turkeytrot.la.
© Los Angeles Downtown News 2016