DTLA - Judy Han spent a good chunk of 2015 eating her way through South Korea. Amid the stews, grilled meats and simmered seafood dishes, she spotted a decidedly modern trend sweeping the country: sticky fried chicken, painted with a sweet-and-salty syrup humming with fermented Korean peppers.
Get DTLA stories in our daily email newsletter.
"I couldn't figure out why this wasn't bigger in L.A. People are crazy about Korean fried chicken overseas," Han says.
Han, who is Korean American, spent almost a decade leading the kitchen of upscale sandwich purveyor Mendocino Farms, helping grow the operation from a quiet California Plaza storefront to a regional franchise. She walked away in December 2014, uncertain of her next step.
After a trip back to the motherland, Han realized last fall that she wanted to cook with Korean flavors in her own restaurant. The result is Eko Eats, a fast-casual eatery that opened in February at 630 W. Sixth St.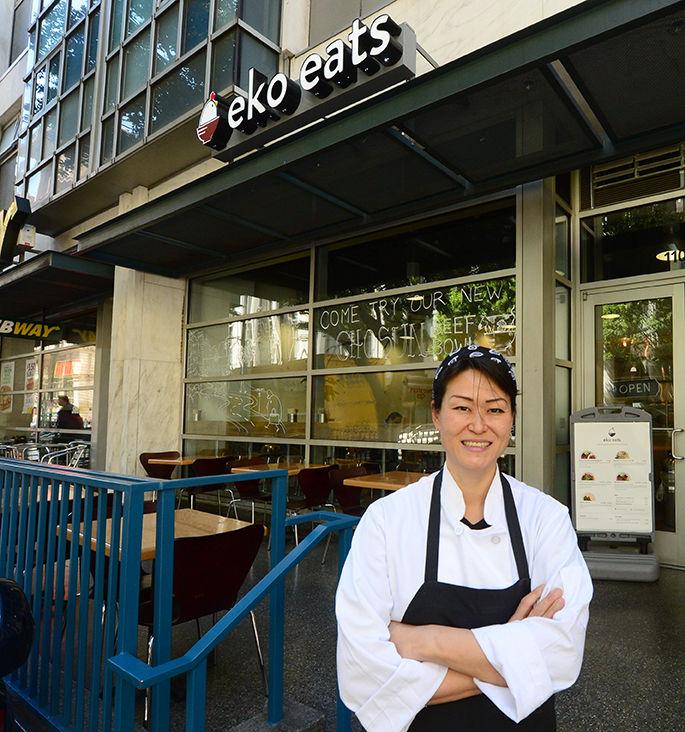 "This is now my chance to do something that's just me," said Han, 42, during a visit to the airy space a short walk from Pershing Square. "It feels pretty great to be in the kitchen again."
Eko Eats has a five-item menu of Korean classics such as bibimbap ("mixed rice" with an array of vegetables) and kimchi fried rice, plus a few salad and bowl specials each week. And Han has nailed the fried chicken — the meat is rich and moist, with the craggy crust holding its crunch under a glossy layer of pepper sauce.
Her most idiosyncratic dish is the chicken jook, or rice porridge. Jook is normally a bland mix of rice cooked slowly in water, but faced with a mountain of bones from butchering chickens in-house, Han cooked up a broth to simmer with rice until the mix resembles a hybrid of soup and silken risotto.
Topped with chunks of chicken, wilted greens and a scoop of fiery chili sauce, it's a reminder of Han's understated creativity. You probably won't find such intense porridge in Seoul, but its Korean spirit thrums intact.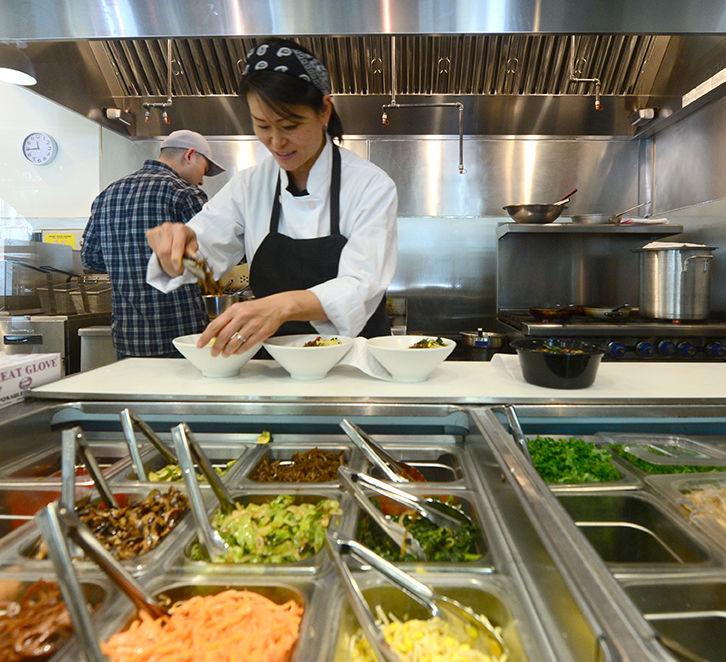 Born and raised in Chicago, Han pursued law in her 20s before being involved in a rush-hour motorcycle accident in San Francisco on her way to an internship. She was unscathed, save for a lingering doubt about whether her heart was in the legal system.
In 2001, with the financial support of her husband, Han left the law behind in favor of long hours, searing-hot stoves and low pay in Los Angeles kitchens.
She snagged a job working under Suzanne Goin at her seminal Californian restaurant Lucques while taking culinary classes in Downtown's Los Angeles Trade-Tech College. Nearly two years later, she departed to work under David Myers at Sona, then at the more casual Literati II. The time commitment, especially on holidays, took a toll.
"I had my first kid when I was working at Literarti as the sous-chef. That was great, but I was missing all my kid's milestones," Han recalled. "Something needed to change."
The change came when husband-and-wife team Mario Del Pero and Ellen Chen hired Han to steer the menu for Mendocino Farms, then a single shop on Bunker Hill. The job offered Han a more family-friendly schedule, though she still worked 14-hour days. The experience taught Han "pretty much everything" about running not just a kitchen, but a business. Unlike many chefs, Han showed a fascination with all aspects of operating a restaurant, Del Pero said.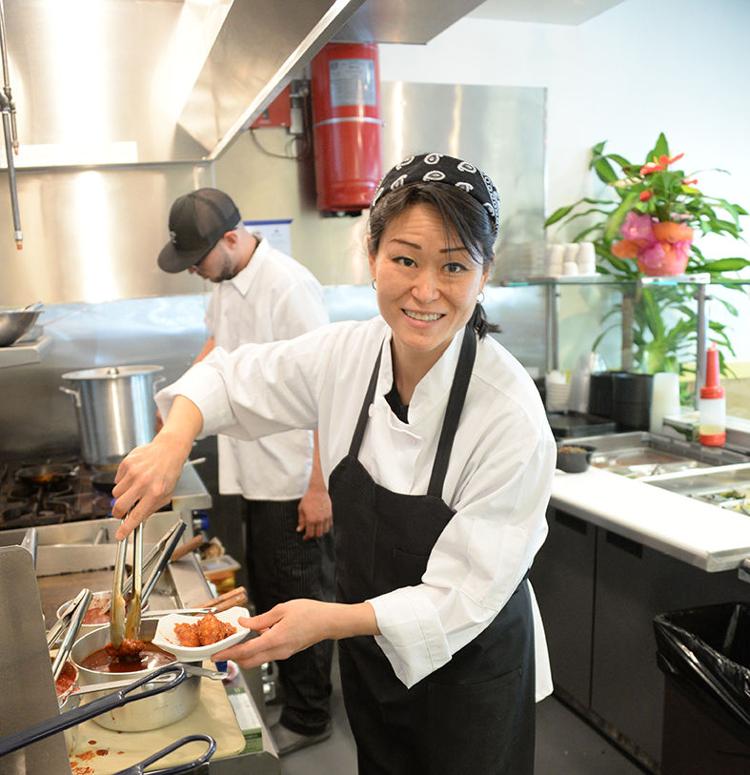 "I actually think she's one of the best chefs in the city in the sense that she's creative but also balances that with the pragmatism of a businessperson," Del Pero said. "As much as I would love to take credit for her growth, Judy was so sharp and intellectual from the beginning about marketing decisions, crunching numbers and developing relationships with suppliers."
Still, Han ultimately felt the urge to leave, and in need of a family vacation — and having not visited Korea in a decade — she took her husband and two children abroad for the summer.
The trip convinced her to open a sit-down Korean restaurant. Though she initially intended to open in Echo Park, she landed on Sixth Street in Downtown instead. She kept the moniker Eko Eats, with a "K," so that Korean speakers wouldn't pronounce it "Eh-cho Eats."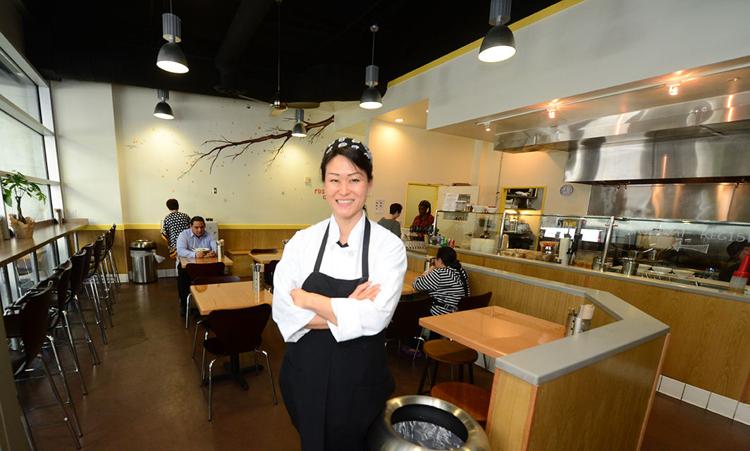 The Sixth Street space dictated a fast-casual approach rather than her original full-service plan. It naturally inspires the question of whether Han wants to replicate the concept for an Eko Eats franchise, as with Mendocino Farms. She waves off the thought.
"I finally have a little place of my own. It's the dream, right?" Han said, beaming.
Eko Eats is at 630 W. Sixth St., (213) 622-1616 or ekoeats.com.
Twitter: @eddiekimx
© Los Angeles Downtown News 2016